From major box office hits to cult classics, Austin has provided a spectacular landscape for filmmakers to bring their vision to life. Visitors have flocked to destinations featured in iconic locally made films like "Dazed and Confused" and "The Texas Chainsaw Massacre." With over 50 years of production, there are many film tourism locations in the Austin area to experience including those seen in "Fear The Walking Dead."
About "Fear The Walking Dead"
"Fear the Walking Dead" is the hit spin-off of The Walking Dead television series (seasons 4-7 were produced in Austin). The series follows the group of survivors led by Morgan Jones (James) and Alicia Clark (Debnam-Carey) as they search for other survivors, looking to provide help for others in an effort to make up for the wrongdoings from their pasts while traversing the Texas landscape. Clashes ensue with other groups of survivors, walkers and even those with different philosophies within the group as everyone tries to survive in the post-infected world. Running concurrently to the original show, "Fear the Walking Dead" has Morgan Jones and Dwight (Amelio) from "The Walking Dead" making the exciting crossover into the series.
Details: AMC Studios / TV-MA / 45 minutes / Action, Horror, Sci-Fi
Director: Various
Cast: Alycia Debnam-Carey, Lennie James, Colman Domingo, Jenna Elfman, Christine Evangelista, Kim Dickens, Karen David, Austin Amelio, Danay Garcia, Maggie Grace, Keith Carradine, Garret Dillahunt, Frank Dillane and Ruben Blades
Streaming On: @AMC, @Hulu, @iTunes
Locations
Scene: The Diamond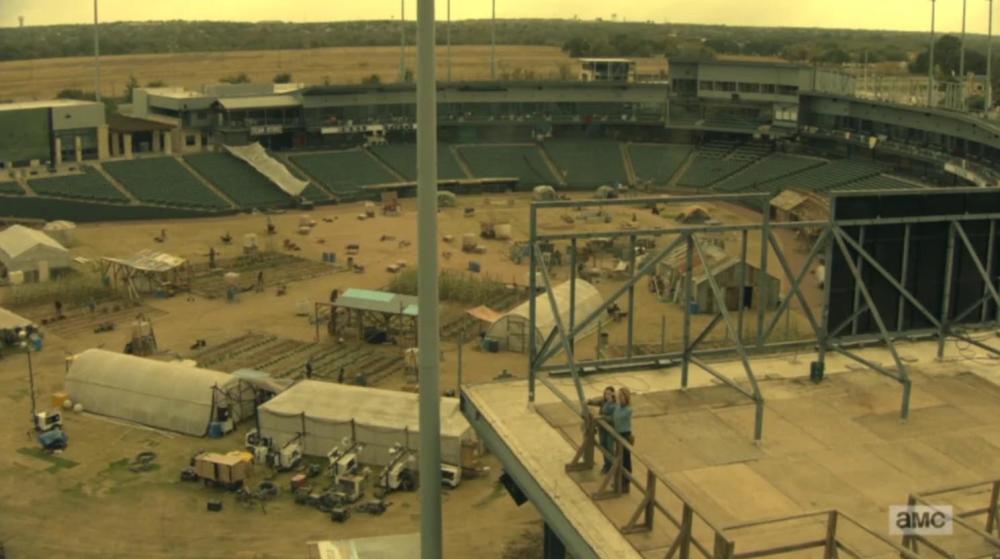 Known in the series as "The Diamond," the Dell Diamond Baseball Stadium (home to the Round Rock Express) appears in season 4 as a key location: a fortified settlement of numerous survivors including Madison Clark (Dickens) and her family after their arrival in Central Texas. The converted stadium provides living quarters, an outfield full of crops for food and enforced walls to keep the infected at bay before the compound is burned to the ground during a battle with the Vultures.
Location: Dell Diamond (3400 E Palm Valley Blvd, Round Rock, TX 78665)
 
Scene: Whirlin' Wavez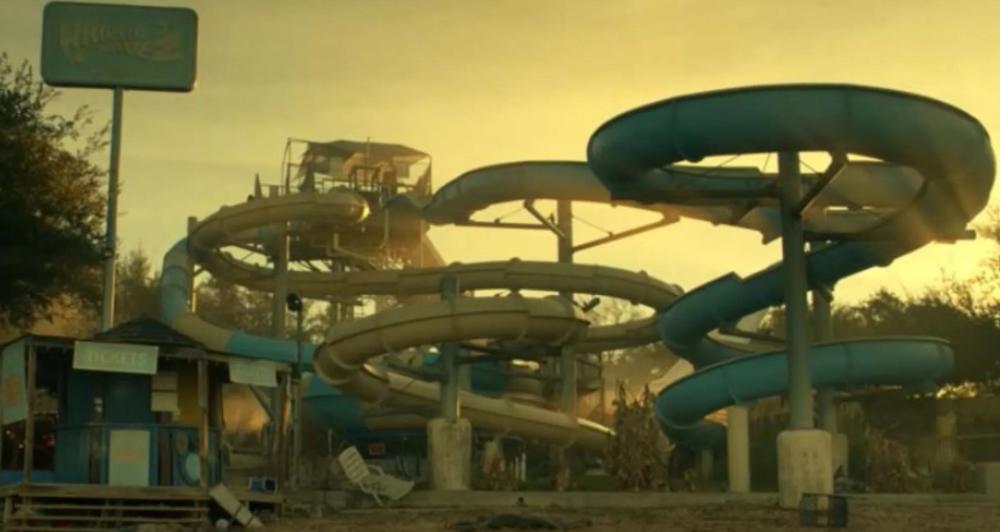 In season 4, Alicia (Debnam-Carey) and June (Elfman) search Whirlin' Wavez for supplies but end up encountering a band of infected who they have to fight off at an abandoned water park. These scenes were shot at Volente Beach on Lake Travis during off-season.
Location: Volente Beach Resort & Waterpark (16107 FM 2769 Ste D, Leander, TX 78641)
 
Scene: The Hospital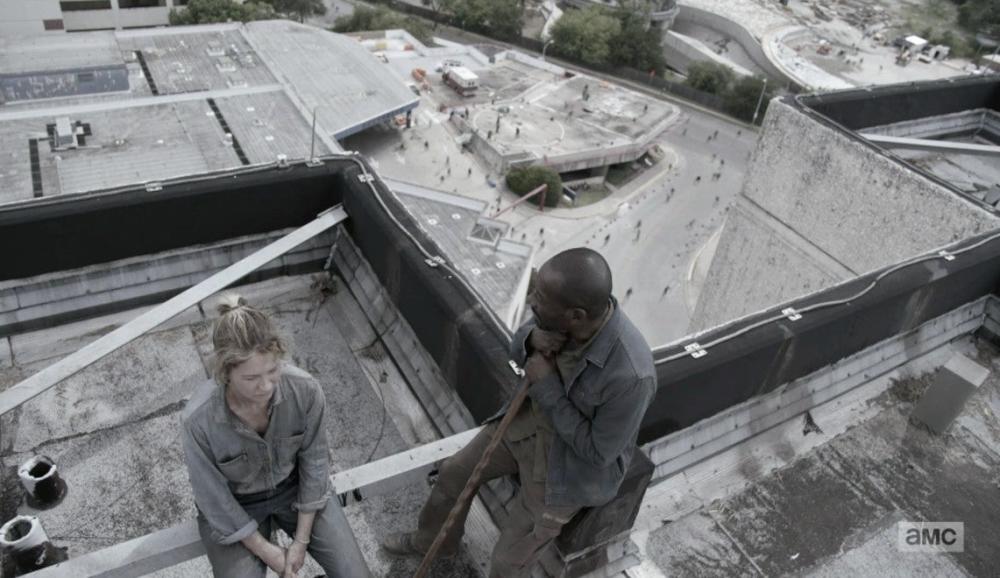 During season 4, Morgan (James), Naomi (Elfman) and company flee a horde of walkers and take refuge on the roof of a hospital in downtown Austin. The now demolished Brackenridge Hospital was used as a key location for multiple episodes.
Location: Brackenridge Hospital (601 E 15th St, Austin, TX 78701)
 
Scene: FEMA Shelter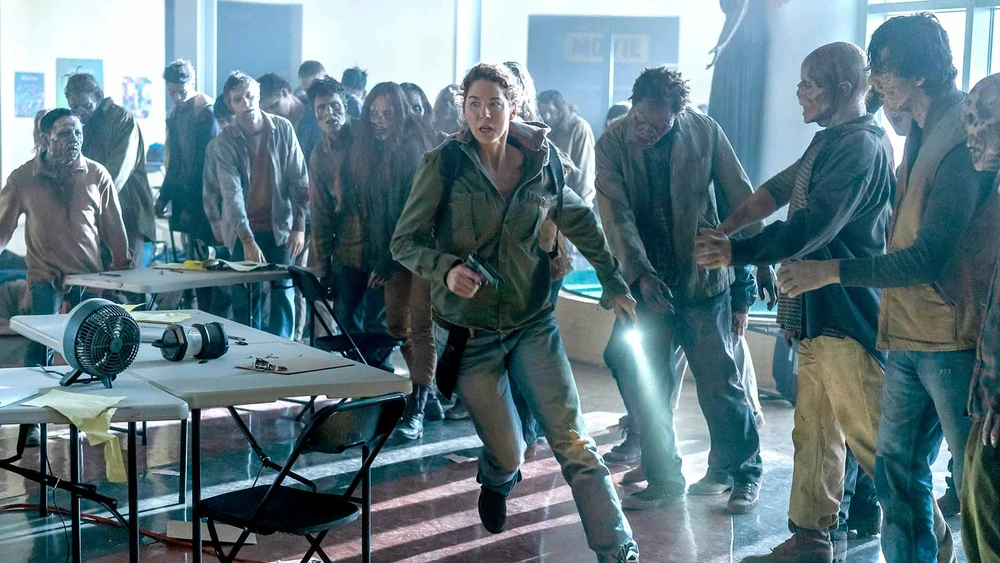 Naomi (Elfman) goes to retrieve medical supplies and tools from the abandoned FEMA Safe Zone, but becomes trapped by walkers. With the help of Madison (Dickens) and Victor (Domingo) she is able to narrowly escape the facility. This location is actually the Millennium Youth Entertainment Complex which houses a theater, roller skating rink, bowling alley and party space.
Location: Millennium Youth Entertainment Complex (1156 Hargrave St, Austin, TX 78702)
 
Scene: Small Texas Town

During the multiple seasons of "Fear the Walking Dead" filmed in Austin, the group of survivors travel around Central Texas, passing through many abandoned towns. Downtown Bartlett plays one of the ghost towns visited to retrieve supplies early on. During this unfortunate pitstop in season 4, Nick Clarke (Dillane) is killed while chasing down Vultures.
Location: Downtown Bartlett, Texas (Bartlett, TX 76511)
 
Scene: Ashburn Race Track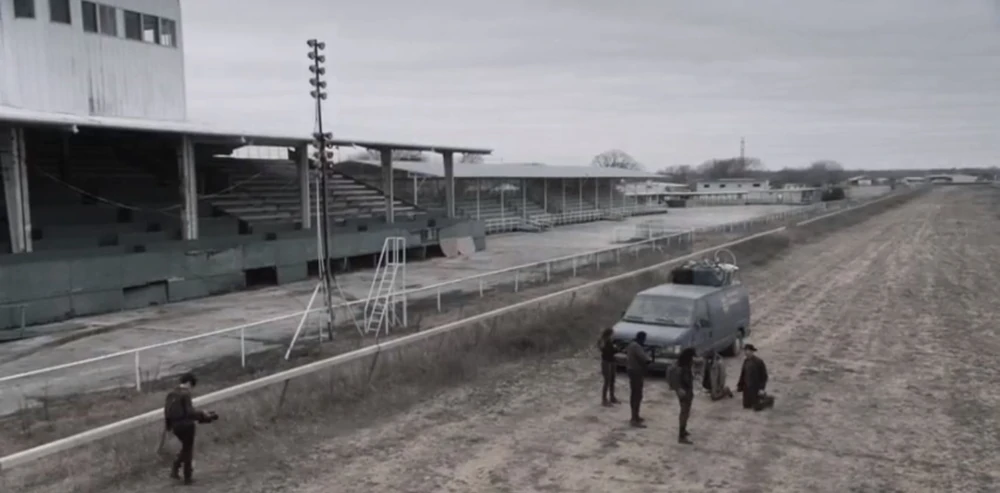 In season 4, the old Manor Downs property plays the Ashburn Race Track, the location where the Vultures meet up after scavenging the local area for supplies. Alicia (Debnam-Carey) and company show up to ambush the Vultures but there is confusion as they only find an empty track and an internal confrontation ensues between Alicia, June (Elfman), Morgan (James) and John (Dillahunt), which leaves John wounded. When the Vultures do show up however, there is a massive on-site battle which Alicia Clark, Luciana (Garcia) and Strand (Domingo) are the victors.
Location: Manor Downs (9200 Hill Ln, Manor, TX 78653)
 
Scene: Bridgeview Mall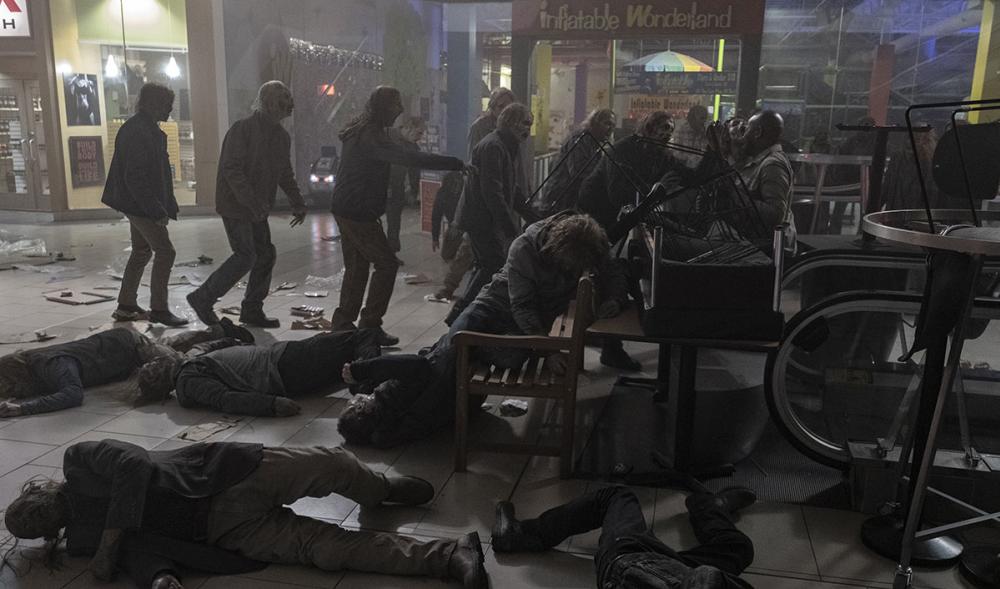 In season 5, the popular Cedar Park shopping center Lakeline Mall plays for Bridgeview Mall in a homage to George A. Romero's 1978 zombie classic "Dawn of the Dead." Morgan (James), Grace (David) and Dwight (Amelio) get a mysterious call over the walkie talkie which leads them to the Bridgeview Mall - abandoned aside from a handful of stray walkers.
Location: Lakeline Mall (11200 Lakeline Mall Dr, Cedar Park, TX 78613)
 
Scene: Humbug's Gulch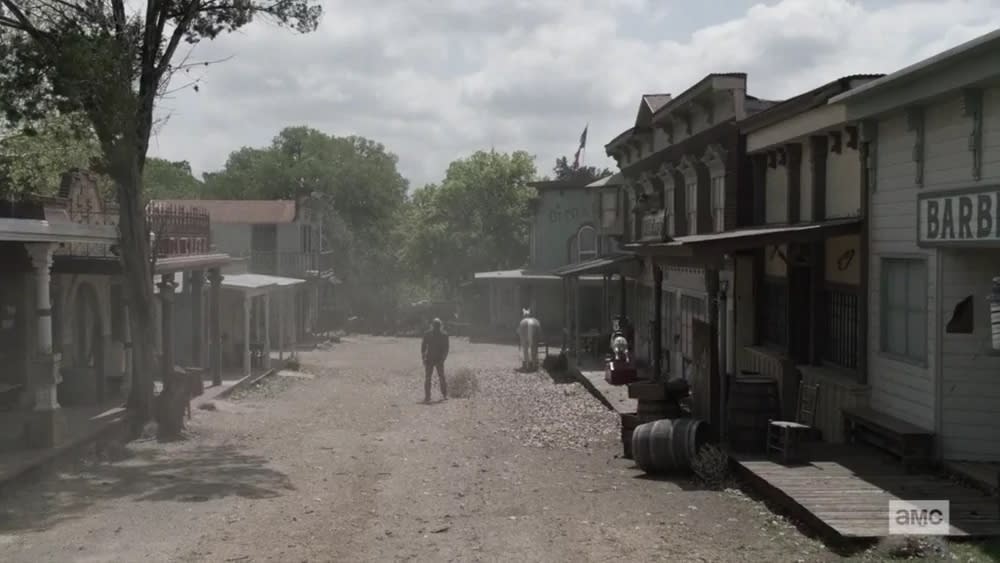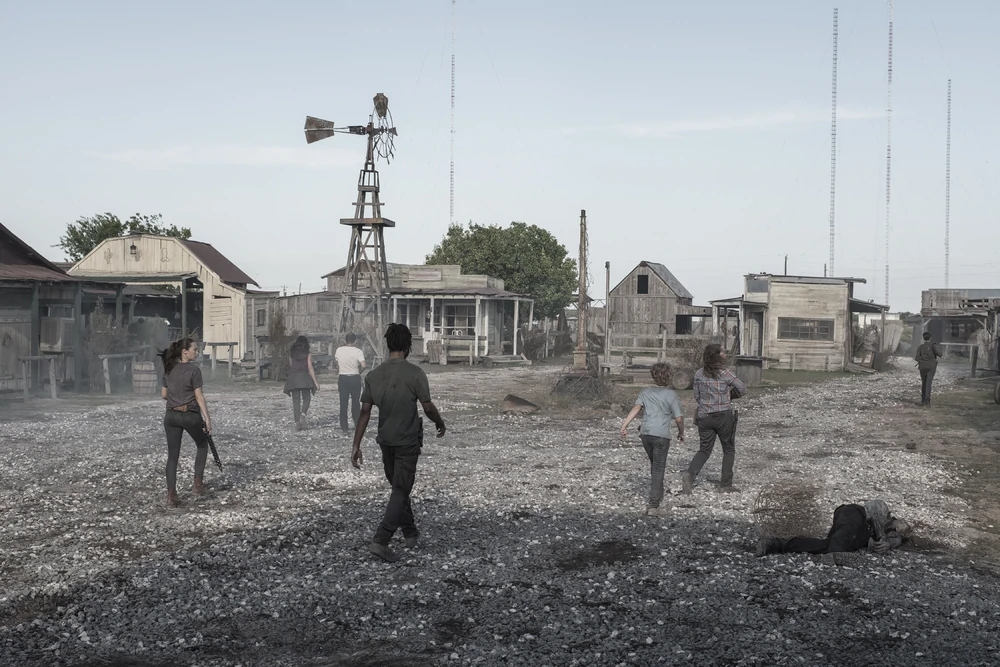 Featured in seasons 5 and 6, Humbug's Gulch is a potential safe haven which turns into chaos when the convoy discovers that the abandoned Western-style theme park they were hoping to settle has been overrun by a zombie horde. Humbug's Gulch is where John (Dillahunt) used to work, and the location is actually composed of two authentic real life western towns: the J. Lorraine Ghost Town in Manor and 7A Ranch Pioneer Town in Wimberley. Both properties are open to the public with family-friendly fun featuring Old West storefronts, movie nights and more.
Location: 7A Ranch Pioneer Town (333 Wayside Dr, Wimberley, TX 78676)
Location: J. Lorraine Ghost Town (14219 Littig Rd, Manor, TX 78653)
Scene: The Skatepark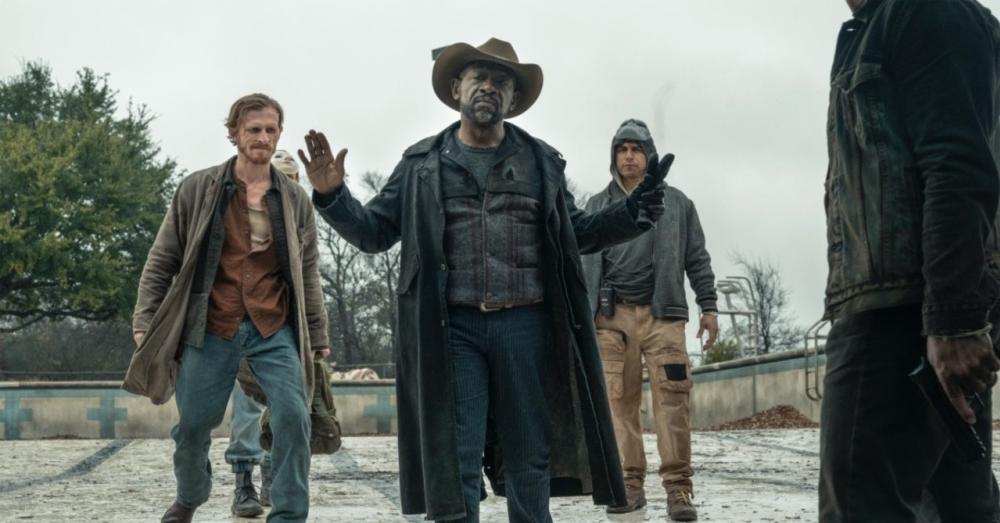 In season 6, the City of Austin's Mabel Davis District Park plays the skatepark where Sherry (Evangelista) and the Outcasts  have a home base of operations.
Location: Mabel Davis District Park (3427 Parker Ln, Austin, TX 78741)
Iconic Filming Location Map
Explore more iconic filming locations during your next visit to Austin. The Austin Film Tourism Guide has details on the where scenes from your favorite movie and television series were filmed in and around Austin.