Where to Go Dancing in Austin
Guide to dancing the night away in the Live Music Capital of the World®
Austin culture blazes with live music, hipsters, graffiti artists and city lights. But no matter how hard it tries, the capital city can't escape its Texas-country roots; and what better way to celebrate Texas than a little boot scootin' boogie? Check out these locals' favorite honky-tonks and dance clubs.
Austin Honky Tonks
The Austin Beer Garden Brewing Co.
This award-winning South Austin beer garden won't disappoint. Enjoy live music nightly on the stage at the brewery, large communal picnic tables and a pup-friendly patio, crave-able pizzas and the guiding philosophy that "beer makes it better." On Sundays from 4-7 p.m., catch live bands and a spacious dancefloor, with music ranging from classic country and Americana to bluegrass and rockabilly.
Broken Spoke
Known city-wide for their chicken fried steak, Broken Spoke is a real country dance hall. The Spoke keeps the legends alive with traditional country music, traditional Texas two-step and traditional southern comfort food.
The Continental Club
Standing strong at 60+ years old, this local favorite is one of the oldest continuously running clubs in Austin. Although it's had many personalities throughout the years, the club often boasts a honky-tonk vibe with country musicians playing multiple nights of the week. Make sure to also check out the Continental Gallery, located upstairs.
Donn's Depot
Donn's Depot is an old Missouri-Pacific train depot that was moved to Austin more than 30 years ago (the women's restroom is even a real caboose!). Regulars twirl to free live music six days a week that spans country and swing to funk and rock and roll.
Giddy Ups
Located in far South Austin, Giddy Ups is a small live music venue with a saloon vibe. The venue hosts live music most nights of the week, including an open-mic night on Thursdays. Compete in shuffleboard and washer tournaments or come out to enjoy the sunset on their cooled or heated outdoor patio all year long.
Little Longhorn Saloon
Packed Tuesday-Sunday evenings with two-stepping Austinites so rowdy you'll wonder who let them into the city, The Little Longhorn Saloon embraces the true meaning of honky-tonk. Come for free chili dogs and Chicken Sh*t Bingo on Sundays.
Sagebrush
One of the newest music venues on the scene, South Austin's Sagebrush hosts nightly shows and regular outdoor concerts. On Wednesday nights, stop by for Austin Honky Tonk-style Two Step lessons and classic country bands.
Shiner's Saloon
Shiner's is the premier Austin destination for free, live country music seven days a week. The dance floor is small, but you can always grab a local for a little two-stepping fun and requests for songs are welcome. Flat-screen TVs air the big game and Tex-Mex and BBQ are served until 2 a.m.
The White Horse
This East Austin honky tonk has made a lasting impact on the nightlife scene in Austin. Grab a "two-step" at the bar (a Lonestar and a shot of T.W. Samuels) and make your way to the dance floor for dancing and live music every night of the week. You will also find pool tables, a piano, seating and a great outdoor area. Dance lessons are held at 7 p.m. on Tuesdays (blues), Wednesdays (swing), and Fridays/Saturdays (Texas two step).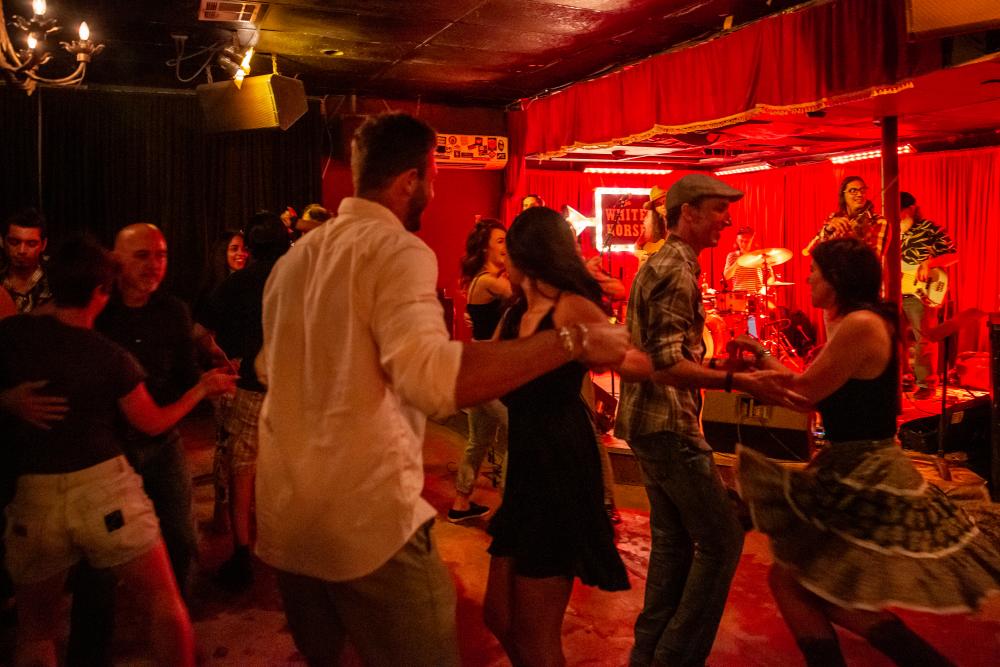 The White Horse. Courtesy of Contiki.
Austin's Top Dance Clubs & Salsa Bars
Austin's dancing scene isn't just for two-stepping. The city is peppered with clubs that feature all kinds of moves, from salsa to ballroom. Check out the locals' top picks: