WHERE TO GO DANCING IN AUSTIN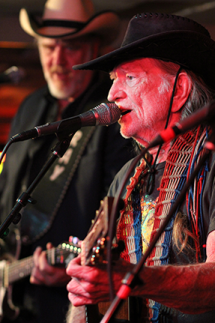 An Austinite's guide to dancing the night away in the Live Music Capital of the World®
Austin culture blazes with live music, hipsters, graffiti artists and city lights. But no matter how hard it tries, the capital city can't escape its Texas-country roots; and what better way to celebrate Texas than a little boot scootin' boogie? Check out these locals' favorite honky-tonks:
Known city-wide for their chicken fried steak, Broken Spoke is a real country dance hall. The Spoke keeps the legends alive with traditional country music, traditional Texas two-step and traditional southern comfort food.
Donn's Depot is an old Missouri-Pacific train depot that was moved to Austin more than 30 years ago (the women's restroom is even a real caboose!). Regulars twirl to free live music six days a week that spans country and swing to funk and rock and roll.
Packed Tuesday-Sunday evenings with two-stepping Austinites so rowdy you'll wonder who let them into the city, The Little Longhorn Saloon embraces the true meaning of honky-tonk. Come for free chili dogs and Chicken Sh*t Bingo on Sundays.
Shiner's is the premier Austin destination for free, live country music seven days a week. The dance floor is small, but you can always grab a local for a little two-stepping fun and requests for songs are welcome. Flat-screen TVs air the big game and Tex-Mex and BBQ are served until 2 a.m.
Austin's Top Dance Clubs
Austin's dancing scene isn't just for two-stepping. The city is peppered with clubs that feature all kinds of moves, from salsa to ballroom. Check out the locals' top picks:
Photo credit Winker Withaneye.