Birding in Austin
Austin is world-renowned for its incredible birding. The unique geology of Central Texas has created diverse ecosystems for birdlife, encompassing both the Hill Country to the west and woodlands and prairies to the east. According to eBird, 420 avian species have been observed in Travis County, most notably the Golden-cheeked Warbler, an endangered songbird that breeds exclusively in Central Texas.
Travis Audubon, Austin's oldest conservation organization, is the local chapter of the Audubon Society. Learn all about the local birding scene, find local birding events, and check out the birds you are likely to see around town on their website.
While there are numerous places in Austin and the surrounding area to experience great birding (see the full list), here are six of our top picks: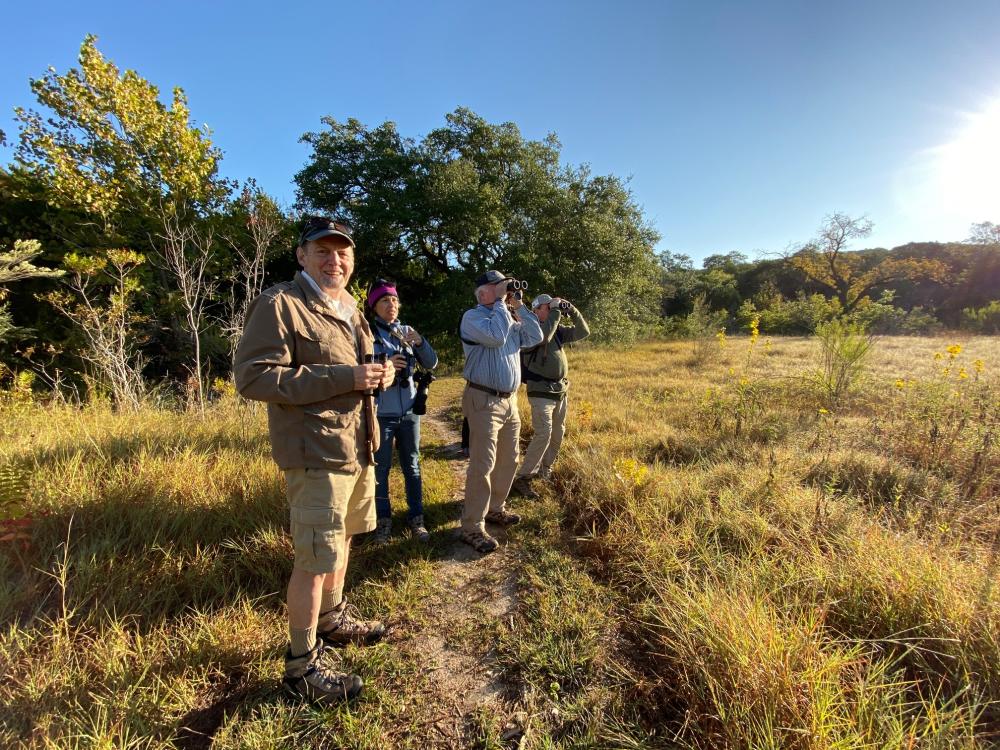 Credit Lori Malloy.
2210 FM 973, Austin, TX 78725
Hornsby Bend is probably the most popular birding spot in the Austin area, and for good reason. This sewage treatment facility, where 353 bird species have been recorded, is a great place to see wintering waterfowl and shorebirds – just be prepared for potential odors, depending on the direction of the wind. Besides driving or walking around the ponds, check out the trees around the parking lot, the trail along the Colorado River, and Platt Lane on the north end of the facility. Be prepared to check in with the security guard as you drive onto the property–just let them know you are there to bird.
Commons Ford Ranch Metropolitan Park
614 N Commons Ford Rd, Austin, TX 78733
Across the United States, less than 1% of native prairies still exist. Today, the 40-acre restored native prairie at Commons Ford Ranch Metropolitan Park supports an amazing diversity of wildlife and grassland birds. The prairie explodes in color throughout the spring and early summer and is teeming with hundreds of species of birds, butterflies, insects, and other wildlife throughout the year. In addition to the prairie, the park has a variety of habitats including a pecan grove, river frontage, and Hill Country uplands, which explains why 274 bird species have been observed there.
Roy G. Guerrero Colorado River Park
400 Grove Blvd, Austin, TX 78741
Roy G. Guerrero Colorado River Park is spread out west to east along the Colorado River below Longhorn Dam. The dam area attracts many water birds when the water level is low, particularly Snowy Egrets, Great Egrets and Great Blue Herons. Further east, accessing the park from Grove Blvd, there is an excellent river overlook that is a good place to look for swallows, ducks and kingfishers, and to listen for Barred Owls. There are many trails such as one along a frisbee golf course that are worth exploring too. 251 species have been observed at this park, including the first state record for White Wagtail, a Eurasian species.
Mills Pond (The Pond at Wells Branch)
15108 Wells Port Dr, Austin, TX 78728
Mills Pond is a very popular birding site during spring migration (with 215 species recorded), during which you can see a wide array of migrants, especially warblers. It's a very pretty park, and the gravel path is fairly level and wheelchair friendly.
7144 Comanche Trail, Austin, TX 78732
Birders have recorded 258 species at Bob Wentz Park, a popular day use park along the shores of Lake Travis. When the water level is low, shorebirds and gulls stop over on the island/peninsula that emerges just off the point. Songbirds such as the sought-after Painted Bunting breed here. There are easy walking trails and more rocky bushwhacking for those so inclined.
Milton Reimers Ranch Park
23610 Hamilton Pool Rd, Dripping Springs, TX 78620
Just outside of Austin, Milton Reimers Ranch Park boasts 250 bird species and is a great place for sought-after western species like Verdin, Black-throated Sparrow and Pyrrhuloxia.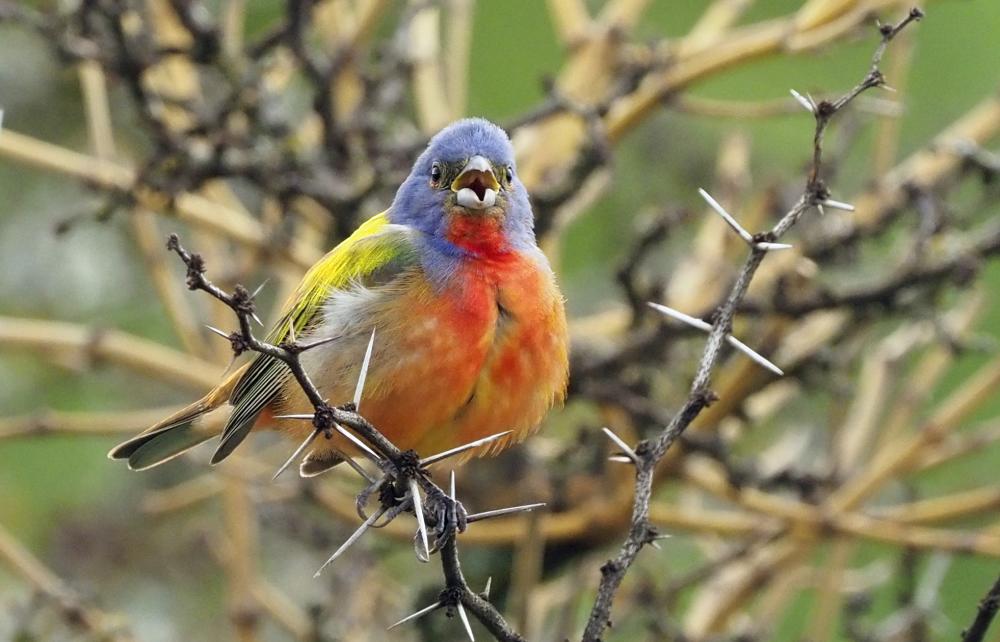 Painted Bunting. Credit Gary Sertich.
Attractions in Austin with Good Birding
Lady Bird Johnson Wildflower Center
A gorgeous location to enjoy native plants that boasts 159 species on eBird.
Texas State Capitol
The State Capitol grounds are an unexpectedly great site to see migratory species in the spring!
Zilker Botanical Garden
Go see their year-round pollinator garden on your next trip to Zilker Park.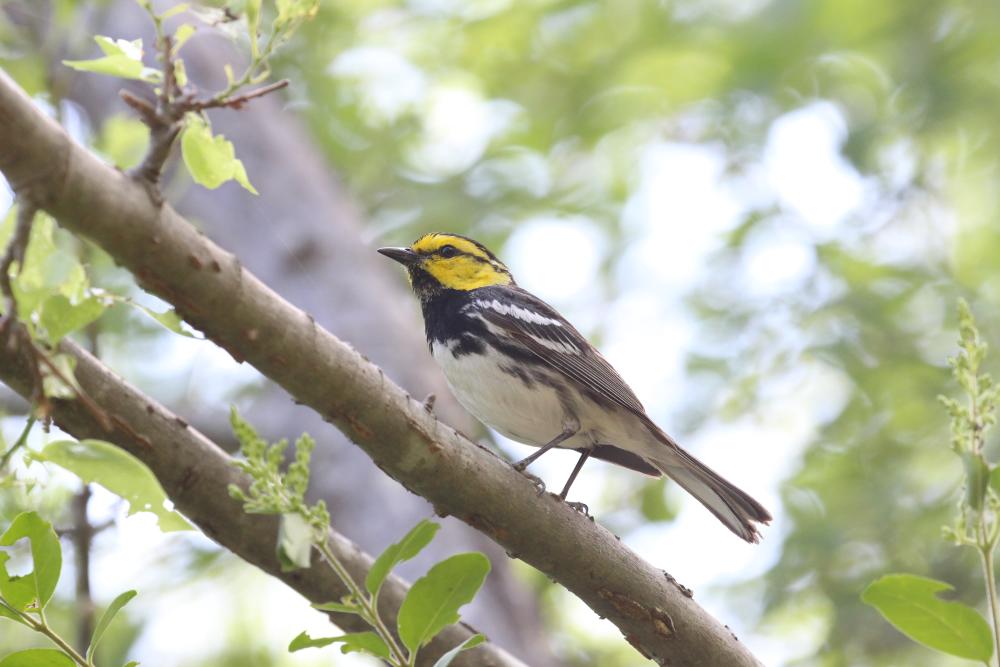 Golden-cheeked Warbler. Credit Terry Banks.
Where to See the Golden-cheeked Warbler
Interested in seeing the Golden-cheeked Warbler in its native breeding grounds? They can be seen and heard reliably from mid-March to end of May each year at the following sites around town:
Baker Sanctuary
In Leander (northwest of Austin), Travis Audubon membership required for entry.
St. Edwards Park
This local favorite offers winding, creek-side hiking and viewing sites.
Warbler Woods
Outside of Lago Vista (west of Austin), entry is free but visitors must contact the owners via email prior to visit.
Find a list of accessible birding sites for those with mobility challenges here.
All photos courtesy of Travis Audubon. Photos below, from L-R: Blackburnian Warbler, credit Lori Malloy. Hornsby Bend, credit Jeanette Larson. Ruby-throated Hummingbird, credit Katherine Daniels. Great Horned Owlets, credit Katherine Daniels.