Did you know that Austin has been lauded by Travel + Leisure, National Geographic Traveler and Condé Nast Traveler as one of the nation's coolest, friendliest and most accessible cities? Get to know Austin, the Live Music Capital of the World®, before you go. Find all of the information your groups, FITs and travelers need to know here, from border, visa and passport information to transportation options, and fun facts about the city.
Austin Facts & Travel Tips
Location: Austin, the Texas State capital, is the fourth largest city in Texas and is located in Central Texas. Described as the gateway to the scenic Texas Hill Country, Austin is approximately 80 miles from San Antonio, 165 miles from Houston, 189 miles from Fort Worth and 195 miles from Dallas.  
Population: Approximately 964,117 in Austin city limits and more than 2 million in the metro area, combining Austin and surrounding areas.
Climate: Almost 300 days of sunshine annually with an average temperature in the fall/winter in the 50-60s °F and for spring/summer in the 80-90s °F. Learn more about Austin weather here.
Time Zone: Austin is on Central Standard Time. One hour behind New York City (East Coast); and two hours ahead of Los Angeles (West Coast).
Legal Car Rental Age: 25 years old
Legal Driving Age: 16 years old (with a valid Drivers License)
Legal Drinking Age: 21 years old (photo ID or passport required)
Smoking: Smoking is prohibited in most buildings in Austin. Smoking is also prohibited in public places, including city parks, libraries, buses or within 15 feet of any pedestrian entrance. This ban includes bars and restaurant establishments. In some restaurants, smoking is allowed in outdoor dining sections only.
Tipping: Taxicab drivers, bartenders and waiters get about 15% for standard service. Hotel doormen and valet parkers should be tipped $1-$5, and bellhops should be given $1-$5 per bag. Housekeeping should be given $1-$5 per night, left daily (preferably with an envelope or note so that it's clear its for housekeeping). 
Services for the Physically Challenged: Austin provides telephone referrals and information about accessibility and services for the disabled. Call 512-478-9647. Hearing-impaired persons with a TDD/TTY machine may call 512-385-5872.
Austin Visitor Center: (602 E. Fourth St., Austin 78701) Let our friendly staff guide your stay in Austin. Stop by our downtown Visitor Center for information on tours of the city, events, can't-miss dining, attractions and live music suggestions. While you're there, browse around Austin's official gift shop. You'll find everything from Austin souvenirs to University of Texas memorabilia and more. Open Monday-Saturday 9 a.m. to 5 p.m., and Sunday 10 a.m. to 5 p.m. (except for major holidays). Call 1-866-GO-AUSTIN/512-478-0098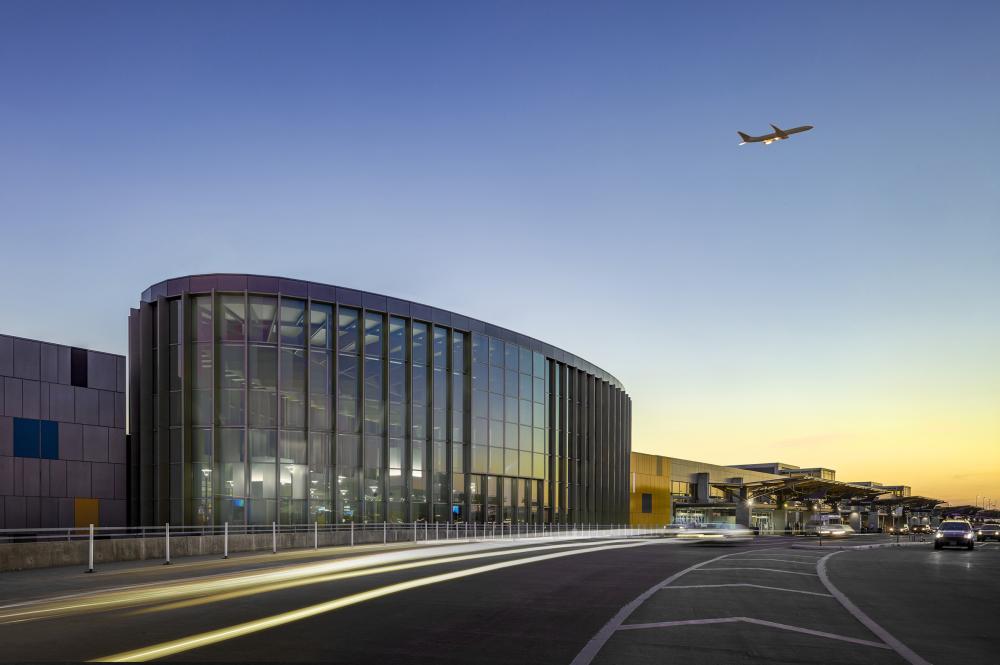 Austin-Bergstrom International Airport. Credit Tim Griffith.
International Documents
A valid passport is required for travel into the United States from Mexico, Canada and other international destinations.

Visa Waiver Program: Travelers coming to the United States for tourism or business for 90 days or less from qualified countries may be eligible to visit the United States without a visa if they meet the visa waiver program requirements. 40 countries currently participate in the Visa Waiver Program. Visit the Department of State for more information.

Customs: You must complete customs and immigration formalities at the first point of arrival in the U.S., whether or not it's your final destination.

Travel Insurance: There is no compulsory or government plan in the U.S. You are advised to purchase travel and health insurance in case of an emergency.

For current information on USA border and customs requirements, visit the US Department of State website.
Airport
Austin-Bergstrom International Airport
1 (512) 530-2242 | 3600 Presidential Blvd.
In operation since 1999, the airport has roughly 300 daily flights with nonstop service to more than 90 domestic and international destinations. The airport is located 7.5 miles southeast of downtown Austin. The one way Capital Metro Route 20 bus runs between the airport and downtown approximately every 15 minutes. To get from Austin-Bergstrom International Airport to your destination, you can rent a car, ride a bus or take a taxi, limo or ride-hailing service. Rental car service desks are located in the baggage claim area; all major companies are represented in Austin. Taxis and rideshare apps are available along with taxi and shuttle services. Visit the airport's website for more details.
Bus Stations
The Greyhound Bus Station
1 (512) 458-4463 | 363 Shady Ln.
The Austin Greyhound station is located on the east side of town off of East Cesar Chavez St. To travel downtown, take MetroBus 4. Convenient schedules provide easy access to connecting buses to travel within Austin as well as to other cities in Texas.
Megabus
1 (877) 462-6342 | 1500 San Jacinto Blvd.
The Mega Bus is another great way to travel from surrounding cities such as San Antonio, Houston and Dallas/Fort Worth. Express buses run regularly, 7 days a week. Low-cost fares, comfortable seats, free Wi-Fi and panoramic windows makes this a great option for connecting to major cities across Texas.
Train Station
Amtrak
(512) 476-5684 | 250 N. Lamar Blvd.
Amtrak Rail offers the Texas Eagle, traveling daily between Chicago and San Antonio, with stops in Austin and Dallas and other major cities. The Austin Amtrak station is conveniently located on the western edge of downtown Austin, in a historic 1947 Missouri Pacific Railroad depot, with easy access to Austin's attractions and activities.
Learn more about additional transportation options here.