STUDIO FACILITIES
Austin has a number of small to large-scale studio facilities, conveniently located close to downtown and ready to house productions. These complexes offer a range of stages, office space, amenities and support services to meet the needs of big feature film and television productions.
 
---

ADURO STUDIOS
9201 Brown Ln, #201, Austin, TX 78754

Aduro Studios and Film is a full service production facility in North Austin, 15 minutes from downtown. Aduro offers truck, lighting, grip and camera rentals as well as studio rentals and office space.
Stages: 2,000 sq. ft. of stage area with fully pre-lit cyc wall - no rigging required. Bay door for load-in (fits vehicles), quiet AC and sound treated ceiling/walls.
On-site: Office with video feed, green/conference room with video feed, kitchen, and wardrobe room.
Gated parking lot (fits 20 vehicles) and surface lot for overflow parking.
Grip and Electric on-site with rental amenities including truck and customized equipment packages.
Contact:
833.238.7634
adurofilm@gmail.com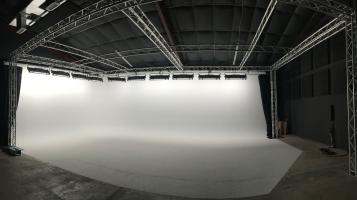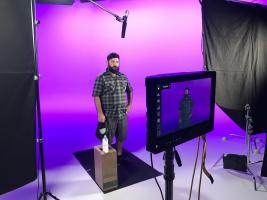 ---

ATX EVENT STUDIOS
7400 Cooper Lane, Austin, TX 78745

ATX Event Studios is a 4 acre gated ranch style campus located in south Austin, just minutes from downtown. Facility has 300 amp 3 phase power, rigged monitors/virtual audience screens, on-site equipment for virtual event production or stage use as well as office space, multiple outdoor shoot locations and a pool.
12,000 sq. ft. studio with 10'x40' curved LED wall, 3 truck bays. Equipment with lights, media server, switcher and 72 channel audio console to produce and stream virtual events.
440 sq ft studio with 2 bathroom facilities, blue screen or customizable set up.
168 sq ft kitchen studio with gas range and peninsula.
2 green rooms, enclosed BOH/video village.
Contact:
512.827.3612
studios@atxes.com


---

ATX STUDIOS
5330 Fleming Court, Austin, TX 78744

ATX Studios is a full service film and entertainment studio complex with office space, located 10 minutes from downtown Austin and 5 minutes from Austin-Bergstrom International Airport. ATX Studios is a private and secure facility equipped for large-scale production of film and television.
Stages: 90,000 sq. ft. of space separated into 3 studio stages with 28'-33' ceilings, 11 truck bays and a mill area
Office: 15,000 sq. ft. of production office space
Backlot: 5 acres for staging and construction
Parking: Large adjacent lot includes 175-spots
Contact:
800.508.2667
info@atxfilmstudios.com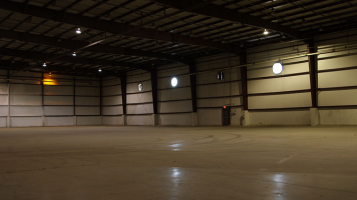 ---

AUSTIN MOVIE GEAR - STUDIO SPACE
8711 Burnet Rd, Ste F-73, Austin, TX 78757

The Austin Movie Gear Studios is an extension of Austin Movie Gear rentals. The space is great for photo and video shoots, private screenings, rehearsals/auditions, and production meetings. On-site rentals are also available to handle all your lighting and camera equipment needs.
Stages: 800 sq. ft. space
Includes use of venue tables, chairs and corner kitchenette
Contact:
Christian Rousseau, Studio Manager
512.850.7327
rentals@austinmoviegear.com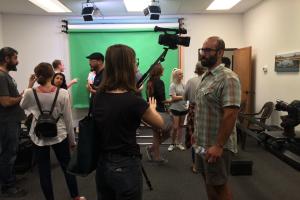 ---

AUSTIN PUBLIC
1143 Northwestern Ave, Austin, TX 78702

Austin Public is a 7,000 sq. ft. production facility located near downtown that can accommodate film and video production, meetings, performances and screenings. The space features two soundproof, climate-controlled production studios and a large conference room.
Studio 1: 1,200 sq. ft. space with LED lighting grid and a cyc wall (20x10 ft.)
Studio 2: 360 sq. ft. space with LED fixtures and a green backdrop (8x10 ft.)
Additional on-site spaces include post-production suites, a large parking lot & loading dock.
Contact:
512.478.8600
austinpublic@austinfilm.org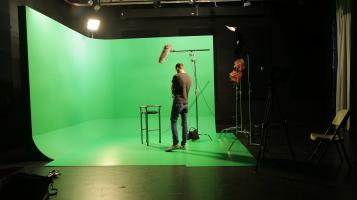 ---

AUSTIN SCHOOL OF FILM - MEDIA STUDIO
2200 Tillery Street, Austin, TX 78723

Austin School of Film is centrally located in East Austin, providing the community with a budget friendly alternative for events, exhibitions, festivals, productions and more.
14,000 sq. ft. of multi-use arts space including small studios and a large open media center with furniture.
Private production office spaces available for rent, perfect for post.
Amenities like kitchen, conference rooms, on-site gear rental and parking.
Contact:
512.236.8877
admin@austinfilmschool.org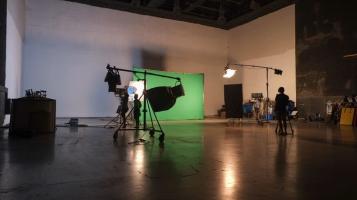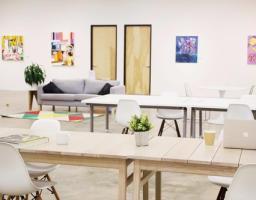 ---

AUSTIN STUDIOS
1901 E. 51st Street, Austin, TX 78723

Austin Studios is a 20-acre film and creative media production complex located in central Austin. Austin Studios' production facilities currently feature two sound stages. The lot is also home to production vendors like Chapman Leonard Studio Equipment and MPS Camera.
Stage 3: 12,525 sq. ft. studio space with an 87 ft. cyc wall & 230 sq. ft. of office space
Stage 7: 13,775 sq. ft. studio space with 26' ceilings
Backlot: Large tarmac staging area for base camp, set construction, and parking
Contact:
Chris Engberg, Studio Manager
512.322.0145 x3216
chris@austinfilm.org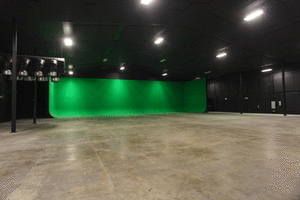 ---

CASTLEVIEW PRODUCTIONS STUDIO SPACE
1100 W 41st St Austin, TX 78756

Castleview Productions' Studio is a professional soundstage with a homey ambience for photography, film, and video production. Located in central Austin, just 10 minutes from downtown Austin and 20 minutes from Austin-Bergstrom International Airport. Tungsten and fluorescent lighting kits available. 
460 sq. ft. studio with 13' 6" x 9' 6" cyc wall
9' 6" high lighting grid spanning entire stage
Easy load-in access (10' wide)
Also available: green room, work space, parking, wifi, & kitchen with stocked fridge
Contact:
512.442.9944
contact@castleviewproductions.com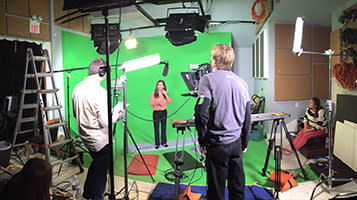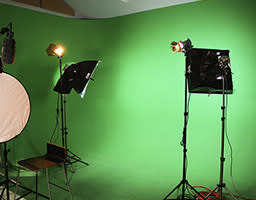 ---

CASTER STUDIOS
271 Sports Park Rd, Dripping Springs, TX 78620

Caster Studios is a Pre-Lit Cyclorama stage. Located 30min west from downtown Austin. Caster Studios offers production office space, client lounge, makeup room and storage. A 5,000 sq. ft. professional space for video and photography productions.
2,800 sq. ft. 32' x 28' shooting stage with three hard cyc walls under a 19' High full grid.
Stage is pre-lit with 6 space lights controlled by a DMX board.
Private office space, kitchen and furnished lounge areas.
Acoustically-treated walls, 12x12 bay door and scissor lift.
Contact:

512.894.5075

rental@casterstudios.com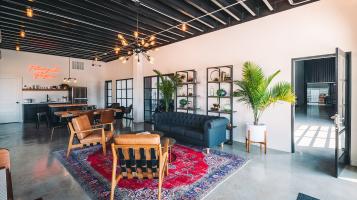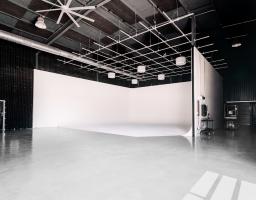 ---

CO-PRODUCTION HOUSE
7601 S. Congress Ave, Suite 130, Austin, TX 78745

Produce content virtually anywhere in the world with Co-Production House's custom LED Volume. The LED Volume allows producers to place talent in locations that could otherwise be difficult or expensive to film. Volume Tech and crew are available as desired or you can keep the wall white, green or any other background if that's all you need for filming.
2,500 sq. ft. stage with a 20 ft. x 10 ft. LED wall that immerses talent in a virtual environment.
The stage has 12 ft. x 14 ft. loading door, kitchenette, green room, and bathroom.
200 amps of 3-phase power.
On-site office rental is also available along with monthly educational community events.
Contact:
512.351.9215
home@co-productionhouse.com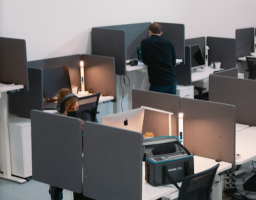 ---

COGNITIVE STUDIO RENTAL
321 W Ben White Blvd, #106B, Austin, TX 78704

Cognitive Films has a 6,000 sq. ft. studio space dedicated to photography and video shoots. The sound-abated studio is perfect for interview, spokesperson and green screen sets. The cyclorama studio with bay door load-in offers amazing creative opportunities for product, fashion and commercial video shoots.
Studio space is sound abated includes a 24 ft. x 24 ft. cyc wall.
Make-up Room, Kitchen and Conference Room.
Studio has bay door and 3-phase power.
Contact:
512.766.3456
info@cognitivefilms.com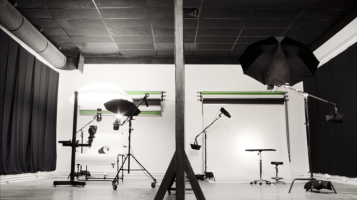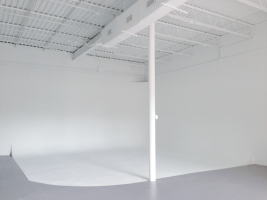 ---

DISTRIBUTION HALL
1500 East 4th Street, Austin, TX 78702

Distribution Hall a large air conditioned warehouse space, open-air hanger, and a beautiful outdoor courtyard, Distribution Hall offers productions the perfect stage space for photography, film, and video production less than a mile from downtown on Austin's east side.
6,300 sq. ft. studio, 12 ft. to the beams, with cyc wall.
2,800 hanger with a mill.
Scenic courtyard and on-site parking lot.
Add-ons include: Audio Recording Suite, Dressing Suite green room, Media Lab for post/offices.
Contact:
‪512.262.9656
hello@distributionhall.com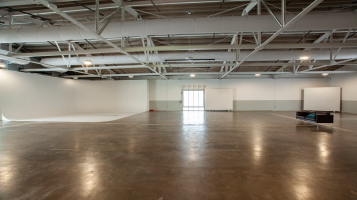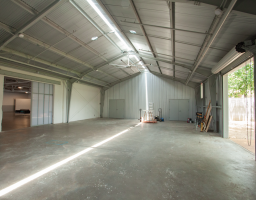 ---

FOTOHOUSE
1701 Guadalupe St, Austin, TX 78701

Conveniently located in downtown Austin, FotoHouse production studio is perfectly equipped to host your next podcast, photo or video shoot. In-house equipment is included with your studio rental including lighting and backdrops. Memberships are available, providing not just special rates but a space to exhibit your work and learn new skills.
800 sq. ft. studio space with an 18.5 ft. x 14.5 ft. cyc wall.
Manfrotto Sky Rail System 54.
Lounge area for clients and talent.
Contact:
512.537.2506
bookings@fotohouse.co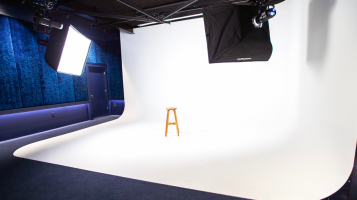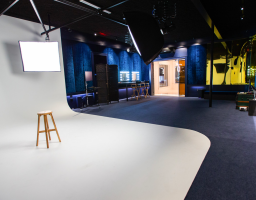 ---

OMEGA BROADCAST & CINEMA STUDIO
817 W Howard Ln, Austin, TX 78753

Whether it is a green screen studio shoot, or filming on location with a state of the art Reflecmedia media kit, you can count on a clean key on the Omega stages. Full day or half day rentals available. Also available for rent is the on-site production suite for post-production.
Stage: 1600 sq. ft. of studio space with a 40 foot cyc wall section and full rigging/lighting grid at 11ft.
Large rolling bay door for easy loading in/out
Production offices with Wi-Fi and phone
Also available: kitchenette, private green room with make-up and wardrobe room
Contact:
Enrique Garcia, Studio Manager
512.251.7778
egarcia@omegabroadcast.com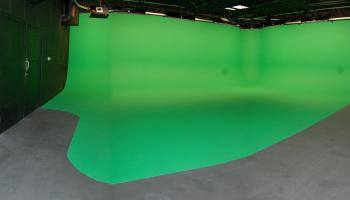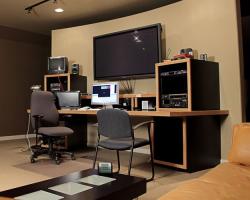 ---

ORIGINATOR STUDIOS
718 Northwestern Ave, Austin, TX 78702

Originator Studios is a professionally soundproofed soundstage with lowering lighting grid. Located minutes from downtown in East Austin, this is the perfect space for video production, motion control, VR & photography.
Stage: 800 ft. shooting stage is composed of two hard cyc walls under a 16' ceiling
5-ton capacity welded grid that raises & lowers
Acoustically-treated walls and 10x10 double doors for easy load-in
Additional office/flex space and kitchen available.
Contact:
512.263.0754
info@originatorstudios.com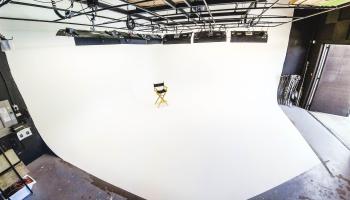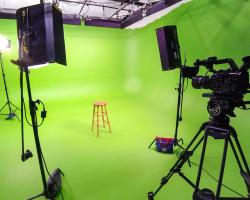 ---

RENEGADE STUDIOS
220 E 4th Street, Taylor, Texas 76574

Renegade Studios offers an affordable and dynamic soundstage with a friendly staff that is geared to help filmmakers bring their vision to life. Located in Taylor, just 35 minutes north east of Austin, Renegade Studios also offers on-site gear rental, production office spaces and an on-site mill space to maximize your production value with set and prop creation.
2,500 sq. ft. stage with 65x17" pre-lit cyc wall.
2,500 sq. ft. office space, 1135 sq. ft. full kitchen/break area & 680 sq. ft. furnished green room
350 sq. ft. conference room for production meetings
5,500 sq. ft. on-site mill/warehouse space
Contact:
512.777.0697
info@renegadefilmstudios.info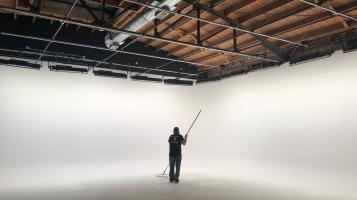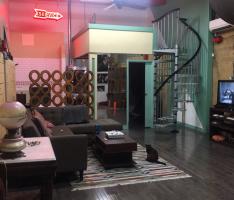 ---

SOUNDSTAGE ON ST. ELMO
415 E St Elmo Rd, Austin, TX 78745

Soundstage On St. Elmo offers filmmakers a professional atmosphere makes it easy bring their visions to life. Just south of downtown, the facility has an extensive in-house lighting setup, partnerships with several gear rental houses, and an on-site carpentry/metal shop for prop and stage fabrication.
2,100 sq. ft. stage with 30" cyc wall joints and a 25 ft. wide pre-lit green screen.
300 sq. ft. office space, 150 sq. ft. kitchen & 350 sq. ft. furnished green room
650 cubic foot locking equipment cage and a load-in bay
Two 100 sq. ft. acoustically insulated chambers
Contact:
512.501.2491
booking@stelmostage.com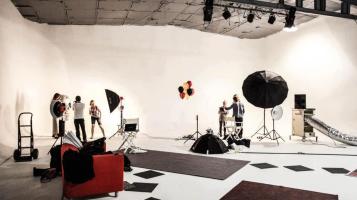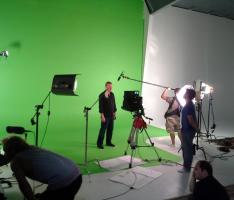 ---

SPIDERWOOD STUDIOS 969
140 Utley Road, Utley, TX 78621

Studios 969 is a production facility located 30 minutes from downtown Austin, Texas and 20 minutes from Austin-Bergstrom International Airport. Equipped with 3 sound stages, backlot, production offices, plenty of parking for base camp and spacious RV Park with full utility hook-ups.
Building A: 3,000 sq. ft. construction mill
Building B: 6,500 sq. ft. Sound Stage with a 24' x 100' cyc wall with hair & makeup, green room, conference room and commissary.
Building C: 2,400 sq. ft. Sound Stage and 1,200 sq. ft. sound stage with additional office space and kitchenette.
Backlot: With 165 acres of wilderness, creeks, high plains / low plains and a cabin set along the Colorado River.
Contact:
Matt Hanger
469.818.6034
m.hanger@spiderwoodstudios969.com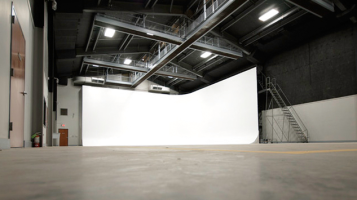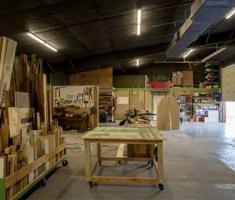 ---

TROUBLEMAKER STUDIOS
4900 Old Manor Road, Austin, TX 78723

Troublemaker's location offers a private, enclosed production facility, situated in the heart of central Austin. The studios are located 10 minutes from downtown, 15 minutes from Austin-Bergstrom International Airport and are accessible 24 hours a day via on-site security.
Stage 1: 9,460 sq. ft. studio space with green screen wall, full grid & air-conditioning
Stage 2: 14,000 sq. ft. studio space with 20' ceilings and soundproofing
Mill Space: 14,000 sq. ft. shop with dust collection and fiber-glassing area
Office Space: Over 10,000 sq. ft. office & storage space with 8 acres of tarmac staging area
Contact:
Nixon Guerrero, Studio Manager
512.334.7748
nixon@troublemakerstudios.com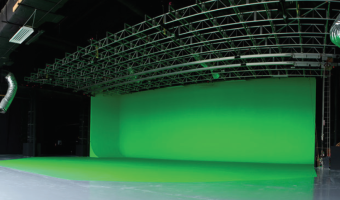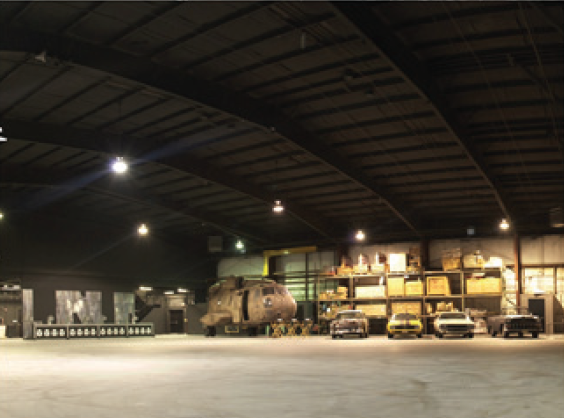 ---

VIVIAN STUDIO
8711 Burnet Rd, Ste. F-63-64, Austin, TX 78757

Vivian is a full-service photography and video production studio located in north Austin, Texas. Vivian's Studio provides the perfect space for project coordination and fabrication as well as digital content creation and editing. The resources for your creative needs are all under one roof, including on-site transportation and gear rental.
Production space with conference room, office and kitchen.
Studio space includes pre-lit 18 ft. wide cyc wall, 12 ft. tall, 26 ft. deep.
Grid has 110 & 220 outlets. Cyc is painted white or chroma green. Stage has bay door for easy load-in
Contact:
Tim Hoppock, Studio Manager
512.971.4416
tim@vivianatx.com