Austin's oldest film festival and premiere LGBTQ+ film fest of the Southwest, aGLIFF (All Genders, Lifestyles & Identities Film Festival) returns in-person August 24–28, 2022 with screening at the Galaxy Theater (6700 Middle Fiskville Rd). aGLIFF's celebration for the 35th annual festival will salute both the rich history, but also recognize how the LGBTQ+ experience has changed. aGLIFF cultivates the Texas LGBTQ+ community by enlightening, educating, and entertaining moviegoers through programs that enrich LGBTQ+ and ally communities while developing LGBTQ+ awareness.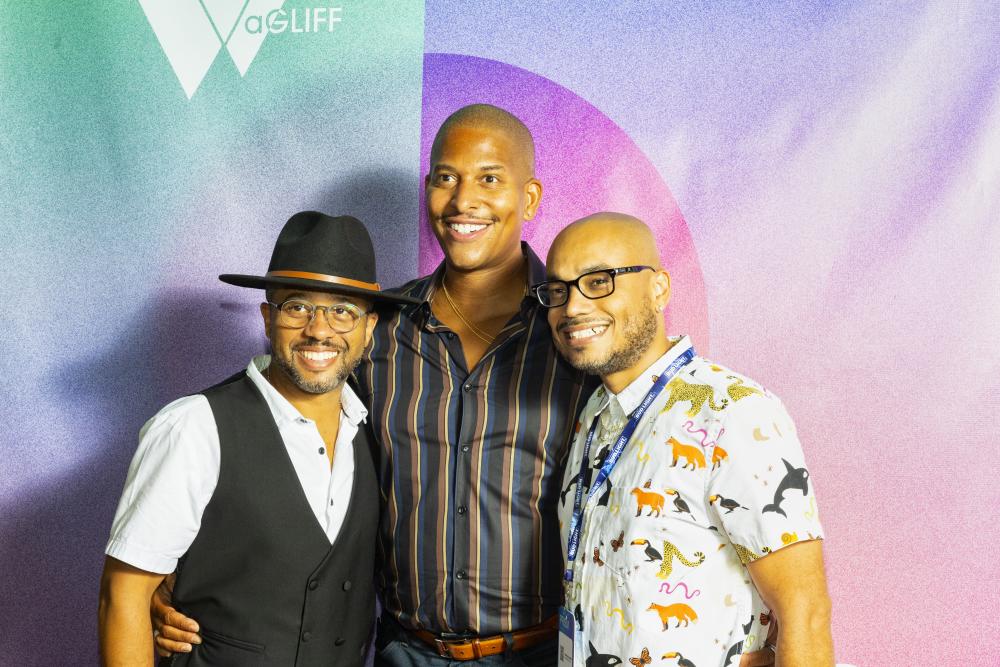 Courtesy of aGLIFF.
Festival Film Headliners
All Man: The International Male Story
This year's opening night feature is All Man: The International Male Story. Gene Burkard, a once-closeted Midwesterner and GI, found freedom in San Diego, where he transformed men's fashion into something cosmopolitan, carefree, and trendsetting. International Male reached gay and straight customers alike as it redefined images of masculinity in America culture, generating revenue and circulation in the millions. This character-driven documentary crafts a portrait of a band of outsiders who changed the way men would look – at themselves, at each other and how the world would look at them. This is their story – a modern day fairy tale about a dream that really did come true.
A Run for More
Growing up, Frankie Gonzales-Wolfe learned to be a fighter, but never imagined having a chance to make history as the first openly elected transgender official in Texas. Unfolding amidst an onslaught of trans legal attacks, A Run for More immerses viewers on Frankie's journey as she finds her voice, questions her relationship to community, and tries to win an election. Shot over four years, A Run for More immerses viewers into Frankie's unique campaign and the impact it has on her, the city, and the LGBTQ+ community in San Antonio.
Three Headed Beast
In the quiet of a hot Texas day, Peter goes to bed with his lover. Across town, Nina wakes up with hers. Without a word, each couple bids a fond, lingering farewell, and Peter and Nina return to their cozy shared home. They operate comfortably in smiles and silence, moving about their day in percussive rhythms and worn-in grooves of a long-term, healthy relationship; but something in the way they communicate is noticeably lacking. Though they are on the verge of closing their open relationship, something, and someone, is missing. 
Out in the Ring
Out in the Ring explores the rise and history of LGBTQ+ professional wrestlers and representation in the sport. Featuring interviews from past legends, veteran journeymen, rising and current independent stars and important wrestling experts, Out in the Ring is the first documentary to take a deeper look at queer representation in wrestling. Through a combination of these interviews and incredible archival footage, this ground-breaking film looks at the effects of homophobia, racism, and gender equality on wrestling stars of the past and present and looks ahead to the future of queer and trans stars in the sport.
Nana's Boys
When an explosion rattles NYC into a lockdown and without power, Amari and Q are forced to confront the fragility of their partnership. Nana's Boys is an intimate peek into the relationship of two Black gay men. On the morning of his 30th Birthday, Amari struggles to make decisions on what's next and defining his purpose. Q is on track to become the youngest partner at his law firm and plans an elaborate soiree to celebrate this milestone of his long-term partner. The day takes a rattling turn when an explosion cuts off utilities across New York City and forces the city into mandatory lockdown. Their relationship is tested as the couple grapples with memories that could shatter their plans altogether. 
The Affairs of Lidia
Lidia, a fashion model, discovers her husband Michelangelo, a boxer, is having an affair with Sandro, a fashion photographer. She deviously plots her revenge in this erotic comedy set against the backdrop of the fashion world written and directed by Bruce LaBruce. 
Attending Prism 35
Badges are $125 and single tickets start at $15, on sale now at agliff.org/badges.