Looking for the best dive bars in Austin, Texas? Head to these spots, where the drinks are stiff, the locals are friendly and the live music and jukeboxes play all night long. We've listed 20 down-home Austin bars to get your night started, from the best dive bars on 6th Street and around downtown Austin to country bars and punk bars throughout the city.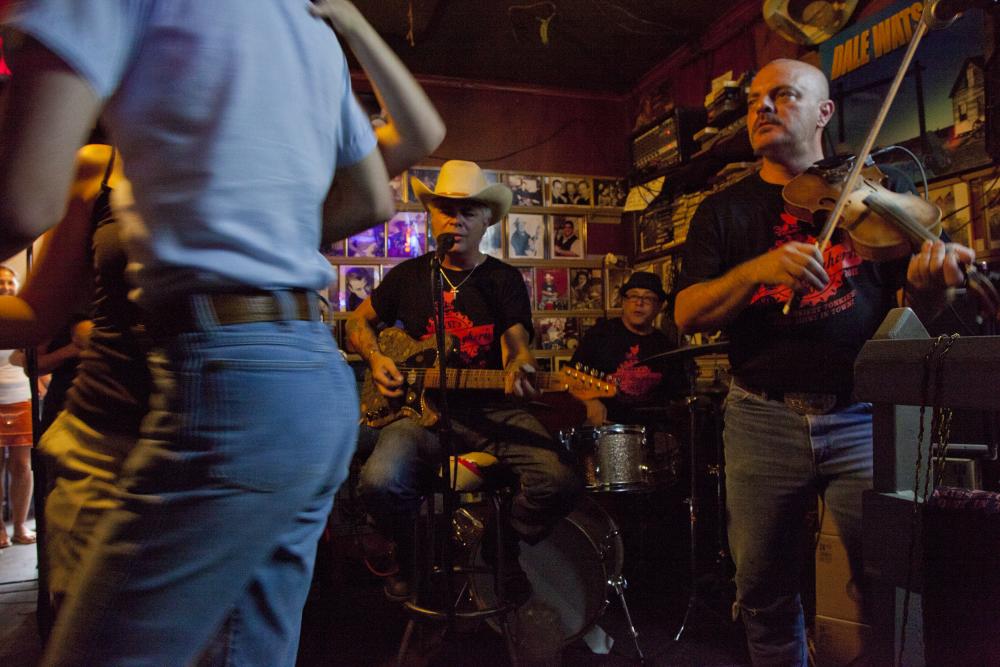 Dale Watson at Little Longhorn Saloon. Courtesy of Visit Austin.
1. Little Longhorn Saloon, one of Austin's original honky-tonks, hosts at least 10 bands each week (and there's never a cover charge). Little Longhorn is also known for its six-days-a-week happy hour (with $2.50 Lone Star beers) and its popular Sunday Chicken S**t Bingo.
2. Donn's Depot is housed in an old Missouri-Pacific train depot that was moved to Austin more than 30 years ago (the women's restroom is even a real caboose!). Six days a week, dancers twirl to free live music that ranges from country and swing to modern folk and pop.
3. The Cloak Room is an underground speakeasy located just steps from the Texas Capitol in the basement of the historic Goodman Building. Local politicians are known to frequent this little hideaway noted for its no-nonsense drinks.
4. Dirty Bill's was voted Best Dive Bar in 2017 by Austin Monthly. Step into this gritty West Sixth bar and let one of the bartenders pour you a "dirty" drink. Be sure to snap a selfie with Dirty Bill's beloved gnome mascot.
5. The White Horse is a true Austin honky-tonk that features live bands seven nights a week. Take a free dance lesson, then two-step along the floorboards to live bluegrass, country-western and Americana music. Order a bomb taco or burrito into the wee hours of the morning.
6. Located across the street from the University of Texas at Austin since 1974, the storefront Hole in the Wall stage has hosted everyone from Spoon (who shot the video for their song "Jealousy" in the men's room) and Shakey Graves to Don Henley of the Eagles.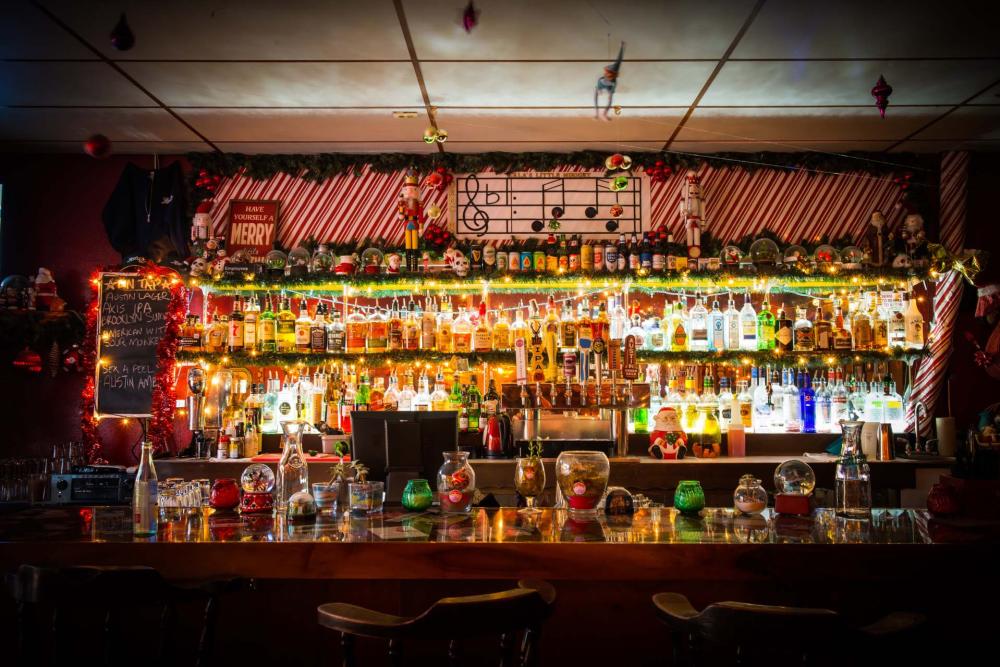 Courtesy of Lala's Little Nugget.
7. It's always Christmas at Lala's Little Nugget, a 1970s-era bar where the holiday decorations are up all year round (including Santa and his reindeer perched on the roof) and tunes are blasted from a vintage jukebox. Post up on the patio and chow down on some tasty pizza from Brooklyn Pie Co.
8. The Mean Eyed Cat is a great stop for music and beer lovers. Dedicated to the late, great Johnny Cash, the bar takes its name from his song "Mean Eyed Cat." The bar features tons of Cash memorabilia, and boasts an assortment of chainsaws and blades, too. Once home to the Cut-Rite chainsaw repair shop, the building was featured in the film The Texas Chainsaw Massacre 2.
9. Local and touring musicians are on the bill three nights a week at The Skylark Lounge, an off-the-beaten path favorite that's part-dive bar and part-live music venue. Settle in with a drink in the dark, moody lounge or head out to the eclectic back patio.
10. You'll find some of Austin's best karaoke at Ego's, hidden behind a gas station and tucked under an office building parking garage. Ego's hosts free karaoke every night, and recently celebrated its 43rd anniversary. Go ahead and shoot some pool while waiting for your turn on stage.
11. Casino El Camino is a true neighborhood bar in the heart of Sixth Street. Be sure to order one of the best hamburgers in town, like the Buffalo Burger (topped with the bar's own hot wing sauce and smothered in bleu cheese), which were featured on Food Network's Diners, Drive-Ins and Dives.
12. The circus is in town all year round at the Carousel Lounge, a colorful carnival-themed watering hole that's a hit with the locals and visitors lucky enough to discover it. Elephant and lion tamer murals, plus an actual carousel behind the bar, form a bizarre backdrop for live performances.
13. G&S Lounge is an unassuming little bar that keeps patrons entertained with live bands, classic arcade games and pinball. Order your favorite beer or try something new from G&S' extensive selection by the bottle and on tap.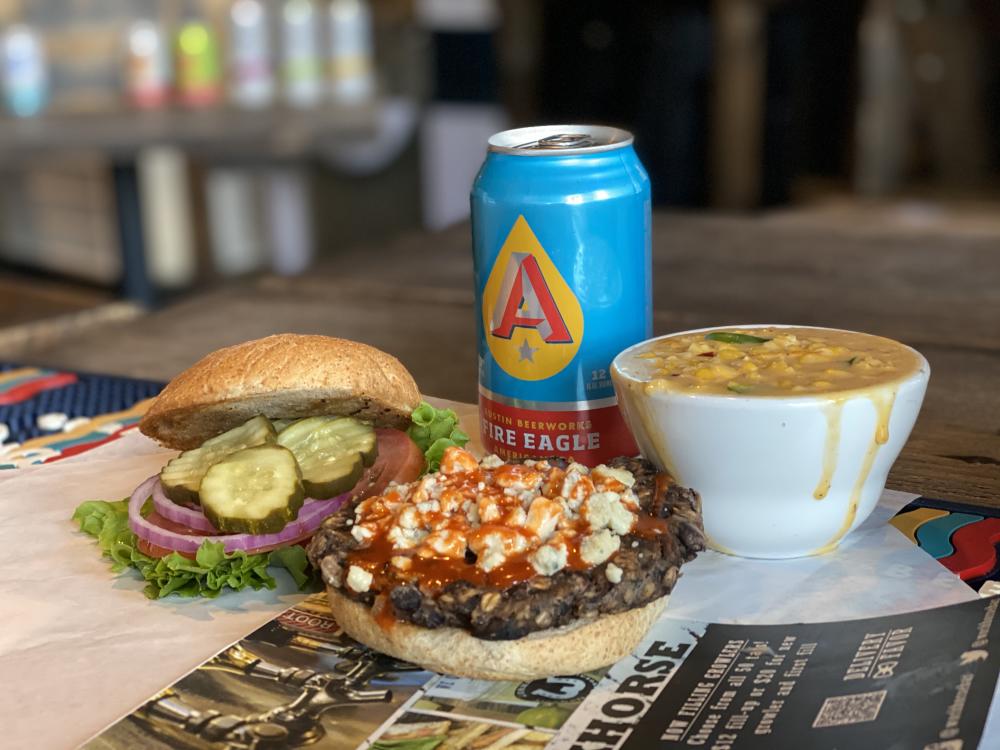 Courtesy of Workhorse Bar.
14. Workhorse features 50 beers on tap, 30+ of which are local Texas drafts. Drop a coin in the jukebox and try a house shot like the Race Horse (whiskey and Campari shaken with a lemon). A full menu includes burgers made with grass-fed beef from Central Texas ranchers.
15. Deep Eddy Cabaret is one of Austin's oldest saloons. Run by the Hickman family since 1951, the bar is named for a deep swimming hole that formerly existed on the nearby Colorado River. Deep Eddy is a nostalgic shot-and-a-beer type of bar that does not feature live music, despite its cabaret moniker.
16. Lovers of rock music and motorcycles will want to head to The Lost Well. Happy Hour happens every day until 9 p.m. (don't miss the $5 shot and beer special on Mondays). Besides live bands, you can catch MotoGP on the big screen during racing season.
17. The no-fuss, moody atmosphere at Barfly's makes it a great spot to grab a cheap drink and relax with friends (and make new ones) around the pool table. You won't hear any live music or DJs at this joint, the only tunes are coming out of a jukebox with 100 carefully selected CDs.
18. Stop by The 04 Lounge, a no-frills neighborhood spot decorated with flea market finds. Order a strong drink and listen to music from the jukebox or head out to the patio and mingle with the tattooed locals.
19. The Side Bar has the reputation of being Downtown Austin's diviest bar. Expect stiff, cheap drinks, pool tables, a blaring jukebox and a big, happening back patio that attracts a hipster crowd.
20. One of the last holdouts on East Sixth Street, La Perla Bar is beloved among local for its friendly staff and low key vibe. Open since 1973, this family-owned cantina is a tribute to the deep Chicano history in the neighborhood. Enjoy the bar's signature take on a michelada - "The Armodelo" - and put a dollar in the jukebox.