Looking for a spot to sweat out your Saturday night? Or just squeeze in some quick cardio after work? Austin is sprinkled with plenty of trails where you can run, walk, hike, or bike–without even traveling outside the city limits. Take advantage and enjoy Mother Nature's good vibes!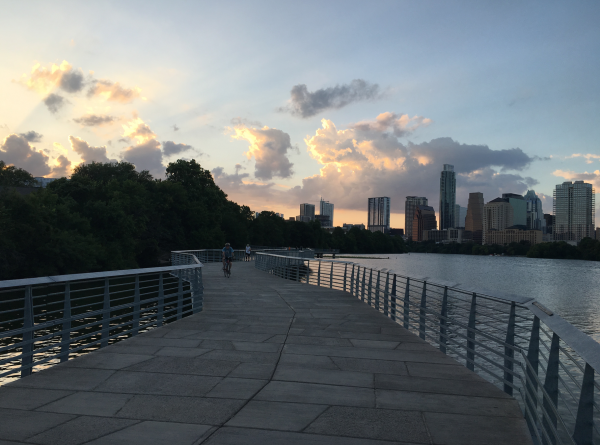 The Boardwalk at Lady Bird Lake
Ann and Roy Butler Hike-and-Bike Trail Lady Bird Lake
This 10 mile loop around Lady Bird Lake is an Austin staple and includes a sampling of several centrally-located parks along the way. You can hop on this trail at virtually any point and cut across the water via any bridge to create your own route. If you love people watching, sunsets, and badass views of the Austin skyline, then walk to the edge of the lake and have yourself an adventure.


River Place Nature Trail via Friends of River Place Trail
River Place Nature Trail 8820 Big View Dr
Get ready to sweat. These 5-6 miles of hill country woods have infamous stretches of inclines and stairs that will make you feel the burn–even a day or two (or three) later. You aren't likely to get a better workout in a more scenic spot in Austin-proper. Be prepared to get muddy and a little wet if you're hiking after a rainstorm. This is also a dog-friendly park, so consider bringing a canine companion just in case you need to be pulled up the stairs in a moment of weakness.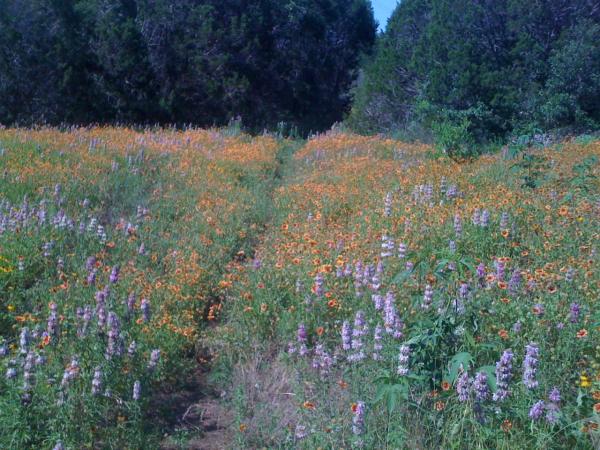 Violet Crown Trail
Violet Crown Trail 5524 Bee Caves Rd
The Violet Crown Trail began as a vision in 1999 to create the first regional trail system in Central Texas. After over 15 years of strategic land acquisition and planning, the first six-mile segment is now open and the VCT is on its way to becoming the longest trail of its kind in Central Texas. Passing near the Lady Bird Johnson Wildflower Center, the Violet Crown Trail will head south, winding through the rolling countryside of the City of Austin's Water Quality Protection Lands in a uniquely natural setting.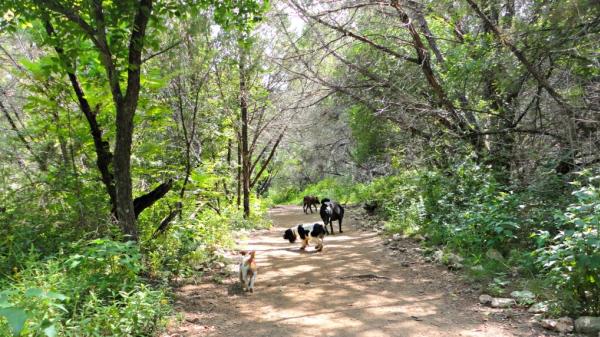 Turkey Creek Nature Trail via Hill Country Outdoor Guide
Turkey Creek Trail Emma Long Metropolitan Park
This 3 mile hike is short, sweet, and full of awesome scenery. It's moderate in difficulty and includes some additional side trails to explore, if getting lost in the woods is your thing. The pathway crosses over the creek bed multiple times, so consider bringing water shoes if you're hiking during the rainier months and tread carefully if you have kids tagging along. Another bonus for dog owners: this is an off-leash park!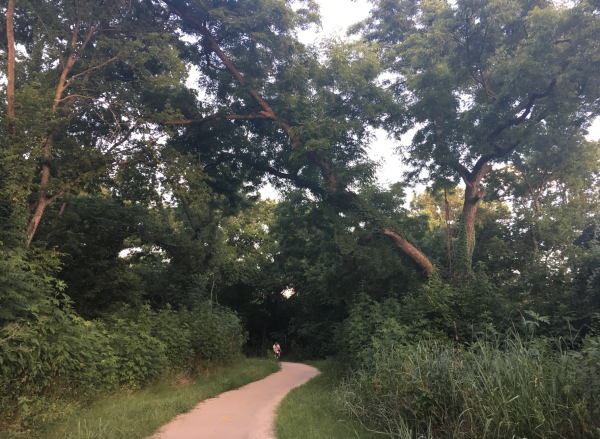 Walnut Creek Trail
Southern Walnut Creek Trail Johnny Morris Road and Govalle Park
This 7.7 mile long urban trail is perfect if you're looking for a longer trek. It's fully paved and about 10 feet wide, making it ideal for bike traffic but also great for walkers and runners. Located in the Walnut Creek Greenbelt in East Austin, the trail will satisfy any nature-lover's craving for beautiful foliage or arthropod encounters. As part of a larger system of urban trails being developed in Austin, the Southern portion now connects to an extension that runs another 7 miles to Manor, TX. Strap on your helmet and go!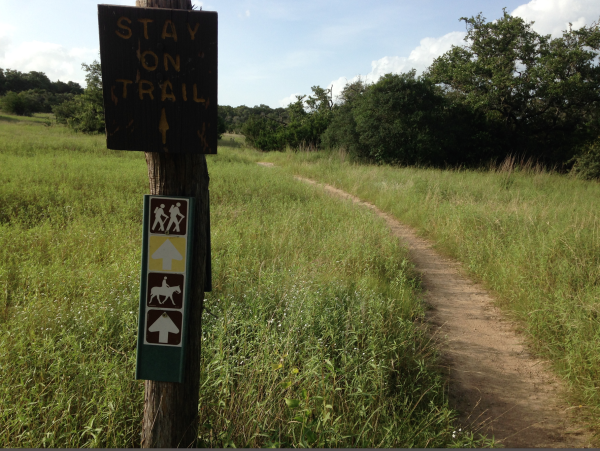 Slaughter Creek Trail
Slaughter Creek Trail Circle C Ranch
South Austinites don't need to drive too far north to get a good hike in. Slaughter Creek provides 5 miles of horse, hike, and mountain bike friendly pathways. This trail is well-marked and good for both novice or experienced hikers. In the spring, you can enjoy views of beautiful wildflower fields. Pro tip: lather up with sunscreen - this trail isn't as shady as some of the woodier parks in Austin.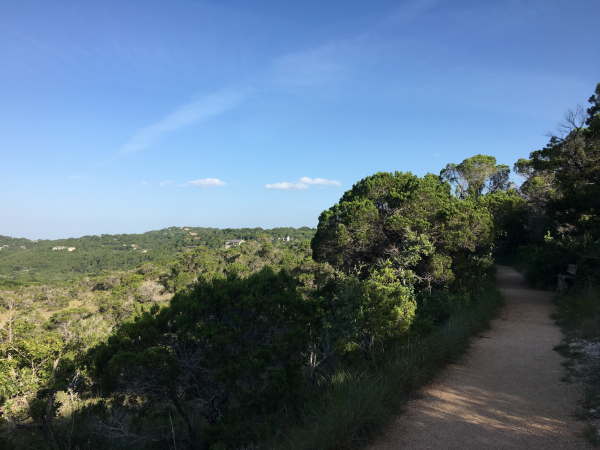 The Wild Basin
Wild Basin Wilderness Preserve 805 North Capital of Texas Highway
Hidden just off Capital of Texas Highway are 227 acres of pristine Hill Country woods. A short 2.5 mile trail runs through this preserve and provides amazing views at every corner, including a creek, a waterfall, and an overlook of the basin. The hike is relatively easy, with a few calorie-burning inclines. You're likely encounter some wildlife along the way; the preserve is home to the Golden–cheeked warbler, an endangered bird that's been around since before Austin was weird.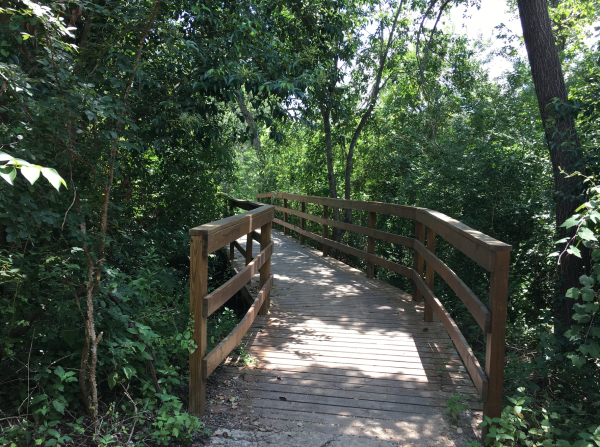 McKinney Falls State Park
McKinney Falls State Park 5808 McKinney Falls Pkwy
If chilling at a waterfall oasis after a hike is your thing, then head down to the lower falls at McKinney Falls State Park. To reach the trailhead, you'll need to pay a small park fee and cross over the creek on foot, but the 6.8 miles of hiking are worth it. The trail is made up of a few smaller loops, so if you're hungover or recovering from a "cheat week" then you can make it short and sweet. The hike is relatively easy, but includes some great foliage and wildlife sightings.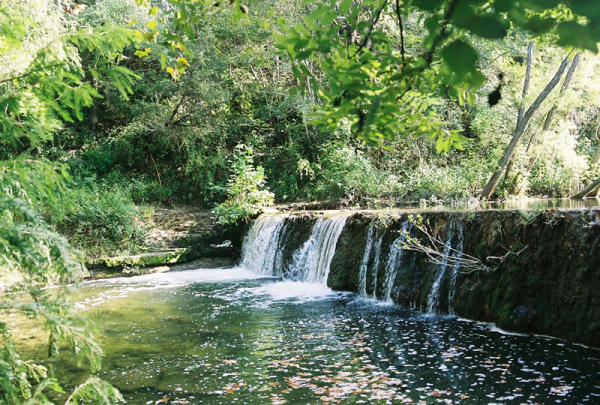 A Photographic Essay: St. Edwards Park by Kim Heaston
St. Edwards Park 7301 Spicewood Springs Rd
This hidden gem in Northwest Austin is a great alternative to some of the more crowded parks in the city. The 2-3 mile long hike is relatively easy with a few challenging spots of hilly terrain, but the scenery is definitely the draw. Along the way you'll see Bull Creek, waterfalls, one of the biggest cactus patches in Austin (Instagram with caution), and an awesome overlook of St. Edwards Park.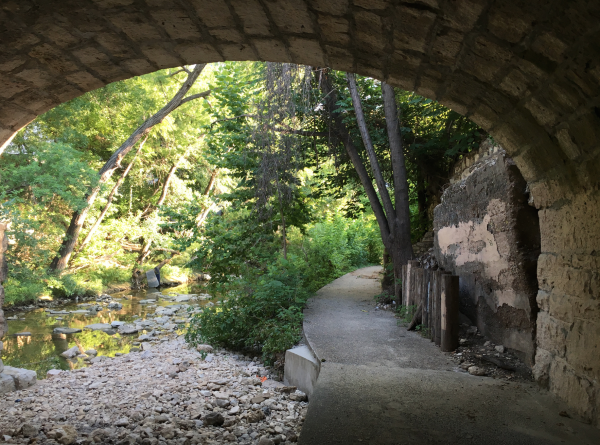 Shoal Creek Trail
Shoal Creek Trail 2600 N Lamar Blvd
A centrally located trail that's great for a quick run before or after work is in the Shoal Creek Greenbelt. If you're northwest of downtown but don't want to the hassle of finding parking around Town Lake, hop on around 38th Street and enjoy a great mix of urban and natural scenery. This shady trail passes by the amenities of Duncan Park and Pease Park, so if you're walking your pup and forgot doggie bags, you'll be covered. Eventually, this 3.7 mile trail will connect to the Lady Bird Lake Trail at Shoal Beach so long distance runners can go ham.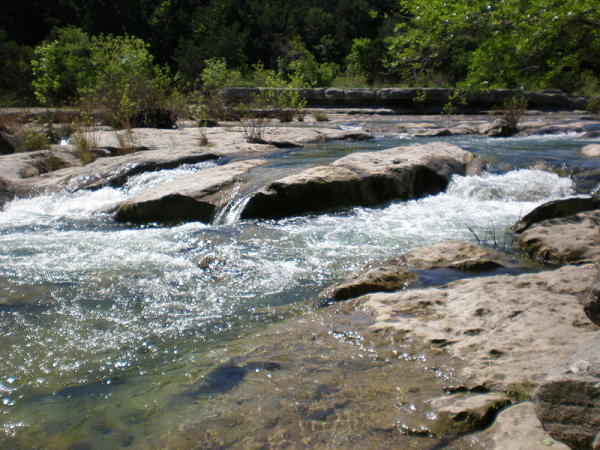 The Greenbelt via Wikipedia
Barton Creek Greenbelt 2100 Barton Springs Rd
Another Austin staple is the Barton Creek Greenbelt, one of the top rated hikes in Texas. This 7.8 mile trail will entertain virtually any outdoor enthusiast. Not only can you hike and bike, but you can climb, swim, kayak, float, and party responsibly. The scenery speaks for itself, so go out and explore!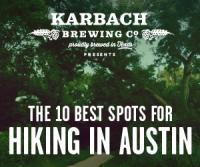 Contributed by Emma Galdo for Do512.
Want to talk trails? Holler at Do512@Do512.com