Korean restaurants have proliferated in Austin over the past decade. As the city has grown and demanded a wider variety, it's now much easier to encounter everything from mom-and-pop shops serving traditional dishes to modern restaurants incorporating Korean fusion flavors. We've listed our top ten favorite Korean restaurants below.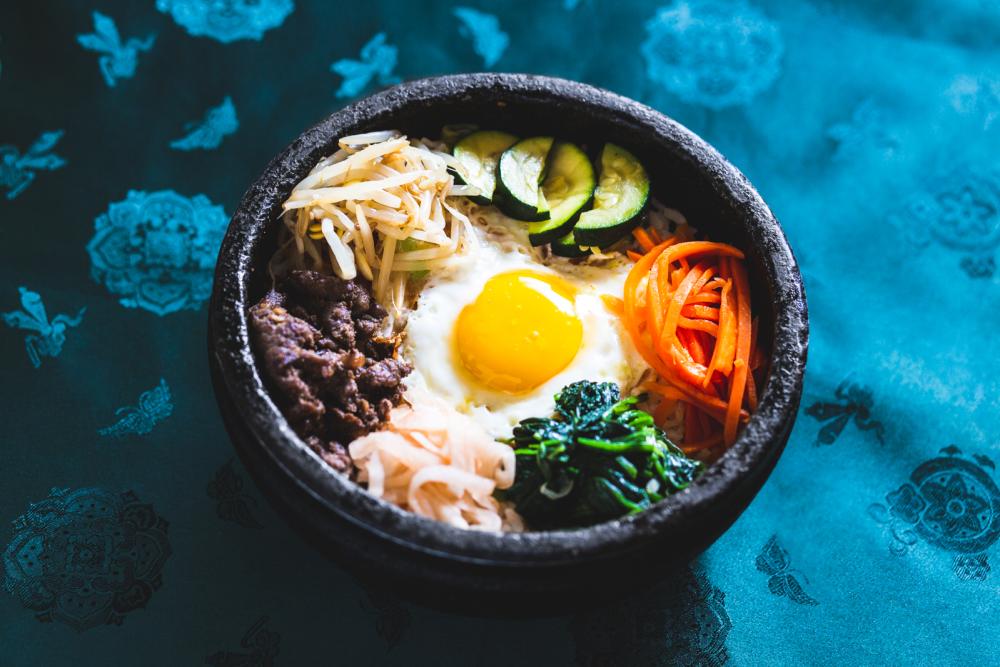 Korea House. Credit Tom Yu.
One of the original Austin Korean spots is Korea House. Set back in a courtyard in North Austin, you'll definitely want to pull up a map to find this locale. They have both regular tables and grill tables so you can choose your own adventure. Dig into Yukgaejang (spicy bone broth) on a chilly day or some hearty Bulgogi Curry Udon. If you're putting in some effort, grill your own bibimbap, pork belly, bulgogi, or galbi right at your table with all the unlimited banchan.
KFC, or Korean fried chicken, has exploded in popularity. And to get a taste, check out bb.q Chicken in the Highland Village shopping center. They have whole chicken, boneless options and wings in an assortment of flavors like soy garlic, galbi, cheesling and secret spicy. Round out your meal with munchies like sweet potato fries, ddeok bokki, coleslaw, and steamed rice and wash it down with a cold Chumchurm soju.
Practically next door is Oh K-Dog serving street food craze Korean rice dogs. Your choice of a hot dog or cheese (or both!) on a stick, fried in rice flour and/or potato and simple egg toasts. You can add seasonings or a side of fish cake soup, too.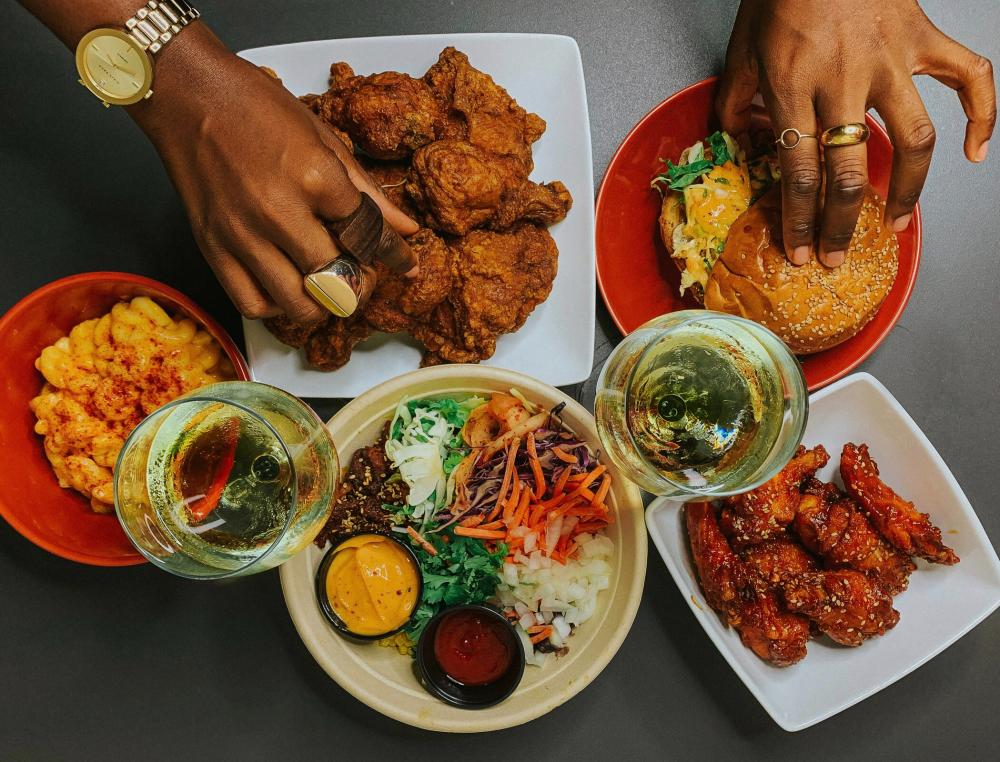 Chi'lantro. Credit Laolu Onabanjo.
Austin's first fast casual Korean spot was actually a Texan-Korean mashup, Chi'Lantro BBQ. They got their start serving kimchi fries from a food truck to late night revelers before getting recruited for Shark Tank. Now locations can be found all over the city. The most popular items are their build-your-own bowls and Ssams featuring various Korean meats, rice, pickled veggies, and accoutrement.
If you're after a lively atmosphere, Seoulju Korean Kitchen is a raucous good time. Great happy hours, sports and K-pop on the TV, crispy Korean fried chicken, and an entire Soju menu with fabulous flavors like cinnamon apple, peach lemonade, and habanero lime. Their menu also has fried dumpings, hot pots and kimchi fried rice. For the talented and adventurous among us, make a reservation well-ahead to get into the hidden karaoke rooms.
Who can say "no" to beef bulgogi bowls and milk tea? Almost no one. Serving up all the classics, this quaint restaurant will leave you super satisfied. Stop by K-Bop for filling portions of affordable Korean cuisine. You can't have K-Bop without trying some of their Kimbap. A nice pairing of cooked rice, veggies and meat rolled in sheets of seaweed is the perfect entree for lunch or dinner.
Wear your stretchy pants to Jjim Barbecue, a funky eatery with wall murals and a casual atmosphere. This is not a Korean barbecue in the true sense of the word (as in, no grill tables), but they do bring your meals in sizzling cast iron. Their simple menu covers all the basics—Jjim with add ons, braised meats, various pancakes, soups and bulgogis.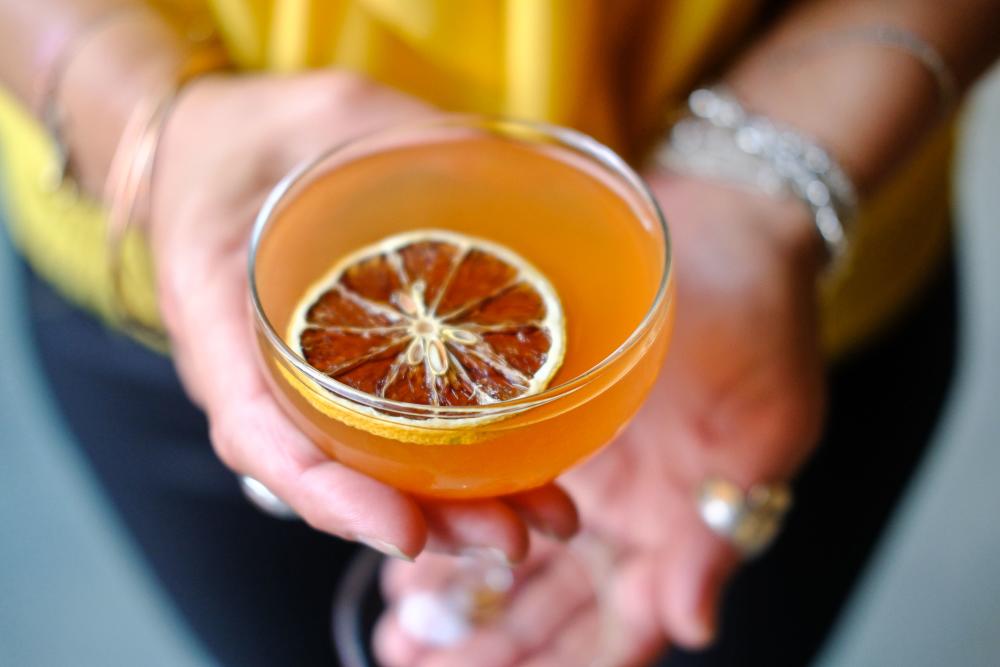 Oseyo. Credit Carli Rene, Inkedfingers.
For a night out on the town that's a little swankier, Korean-American restaurant Oseyo serves dishes inspired by family recipes. The restaurant is welcoming, and diners can choose between their modern interior or lively patio. It's a fantastic spot to enjoy a beautiful Austin evening over a portion of Japchae, Kimchi Jjigae, or Kimchi Bokkeumbap. On Sunday nights they do something special: fried chicken and Korean beer, soju specials, rotating kimchi cocktails, and live music.
Koriente has been around longer and is absolutely an Austin staple. This teeny spot off Seventh Street is not precisely Korean, more like pan-Asian, but their dishes are all bright, beautiful and augmented with crispy fresh vegetables. The Mixmix Bibimbap, for example, is served with carrots, cucumbers, red peppers and baby greens. The Japchae is made with clear sweet potato noodles served with green cabbage, avocados, and protein if you desire.
Nestled in Chinatown Center, Korean Grill is just the place to go if you're looking for quality food and serious portion sizes. With menu items like kimchi fried rice, bibimbap and spicy rice cakes, this Korean- and family-owned grill has a menu you're sure to love. Korean Grill also offers hot plate of short ribs or beef, pork, chicken or seafood bulgogi served with white rice and assorted vegetables.
Head to this spot for an excellent and quick lunch spot. For the exact opposite of "light," try Charm Korean BBQ's all you can eat offering. For two hours, you can opt-in to your fill (literally) of all manner of Korean specialties grilled right at your table. Definitely make a reservation as this place gets really busy with hungry diners. 
If you're looking to support other Asian-owned businesses during your visit, check out our guide to Asian American Austin for more ways to celebrate the energy and contributions from Austin's Asian community.
Contributed by Kelly Stocker.