Red River crackles with feverish energy and a bone-deep appreciation for live music. Discover local artists or catch a touring band on the verge of breaking through. There's a little something for everyone in the Red River Cultural District - from vegan-friendly spots to tasty barbecue joints, and dance clubs to punk venues.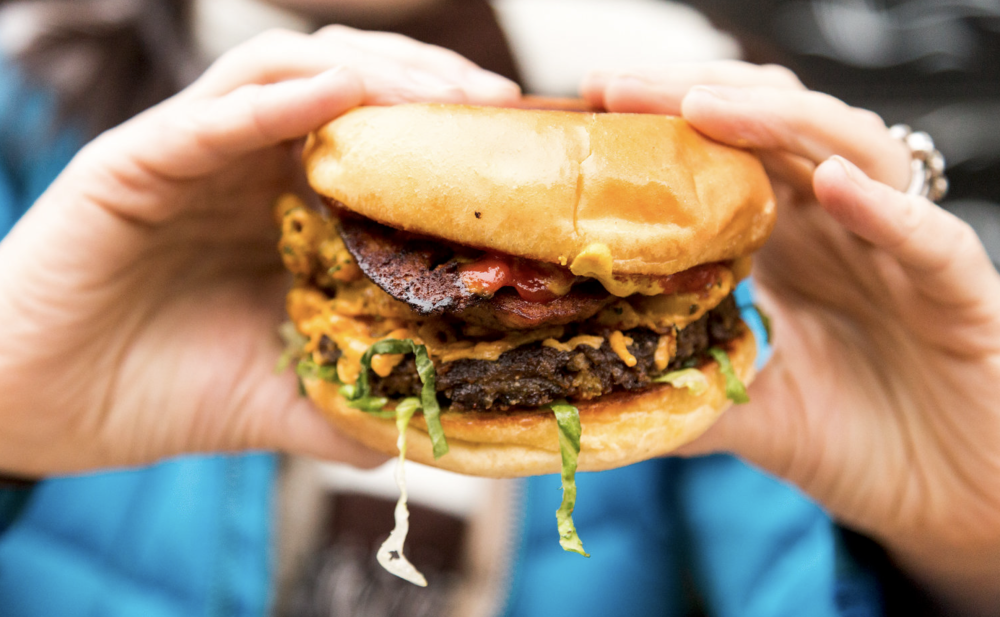 Courtesy of Arlo's Truck.
DINING
On this street that never misses a beat, here you can have a love affair with a plate of brisket, enjoy vegan comfort fare and take a cultural culinary trip from continent to continent. Refuel during your night of music and dancing at one of these favorite spots.
Arlo's Truck: Vegans rejoice! Arlo's Truck is 100% vegan and open until 2 a.m. for late-night cravings. The bac'n cheeze burger and street tacos made with vegan burger crumbles are crowd faves.
Bar 508 Mezcalerita: Located next to Pelóns Tex Mex Restaurant, Bar 508 Mezcalerita serves fresh mezcal cocktails and street tacos in a funky wood-clad space.
Hoboken Pie: Finish your night off with a Jersey-style pizza from Hoboken Pie: cracker-thin crust, oozing cheese and open until 2:30 a.m. Grab a slice after your concert.
Koriente: Asian-inspired Koriente is family owned and health-forward, with selections for any dietary need or preference. Try the clear sweet potato noodles with vegetarian curry.
Moonshine Patio Bar & Grill: Comfort food like the cornflake-fried chicken will give you a Southern drawl especially when paired with a whiskey cocktail on one of the relaxing patios.
Pelón's Tex Mex: Grab a plate of sizzling fajitas and a signature margarita from Pelón's Tex Mex Restaurant before a show.
Courtesy of Empire Control Room & Garage.
LIVE MUSIC & NIGHTLIFE
For the ultimate music fan, the Red River Cultural District is your scene. From big-name acts to local newbies, this street blares with the sounds of live bands at a variety of bars and clubs along the block. Here, the Live Music Capital of the World® successfully showcases its refreshing appreciation for diversity through sound. This crowd is a toss-up of people there to listen to artists, and is located northeast of the Sixth Street district.
Barbarella: Every Tuesday night this dance club hosts TuezGayz but, if you're not around on a Tuesday, don't worry. Stop in Thursday for rock and roll night, Friday for '80s night or Saturday for New Noise.
Cheer Up Charlies: This lesbian-owned bar is open to all. DJs, local up-and-coming bands, theme nights and a giant pink parachute suspended over the back patio are all part of the weirdness and charm at this local hot spot.
Elysium: You never know what you might find at Elysium. It could be a neo-goth band, '80s night or a horror-themed drag show. No matter what's going on, it's bound to be a good time.
Empire Control Room & Garage: Auto shop-turned-club Empire Control Room & Garage hosts shows of all types, from hip-hop to soul to EDM.
Mohawk: Rock venue and bar Mohawk welcomes acts to indoor and outdoor stages as well, plus there's a rooftop patio with an inviting vibe.
Stubb's Bar-B-Q: Stubb's has a small indoor stage, plus a 2,000-person outdoor amphitheater that attracts popular bands and stand-up comedians. 
Swan Dive: Swan Dive looks divey from the street, but inside you'll find a vintage-chic, gray-and-white venue with music, dance and burlesque shows.
*INSIDER TIP: The first week of January is Free Week, when many local venues put on shows with no cover charge. Tip well!
Looking for more live music? Check out our Music Events Calendar for upcoming shows to catch during your visit.