Whether you're ready or not, it's time to start thinking about your 2021 holiday gift list. If you're looking for something really special or even one-of-a-kind for your friends and family, look no further than these local, handmade shopping events and markets in Austin, running from Black Friday to Christmas Eve. Start planning your winter visit with these top Austin Christmas shopping events, to ensure your gifts are as unique as the people who receive them.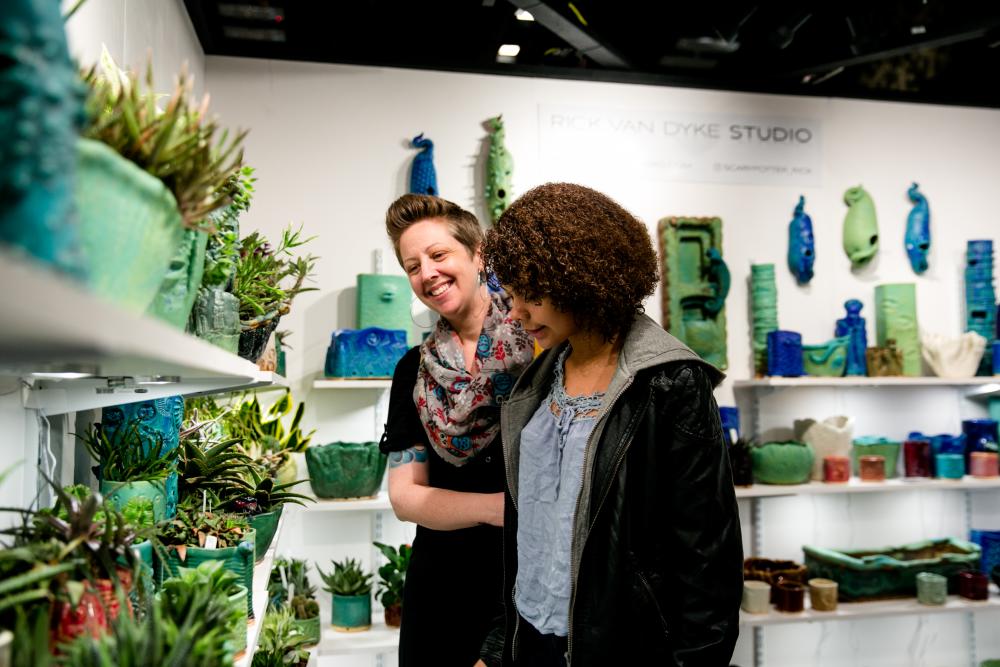 Armadillo Christmas Bazaar. Credit Jennifer M Ramos.
Top Handmade Holiday Shopping Markets & Events
11/17/21 - 11/21/21
A Christmas Affair
Virtual Event
The Junior League of Austin's A Christmas Affair: Dashing Through The Snow will be a fully virtual event and marketplace for 2020. With more than 200 retail merchants from across the country, the annual shopping extravaganza will include a silent auction and five days of online shopping to support small businesses from around Texas and the country.
shop.jlaustin.org
11/19/21 - 12/24/21
​Blue Genie Art Bazaar
Blue Genie Art Bazaar
The Blue Genie Art Bazaar is a fixture of the Austin holiday season. With in-person and virtual shopping alternatives, shoppers can browse thousands of original works ranging from serious art to fun and kitschy items. A great way to buy hassle-free holiday gifts and support local artists.
bluegenieartbazaar.com
11/20/21 - 12/12/21 (Saturdays & Sundays)
The Front Market
Ani's Day and Night
Future Front Texas (FFTX) is hosting a holiday edition of The Front Market, a four-weekend series, hosted entirely outdoors at Ani's Day and Night. Featuring over 125 vendors, The Front Market will showcase women and LGBTQ+ creatives, designers, makers and artists across Texas— making it easy to support their work (and grab gifts) all in one place.
thefrontmarket.com
11/27/21
Small Business Saturday with The Austin Flea
Southern Heights Brewing Co.
The Austin Flea has gifts for any occasion, from jewelry and textiles to vintage clothing and so much more - all crafted by local Austin artisans. Celebrate Small Business Saturday and shop local at Southern Heights Brewery, or stop by one of the other Austin Flea shopping events happening at breweries and venues throughout Austin each weekend!
austinflea.net
11/17/21, 12/2/21 & 12/4/21
German-Texan Heritage Society Christmas Market
German Free School of Austin
Browse the market for handmade, imported crafts, decorations, ornaments and more, listen to traditional German Christmas music and enjoy a cup of Glühwein with gingerbread cookies. *Members only event for 2021.
germantexans.org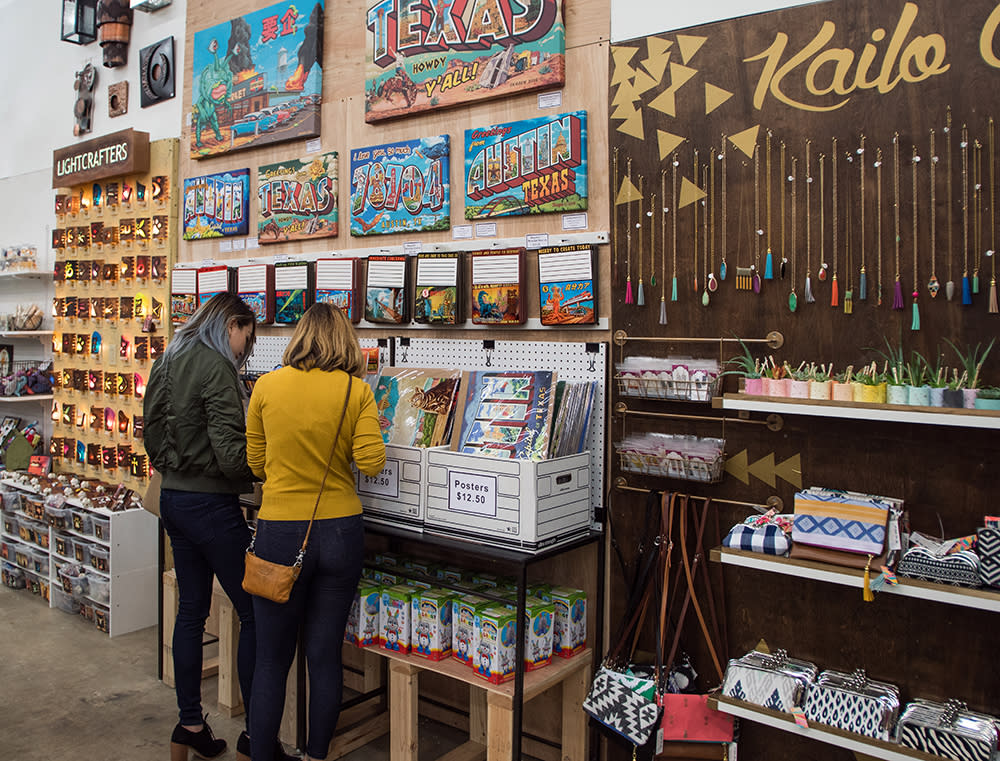 Blue Genie Art Bazaar. Credit Annie Winsett.
11/28/21 - 12/19/21
Lone Star Holiday Farmers Market
Hill Country Galleria Central Plaza
The Lone Star Farmers Market has gone HOLIDAY! All your favorite farmers market vendors will be in the Central Plaza – with the addition of some new holiday-themed vendors. Visitors can shop local holiday gifts, arts and fare from 10 a.m. to 4 p.m.
hillcountrygalleria.com
12/4/21
Holiday Bazaar
Wild Heart Yoga
Shop small businesses this season while sipping on festive cocktails by Still Austin Whiskey and Gin. Find the perfect gifts and stocking stuffers for loved ones and grab an aura photo from Mood by Moss. 
wildheartyogaaustin.com
12/5/2021
Holiday Mini Market
Distribution Hall
The Austin Holiday Mini Market will be hosting their 10th market this winter. This free small and curated shopping experience will host a variety of vendors while guests shop, support and connect with small business owners, plus live music and free gift bags to the first 25 guests through the doors.
shopminimarkets.com
12/8/21
Texas Makers Market
Desert Door Distillery
Desert Door is hosting their 3rd Annual Texas Makers Market, featuring crafters and artisans from all over the state of Texas. This year, Desert Door will be providing seasonal cocktails, complimentary holiday photos and goods by Texan makers located in the Cargo space to round out the other vendor offerings.
desertdoor.com
12/11/21
Kinda Tropical Vintage Market
Kinda Tropical
Eat, drink, and shop for the holidays at this special vintage market featuring over fifteen curated vendors. Event is free to attend. 
facebook.com/kindatropicalatx
12/11/21
Maggie's Holiday Market
Hotel Magdalena
If shopping is stressful for you, this holiday market is the place to find your gifts. Vibe to the tunes of DJ Sensitive Soul Powers while perusing local vendor booths at Hotel Magdalena's open-air lawn and herb garden. Event is free to attend and masks are encouraged. 
hotelmagdalena.com
12/17/21 – 12/19/21
Armadillo Christmas Bazaar
Outside at the Palmer Events Center
For over 45 seasons, The Armadillo Christmas Bazaar has been a fine art shopping destination featuring national and local award-winning artists alongside live music, and a full bar in a festive, lively atmosphere. With a new rendition of an Austin tradition, the 2021 Armadillo Bazaar is back in person outside at the Palmer Events Center and extends the mission of Armadillo Christmas Bazaar to support arts and culture.
armadillobazaar.com
11/13/2021
Holiday Bazaar Arts and Crafts Show
Clay Madsen Recreation Center
The city of Round Rock's Clay Madsen Recreation Center invites you to attend their 17th Annual Rockin' Around the Holidays Bazaar for this holiday season. There will be a variety of vendors from local and the surrounding cities where you can shop for unique and handcrafted items. This event is free admissions, but canned food items or boxes of colorful Band-Aid donations for the Children's hospital are encouraged.
roundrocktexas.gov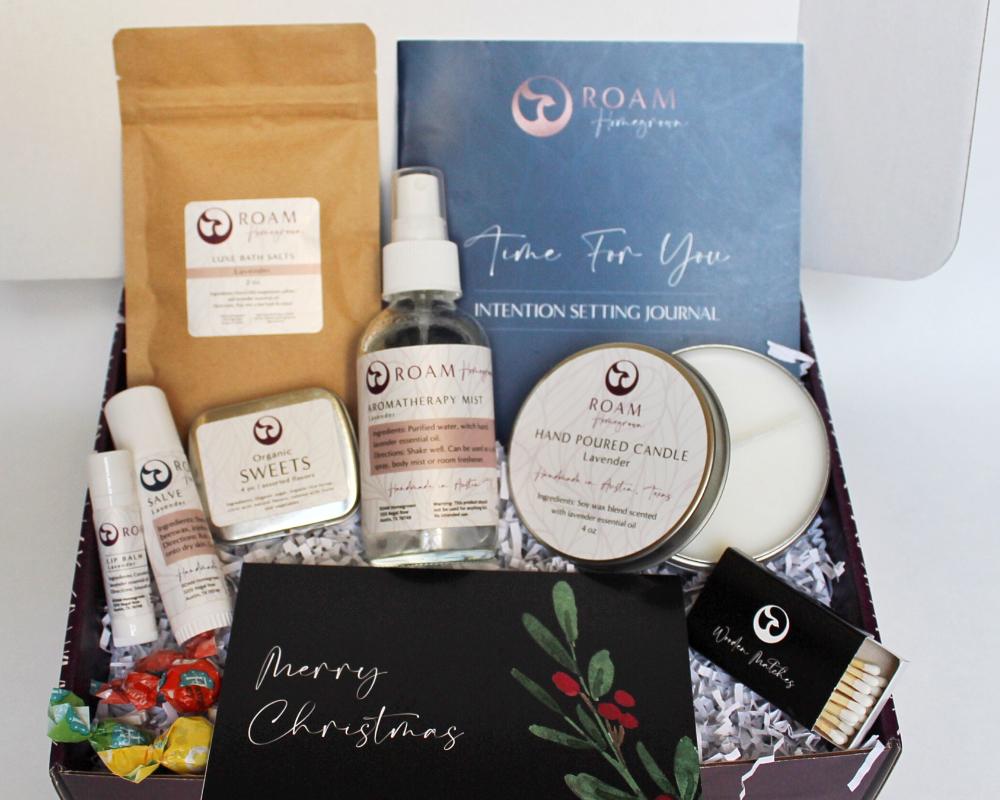 Courtesy of Roam Homegrown.
Where Else to Shop
While Austin is a laid-back city, the day after Thanksgiving signals to even the most relaxed of us that it's time to start shopping for the holidays! Whether a local or visiting for the first time, the city has a variety of excellent and locally-made shopping destinations to find your most unique and Austin-esque gifts for the season.
Learn about the city and get your local shopping started early at the Austin Visitor Center! Open Monday-Saturday at 9 a.m. and Sunday at 10 a.m., stop by the Visitor Center's Gift Shop to load up on stocking-stuffers. Or, take your shopping online and check out our online store for gifts like plush toys, locally-made salsas and barbecue sauces, Austin-themed ornaments, tea towels and more.
If you're planning to celebrate the holidays away from your family, consider sending a care package full of unique Austin items from our local gift box companies. Send a seasonal Christmas Relaxation Gift Box from Roam Homegrown, featuring a soy blend candle, aromatherapy spray, lip balm, bath salts and more. Or, send a taste of Austin with the 512 gift box from The Artisan Gift Boxes, featuring yummy local snacks like Cornucopia Popcorn, Cuvée Coffee, Salt Lick Dry Rub, SRSLY Chocolate, Maggie Louise Confections and more.
Keep it local on Small Business Saturday (and throughout the holiday season) by supporting local businesses in Austin. Find everything from local screen printed tees to hand-made botanical goods and more at these beloved Austin-based shops and brands.
Visit some of Austin's most iconic shopping destinations (in store and online) to pick up your favorite goodies including BookPeople, Waterloo Records and many, many more.
Now globally recognized as a day to give back to your favorite nonprofit or local business, take advantage of some of your Austin savings and deals, and donate the difference on Giving Tuesday. For all the dough you've saved while shopping around town, donate the difference to a local Austin nonprofit in need!
What's your favorite shopping experience in Austin? Share your favorite finds on Twitter or Instagram with #TrueAustin!
Adapted from a post on visitaustin.org by Annie Winsett, Crafting Exposure.