Whether you're ready or not, it's time to start thinking about your 2020 holiday gift list. If you're looking for something really special or even one-of-a-kind for your friends and family, look no further than these local, handmade shopping events and markets in Austin, running from Black Friday to Christmas Eve. Start planning your winter visit with these top Austin Christmas shopping events, to ensure your gifts are as unique as the people who receive them.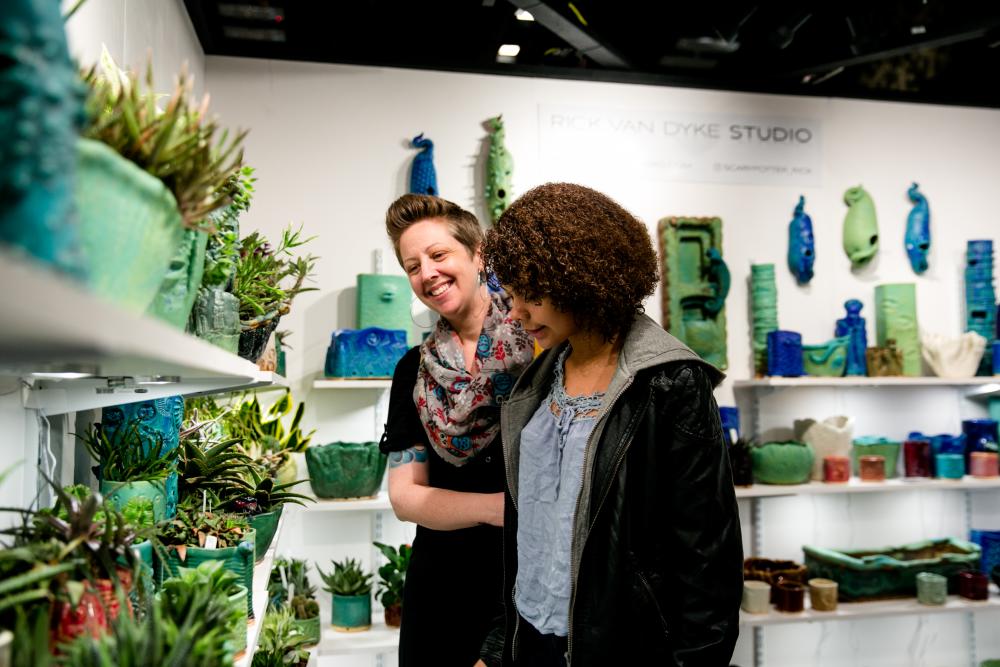 Armadillo Christmas Bazaar. Credit Jennifer M Ramos.
Top Handmade Holiday Shopping Markets & Events
10/12/20 – 12/24/20
Armadillo Christmas Bazaar
Palmer Events Center
For 44 seasons the Armadillo Christmas Bazaar has been a fine art shopping destination featuring national and local award-winning artists alongside live music in a festive, lively atmosphere. The 2020 Armadillo Art Concierge extends the mission of Armadillo Christmas Bazaar to support arts and culture in hopes that artists will thrive and are able to once again show their works in person soon!
artconcierge.armadillobazaar.com
11/13/20 – 12/24/20
Blue Genie Art Bazaar
6100 Airport Blvd.
This free, annual art show features more than 200 artists showcasing a wide variety of gifts. From painting to photography to jewelry, this exceptional holiday bazaar also helps support local Austin makers. And, new this year, the Blue Genie Art Bazaar is offering five ways to shop: visitors can shop in store, online with shipping, online with pick-up, or let the Genies work their magic with a personal shopper at the Bazaar.   
bluegenieartbazaar.com
11/17/20 - 11/20/20
A Christmas Affair
Virtual Event
The Junior League of Austin's A Christmas Affair: Felicidad will be a fully virtual event and marketplace for 2020. With more than 150 national and regional vendors, the annual shopping extravaganza will include a silent auction and five days of online shopping to support small businesses from around Texas and the country.
jlaustin.org​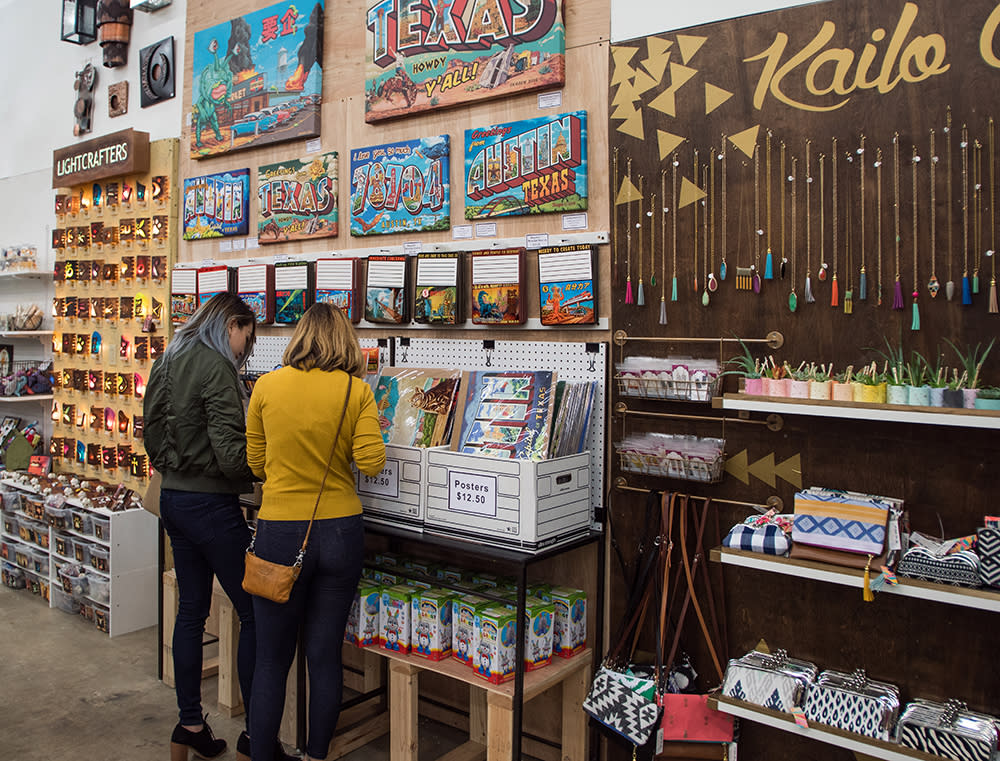 Blue Genie Art Bazaar. Credit Annie Winsett.
11/27/20 - 12/20/20
Lone Star Holiday Market
Hill Country Galleria
The annual Holiday Market returns to the Hill Country Galleria again this year. Experience the indoor market every Friday, Saturday and Sunday from 2 p.m.-8 p.m. and stop in to shop local vendors, browse unique gifts, and gift wrapping options. Plus, enjoy nightly live music and holiday libations and a contact-free Santa's Wonderland.
hillcountrygalleria.com
11/28/20
Small Business Saturday with The Austin Flea
Zilker Brewing Co.
The Austin Flea has gifts for any occasion, from jewelry and textiles to vintage clothing and so much more - all crafted by local Austin artists. Celebrate Small Business Saturday and shop local with our good friends a Zilker Brewing, or stop by one of the other regular Austin Flea shopping events happening at breweries and venues throughout Austin each weekend!
facebook.com/austinflea
12/5/20
German-Texan Heritage Society Christmas Market
German Free School of Austin
Browse the market for handmade, imported crafts, decorations, ornaments and more, listen to traditional German Christmas music and enjoy a cup of Glühwein with gingerbread cookies. *Members only for 2020.
germantexans.org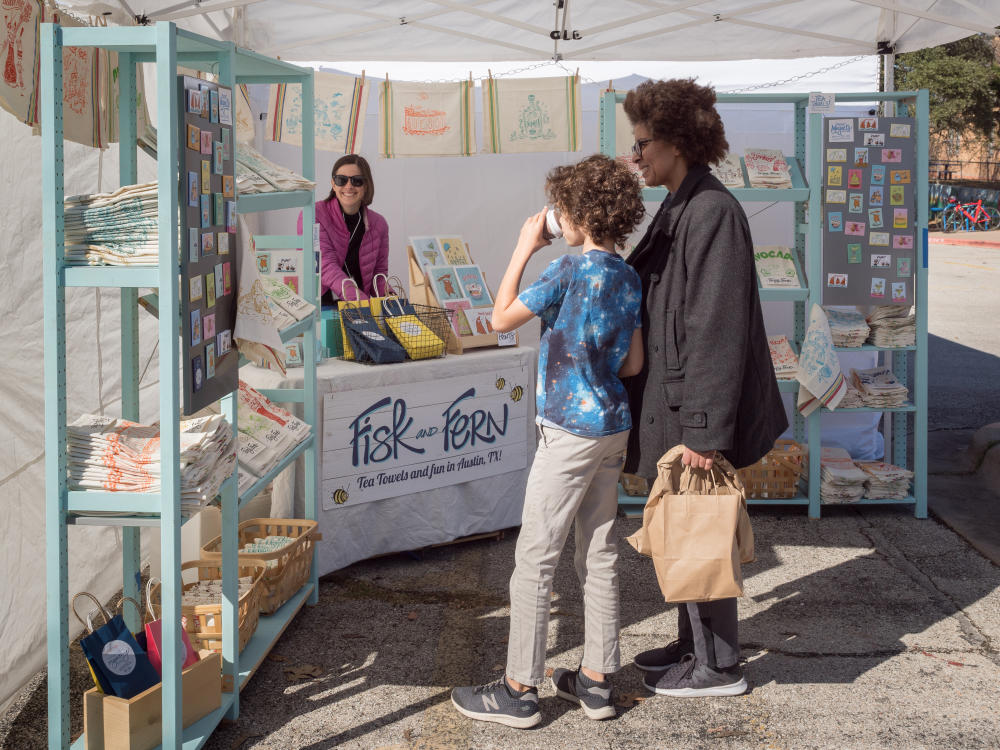 Cherrywood Art Fair. Credit Annie Winsett.
12/5/20 - 12/6/20
Art from the Streets 28th Annual Show
Virtual Event
Visit the online Art From the Streets (AFTS) Show & Sale to shop original works and help continue the efforts of AFTS to provide a safe, creative space for homeless and formerly homeless local artists. Shop 700+ new works; profits go to the artists.
artfromthestreets.org
12/6/20 & 12/13/20
Holiday Mini Market
South Congress Hotel
This small and curated shopping experience will host 15 vendors on each day to ensure social distancing between booths. Shop, support and connect with small business owners, plus enjoy a bar in the outdoor courtyard.
shopminimarkets.com
TBA
Cherrywood Art Fair
Maplewood Elementary
Don't miss this amazing free two-day event that helps support East Austin arts programming, along with the host East Austin elementary school. Along with unique and handcrafted art pieces by more than 200 artists and makers, there is live music, delicious food and fun activities for the whole family.
cherrywoodartfair.org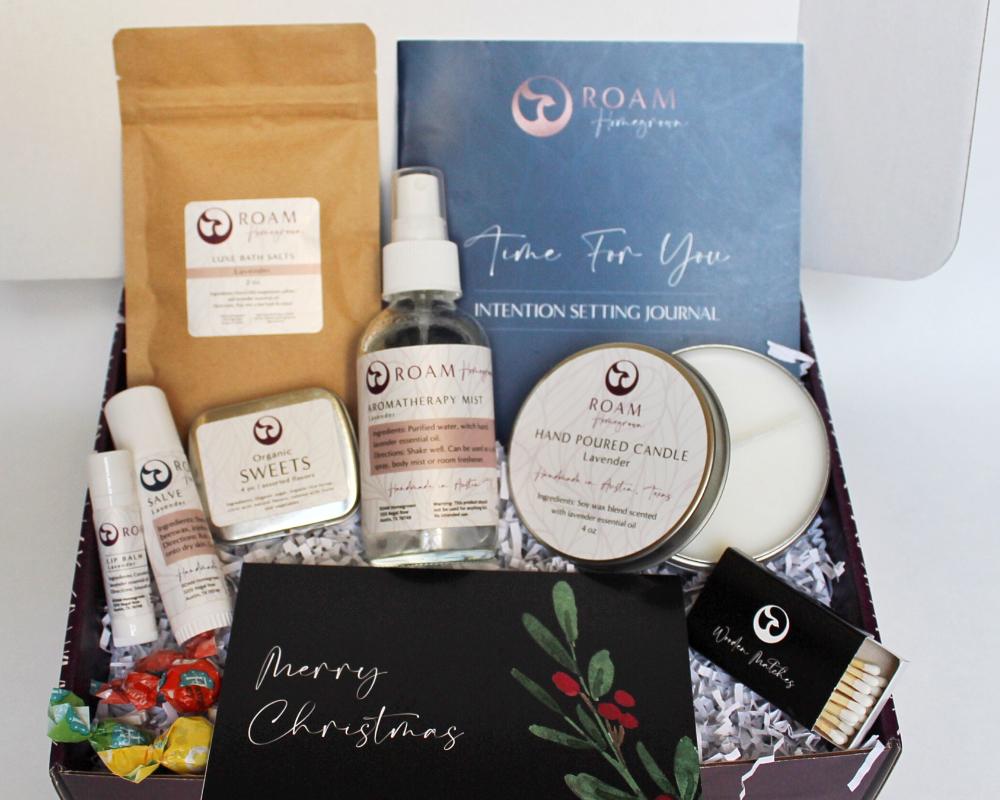 Courtesy of Roam Homegrown.
Where Else to Shop
While Austin is a laid-back city, the day after Thanksgiving signals to even the most relaxed of us that it's time to start shopping for the holidays! Whether a local or visiting for the first time, the city has a variety of excellent and locally-made shopping destinations to find your most unique and Austin-esque gifts for the season.
Learn about the city and get your local shopping started early at the Austin Visitor Center! Open Thursday-Monday at 10 a.m., stop by the new, outdoor pop-up Visitor Center after your early-bird shopping to load up on stocking-stuffers. Or, take your shopping online and check out our online store for gifts like plush toys, locally-made salsas and barbecue sauces, Austin-themed ornaments, tea towels and more.
If you're planning to celebrate the holidays away from your family, consider sending a care package full of unique Austin items from our local gift box companies. Send a seasonal Aromatherapy Christmas Gift Box from Roam Homegrown, featuring a soy blend candle, aromatherapy spray, lip balm, bath salts and more. Or, send a taste of Austin with the 512 gift box from The Artisan Gift Boxes, featuring yummy local snacks like Cornucopia Popcorn, Cuvée Coffee, Salt Lick Dry Rub, SRSLY Chocolate, Maggie Louise Confections and more.
Keep it local on Small Business Saturday (and throughout the holiday season) by supporting local businesses in Austin. Find everything from local screen printed tees to hand-made botanical goods and more at these beloved Austin-based shops and brands.
Visit some of Austin's most iconic shopping destinations (in store and online) to pick up your favorite goodies including BookPeople, Waterloo Records and many, many more.
Now globally recognized as a day to give back to your favorite nonprofit or local business, take advantage of some of your Austin savings and deals, and donate the difference on Giving Tuesday. For all the dough you've saved while shopping around town, donate the difference to a local Austin nonprofit in need!
What's your favorite shopping experience in Austin? Share your favorite finds on Twitter or Instagram with #TrueAustin!
Adapted from a post on visitaustin.org by Annie Winsett, Crafting Exposure.