Located on what was once known as Bluebonnet Hill sits Huston-Tillotson University (HTU). This Historically Black College and University (HBCU) is enriched with decades of history and is a massive part of Austin's Black heritage. Learn more about this historic university, and take time to visit the campus during your time in Austin.
History
Founded in 1875 as Tillotson College, the university is Austin's oldest institute of higher learning and the city's only HBCU. As it's known today, HTU was formed by merging two of the city's Black colleges. You'll find the campus located in East Austin, just minutes from downtown and IH-35, between Seventh and 11th Streets. Historically, this part of East Austin was the city's "Negro District," a designated area for Black residents under Jim Crow segregation laws. More recently, the area was renamed the Six Square Black Cultural District and is considered the city's hub for African-American community, culture, art and empowerment.
Founded in 1876, in the basement of Wesley Methodist Church, Samuel Huston College held most classes in the church until it merged with Tillotson College in 1952. Before the merge, Jackie Robinson, the first African American to play in Major League Baseball, served as Athletic Director and coached basketball at Samuel Huston College.
Like Huston-Tillotson, most HBCUs were established in the Reconstruction era of the American South, after the Civil War, to address the segregated education system which did not allow Black students to attend publicly-funded schools. Once schools were de-segregated in 1954, thanks to the Brown v. Board of Education Supreme Court ruling, HBCUs continued to offer higher education to students regardless of race, while still maintaining a focus on educating Black Americans. Today, more than 100 HBCUs are still in operation in the United States.
The historic Downs Mabson Field was once home to the Austin Black Senators, the city's first Negro minor league baseball team. Stop by the field to see the mosaics featuring noteworthy Black baseball players like Willie Wells, Joe Williams, Toni Stone, Hilton Smith and Satchel Paige. Today, the field is used by HTU's baseball team, the Rams. Keep up with the Rams online at htramsathletics.com.
Learn More
Campus tours are available Monday-Friday, from September-July, with an advance online reservation. All visitors must stop at the security booth for access to the campus. Visit the website to learn more and schedule a tour.
Interested in learning more about Austin's Black heritage? Grab a bite to eat at one of these local black-owned restaurants, then take a tour with Black Austin Tours. Black Austin Tours offers virtual and in-person experiences, led by a knowledgeable local guide. For more information and to purchase tickets, follow @BlackAustinTours on social media and check out the website blackaustintours.com.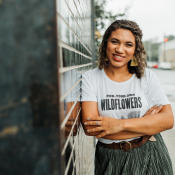 Contributed by Alyssa Jarae.
Alyssa Jarae is a native Austinite, and wedding and lifestyle photographer in the area. She enjoys exploring the multiple coffee shops around town and anything to do with Willie Nelson.