As the COVID-19 pandemic ravages on, the music community in Austin has stayed busy and hopeful that, soon, things will return to normal. Throughout the last few months of livestreams, virtual songwriting camps, and socially distant recording sessions, Austin musicians have remained flexible and have started to play live music in safe environments. If you're itching to satisfy your live music appetite, Austin is still the perfect place to explore live music from a safe distance.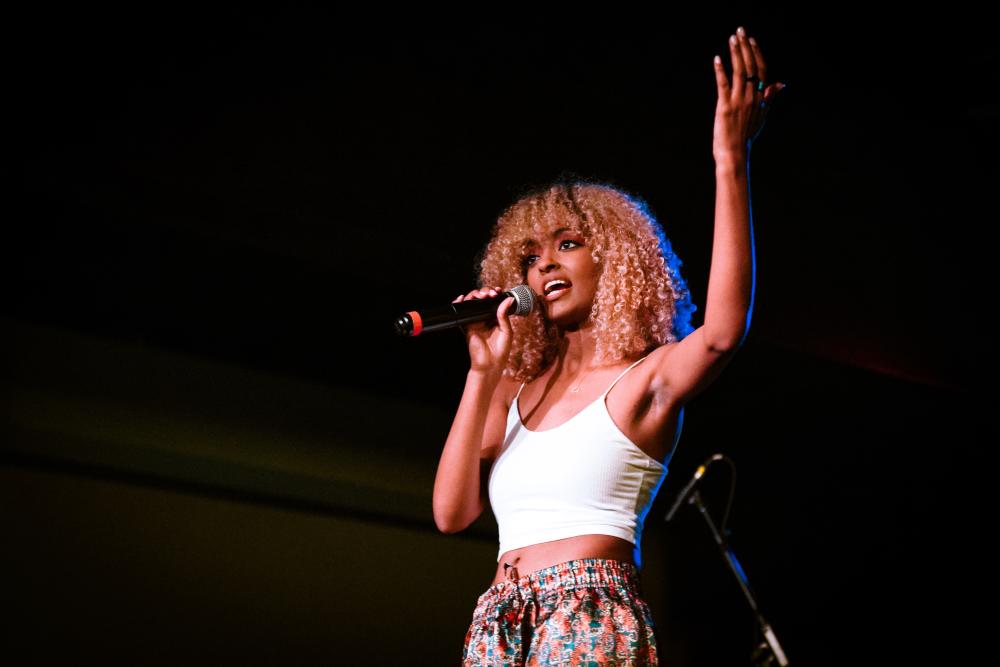 Melat at Antone's. Credit Cody Cowan.
One of Austin's most legendary venues of historic significance has opened back up for extremely limited cap shows. The venue and its any past iterations has a vast history. Antone's is famous for bringing both touring acts such as Paul Cauthen or Los Lobos and local acts such as Sue Foley to the same stage. Peep their events page on their website for more information on shows and tickets.
In the heart of the Red River Cultural District is Empire Garage, which looks a little different than just before the COVID-19 pandemic. Now, the local venue is set up with socially distanced "pods" where patrons are able to reserve seats. To see event and ticketing information, visit their website.
Easily the most impressive and spacious outdoor venue in Austin is the The Far Out Lounge in South Austin. With regular programming most nights of the week, the Far Out implements strict COVID-19 rules and temperature checks. Tables and adequate seating are provided for patrons. And aside from music by local favorites of all genres such as Sam Houston & Blk Odyssy, Nayome and Henry Invisible, patrons can select from a number of delicious food options at the various food trucks located at the venue. Take a look at the upcoming events and ticketing information on their website.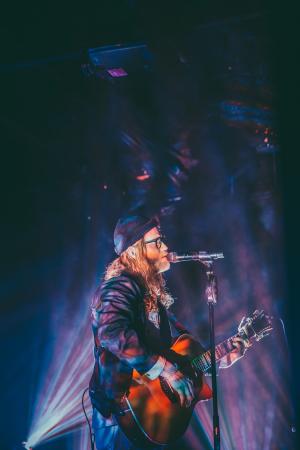 In West Austin, there's not a cozier place than Mozart's Coffee Roasters to enjoy sweet treats and coffee while you listen to instrumentalists and singer-songwriters such as Spanish guitarist Daniel Young or modern harpist Sarah Hall perform on their wide, multi-level lake-side patio. Each weekend, Mozart's posts their live music schedule on their Facebook page. Be sure to check the times of the performances and make a plan to reserve a table to see their annual holiday light show beginning November 11.
Half an hour from Downtown Austin lies one of the city's most beautiful outdoor music venues, Nutty Brown Amphitheater. The venue hosts socially distant and limited capacity shows, inviting bands of all genres and stature to perform, from country stalwarts, the Randy Rogers Band and Eli Young Band to Houston rap legends Paul Wall, Bun B, Slim Thug and Kirko Bangz and many, many others. Check the venue's website for more information on upcoming events and tickets.
In the heart of South Austin, Radio Coffee & Beer often hosts some of Austin's best folk and bluegrass music on their patio. During the pandemic, the local hang spot has been limiting capacity to ensure the safety of all of their patrons. Tickets and a list of their events can be found on their website.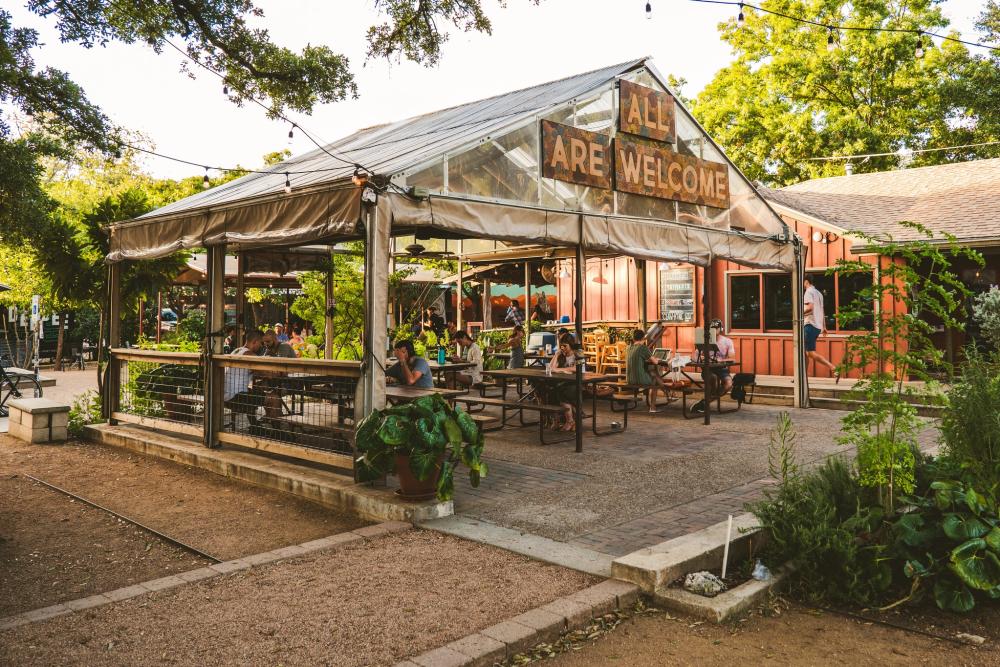 Radio Coffee + Beer.
Seasoned venue owner and Austin music fixture Denis O'Donnell of East Austin honky-tonk White Horse, recently opened another South Austin live music joint, Sagebrush. Both venues have implemented strict COVID-19 social distancing rules and capacity limits. Check out Sagebrush's website and White Horse's Facebook page for a list of performing bands, every night of every week!
Located downtown, Speakeasy, a three-level venue, complete with a performance space, a bowling mezzanine that overlooks the stage and a rooftop lounge, remains open for occasional live music performances and open mics. Check their Facebook page for a full list of events.
Just outside of the Austin city limits is Love & Lightstream, Austin's premiere drive-in concert series. Proceeds from the series benefit Austin's music community and non-profit organizations such as Healthcare Alliance for Austin Musicians. Local bands such as Grupo Fantasma, Abhi the Nomad and Los Coast, as well as touring acts such as Mt. Joy have graced the stage to an audience of hundreds of honking cars full of eager patrons of live music. Food trucks are available on-site for delivery straight to your car. Visit their website for more information.
Contributed by Nathalie Phan.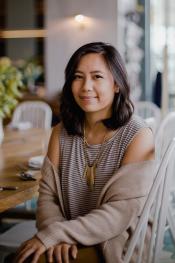 Nathalie Phan is a local music connoisseur and the founder of On Vinyl Media and SoundSync Music. She is passionate about helping Austin musicians and the local music industry.
Twitter: @natphantastic
Photo of Jake Lloyd at 3TEN credit Armaan Ramzanali. Photo of Allen Stone courtesy of Empire Control Room & Garage.