Lockhart has long been known as the barbecue capital of Texas. Way before Franklin's was a whisper in the wind, Texans from all over have flocked to this city to get their carnivore on. There's more than meets (or meats) the eye here though—a fascinating history, adorable shops, live music, golfing, hometown festivals and most importantly, fun.
For the latest updates about the status of each featured business, please check each location's website. To learn more about local restrictions and closures in Lockhart, click here.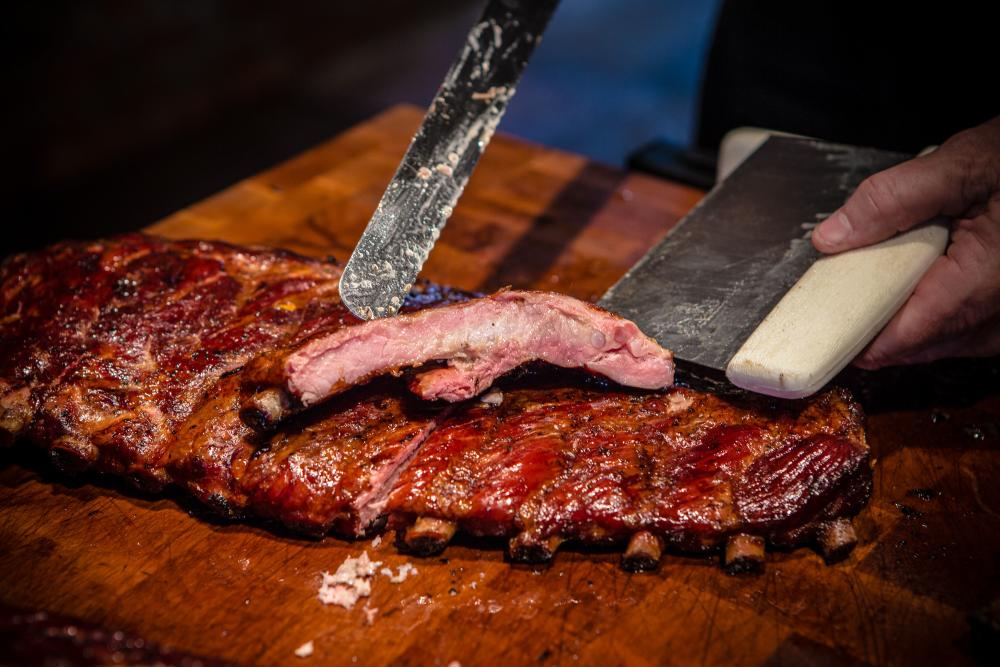 Courtesy of The Original Black's Barbecue.
Restaurants
Barbecue is still the thing in Lockhart. Kreuz Market is arguably the godfather of the city's barbecue scene. Established 1901 as a market and a smoked meats shop, it has weathered decades and still slings the 'cue. Today, it's a market only by name, though you can order online and have it shipped nationwide. Smitty's Market is housed in the original Kreuz Market building and the owners are related. Smitty's has an immense smoking room with a seasoned oak fire always ablaze. Get some prime rib, brisket, smoked turkey breast, and jalapeno sausage while you're on site and then pick up some meats to go for continuing the party at home. Probably the most famous from a name recognition standpoint is Black's Barbecue. They've been featured in all the publications and on every TV show that claim to know the best BBQ. Their beef ribs are Flinstone-style and it pays to get there early enough to get your choice of meats.
For non-barbecue seekers, Loop & Lil's Pizza serves up hand-tossed pizzas with creative ingredients, salads, beer, ciders and wine. It's warm and inviting and their pizza of the week is cleverly named and often topical, like the Ruth Bader Ginsburg-er. They also do take-home pizza kits for homestyle cheffery. American fare (sandwiches, fried chicken) and fabulous desserts are on the menu at Market Street Cafe. Stop in for an easy lunch or sweep the pastry case to satisfy your sweet tooth. Fresh seafood, aged steaks and a lovely wine list can be found at the Lockhart Bistro. Decidedly upscale, especially compared to it's neighboring barbecue mess halls, they have a great little patio off the Lockhart square for al fresco dining or drinking. The Eldorado is a breakfast and brunch café in the beautifully revived historic 1898 Brock Building. Opt for a decadent breakfast sandwich like the country ham and whipped mustard butter tartine, then finish it off with a slice of spiced peach coffee cake. Downstairs, edgy bar and restaurant Little Trouble serves up American-style cuisine. Little Trouble is a one-of-a-kind experience and an ideal joint to buy rounds with friends or meet new people. Start with an order of Pan de Campo, a staple flatbread that's made-to-order, served with camp butter and brought to the table in individual cast iron skillets.
Bars & Beverages
Get your caffeine fix at Chaparral Coffee, a cool coffee shop and bodega with fantastic lattes, cold drinks and light bites. They've expanded their grocery items and you can pick up staples for a picnic around town as well. The Pearl is equal parts hole-in-the-wall and cocktail bar. Located right on the main drag, it's a recently renovated hometown bar with a wide selection of beer, solid wine, and craft cocktails. Check their live music schedule on the weekends and get an order of chicharron while you're there. They get points for name alone but Load Off Fanny's is a burger-and-beer bar with a sweet umbrella-shaded patio, cold beers, michelada setups and lots of bar food. Come here for entertainment too—family karaoke, blues jams and singer-songwriter nights. Lockhart Arts & Craft is an awesome mashup of craft beverages and crafty crafts (temporarily closed). They have classes, meetups, board games (and game nights) plus special events.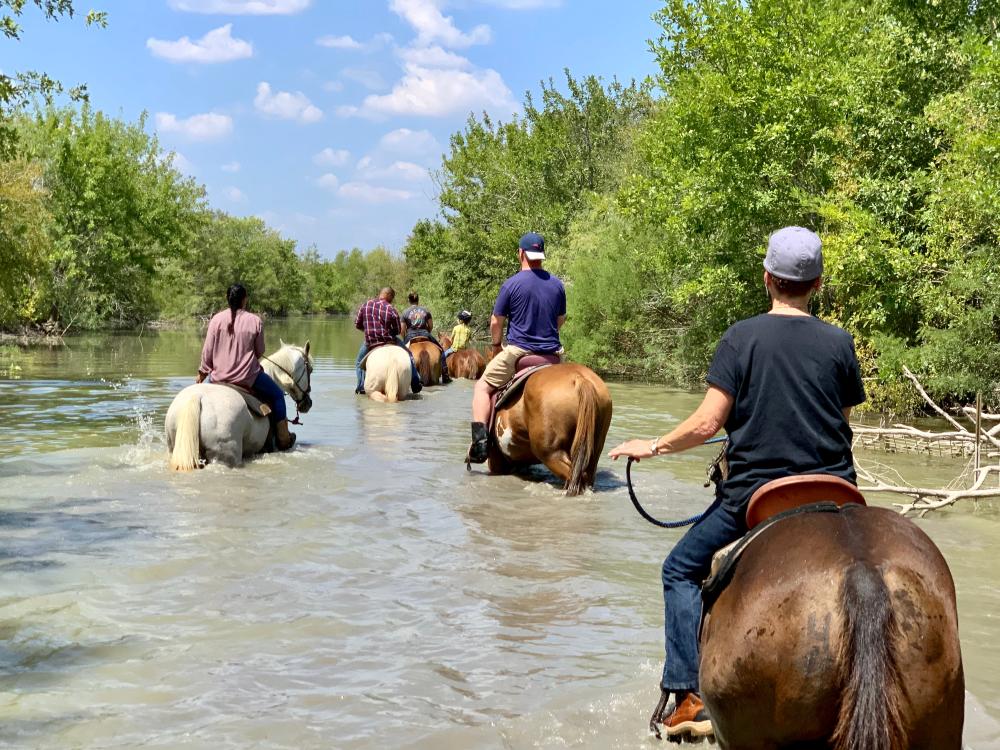 Courtesy of Maverick Horseback Riding.
Museums & Things to Do
Lockhart's history is fascinating—stories of the Comanche people and other tribes of the Southern Great Plains, and pioneers and cattle ranchers making their livelihoods along the Chisholm Trail. Stop into the Caldwell County Museum housed in the old jail for pictures, stories, films and other historical information plus a tour of the actual jail cells. Lockhart's Dr. Eugene Clark Library is the oldest continually operating library in the State of Texas. Built in 1899, this magnificent building hosts many community events including author readings, story walks and outdoor storytime for kids. Step outside and get some fresh air at Lockhart State Park. Spend a nice day golfing on the historic golf course, swimming in the on-site pool, drop a line in the water at Clear Fork Creek, and snap 'grams at the waterfall. There's also a short but difficult hiking trail—the Persimmon—that's worth lacing up some boots for. Harness the cowboy spirit in the Texas Hill Country during a guided horseback trail ride with Maverick Horseback Riding in Lockhart.
Shopping
For the cutest and kitschiest stuff, head into Wendy R's. Here, you'll find jewelry, crafts, textiles and art made by local artists and handpicked by Wendy herself. There are also books, toys and a smattering of just about everything. Buffalo Clover Florist sells gorgeous floral arrangements and gifts. Pick up a bouquet while snagging some cute earrings, an insulated cup, sunglasses, frocks, soaps and stylish hats. Main Street Market, a farmers market-style event, happens on the second Saturday of every month and features locally grown produce, artisan foods, art, crafts and more.
Events
One of Lockhart's  noteworthy events is the Chisholm Trail Roundup, the city's largest annual festival celebrating their part of the historic Chisholm Trail. Expect three sun-drenched June days of barbecue cook offs, parades, live entertainment, a petting zoo, an old west gun fight, pig races, a carnival and more. For the past 31 years, the city transforms into an 1800s Christmas wonderland for A Dickens' Christmas, on the first Saturday in December. There's an illuminated parade featuring the Ghosts of Christmas Past, taffy pullers, carolers, old fashioned toy carts and Victorian-era performances. Decidedly more in the present is the Western Swing and Barbecue Festival, an annual festival celebrating Western swing music, barbecue and Texas folk culture with live music taking over local venues all over town.
Connect with the Lockhart Chamber of Commerce online to learn more about things to do in the Lockhart area.