There are many stunning murals and sculptures all over the capital city. Local and international artists have long brought their talents to Austin, creating truly beautiful public art pieces for everyone to enjoy. Here are some of the most captivating and photo-worthy art pieces you can visit next time you are in town. 

Iconic Austin Murals
The Tau Ceti mural by Josef Kristofoletti is Austin's tallest mural and a popular photo spot. The vibrant colors shine even greater in person! You can find it at East Second Street and Brazos Street, just a stone's throw from the river.
A tribute to the many important figures in Austin's Black and Latino communities, the We Rise mural by local artist Chris Rogers depicts gorgeous renditions of figures like Selena, Muhammad Ali, and Austin's own Richard Overton. Like much of Rogers' other work, the mural reflects themes of transformation, life, and rebirth. Look for this mural at Twelfth Street and Chicon Street.
Perhaps one of the most famous pieces of public art in Austin, the I Love You So Much mural, originally by musician Amy Cook, attracts thousands of friends, family, and lovers to smile and pose every year. Snapping a photo here is a true Austin rite of passage! Stop at Jo's Coffee on South Congress to see this popular mural.

Created by local designer John Rockwell and the team at Creative Suitcase (now a part of Mighty Citizen), the charming You're My Butter Half mural is a beloved and adorable landmark. To visit this mural, head to the corners of East Martin Luther King Jr. Boulevard and Poquito Street with someone special. Before you leave, grab a cup of joe at Bennu Coffee across the way!
An image of female empowerment, It's Okay to Not Be Okay by artist Sadé Lawson is a newer addition to the city. Its bold primary colors are absolutely breathtaking! Make time to see this mural just south of the corner at North Lamar Boulevard and Third Street. Download Visit Austin's Instagram filters in advance to watch this mural come to life.
The Willie for President mural by Jacqui Oakley, Erick Montes, and Joe Swec rests on the south side of STAG Austin clothing shop (South Congress Avenue and Elizabeth Street). It's also right next to the delicious Home Slice Pizza!

Right in the center of the lively South First Street area, on the corner of South First and West Annie Streets, the Greetings from Austin mural by Todd Sanders and Rory Skagen makes the perfect background for your next postcard! Afterward, you can grab a bite at Bouldin Creek Cafe and go thrifting at the many cute boutiques in the area.
Artist Tyson Davis is responsible for the powerful Peace and Harmony mural. The mural features striking depictions of doves in flight that reflect the struggles and hopes of East Austin. This new piece is located adjacent to the Turner Park Recreation Center on the Colony Park District Park's auxiliary building.
Public Sculptures and Installations
Open Room isn't your average park bench. A social sculpture thought up by Rosario Marquardt, the unique space features a 24-foot-long table with accompanying lace tablecloth, benches, and light fixtures. Anyone is welcome to use the area as they see fit. Find this public installation at Cesar Chavez Street and Walter Seaholm Drive.

The Stevie Ray Vaughan statue was built as a memorial to the late legendary musician. Located in Auditorium Shores at Town Lake Metropolitan Park, the bronze statue is worth a visit as you take in the rest of the scenery around the lake.
Created by the team at Ion Art, another great photo spot to check out is the Whole Foods ATX sculpture. Popping up in 2017, the rainbow-striped sign has become a colorful mainstay in the city, located just outside of the flagship Whole Foods store at the corner of North Lamar Boulevard and West Fifth Street.
Your Essential Magnificence by James Talbot is a unique sculpture off of South Congress Avenue at West Live Oak Street. The eye-catching piece was the result of years of dedicated work by Talbot. Be sure to check it out!
Free Art at the Austin Central Library
While the building itself is a sight to behold with its winding staircases and beautiful rooftops, the Austin Central Library contains a wide array of public art. Here is a teaser of the enchanting art you can experience during your next trip there!

CAW by German artist Christian Moeller is as big as it is impressive. The 37-foot-tall kinetic Cuckoo clock looms over library-goers as a tribute to Austin's grackle population and the many blackbirds of literature.
The vibrant concrete pillars of Power Picket by artists Nader Tehrani and Dan Gallagher make up one of Austin's largest pieces of public art. The visuals of the installation react differently depending on your speed and angle of approach. Check these pigmented pillars out on both your next bike ride and walk around town!
Array and Spin are a pair of hand-forged steel sculptures designed by local artist Judd Graham. In addition to looking cool, Array helps separate the roadway from the pedestrian walkways. Spin, on the other hand, is made to be spun! Kids and adults of all ages can enjoy this interactive exhibit.
Tall Solo, Big Mama Baby, and Little Mama are unique sculptures by Texas artist Sharon Engelstein. Together the pieces are meant to be seen as a family unit titled Crullers. See these conversation-worthy creatures on your next trip out.
Looking for more free and public art? Check out our guide of some of Austin's most iconic murals.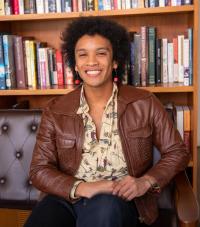 Contributed by Jade Fabello
Jade Fabello is an Austin-based writer and a recent graduate of the University of Texas, where he was a double major in the Journalism and the Communication and Leadership programs. You can find his work at JadeFabello.com. 
Instagram @Jade__Fab. Twitter: @Jade_FW