During this time, the health and well-being of our local community and our visitors is vital. Travelers to Austin – and all destinations – should continue to observe the health recommendations of national, state and local public health officials, as they plan to travel, when they travel and when they are visiting any destination.
For the latest updates about the status of each featured business, please check each location's website. To learn more about local restrictions and closures in Salado, click here.
Our favorite state has many historic spots but Salado, Texas has that old town look-and-feel that really connects you with small-town Texas history. Just an hour north of Austin, it's the ideal spot for a quick getaway. Take to the charming streets to stroll the art galleries, split at dish at lovely local eateries and have a craft beer or some Texas wine.
Art Scene
Salado's peace and quiet have drawn tons of artists and it's become known as a kind of artist's colony. A weekend here might not be enough time to see all of the galleries, markets, and shops but you can sure try. To get in an artsy mood, your first stop should be the Salado Sculpture Garden. Dreamed up by the Public Arts League of Salado and Keep Salado Beautiful, the park has native plants, natural landscapes, and paths that wind through the park. Stop to rest and admire the remarkable sculptures scattered throughout the space.
Start your art crawl with Sirril Art Gallery, located in a beautiful building that's over a century old. The art created and curated by proprietor Michael Pritchett leans towards the avant-garde and the artist also hosts gallery wine events. If abstract expressionism is more your style, head to Griffith Fine Art Gallery where in-house artist Kay Griffith paints and displays a handful of other artists' works. Ronnie Wells Studio and Gallery is a little bit of everything—painting, sculpture, graphite drawings— while B. Herd Gallery does stunningly intricate Texas landscapes. For something action-oriented, check out Salado Glassworks. As the name implies, it's a glassblowing studio and gallery where you can see the artist in action and buy blown glassware, gifts and decor. Get hands-on at Ro Shaw Clay Studio for a date night, open-wheel sessions and classes or skip right to purchasing custom growlers.  Mark your calendar for two big art events in Salado—the Wildflower Arts & Crafts Festival in March and the Annual Salado Art Fair which usually takes place in August.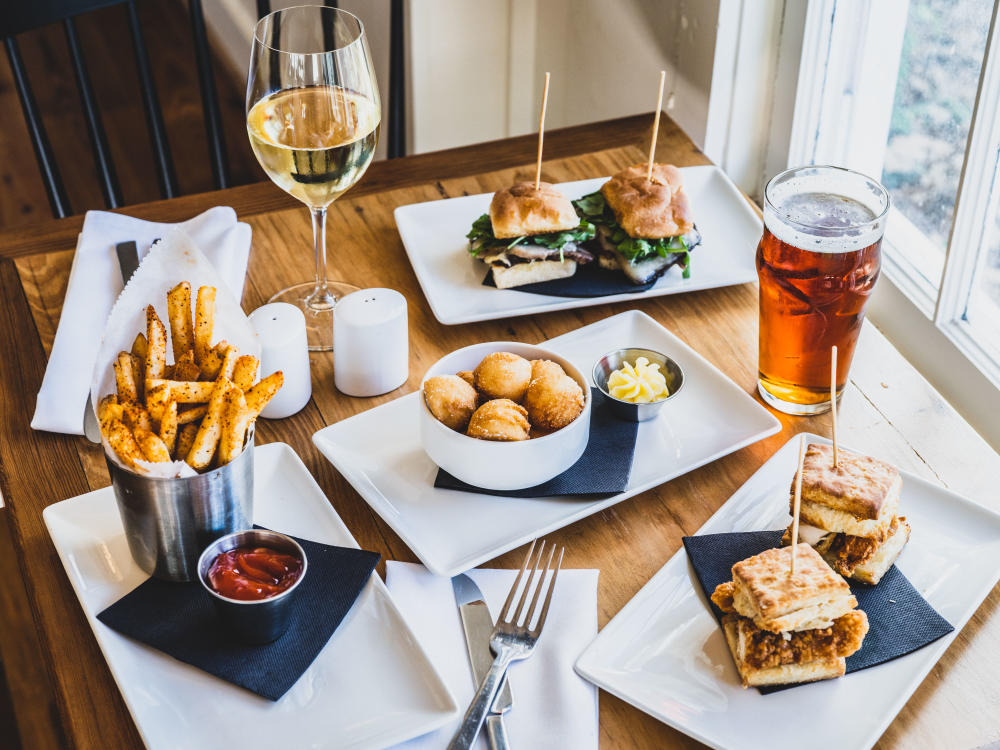 Stagecoach Inn Restaurant, Happy Hour. Courtesy of Stagecoach Inn.
Restaurants
Because calories don't count on vacation, any good trip should include plenty of good eats. Salado will do you right with its charming family-run restaurants like Lynette's Church Street Bake Shoppe. Everything is freshly made and their menu runs the gamut from sandwiches to soups, quiches to salads. Check for their daily special (like chicken and dumplings!) and make sure to get a slice of cream pie. For a caffeinated pick me up, check out Marketplace Cafe for an espresso and a crepe or Lively Coffee House and Bistro for lunch with your cuppa. You don't get more Texas than Johnny's Steaks and Bar-Be-Queue. Belly up to the bar or grab a table and a big brisket-and-sausage sandwich. Don't skip the fried okra and some cobbler for dessert. Also, check their daily specials and concert calendar. For happy hour, dinner, and high-five good times, try The Shed. Connected to the Inn on the Creek, this funky tavern serves pub grub like yardbird sandwiches, burgers, and wings. Nearby Alexander's Craft Cocktails and Kitchen is a bit swankier, offering items like escargot, crispy skin salmon, braised beef ragout, and hand-crafted cocktails. For a romantic dinner, try The Barton House, a restaurant in a building that's on the national historic register. Order a ribeye or a double pork chop and share a bottle or two while marveling at the building's 1866 construction. Arguably the most "date night" option in town is Stagecoach Inn Bar & Restaurant. A historic landmark and former stop on the Chisholm Trail, the Inn and Restaurant has hosted travelers for decades and its menu honors the past with elevated dishes like 1861 hushpuppies, a grilled cheese sandwich with white and smoked cheddar cheeses, a savory chicken fried steak. Or, opt for an agave old fashioned on the scenic deck.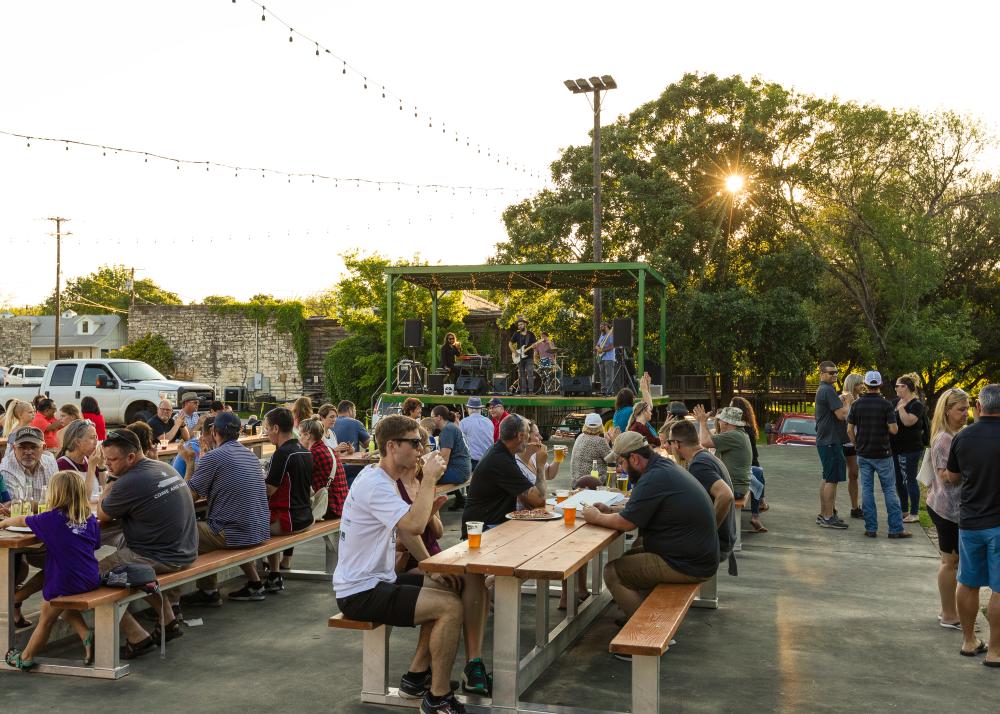 Barrow Brewing Co.
Breweries & Wineries
If you're thinkin' about drinkin' then Salado has a spot for you. Craft beer and Texas wines taste better when you're imbibing on a tree-shaded patio or a purposely rustic beer barn. Head to Barrow Brewing company in Royal Street District. Located inside on old granary, there are Salado creek views and a huge selection of in-house brews. They host events on the regular so grab a frosty beer and join in. For both craft beer and wine, try the Chupacabra Craft Beer & Salado Lone Star Winery. With 60+ Texas craft beers & 250+ wines, you'll probably find something you like. Get in on their daily tastings, live music and as a bonus, this spot is kid and pet-friendly. Salado Winery is the place to go for something really unique. Self-described as the "Texiest" winery, all of their wines are produced with Texas grapes, many of them from within Bell County. Winos take note of their largest event, the Texas Wine and Rogue Art Fest in March.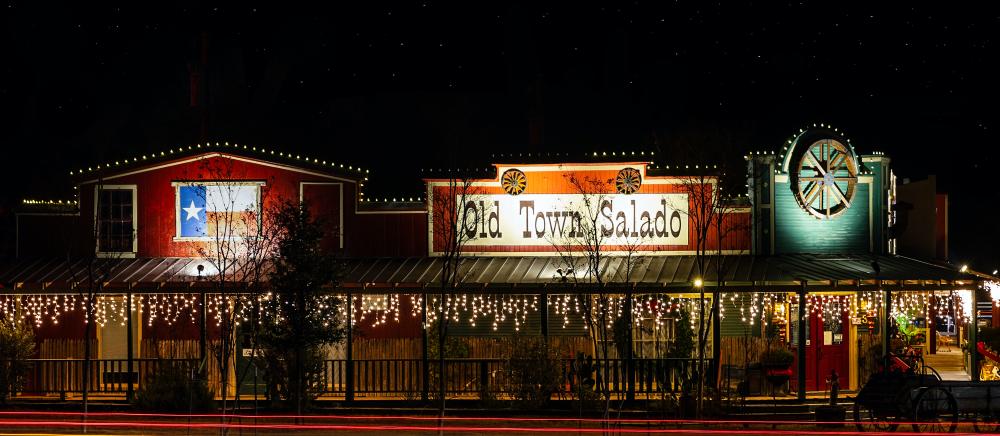 Old Town Salado.
Shopping
Like any good smallish Texas town, Salado is really fun to shop. No big box stores here, there are pockets of the city that are bursting with kitschy stores offering everything you need to stuff a shopping bag. Salado Square is a solid destination, with all kinds of different shops lining Main Street. Stop into Magnolias of Salado (not to be confused with Magnolia from Waco) which houses 13 specialty vendors selling jewelry, apparel, and decor. The Strawberry Patch is stocked with gourmet Texas foods like salsas, dressings, sauces, and specialty jams. You can also fuel up with a cappuccino while you shop. Local hand-thrown pottery and fudge might seem like a funny combination but it totally works at Mud Pies Pottery which incidentally also sells 20 flavors of Sir Wigglesworth's Homemade Fudge. Find artisan furniture, artwork, and holiday gifts at Classics on Main. Power shoppers should make their way to The Shoppes on Main, a family-owned boutique marketplace and cafe with over 25 shops inside. Browse clothing, jewelry, shoes, furniture, metal art. natural bath products, and more. And if you have a sweet tooth, the Sugar Shack Candy Store has all the sweets you could possibly want plus snow cones year round and lots of adorable gifts.
Photo above of Ro Shaw Clay Studio, courtesy of Stagecoach Inn.