While Texas isn't technically considered "the South'', we're close enough to have some darn delicious Southern selections. Pull up to a heaping plate of collards and chicken fried steak and you just may walk away with a twang in your talk and a rolling gait.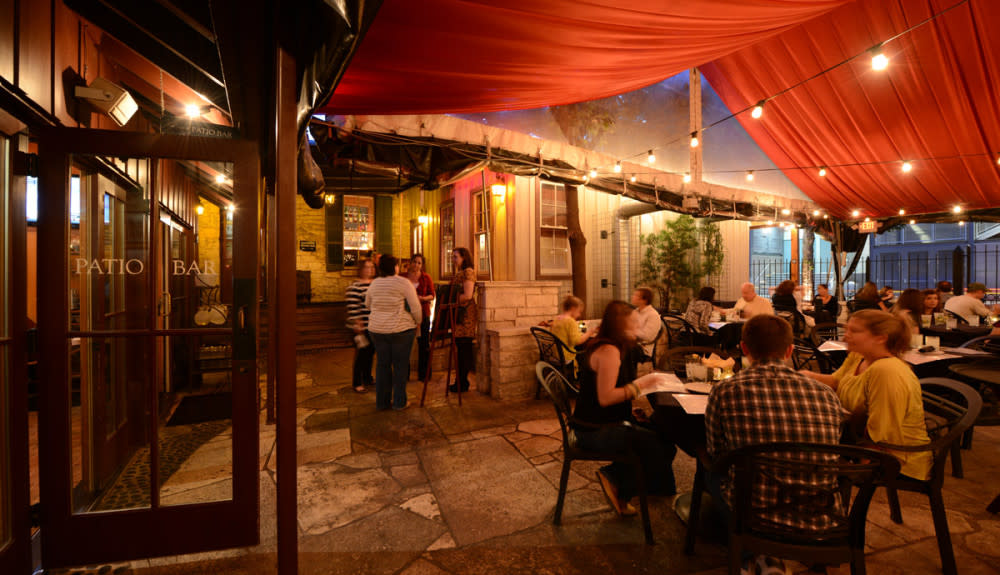 Moonshine Patio Bar & Grill. Credit Matt Lankes.
There's hardly a time when Moonshine isn't crowded and it's not hard to figure out why. Their tagline is "innovative down home cooking" and we couldn't have described it better. Fried green tomatoes with smoked shrimp, hot pretzel sticks and whipped pimento cheese, chicken and waffles with chipotle cream gravy… There's legitimately no way to go wrong here at dinner or at brunch.
Find seriously authentic Southern fare at Hoover's Cooking. The name really says it all. For over 15 years, Hoover's has been the bastion of southern fried with ham steak and smothered pork chops and meatloaf and fried catfish. Plus all the fixin's, of course. Make sure to check out their daily specials.
Head towards Colleen's Kitchen signature green-and-white awning for some of the best skillet cornbread, deviled eggs, and buttermilk fried chicken of your life. Owned by a local Austin couple, it's welcoming and lovely. A neighborhood spot where you can indulge in Sunday brunch and a giant punchbowl with 10 of your closest friends or enjoy a fabulous first date. Come here a little early for happy hour.
The friendly folks over at Vic and Al's were already famed for their other trailer, Patrizi's, when they dug deep and opened up this shop with all the comfort food of southern Louisiana. A casual neighborhood eatery, the menu is simple and mouth-watering. They have daily dinner specials and an all-day menu with things like Cochon de Lait, Gumbo, Hoppin' Johns, and fried boudin. They also do a lot of good in the community so eat here to give back.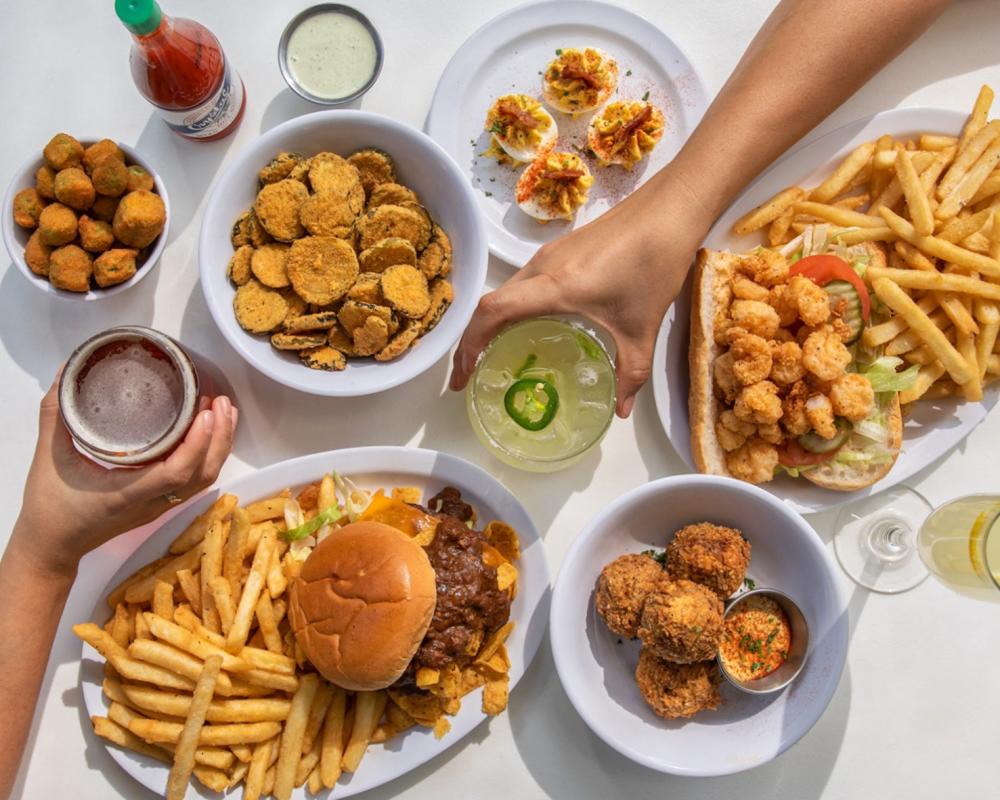 Sawyer & Co. Credit @TokkiCreates.
Speaking of gumbo, find Sawyer & Co. on Austin's east side. Walking into this diner is like entering a little 60s retro chic time capsule including a blue plate special. Our recommendations for lunch and dinner are stacked muffalettas, savory jambalaya, or the rich shrimp remoulade. For brunch, try any one of the decadent benedicts. And if you're drinking, definitely opt into the boozie cold brew with Baileys, Jameson & pecan praline cold brew.
Our friends at Phoebe's Diner know what the people want. Tucked in a minor strip center off Oltorf, it's well worth the wait to get into this shotgun-style diner that somehow manages to pack twice the flavor into every dish. Deep fried french toast is worth the indulgence and you might as well add a side of slab bacon. We should also clue you into the Cheeky Monkey -- a crispy fried egg wrapped in sausage, potato, and smoked cheddar served with sausage gravy.
Cornelia's Eats food truck popped up on Burnet Road and quickly became a contender. Call ahead to make sure they still have food because it can run out quickly. People line up for their shrimp n grits, po-boys, sweet potato casserole, and bourbon banana pudding.
Fixe Southern House is always in the running for best biscuits in town (served with preserves and whipped butter) though the rest of their offerings are just as tasty. Texas redfish with golden grits, lobster and crawfish pot pie, and a ribeye served with cornbread and gouda fondue.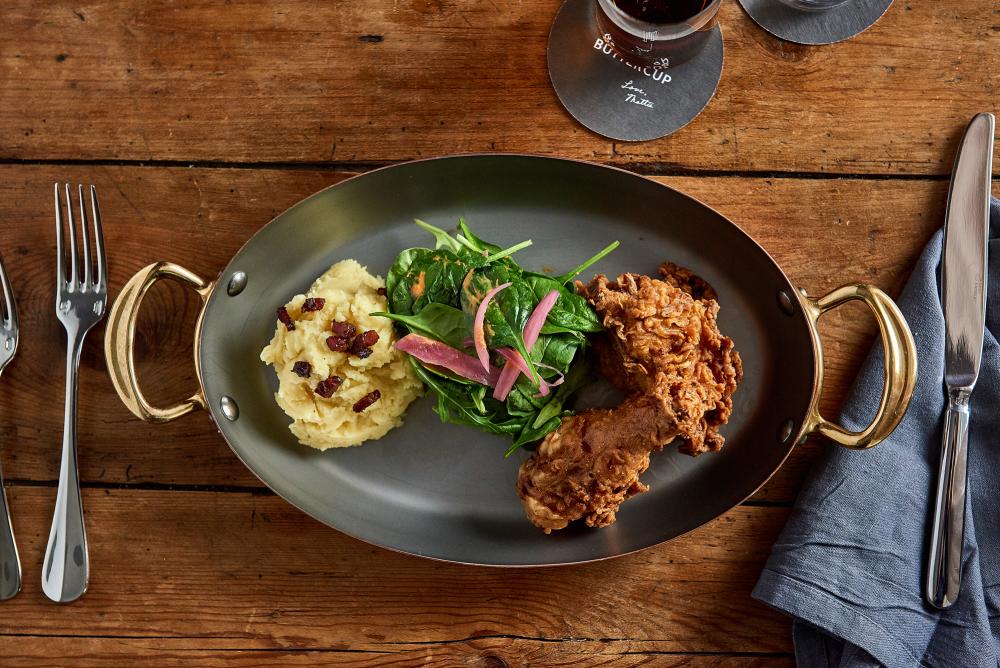 Mattie's. Credit Nick Simonite.
Mattie's is where you go to impress everyone -- a massive Southern plantation-style house with beautiful grounds, and peacocks. Yep, you read that right - white peacocks free roam. So whilst you enjoy your evening on the patio or your brunch in the bright sunshine, you're also treated to the elegant sight of the gorgeous birds. It's also got the best Milk Punch in town.
When the first three things on your menu are pork chops, you've arrived at a southern food truck. Fowler's Smokin' Soul Food reads like a southerner's dream - collards with smoked meat, cornbread, chicken and dumplings, smothered oxtail, ribs, and more. Check their social sites before you go because they like to mix it up.
Sassy's Vegetarian Soul Food
Vegetarians rejoice! You can find soul food, too, at Sassy's Vegetarian Soul Food. Her okra bowl is a version of succotash, there's a vegan "pokechop" sandwich, savory greens, a "chicon" basket with traditional seasonings, and hot water cornbread. If you time it right, you'll catch Sassy singing in the kitchen. Lunch and a show!
Looking for more comfort food? Take a look at our guide to Austin's best barbecue!
Contributed by Kelly Stocker.