Located a block north of the Capitol, anyone interested in immersing themselves in Texas culture and history should check out the Bullock Texas State History Museum.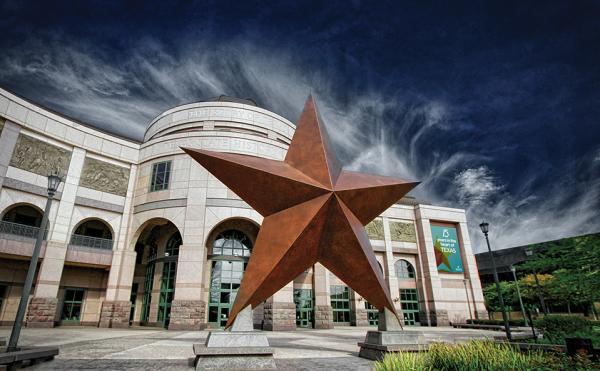 Courtesy of the Bullock Museum.
More than 7.5 million visitors from around the state and all over the world have explored Texas history and culture at the Bullock Texas State History Museum since it opened in 2001. In 2017 and beyond, the Museum is featuring special exhibitions on Texas music icon Stevie Ray Vaughan, historic music festivals such as Woodstock, the power of propaganda, and a premier national collection of American flags.
Texas Spirit Theater and IMAX Theatre
The museum contains three floors of exhibit space, the Texas Spirit Theater and an IMAX Theatre which seats more than 400 guests at a time. In addition to screening current and popular films, the Spirit Theater regularly hosts presentations about the history and destiny of the Lone Star State and the IMAX Theatre projects in both 2-D and 3-D films.
Explore Exhibits & More
Within the museum, each floor is geared to walk you through the history and story of the state, with the first floor discussing the division of the land, cultures who developed the area and colonizing battles.  Moving up to the second floor, visitors see how the identity of Texas was built, and how bringing together different divisions across the land helped build our unique state culture. Once you make it to the top floor, the museum approaches more modern history, and how the state functions within the nation.
Insider tip: plan your visit on one of the venue's monthly Free First Sunday (of course, for free)
Eat & Shop
Take a break from your history lesson at the Story of Texas Café. The newly renovated space offers breakfast and lunch, including pastries and parfaits in the morning, and farm-to-table salad bar, gourmet sandwiches, and more in the afternoon.  Look for the Chef's Weekly Special, focusing on seasonal ingredients from farms around the state – Just Peachy Farm in Palestine, Markley Family Farm in New Braunfels, G&S Groves in McAllen, Rain Lily Farm in Austin, among others.
Bring a bit of the Lone Star state home with you – check out the on-site museum store after lunch or on your way out. Didn't get to it during your visit? Visit their online store anytime.
For more information, including hours, tickets and location, visit thestoryoftexas.com.