What is the scenic Texas Hill Country to you? It is more than a serene getaway. It's food. It's culture. It's an adventure. It can claim your soul and call you back again and again. So let it.
Here are some reasons to answer the calling.
Keep those cameras handy for the wildflowers you'll see throughout spring and into the summer—along roadways and blanketing fields. Indian blankets color entire fields with red and orange during May and June. The floral treat continues throughout summer as brilliant yellow flowers compete for attention with the brightness of the sun.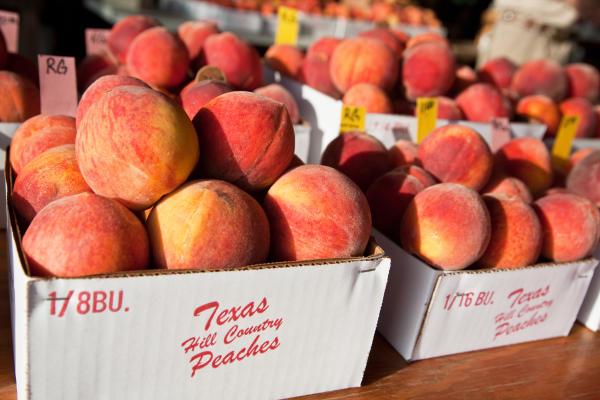 Fresh Hill Country peaches. Courtesy of Fredericksburg CVB.
The only thing that can compare to the sweetness of the floral bounty is the sweetness of Hill Country peaches. Several varieties are harvested May through August from Stonewall to Fredericksburg. Bite into a fresh, juicy peach picked right in the orchard or purchased at the numerous roadside stands and at the Fredericksburg Farmers Market. Of course, there also is peach ice cream, peach cobbler and other peach delicacies such as jams and jellies. Can you say 'yum?'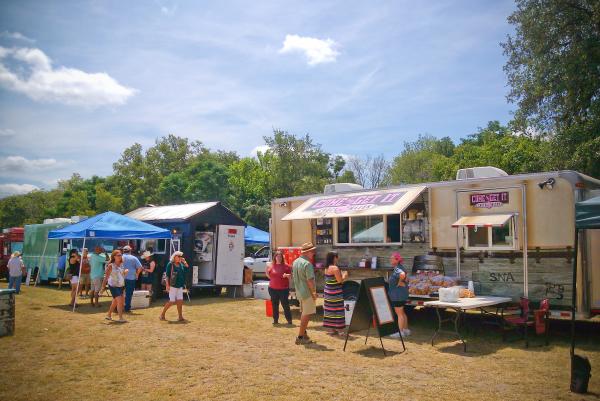 Hill Country Food Truck Festival. Credit Amanda Koone.
Is your mouth watering yet? We won't let it stop. We promise. Right in the middle of peach season is the Hill Country Food Truck Festival. This foodie delight takes place in Luckenbach during June. Satisfy your appetite for good music and good eats from lunch through dinner from a menu of local and regional fare. Wash it down with Texas craft beer, Texas Hill Country wine, sweet tea or cherry limeade. This event is family friendly as well as dog friendly. Bring your dancing boots. And your appetite.
It's no wonder people flock to the Texas Hill Country. The rolling hills, colorful wildflowers and food-friendly festivals are among our list of "must-do" attractions in Fredericksburg and Gillespie County. Come to think of it, "boredom" probably doesn't even translate to German.
The Texas Hill Country is calling. Will you answer?