As the Live Music Capital of the World®, Austin, Texas doesn't fall short on places to experience all different styles of music. In particular, East Austin is home to many venues that are full of character, both new and old. Locals and visitors flock to the east side every day of the week to get their live music fix and to experience authentic Austin vibes. Here are our top 10 favorite venues to catch a live show in East Austin.
Wood & Wire at Emo's. Credit Ismael Quintanilla III.
Emo's helped shape the music scene in Austin, and its digs on Riverside continue the tradition of our true rock 'n roll spirit. Originating in the punk rock trenches of the Red River Cultural District in the early '90s, the original venue brought an authentic personality that helped shape Austin's thriving live music scene. The newer venue, formally the influential Back Room, now boasts a state-of-the-art sound system, complete with quality lighting and staging capabilities. With the history of two legendary Austin venues in its blood, the rock 'n' roll spirit lives on in Southeast Austin.
Established in 1871, Historic Scoot Inn is known as the oldest bar in central Texas. This landmark venue has catered to the proletariat and the bon vivant in search of a hard drink and easy friendship. In recent years the venue's outdoor stage has expanded to host a wide range of musicians across all genres.
Drinks Lounge is altogether bar, record shop and neighborhood hang. Catch local DJs spinning records each weekend (check their events calendar for special nights like Destiny's Child tunes and themed drinks!). Relax and refuel from your evening of music and dancing with their "tot-chos"—crispy tater tot nachos covered in queso, jalapeños, pico, black beans and sour cream.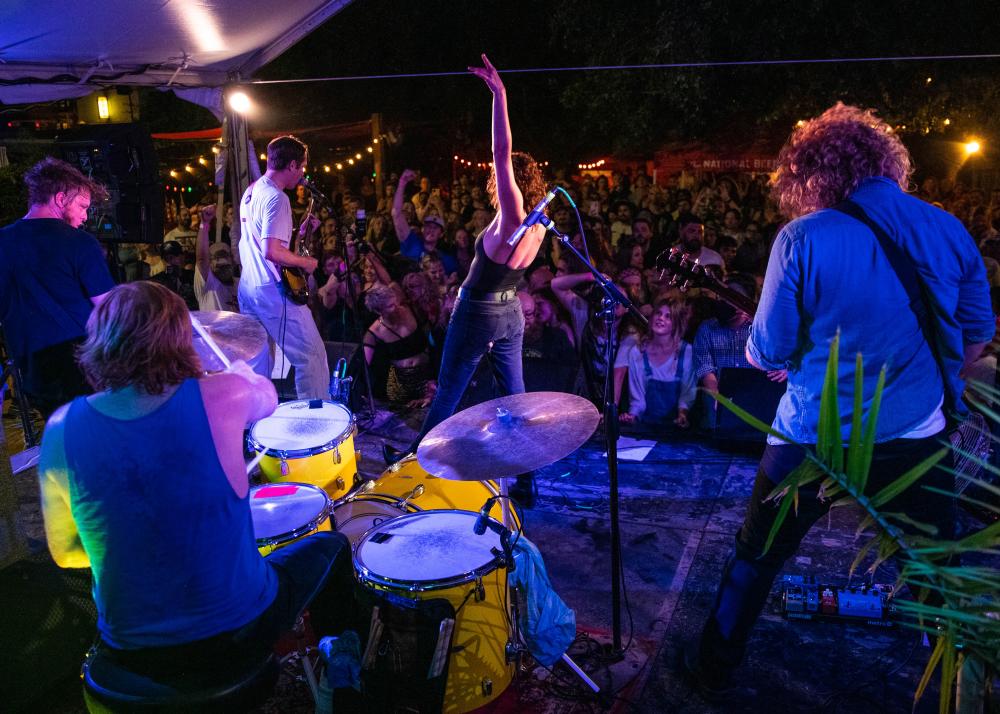 A Giant Dog at Hotel Vegas. Credit David Brendan Hall.
Located in the heart of East Sixth Street, Hotel Vegas offers its patrons live music almost every night of the week. The venue's vintage, Louisiana-meets-Texas inspired furnishings make for a unique experience to accompany the rockin' performances. And if Hotel Vegas isn't enough, its sister bar Volstead Lounge serves up great drinks and even more live music right next door.
What started as a pop-up listening room is now a live music venue and recording studio in East Austin. Founder Connor Shook would host Monks Jazz Club to feature both local veterans and new artists on the scene at venues all around town. Now, Monks has its own space on the east side with underground, intimate and casual vibes featuring the best in local jazz and blues. 
This Austin dive bar is the place to go for punk, rock 'n roll and metal. Always featuring a killer lineup of local bands, The Lost Well will have your neck sore from a night of headbanging.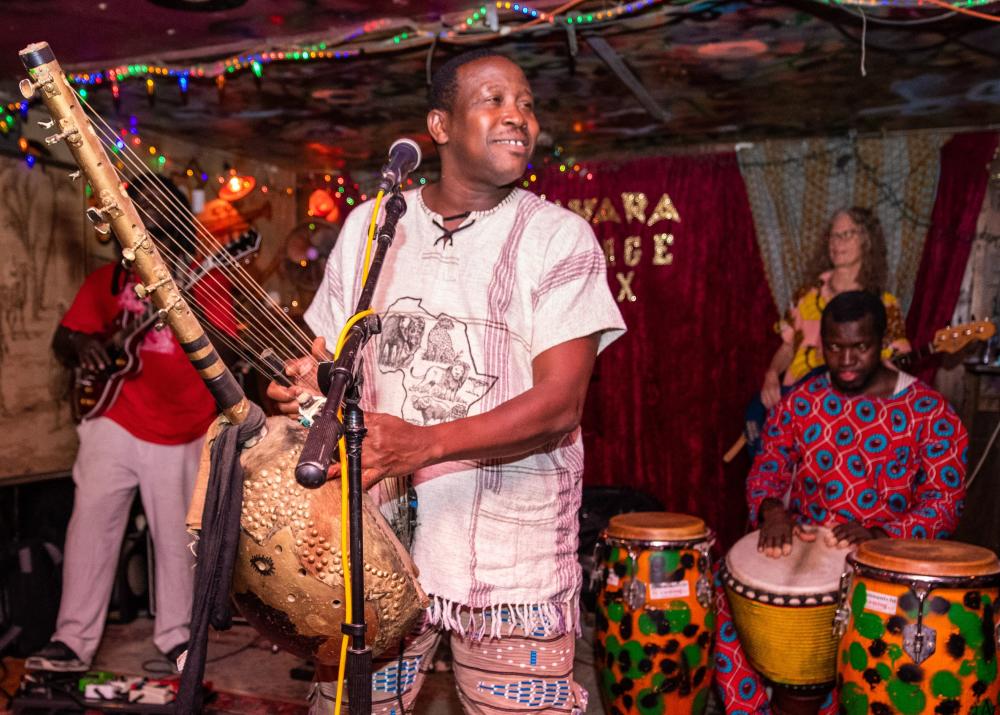 Ibrahim Aminou with Zoumountchi. Courtesy of Sahara Lounge.
This building has been around for over 50 years, but the venue now known as the Sahara Lounge took form in 2011. The Sahara Lounge is uniquely Austin - it is family owned and operated and has an eclectic, relaxed atmosphere. Hang out before or after catching a show on the backyard patio and enjoy some original house beverages. There is something for everyone here as the live music ranges from African to folk, Brazilian to jazz, and more. Another unique aspect of the Sahara Lounge is its regular Africa Nights where there is dancing, music by the house band Zoumountchi and a free buffet dinner!
Parish showcases all genres with local, national and international acts. With live music almost seven nights a week, it's an easy bet that you can find a show worth watching whenever you're in town. Connected bar My Oh My  is dubbed "a small bar for big hangs." This listening lounge has killer vibes with DJs spinning beats that are bound to make you dance.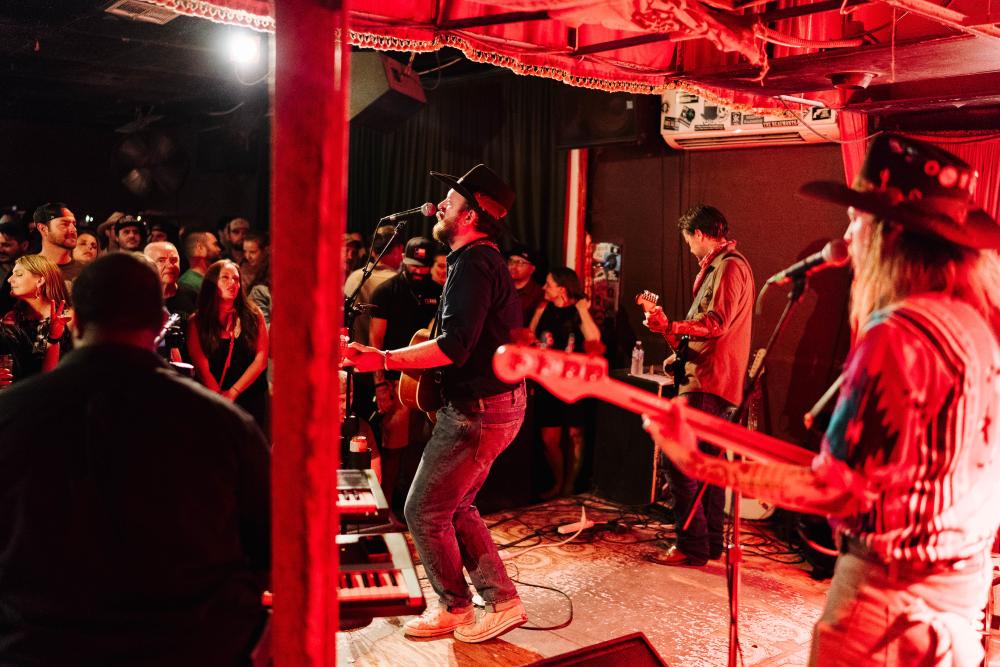 Paul Cauthen at the White Horse. Credit Chad Wadsworth.
This east side honky tonk is the spot for live country music and lots of dancing. Grab your boots for Texas two step lessons on Thursday and Saturday nights, then hang around for live tunes and whiskey on tap. Some popular names have graced the White Horse stage. If you're lucky you might just get to witness the next country star before they hit it big.
Show off your moves on Club Carnaval's dancefloor to Tejano and Chicano music. This southeast venue has been throwing parties each weekend for over twenty years and featuring Hispanic and Latino artists nightly. 
For more places to listen to music all over Austin, check out our live music venue guide.