If there's one thing Texas is known for, it's beef. There's something about a good steak that no other dish can replicate. It's practically required when you're visiting Austin to settle in at a steakhouse and indulge in a Texas tradition.
One of our favorites is Austin Land and Cattle. It's an Austin institution and as things come and go, it continues to stand the test of time. The steaks are top notch even though the atmosphere is Austin casual. This is the spot to order an ice cold martini, some escargot to start and a beautiful ribeye. They also offer "enhancements" like making your steak Oscar-style (lump crab) or ALC style (peppercorn and blue cheese).
Bartlett's has stood the test of time, providing upscale dining in North Austin for over 10 years. Known not only for their savory steaks, Bartlett's passion for creating superb wine pairings has earned them the Wine Spectator's Award of Excellence for the second year in a row.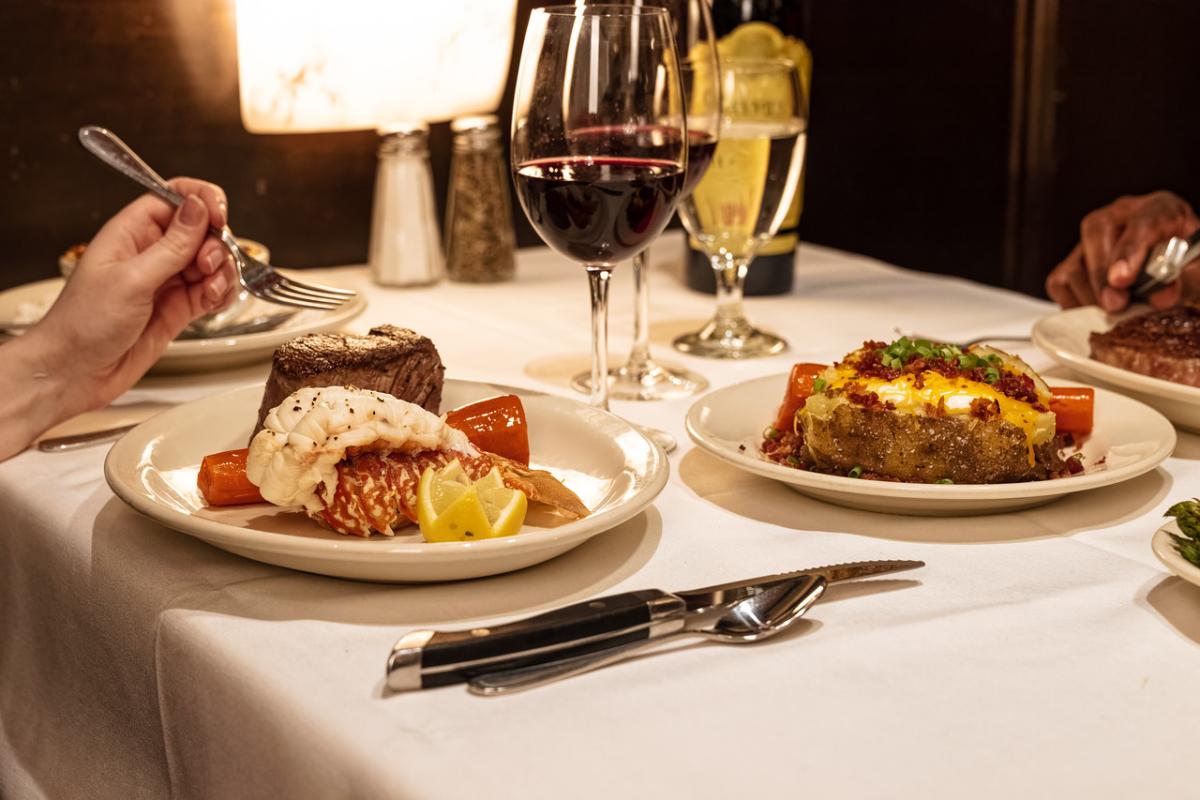 Courtesy of Bob's Steak & Chop House.
Bob's Steak and Chop House reads like the who's who of excellent cuts of meat. Meat lovers will have a hard time choosing between the carnivorous offerings. What makes this spot especially nice is a fabulous downtown rooftop. Look out of the Austin skyline with an old fashioned in hand and a slab of steak on your plate for a pretty awesome evening.
Eddie V's Steak and Seafood is one of our go-tos, and not just because they have an incredible happy hour. Centered in the hustle and bustle of Austin's downtown, Eddie Vs feels like a world away. They serve hand-cut prime steaks accompanied by amazing seafood at both of their locations. Insider tip: always add the south African lobster tail to your center-cut filet.
Though technically not a steakhouse, we'd be remiss if we didn't mention Estancia. Austin-owned and Brazilian born, this is that epic meat experience you've come to expect from a churrascaria. After gorging yourself on the salad bar, sit back as uniformed servers bring ten different cuts of meat from the grill to your table. Among them, picanha, filet mignon, contra filé and fraldinha, prime bottom sirloin.
Open flames might not be something you want in your home but they're definitely a sight to behold at Garrison, a nationally recognized restaurant located in the Fairmont Hotel. The open-kitchen gives you a fantastic view of your entrees being grilled over Texas post oak. Start with beef tartare and then take your pick of the Ranger Cattle ribeye, a prime dry aged Niman Ranch tomahawk or a prime porterhouse.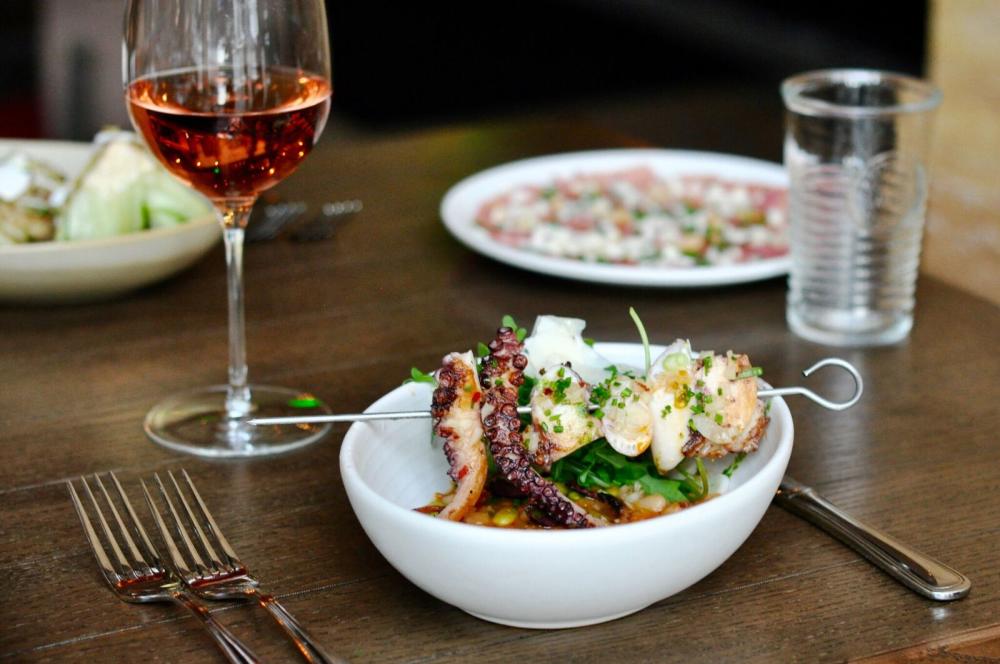 Red Ash. Credit Ashlyn Allison.
What if we told you that there are two places with gorgeous wood-grilled steaks, dry aged to 50 days and hand cut in-house? Red Ash Italia and brother restaurant J.Carvers Oyster Bar and Chop House have that in common. Red Ash (as you might imagine) leans more towards handmade pasta and Italian specialties while J.Carvers is more traditional steakhouse with a seafood twist. Both have extensive wine lists, creative cocktails and upscale appeal.
Jeffrey's is well-known for being one of the fanciest steakhouses in town. As befits something of this caliber, their wine list is renowned, the steaks are incredible and the service is old school perfection. This is absolutely the place to take a date or a client to impress them.
Tim Love's Lonesome Dove takes the steak game to, well, game. This establishment is nothing less than a tribute to a variety of beautiful wild game. Of course they've got beef on the menu—tenderloins, a wagyu tomahawk, New York strip—but they add a buffalo ribeye and elk loin in the mix along with wild boar and kangaroo carpaccio. You read that right.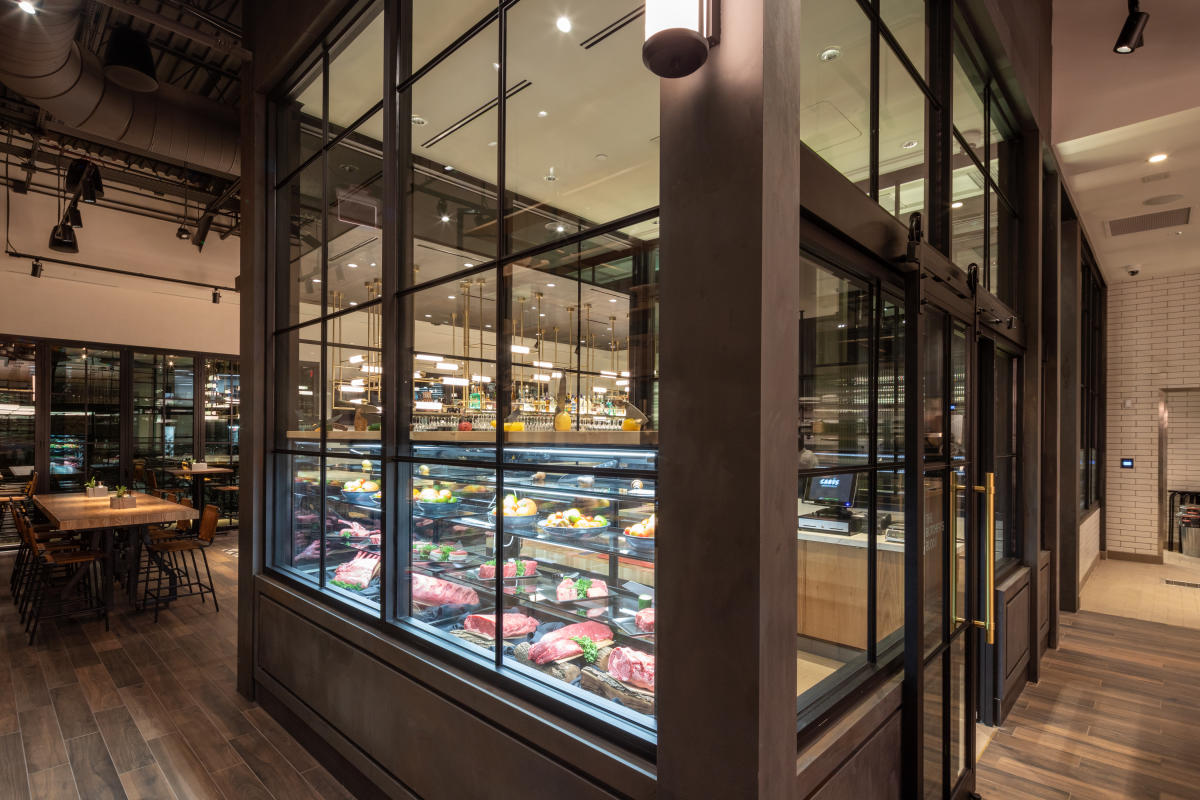 Courtesy of CARVE American Grille
CARVE American Grille and Perry's are the same family but while the latter is better known for their pork chop, CARVE is a bastion of beef. Try saying "bacon-wrapped cherry-smoked filet mignon" three times fast. They also are committed to wine on draft (cuts back on glass waste), excellent cocktails and locally grown ingredients when possible. The Prime Rib Thursday Dinner is a can't miss standout—a mesquite-fired prime rib caramelized and crusted.
Head for a day in West Austin and enjoy an exquisite steak dinner overlooking the mighty Colorado River at Steiner Ranch Steakhouse. Born out of the storied past of the Steiner Ranch and Rodeo Company beginning in the early 20th century, today the Steiner name is known for top-shelf steaks. Try menu favorites like the "Cowboy" ribeye, a 22oz bone-in ribeye, paired with decadent lobster mac and cheese.
Owned by the Texas football legend himself, Vince Young Steakhouse in an all-star steak spot. Elegant and intimate, their USDA prime beef offerings range from filet mignon to a massive prime porterhouse, weighing in at 42oz. Each steak is aged and cut by a local butcher and then grilled over local live oak. If humanly possible, you should try and leave room for sides like the bacon mac and cheese and asparagus bearnaise.
Does all this fancy food talk have you feeling romantic? Check out some of our top date night spots for more inspiration. 
Contributed by Kelly Stocker.