Historic East Austin
You can see the heart of East Austin in the African American and Latino cultures that intertwine block by block. Entities like Six Square, Spirit of the East Side and Hermanos de East Austin are dedicated to preserving the history and culture of this area of the city.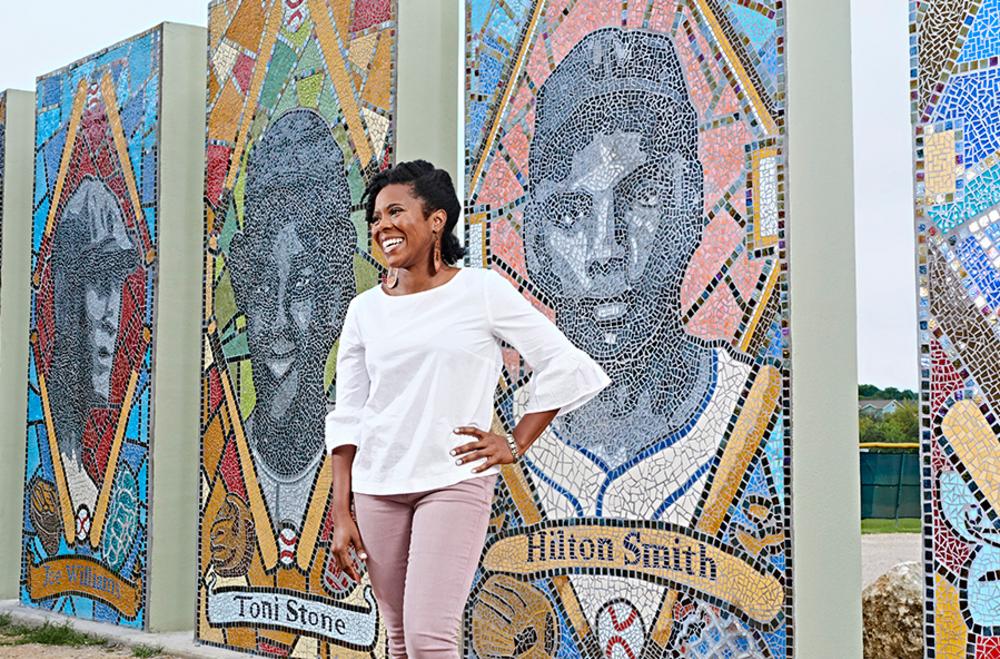 Nefertitti Jackmon, Executive Director of Six Square at the historic Downs Field.
The East Side is home to the George Washington Carver Museum and Cultural Center, which boasts a genealogy center, meeting and performance spaces and a namesake branch of the public library. Downs Baseball Field, once home of the Austin Black Senators. The Millennium Youth Entertainment Complex (MYEC) is where locals and visitors alike bring the family for bowling, roller-skating, karaoke, games, birthday parties, concerts and more. MYEC has strong ties to the East Side; it came together as a symbol of peaceful activism to offer local kids safe, wholesome entertainment options. (Kids just see it for the fun!) This is where Austin parades on Juneteenth, and official MLK Day festivities begin at Austin's Historically Black College and University (HBCU), Huston-Tillotson University.
And sure, east of I-35 one can find the hottest chefs and the most sought-after mixologists, but dig a little deeper for a richer taste of history and culture. Because it's where, after 40+ years, you'll still find brothers Freddie and Eddie Roland of Roland's Soul Food and Fish dishing out home-style cooking. It's where you go when you want to find old-school curanderas (The Green & White Grocery) and a plate of étouffée from our East Side Cajun hero, Nubian Queen Lola.
Six Square
As one of the largest cultural districts in the country, Six Square takes its name from the literal boundary (of approximately six square miles) designated for the district and creates a positive and welcoming environment while actively crafting the district's important future. Six Square is home to numerous sites of national, regional and local historic significance and celebrates African Americans and others who played important roles in creating the vibrancy of Austin.
Texas State Cemetery
Founded in 1851, the Texas State Cemetery is the final resting place of Texas' most notable sons and daughters, including Stephen F. Austin and Barbara Jordan.
Oakwood Cemetery
Originally opened as City Cemetery in 1839, Oakwood Cemetery is the oldest of five public cemeteries in Austin. The first reported burial was that of an enslaved person in 1839. The 40-acre cemetery's 23,000 burials — reflective of Austin's diverse population with two Jewish sections and the burials of colonial pioneers and five governors — are managed by the city and it continues to receive burials.
Huston-Tillotson University
Austin is proud to be a university-centered city. Our institutions of higher learning bring thousands of hungry minds to the city each school year. HBCU, Huston-Tillotson University opened in 1875 as the very first institution of higher learning in Austin. It began as two schools, Tillotson College and Samuel Huston College, until merging in 1952. Notable alumni include Bobby Bradford, James A. Harris, Dr. June H. Brewer, Dr. Zan Wesley Holmes and Volma Overton, among many distinguished others, and perhaps most famously, Jackie Robinson, who coached basketball here in 1944–45.