DISTRICT IN REVIEW: RED RIVER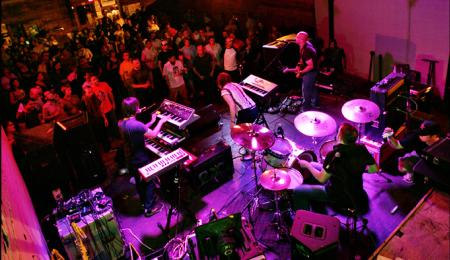 Notoriously nightclub heavy, Red River buzzes with concert seekers milling the streets and that thick anticipatory energy that comes from waiting for the lights to dim and your favorite band to take the stage.
Live music spills nightly from some of the hottest stages here, surrounded by famed backyards and crave-worthy eats, all within a three-block radius.
Here's the lowdown on live music, bars/nightlife and restaurants you just have to check out in one of Austin's edgier neighborhoods.
Live Music
The Mohawk - Come here for music and multi-level views of the stage, stay for the stiff drinks and to be properly weirded out by events like the annual Quesoff where locals compete with their queso concoctions, spelling bees and even beard growing "face-off's." The come-as-you-are Mohawk is all about raw talent, emerging bands and local talent and they pride themselves on big pours and good old-fashioned service.
Stubb's Bar-B-Q - An outdoor stage that's built for bring-the-house-down performers, an indoor stage suited for a more intimate concert experience, and beloved brisket and signature BBQ sauce - Stubb's is an Austin institution. Come back on Sunday for their famous Gospel Brunch and get your fill of migas, grits, BBQ and the make-your-own Bloody Mary bar.
Nightlife
Beerland - A dive bar with a side of suds, this is where you'll tip back cheap beers, play a few arcade games and gear up for some loud live music. Live out your American Idol dreams every Monday night during Rock n' Roll Karaoke. Beerland has been known to win Austin Chronicle Best of Austin awards in categories like Best Bathroom Graffiti and Best Bar with Arcade.
Barbarella + Swan Dive - When it's time to dance, it's time to hit these two happening, LGBT hotspots. Wear your dancin' shoes and get ready to make some new friends on the spacious dance floors. Don't shake the antiques off the walls during a burlesque show at Swan Dive and bring your best disco moves to Barbarella for "grits n gravy" Thursday dance parties.
Empire Control Room & Garage - A watering hole with modern music on tap, the vibe here spans laid back to jump around, depending on the evening's tunes. The feel is independent Austin talent meets creative warehouse party without any pretentiousness.
Dining
Hoboken Pie - Say Salut! with a slice from this gourmet 'za shop. Sure, you can have your pepperoni here, but have you ever tried toppings like vegan tofu ricotta, caramelized shallots or smoked gouda? Grab a Jersey-style folding slice to eat as you walk Red River and fuel up for the night. Or come in late night - they serve their hand-tossed, stone-baked awesomeness 'til 2:30 a.m.
Pelons Tex-Mex Restaurant - If you consider salt around the rim a necessity for a night of fun, this is your hacienda. Housemade chile hatch queso, a patio tucked beneath a towering oak tree and an agave nectar tequila margarita will put you in your happy place. Try a homemade signature margarita and bring your pooch - they're dog-friendly.
Serrano's Café & Cantina - Tex-Mex classics shine on Serrano's locally loved menu. Texas brisket tacos, achiote-marinated pork tacos, chipotle brisket, sizzling fajitas...you can't go wrong here. Folks have been raving about their mesquite grilled fajitas for 20 years and their weekday happy hour is pretty great ($2.50 margs, $1.50 food specials, etc.)