Everything You Need to Know Before Attending ACL Festival
October is one of Austin's busiest months of the year with multiple annual music festivals and large events happening. Of them all, one of the most popular is Austin City Limits Festival which derives its name from the longest running music program on television, Austin City Limits. The festival is produced by C3 Presents, the company which also puts on Lollapalooza, and is happening October 6-8 & 13-15, 2023. Each year, an estimated 450,000 people attend the two-weekend event which is held at Zilker Park on Friday, Saturday and Sunday of each back-to-back weekend between 10 a.m. and 10 p.m. each day. If you're planning on attending, here are a few things to help you plan to have a good time at the festival.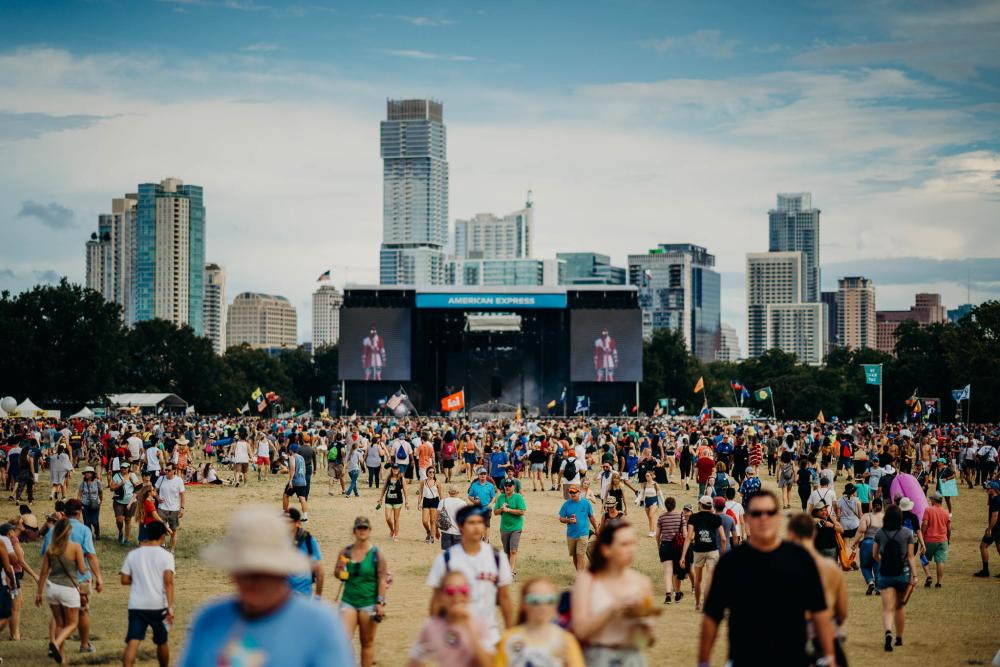 ACL Festival. Credit Sara Margorie Strick.
Where to Stay
If you're coming from out of town, you should book your accommodations well in advance as affordable options may book up quickly and some hotels may even sell out. However, you've got plenty of choices between the city's many hotels, motels, and vacation rentals. The most efficient options will be areas that allow you to commute by foot or by bike such as the Zilker area or the adjacent South Congress or South First neighborhoods. Just remember, Austin can be hilly so if you plan on walking or biking, be prepared for a workout.
Before You Get There
Attending ACL Fest often requires a lot of planning and some managed expectations. Remember that going to any music festival or large-scale event can be physically demanding, especially when you factor in Austin's daytime temperatures. Comfort is key—make sure to pack all that you need (there are lockers that you can reserve and rent) and plan out which artists you want to see, but remember that it might not be possible to get the best view if you don't arrive at the stage early. It may not be possible to see all of the artists that you want to see especially if their scheduled performances overlap. Before the festivities begin, download the ACL Festival app so that you always have the schedule and festival map in your pocket. Also make sure that you schedule some time to visit some of the on-site activations and ACL Eats Food Court!
To learn about some of ACL Fest's ADA and disability accommodations, please visit their website for more information.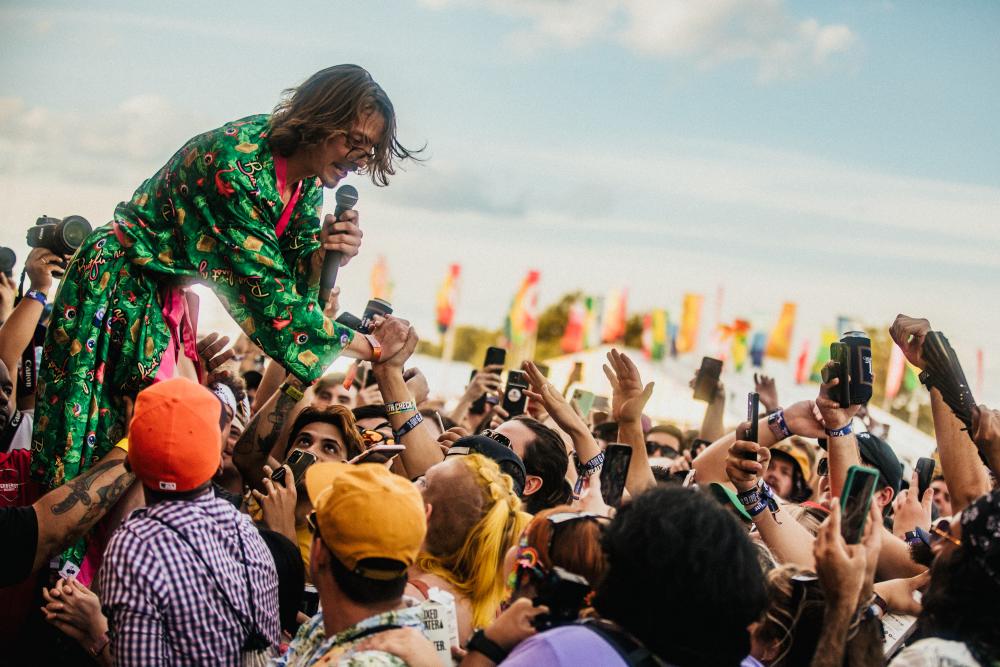 Marc Ribellet at ACL. Credit Miranda McDonald, Courtesy ACL Festival. 
First and foremost, make sure to wear comfortable shoes and clothes that you don't mind getting dirty, and bring a refillable water bottle to fill up at the festival's water stations (water bottles and hydration packs must be empty upon entry to the festival).
If you're planning on buying any merch at the festival, it may be a good idea to bring a transparent backpack. If not, a single-pocket fanny pack or small clutch should suffice; anything larger than these items must be transparent.
Since Austin is known to be treacherously sunny, it's always a good idea to pack some sunscreen, a hat and a good pair of sunglasses. If you're planning to be at the festival all day, it's highly recommended that you bring a portable charger for your phone and some protein bars or snacks. And because the weather is not always predictable, it may get chilly after sundown so you can bring a blanket to sit on or to wrap around yourself if you get cold.
Lastly, make sure to bring your phone and wallet—while you can activate your ACL wristband to pay for concession items without your wallet, it is recommended that you bring it anyway for emergency situations.
ACL Fest does not allow guns, drugs, or bad attitudes. You can also leave your professional recording equipment at home unless you have a media pass issued by C3 Presents. Additionally, do not bring coolers, hammocks, camping equipment (it's not that kind of festival), carts and pets (unless they are service animals).
For more information on what's allowed or prohibited, visit aclfestival.com.
Bob's Dance Shop at ACL Fest. Credit Gaby Deimeke, Courtesy ACL Festival.
Getting There
Whether you stay somewhere close by or elsewhere in the city, you should factor in the commute to and from the festival. While it is possible to find paid parking areas around the festival grounds, there are a variety of other options to get there.
Ridesharing
Obviously, the further you are, the longer it will take you to reach the festival each day. However, know that there will likely be some amount of walking required to catch a ride when leaving the festival or after exiting a vehicle at a rideshare drop-off point around Zilker. Beware of traffic closures, typically along Barton Springs Road and some of the exits along MoPac (Loop 1), which may impede normal commute times.
Free Shuttle / Public Transportation
Each year, ACL Fest provides a free shuttle service for attendees who want a free lift to Zilker Park from Downtown Austin. Be sure to check the official ACL Festival website for more information on the free shuttle.
CapMetro also provides plenty of other options to find a ride to Zilker. Attendees are encouraged to download the CapMetro app to find step-by-step directions for taking CapMetro to ACL. You can also find more information about bus routes on the CapMetro website.
Rental Bikes & Scooters
Another option is to hop on a rental bike or e-scooter. MetroBike Austin (recently rebranded from its former name Austin B-cycle) provides an affordable and fun way to get to and from the festival. However, make sure to follow local traffic laws and remain cognizant of cars, pedestrians, pedicabs and other cyclists as the streets around Zilker tend to get pretty busy around the festival. If you're riding your own bicycle, bring a bike lock and even a spare tube to prevent flat tire disasters. There are designated bike racks outside of the festival, but make sure you remember which bike is yours!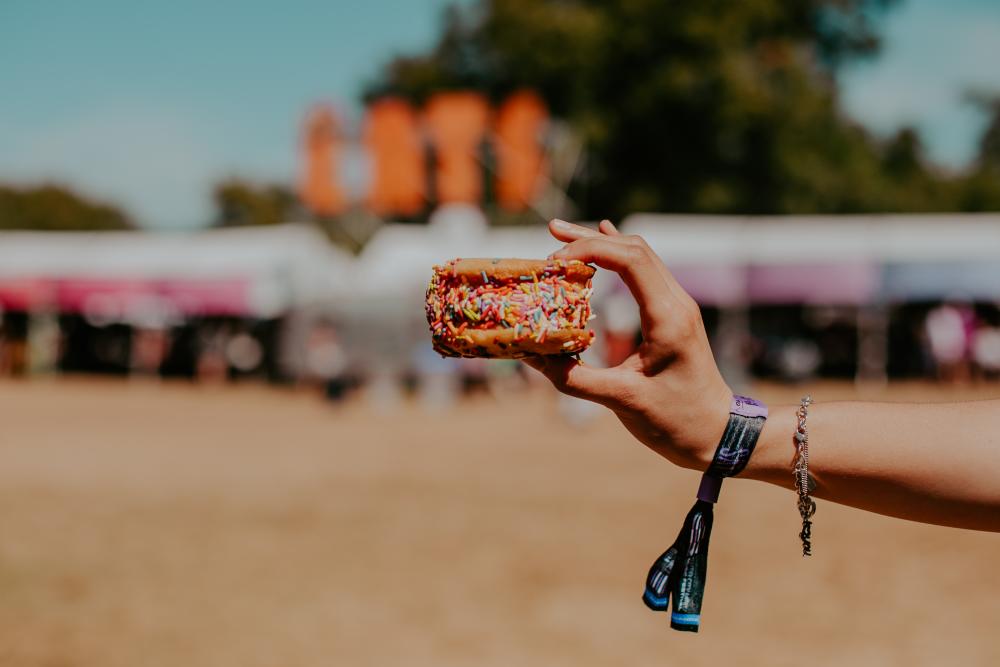 ACL Eats - Skull & Cakebones. Credit Gaby Deimeke, Courtesy ACL Festival.
While You're There
After all the planning and packing, all you have left to do is have a great time in the Live Music Capital of the World®! In between your favorite artists' sets, you can roam the spacious festival grounds, visit merch and food vendors, explore the Art Market, check out the Waterloo Artist Signing Stage (it's free!), and if you're with the kiddos, visit Austin Kiddie Limits, a family-friendly area offering several fun activities for the whole crew!
Contributed by Nathalie Phan.
Nathalie Phan is a local music connoisseur and the founder of On Vinyl Media and SoundSync Music. She is passionate about helping Austin musicians and the local music industry.
Twitter: @natphantastic