There are so many reasons to visit Austin—vacation, graduation, festivals, conferences, general awesomeness—but a visit to Texas' capital city can be a pricey proposition, especially when it comes to housing a large group. And while we love living that high life, saving some money on your stay means you can indulge in an extra fancy dinner or take in a live show that Austin is so well known for. Not to worry—there's a budget-friendly option for Visitors looking for cheap hotels in any part of town.
Note: "Cheap" can mean something different for each person and this is just a small selection of budget-friendly hotels in Austin. For a more comprehensive list of hotels at all price-points, check out this page.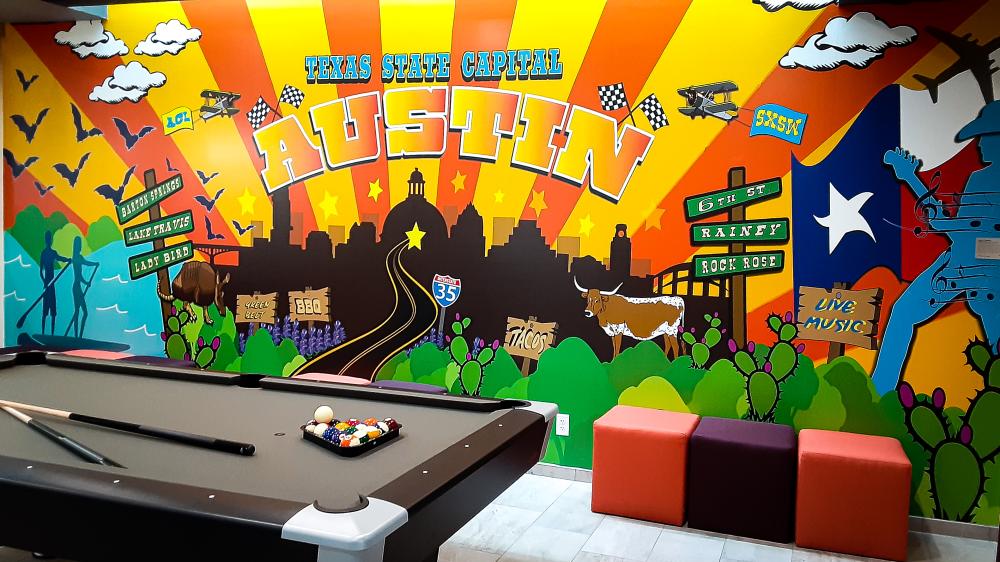 Courtesy of Tru by Hilton Austin Airport.
Tru is so fresh and so clean… as in, this hotel is brand new. Accordingly, everything is contemporary and pristine, from the enormous lobby to the roomy quarters to the fitness center. Every room features those fabulous Hilton beds and the decor is vibrant and fun—no tragic hotel carpet here—with unique murals on the wall reflecting Austin culture. Unlike many other hotels, they offer free wifi, a free breakfast, free parking and free rides to the airport. If you're in town on business, take advantage of the cute business cubbies, collaborative areas and print-from-anywhere wireless printing. Or, just play some foosball and leave the laptop upstairs.

Courtesy of Habitat Suites.
Staying in central Austin means you're close to everything—the downtown action, shopping centers like the Domain, the Arboretum and Domain NORTHSIDE, and lots of awesome local businesses. This environmentally-conscious hotel was converted from an apartment complex so the amenities are "we could live here" style with full-sized kitchens, bathrooms, a nice pool and even live plants in the rooms. Start off healthy with their complimentary vegan or vegetarian breakfast and then indulge in complimentary beer, wine and light fare in the evenings. To level up your stay, you can book a number of activities and amenities like yoga passes, on-site massages, and "Welcome to Austin" gift baskets.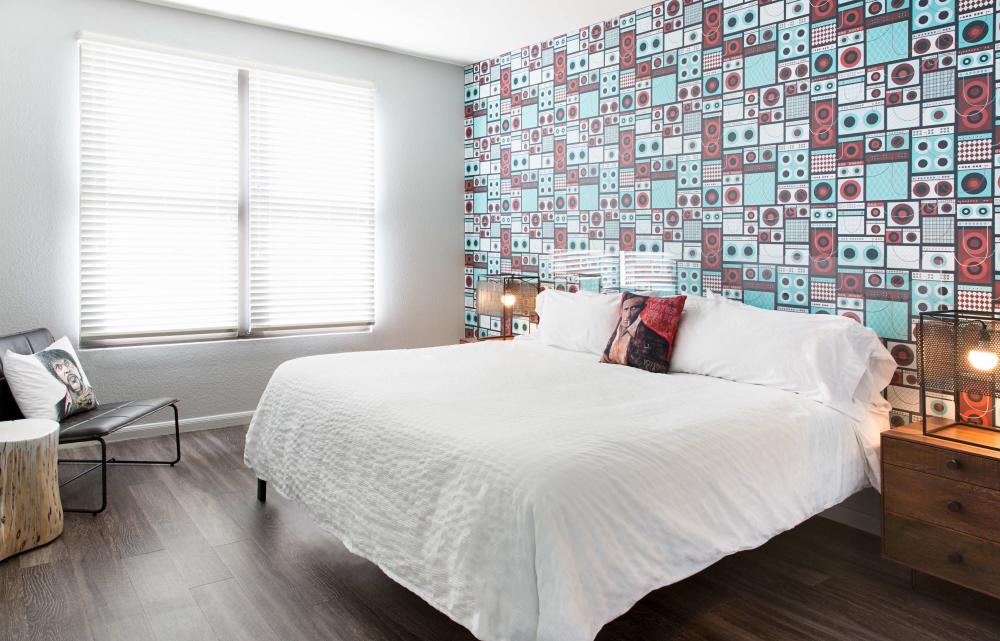 Courtesy of The Guild Red River.
If you're ready to rock, head to The Guild Red River located steps away from iconic music venues like Stubb's, Cheer Up Charlies and the Mohawk. It's a little bit of a different experience as this is a shared hotel complex—meaning there are hotel rooms scattered among permanent residents. You'll be staying in a modern apartment with a full kitchen (plus utensils), an in-unit washer/dryer, a pool, plus a record collection and books to while away the hours. The concierge is virtual so no lengthy check-in process. The guild is especially excellent for long-term guests who may want to settle in a little bit or for people that want to meet Austinites.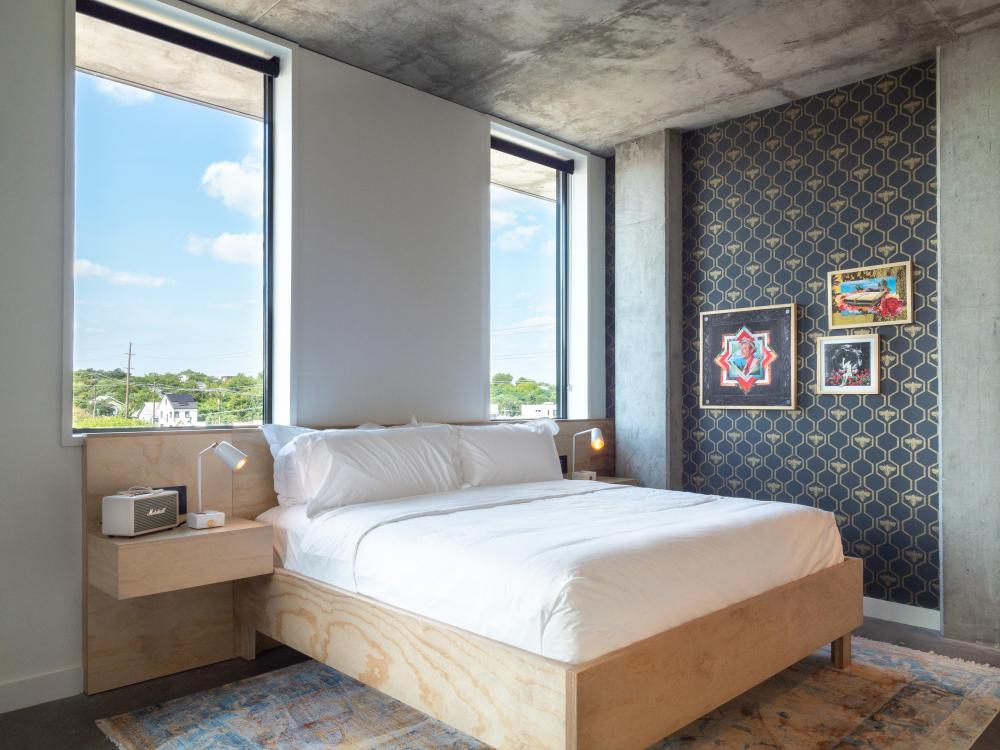 Credit Brittany Bosworth.
ARRIVE has arrived in Austin, so to speak. This hotel has a boutique feel with a price point we can get behind. Because the hotel has only recently opened, everything has that new hotel smell. Their rooms are contemporary and cool with custom woodwork, bright, colorful art, big beautiful beds, and Apple TVs and Bluetooth speakers. They offer high-end bath products and cozy robes. Head downstairs to explore tons of cool businesses in East Austin but make sure to check out the on-site options too. Stop in for a cappuccino at Cartel Coffee Lab to kick off your day or a cocktail at crafty Gin Bar or the more casual Lefty's Brick Bar to start or end the night.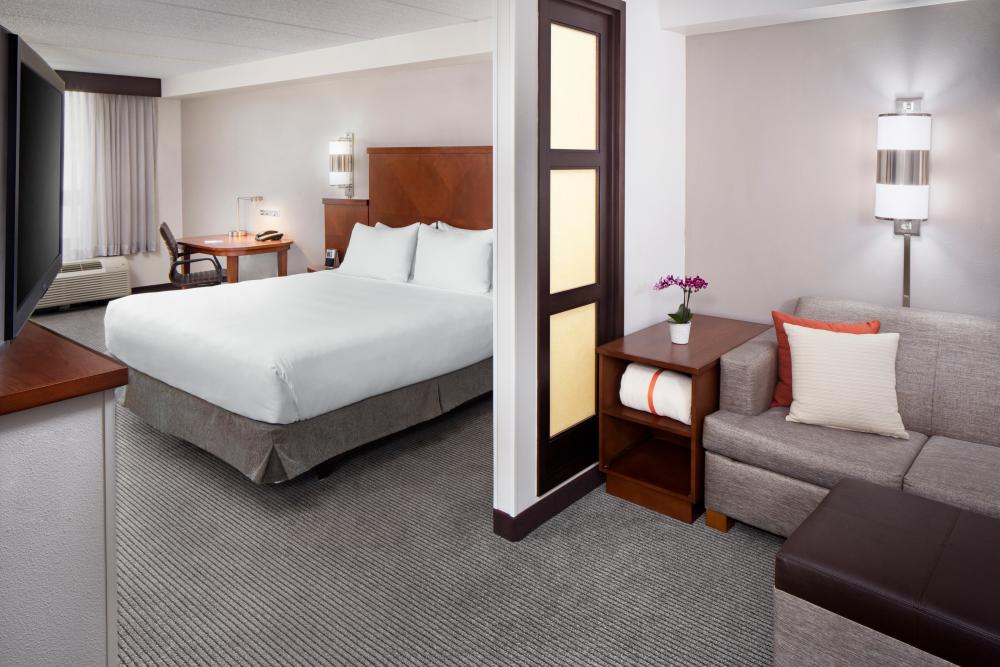 Courtesy of Hyatt Place Austin Arboretum.
Compared to the insanity of downtown Austin, the Arboretum feels like an oasis of calm. The traffic is reasonable, you're minutes away from major business centers, and there's no deep bass beat outside your window at night. There are great bars, restaurants and brand-name and local shopping right near the Hyatt Place. This affordable hotel checks all the boxes—comfortable rooms, free wifi, a fitness center and a pool along with meeting facilities, a 24-hour market and an omelet bar. Plus, it's pet-friendly so if Fluffy is on the family trip, she's got a place here too.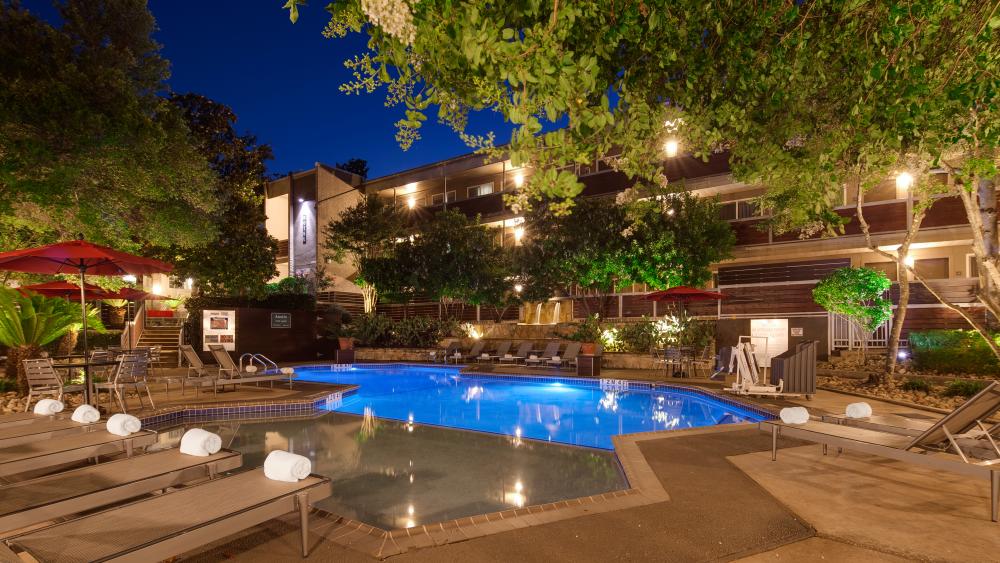 Courtesy of Aiden by Best Western @ City Austin Hotel.
For close (but not too close) to downtown, it's hard to beat the Aiden's location in south Austin. Just off of I-35 and Oltorf, it's well-situated for anything you want to do in the city. A quick 10-minute drive gets you to St. Edwards University, the Capitol building complex, the bars on South Congress, the boutiques on South Lamar, and the 2ND Street Shopping district. They've also eschewed the beige boring hotel look. They've incorporated Austin into their funky design (check out the wallpaper!) while still keeping a modern aesthetic. Enjoy a dip in the pool (or hot tub), free parking, large rooms with Keurigs and, the most important thing… free breakfast tacos!
West Austin is one of the lushest and under-appreciated parts of Austin. Ten minutes out of the city center and you're cruising along the open roads, feeling that central Texas vibe. Mountain Star brings in those natural surrounds with Texas limestone and a classic "lodge look" that incorporates natural wood accents and floors. Rooms are simple but have everything you need—plus a fridge, microwave, TV, charging station and, best of all, ceiling fans. When the weather's hot (as it always is) their tree-lined pool is a refreshing spot to take a dip and feel one with nature.
If you're wondering how to find discounts on hotels in Austin, explore the Austin Insider Deals and discover great deals on some of the best hotels in town. None of these catch your fancy? Check out our complete list of places to stay in Austin.