If leaving your dog home alone sounds worse than starting a night out with only 10% phone battery, you're in the right city. Austin is chock full of dog-friendly activities where you can eat, drink, work and play alongside your canine companion. So grab that leash, some extra baggies and a portable dog bowl. It's time to explore Austin with your very best friend.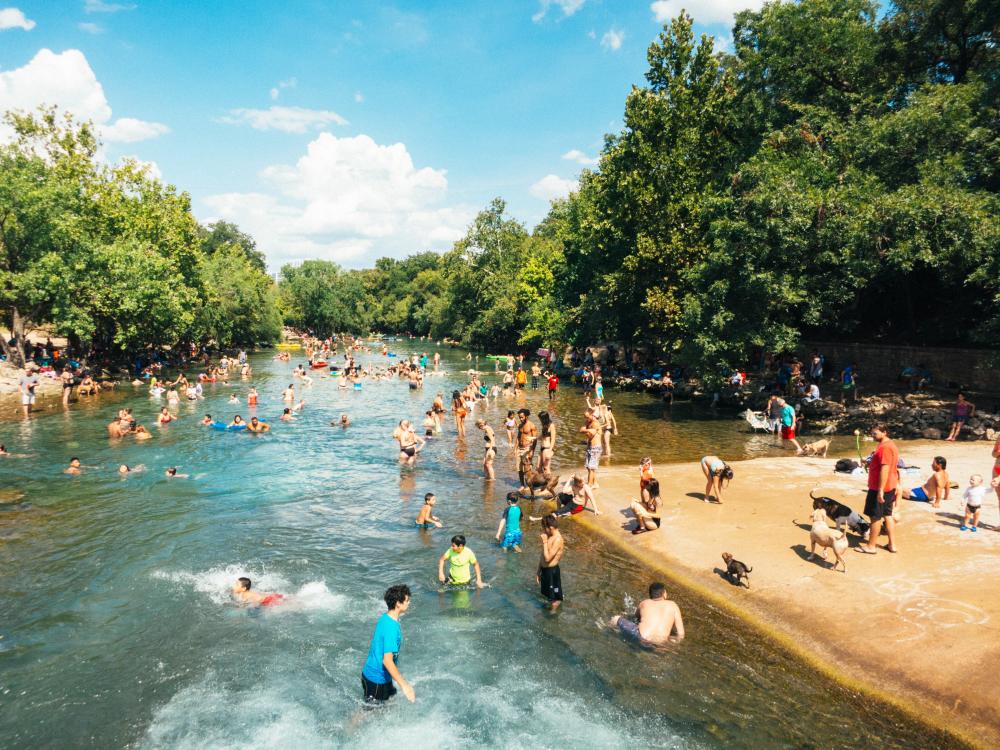 Barkin Springs. Credit Tomek Baginski.
Let Them Off-Leash
*Several Austin waterways are at increased risk for harmful algae in the summer and fall, when water is stagnant and temperatures are warm.​ If you allow your dog to swim at Lady Bird Lake and Barton Creek at Sculpture Falls, you do so at your own risk. Please refer to the City of Austin's website for current information and recommendations.
Dogs were born to run! Let them answer the call of the wild (for a few minutes, at least) at one of Austin's many off-leash parks.
Red Bud Isle is an entire off-leash island. Access the 13-acre island by bridge and let your dog explore to his heart's content. Closer to downtown, Auditorium Shores has a 4.5 acre off-leash area right on the banks of Lady Bird Lake.
Water-loving pups can also visit the unofficial dog park "Barking Springs" just east of Barton Springs. Dogs love to splash in the cold spring water, and you can wade along with them. Sometimes, blue-green algae levels get high in this area. Always check for algae levels before visiting to make sure they're not harmful to pets.
Play fetch with your pup to their heart's content at the off-leash area of Zilker Park. The park is split into a north and south side by Barton Springs Road. Stay in the off-leash area north of the road.
In southeast Austin, Onion Creek Metropolitan Park sprawls over 390 acres. Hike the Onion Creek Trail with your four-legged friends, and then let them run free at the 106-acre Dog Park Blue off-leash area.
There is no shortage of off-leash areas for your four-legged friend, refer to this map for the city of Austin's many options and local ordinances.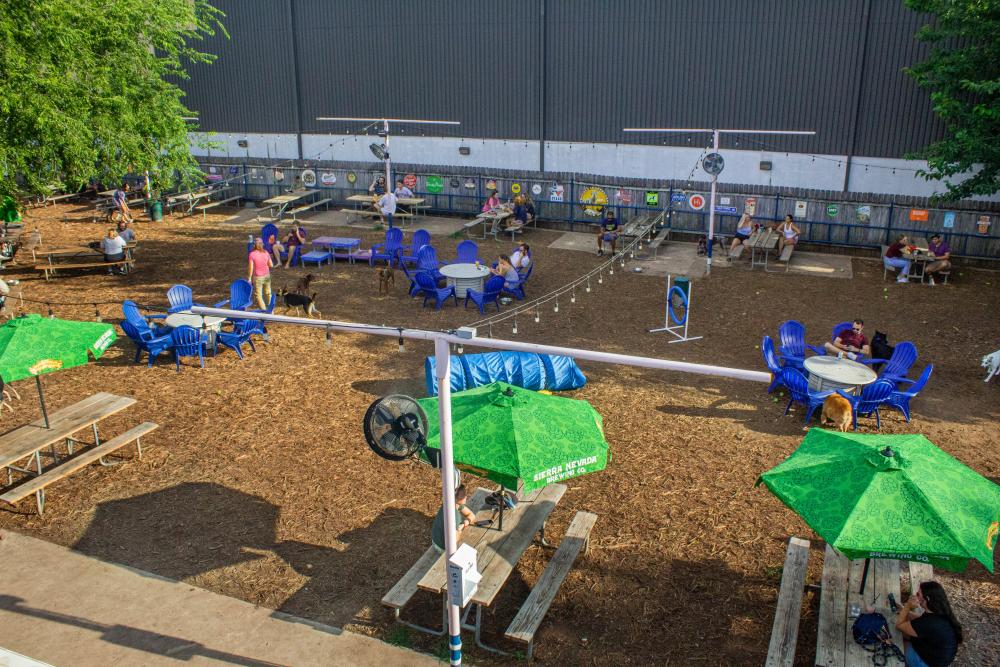 Yard Bar. Credit Amanda Livingston.
Take Them For a Drink
Nearly every bar and restaurant patio in Austin will let your best bud tag along. But some are a bit more inviting than others.
At Dog House Drinkery in Leander, you can kick back with a beer while your dog runs the ½ acre off-leash dog park. There's a separate dog run for small dogs under 30 pounds. Staff members will keep an eye on things to make sure everyone is getting along. North Austin's Yard Bar has a similar setup, with water dishes and Bark Rangers who monitor the off-leash areas.
Most of Austin's breweries allow dogs outside. Some also allow the pups inside to enjoy the A/C, like Celis Brewery, Hi Sign Brewing, and Nomadic Beerworks. (Ask the bartenders at Nomadic for dog treats!) At Beerburg Brewing dogs have to stay outside, but the off-leash dog park on the property will keep them occupied.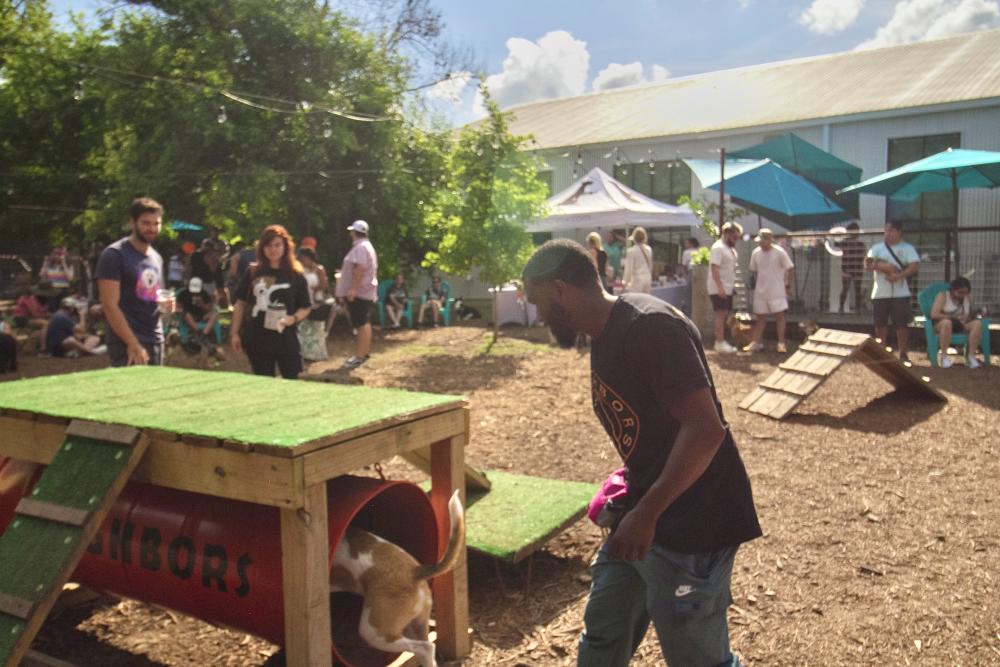 Courtesy of Neighbors.
Put Them to Work
Well, it's more like put yourself to work while your pup has a playdate. At Neighbors in South Austin, you can get a coffee and live that laptop life while your pupper hangs out at the dog park (with full-time attendants). One of the co-owners is a private dog trainer, so your fur baby will be in good hands.
For a more formal co-working setting, head to Work & Woof downtown. For a $35 day pass, you can take care of business while your dog is playing happily in doggy daycare.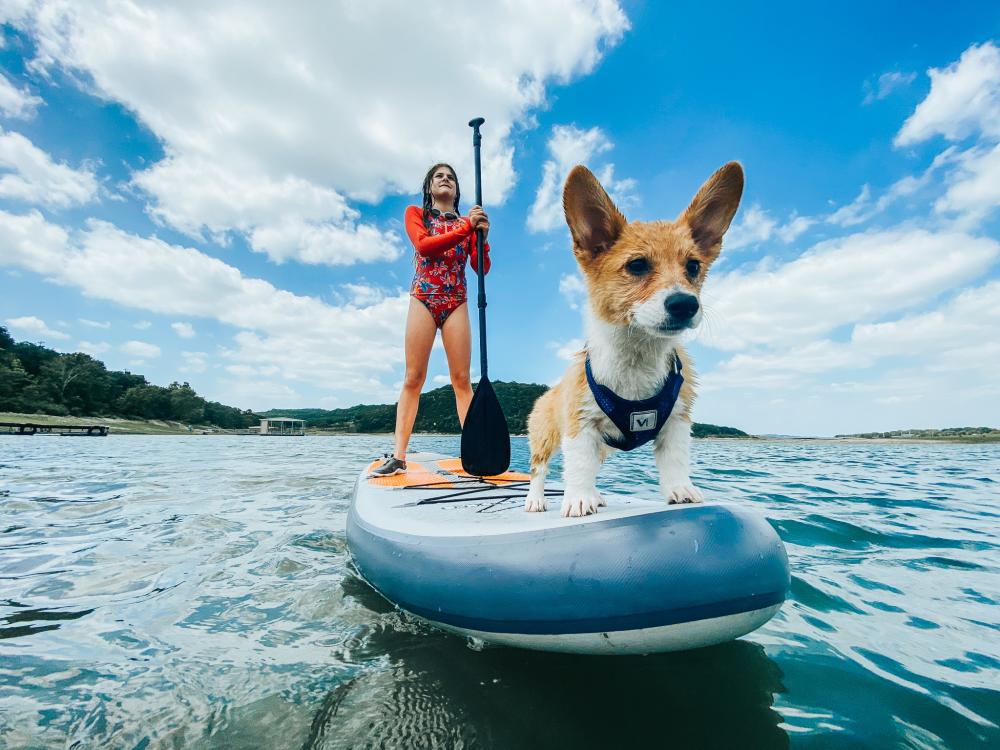 SUP on Lake Travis. Credit Everstream and Co.
Get Fit and Pampered Together
A fit dog is a happy dog. Keep them in tip-top shape by getting them in on your own exercise. The Ann & Roy Butler Hike & Bike Trail is dog-friendly, so bring your pup with you for a run around Lady Bird Lake. Or rent a kayak or paddle board from Austin Paddle Shack or Rowing Dock to get out on the water together. Lake Travis is another great spot to SUP or kayak - find rentals here.
To relax after a long day, you and Fido can do a yoga workout at home with Austin Doga. You'll stretch and strengthen, and help your dog relax with gentle massage. For extra pampering, bring your pup to Barkin Creek for a bath, nail trim, and blueberry facial. Enjoy your own treatment at Queen Spa just across the street while you wait.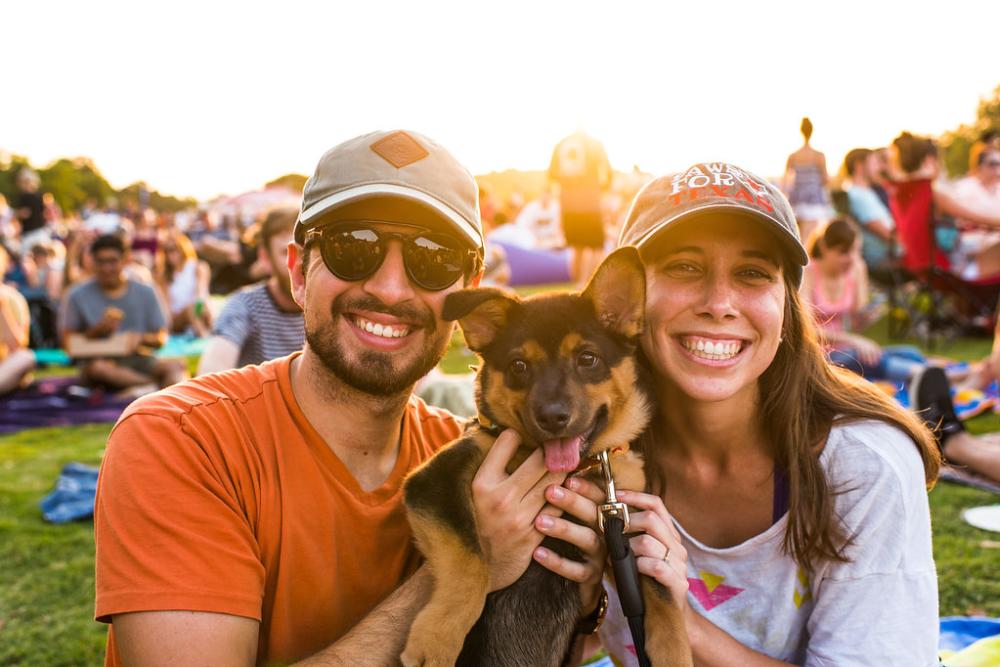 Blues on the Green. Courtesy of ACL Radio.
Explore Austin's Cultural Scene
Some of Austin's favorite cultural events are dog-friendly! Enjoy the music together at Blues on the Green at Zilker Park, or take a stroll through the Zilker Botanical Garden to take in the beauty of native plants.
Grab a Texas Capitol Grounds Brochure and tour the exterior of the Texas State Capitol with your dog to soak up some history. You can also wander the grounds of local art museum Laguna Gloria to enjoy the gardens and sculptures.
It's a big city, so get out there and explore it—together.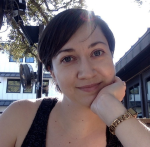 Contributed by Kate McDermott.
Kate McDermott is a local copywriter, content writer, and cocktail enthusiast. She writes about and for restaurants, hotels, event companies, and more from her home in Way South Austin.
Website: eatdrinkandwritecopy.com
Instagram: @eat.drink.writecopy