Here in Austin we understand what it's like to roll out the red carpet for the pups and most seem to deserve a seat at the dinner table. We also know parting from them while on vacation is anything but convenient, so why not bring them with you? From beer gardens to restaurants, there is a place for your pet at many establishments and outdoor spaces, here are a few.

Courtesy of the ABGB.
Dog-Friendly Bars & Breweries
The Austin Beer Garden Brewing Co.
South Austin
Awarded 2016's Great American Beer Festival Brewpub of the Year, this favorite spot won't disappoint. Enjoy live music nightly, large communal picnic tables, crave-able pizzas and the guiding philosophy that "beer makes it better." Their Hell Yes Project has captured this idea by donating 5% of profits from various events, specials and parties to local non-profit partners like Austin Pets Alive!. The American Pale Ale series benefits Austin Pets Alive and $1 of every pint is donated to this great cause.
Yard Bar
Central Austin
Yard Bar was created for you, the dog lover. Have you ever imagined a dog park with full bar and food for you and your canine family member? Grab some fried hush puppies and a Yard Burger, then relax and let go as the bark rangers patrol this off-leash fenced in bar. For a mere $5 a dog, you can enjoy this unique spot in North Austin for a full day of socializing, eating and four-legged (or three-legged) fun. Memberships are also available for those who plan on frequent visits. Events are held throughout the year, including a New Year's Day Hair of the Dog party and Puppy Bowl Live.
Banger's Sausage House & Beer Garden
Rainey Street
Situated in the heart of the Rainey Street entertainment district (near downtown), this sausage house and beer garden has been an Austin favorite for five years now. With 30 varieties of handcrafted sausage, including an array of exotic, traditional, vegetarian and dog friendly plus 104 beers on draft, Banger's is the perfect place to enjoy live music while the pups play in their off-leash playpen. Events held include, Big Band Brunch, Smoke out Saturday's, Mega Mutt Monday, and more.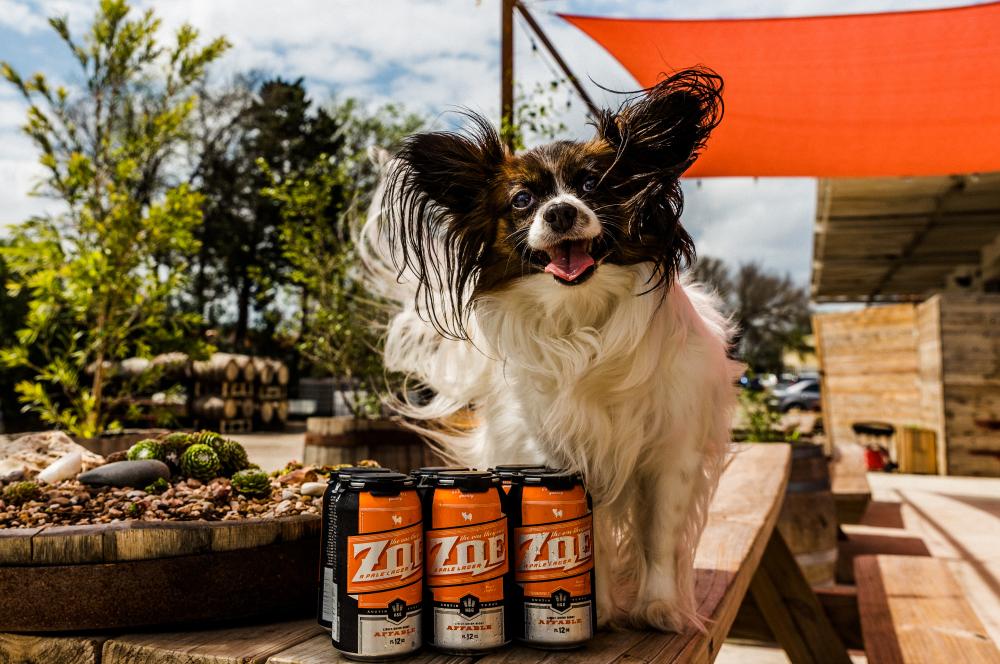 Hops & Grain Brewing. Credit Tyler Malone.
Hops & Grain Brewing
East Austin
Not only does this award-winning craft brewery offer a dog-friendly patio, but they have also managed to hand-craft something special for your four-legged friend. Hops & Grain Brewing has found a way to recycle the spent brewing grains into homemade dog treats called "Brew Biscuits." Check them out seven days a week from 10 a.m. – 10 p.m., with free tours held Friday and Saturday.
Shangri-La
East Austin
With a huge dog friendly garden out back and a covered patio, every day is a perfect day to enjoy a delicious Shangri-La signature drink with your pup. Not only that, but you can enjoy a delicious snack from the Baton Creole trailer on the patio as well.
Doghouse Drinkery
Leander
Situated on 2.5 acres north of the Austin city limits, this dog park and bar offers a large off-leash area complete with a special small dog section and an additional 10,000-square foot area for adoptions, training and even birthday parties. Relax with a cold one and watch the game or play darts while your dog sniffs the grounds. Boarding is also an option at this facility.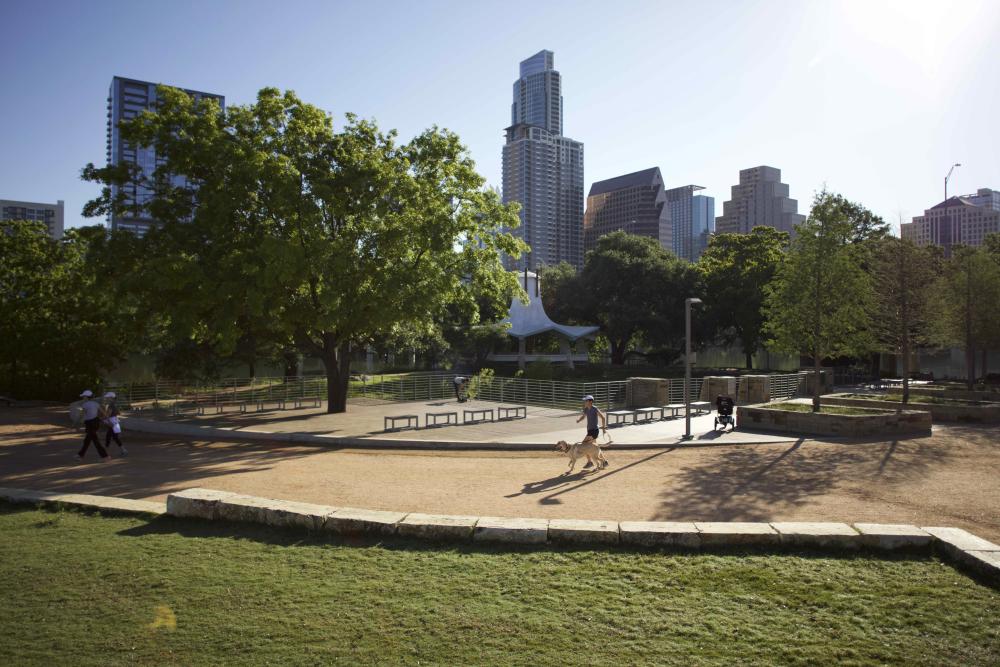 Auditorium Shores at the Hike-and-Bike Trail. Credit Jody Horton Photography, courtesy of The Trail Foundation.
Dog-Friendly Parks & Outdoors
Hike and Bike Trail and Boardwalk at Lady Bird Lake
Downtown
An Austin must-do, this 10-mile downtown trail hugs Lady Bird Lake and is connected from north to south by multiple bridges and boardwalks. Pick your activity of choice, from kayaking or stand up paddleboarding on the lake to jogging, cycling or walking along the wide dirt path, the Butler Trail allows all to enjoy. Be sure to stop at the Stevie Ray Vaughan memorial, directly next to this monument is an off-leash area for your pup at Auditorium Shores.
Barton Creek Greenbelt
South Austin
If you're looking for a little adventure with your pup, head to the Barton Creek Greenbelt. This area offers 7.8 miles of hiking trails that weave around the Hill Country terrain. Hidden among this local retreat are multiple waterfalls and watering holes where you will surely run into Austinites and their pups enjoying the warm summer months.
Texas State Capitol Grounds
Downtown
A trip to Austin wouldn't be complete without a photo op at the Texas State Capitol. Luckily, your dog can join you on the lawn while you take in all the grandeur of our Capitol that stands as a testament to the history of the Lone Star State. Bring a blanket and some sandwiches and enjoy lunch on the peaceful grounds.
There is no shortage of off-leash areas for your four-legged friend, refer to this map for the city of Austin's many options and local ordinances.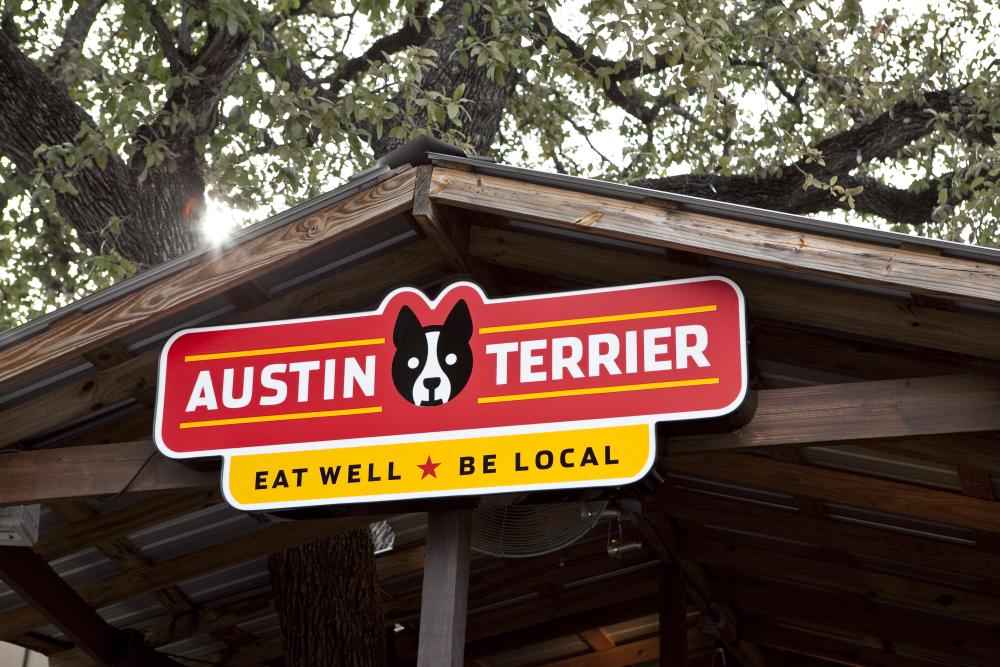 Courtesy of Austin Terrier.
Dog-Friendly Restaurants
Austin Terrier
North Austin
The name speaks for itself, this local Austin staple lies in North Austin and its owner REALLY likes dogs. Many menu items come with the name like, "Buster" or "Hutch" just to name a few. Known for their 12" pizzas with 20+ toppings, burgers and dog-named sandwiches you and your pup friend won't go un-welcomed. 
Shake Shack
South Austin
Located at Lamar Union and situated steps away from popular outdoor spots, Shake Shack offers a selection of eats including burgers, frozen custards and pooch-inis (dog friendly!). Some items are paired with Austin favorites such as Kreuz Market sausage or Uchi/Uchiko blondies (5% of the proceeds from this item supports the Austin Humane Society). Best of all, Shake Shack on SoLa offers a dog parking station; needless to say your beloved pup will love this place.
Kerbey Lane Café
Multiple Area Locations
With seven locations across the Austin area, Kerbey Lane is a wonderful place for brunch on the patio any day of the week with your furry friend. Serving the community since 1980, their menu includes all-day breakfast to Tex-Mex options - make sure to try to their award winning Kerbey Queso. See website for locations with pet-friendly patios.
Cane Rosso
South Austin
This restaurant is famous for its award-winning and television-worthy Neapolitan pizza, featuring fresh mozzarella pulled daily and sauce made from hand-crushed San Marzano tomatoes. The owner not only has a passion for authentic Italian pizza but also a love of helping abandoned dogs. In 2014, Cane Rosso Rescue was born - a volunteer-based 501(c)3 nonprofit organization focused on finding homes for abandoned or homeless dogs. There's no question that dogs are more than welcome at the South Austin location, and they also host regular adoptions and fundraising events.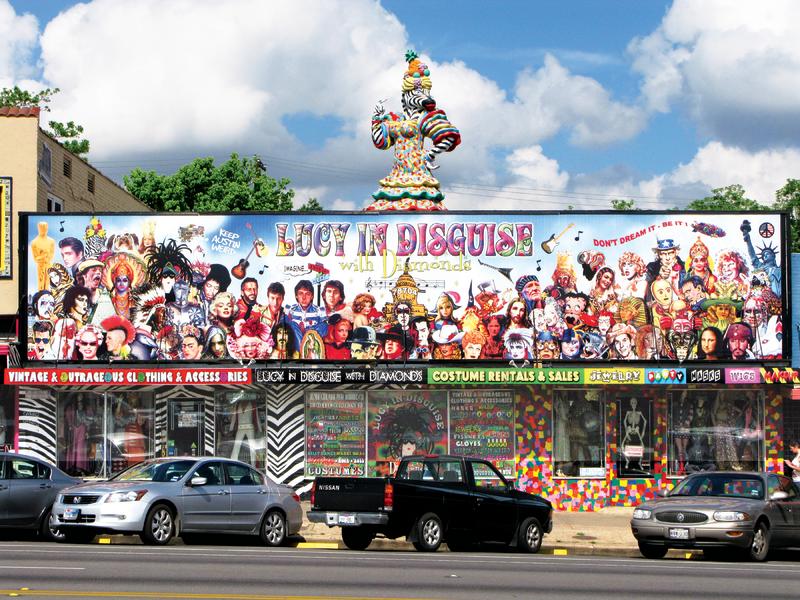 Lucy in Disguise with Diamonds. Credit Fernie Renteria.
Pet-Friendly Shopping
Lucy in Disguise with Diamonds
South Congress Avenue
Established in 1984, this Austin staple is no stranger to the weird side of Austin. If you're looking for a place to strut your mutt in their newest costume, they will not feel out of place at this iconic costume and vintage shop in Austin's notable South Congress district.
Hill Country Galleria
West Austin
Head west to the Hill Country Galleria for 152-acres of shopping, events and dog-gone fun! This outdoor shopping mall is home to many dog friendly stores and many areas for the pups to play.
Austin Books & Comics
Central Austin
Stop in to Austin's biggest, longest-running comics and pop culture retailer since 1977. With more than 6,000 square feet there is plenty of space for you and the pup to enjoy an afternoon flipping through your favorite comic.
The Domain
North Austin
Not only is the Domain one of the largest retail developments in the Austin area, but it's also home to many dog-friendly retailers and restaurants with dog-friendly patios. This area is situated in a beautiful park-like setting with 100 upscale and mainstream retails stores.
Dog-Friendly Events
Dog-friendly events are frequent here in the Live Music Capital of the World®. Keep up with the best pet-friendly happenings around town with this guide from our friends at Do512.
Of course, this list doesn't cover all of the pet-friendly locales in Austin, and your pup is welcome in many more spots all over town. For more, check out this comprehensive list from 365 Things Austin.
As always, be kind and make sure you scoop the poop. Woof!