Kayak & Canoe Rentals at Rowing Dock
Experience Austin From the Water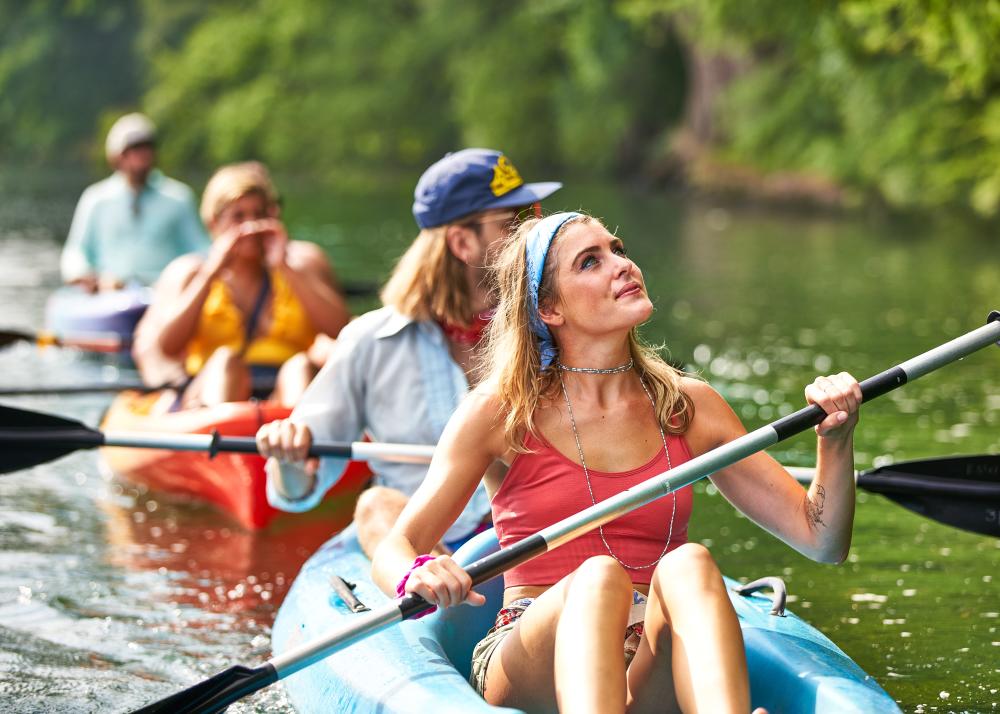 Austin is known for its great outdoors. Here you can hike past scenic waterfalls, bike forest trails and take a dip in a spring-fed swimming hole. But if you want to get out on the water, head to Rowing Dock, the city's premier place for stand up paddle board (SUP), kayak and canoe rentals. This women-owned hidden gem is located in the heart of downtown Austin, right on scenic Lady Bird Lake.
Individual rentals from a huge selection of colorful, high-quality kayaks, pedal kayaks, SUPs and canoes are offered daily on a first-come, first-serve basis (pro tip: arrive early on weekends to beat the crowds). Large groups of families and friends are welcome, too, with advance reservations recommended. And no matter your age or experience level, Rowing Dock's team will make sure you feel comfortable and confident as you embark on your outdoor adventure. They'll fit you with the best boat, paddle and lifejacket, and provide basic instruction for those who are new to paddling.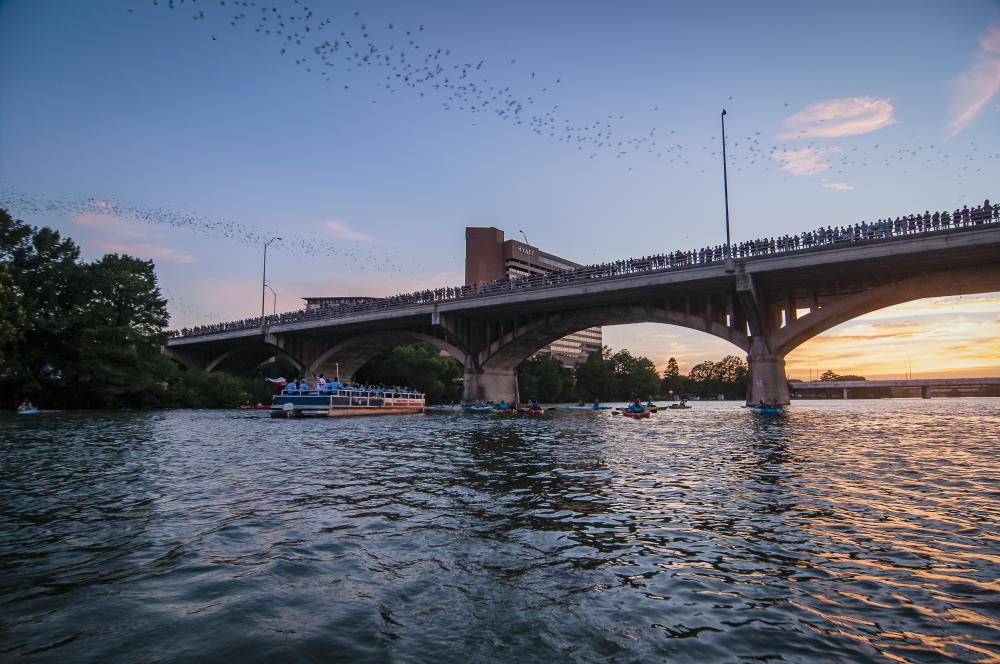 Guided Tours
Rowing Dock also offers four different guided kayak tours each week, all of which can be booked online. Whether you'd like to experience the flight of Austin's famous Mexican free-tailed bats or see the city's architecture and wildlife from the unique vantage point of Lady Bird Lake, there's a tour for you! The 2- to 3.5-hour tours are led by entertaining and experienced local guides, with paddling distances ranging from 2 – 4 miles long.
Choose from the Journey to the Springs, where you'll paddle along the crystal clear waters of Barton Creek, spying native wildlife on the way to Austin's iconic Barton Springs. Or try the seasonal Sunset Guided Bat Tour (offered June – mid-September), which takes paddlers underneath the Congress Avenue Bridge for a front-row seat to the amazing sight of 1.5 million bats fluttering into the night sky. On the popular Guided Historical & Architectural Tour, see landmark buildings that tell the story of Austin. Or opt for the 'Round Red Bud Isle Tour, which immerses paddlers in stunning scenery of limestone bluffs and greenery, with stops at Austin's magical Secret Spring and Red Bud Isle itself.
For those visiting during the full moon, Rowing Dock offers a monthly self-guided Full Moon Paddle that provides visitors with the quintessential Austin experience. Whether you're into nighttime kayaking and stargazing with friends or want to paddle toward the city lights of downtown to see the skyline all aglow, this is an adventure you won't want to miss.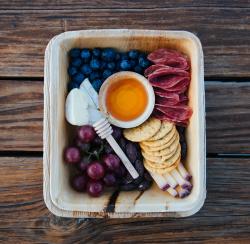 No matter which tour you choose, be sure to add the yummy Charcuterie Box for Two from Cheese Please Co. to your guided tour or group reservation at least 36 hours in advance of your trip. The Daytime Snack Box includes a ham or turkey sandwich, veggie dip and crackers, plus carrots, fruits and nuts. The Nighttime/Date Night Snack Box features salami, baby brie and creamy Toscano cheese soaked in Syrah with crackers, a honey cup, cocoa-dusted almonds and fruits. Meat-, nut- and gluten-free options are available.
Learn more about all that Rowing Dock offers.
Photos courtesy of Rowing Dock.