The Harry Ransom Center is one of the top humanities research libraries and museums in the country, and the collections range from performing arts and photography to film, art and literature. Located on the University of Texas campus, the Ransom Center is open to all, including students, scholars and the general public. Both the Hazel H. Ransom Reading Room and David Douglas Duncan-Cain Foundation Viewing Room are open to the public so that visitors may have access to manuscripts, rare books, and visual materials.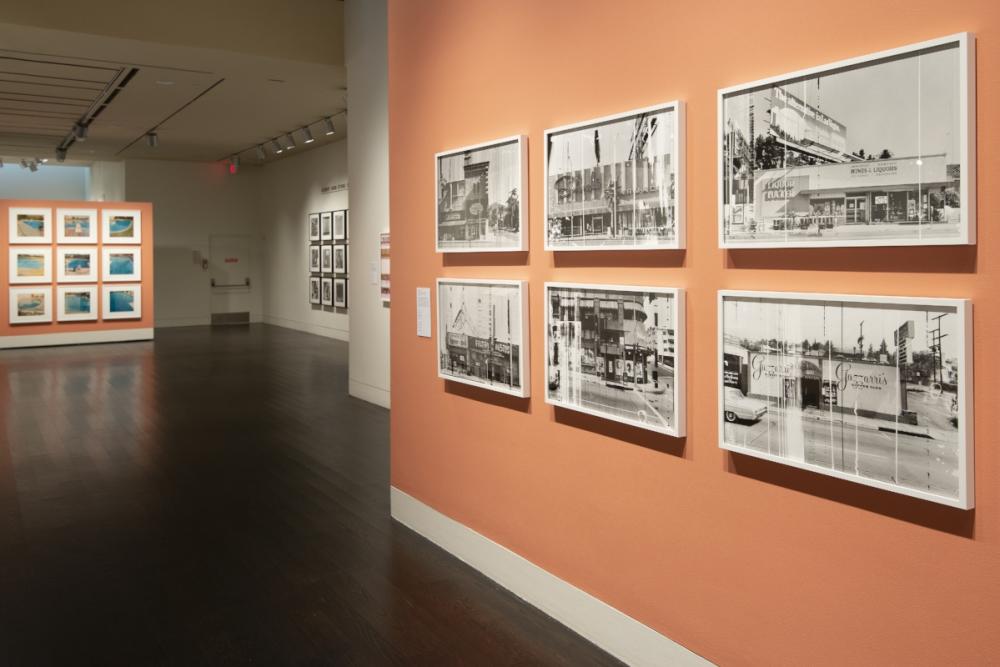 Ed Ruscha Exhibition. Courtesy of the Harry Ransom Center.
The Gutenberg Bible is the first substantial book printed from movable type on a printing press. Gutenberg's invention revolutionized the distribution of knowledge by facilitating the production of many copies of a single work in a relatively short amount of time. The Ransom Center holds one of five complete copies in the United States.
The First Photograph, produced by Joseph Nicéphore Niépce in 1826 or 1827, is the foundation of the Ransom Center's photography collection. The 8 x 6.5-inch heliograph depicts a view just outside the workroom window of Niépce's estate in Le Gras in east central France.
The physical renovation of the Ransom Center, completed in April 2003, included the addition of two glass-enclosed atria on the first floor, surrounded by windows featuring etched reproductions of images from the collections. These architectural elements literally take the "inside out" by showcasing materials from the Center's collections and making the images viewable from both the interior and exterior of the building.
Admission is free (donations are encouraged), and the exhibition galleries are open Monday through Sunday (hours vary). Guided tours are offered daily at noon.
To learn more about current and upcoming exhibitions and events at the Ransom Center, visit hrc.utexas.edu/exhibitions
Article contributed by Susan Richardson.