A trip to Austin puts you in the heart of Texas history. From the Texas State Capitol to the Paramount Theatre, the Driskill Hotel to Barton Springs, the heritage of the Lone Star State lives and breathes throughout our city. We invite you to explore, experience and enjoy Austin's many memorable attractions and make our history part of yours.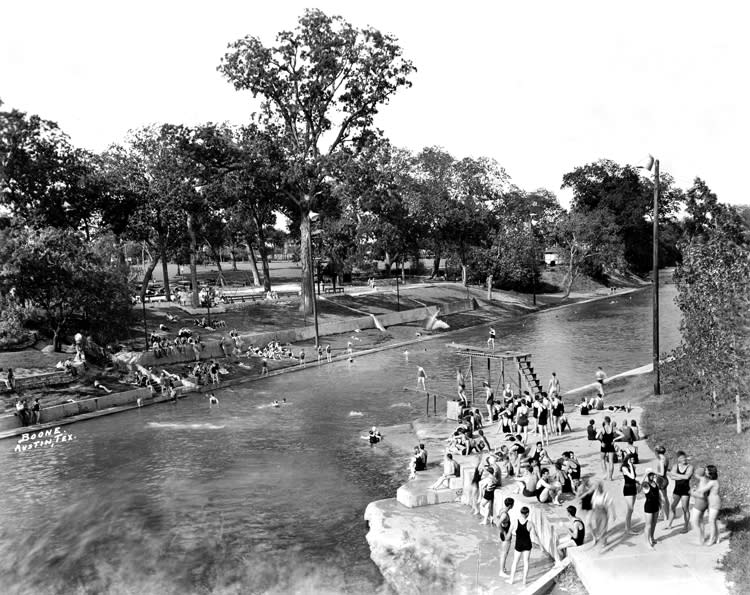 Barton Springs Pool. PICA 01009, Austin History Center, Austin Public Library.
Historic Attractions in South Austin
Ann W. Richards Congress Avenue Bridge
If you've heard of Austin's beloved bats, then you've heard about the Congress Avenue Bridge! This famous bridge connects downtown to the ever popular South Congress strip and was originally built in 1910. In 1980, the bridge received improvements that attracted an unexpected colony of 1.5 million Mexican free-tailed bats, using the crevices under the bridge as a home during the spring and summer months to give birth to their young. Migrating from Mexico during the warm months of each year, the bats can often be seen flying out from under the bridge at sunset as they emerge in search of insects.
Lady Bird Lake
In 1960, a dam was built on the Colorado River to create a lake local to Downtown Austin. Originally called Town Lake, it was the seventh in a chain of lakes along the Colorado. Lady Bird Johnson led a campaign in the 1970s to add a trail system and landscaping to the waterfront. After her death in 2007, the lake was renamed in her honor. Take a stroll along the hop-on-hop-off, 10-mile hike and bike trail that loops around the lake.
Zilker Park
Citizens of Austin enjoy a lush 350-acre park in the heart of the city thanks to the generosity of Andrew Jackson Zilker, an early Austin businessman and philanthropist. During the Great Depression, federally-funded improvement projects enhanced the park's natural beauty. Now, the park is home to many popular attractions like Barton Springs Pool, Zilker Botanical Garden, UMLAUF Sculpture Garden, and it's even home to ACL Festival each October.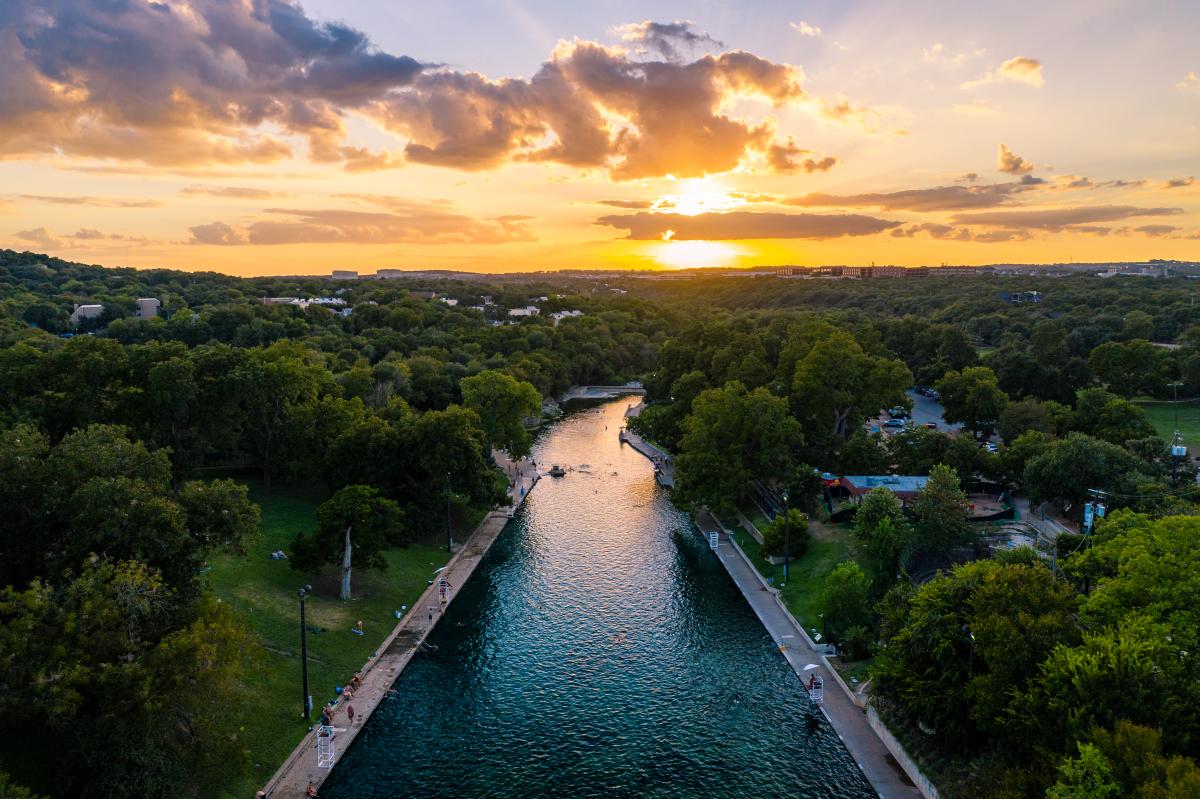 Barton Springs Pool Sunset. Credit Ryan Kyte.
Barton Springs Pool
This three acre pool is fed by underground springs and is a refreshing 68-70 degrees year-round. The springs' history can be dated back thousands of years, as Native tribes found them to be a great spot to rest. It wasn't until 1918 that the springs came under public ownership and were eventually sold to the City of Austin for public park land. In 1997 the Barton Springs Salamander, which exists only in this area, was designated an endangered species by the U.S. Fish and Wildlife Service. And it still serves as a place of relaxation and enjoyment for locals and visitors alike. Learn more about Barton Springs and it's history at the 1947 bathhouse-turned-learning-center Splash! exhibit, just outside of the pool entrance. 
Zilker Botanical Garden
The botanical garden, with its 1964 building, represents a collaboration of over 25 local garden clubs. The Taniguchi Garden was completed in 1969 by Isamu Taniguchi, who placed many of the stones with his own hands. The Botanical Garden is now home to a number of different themed gardens (like the Prehistoric Garden), trails, historic buildings and more.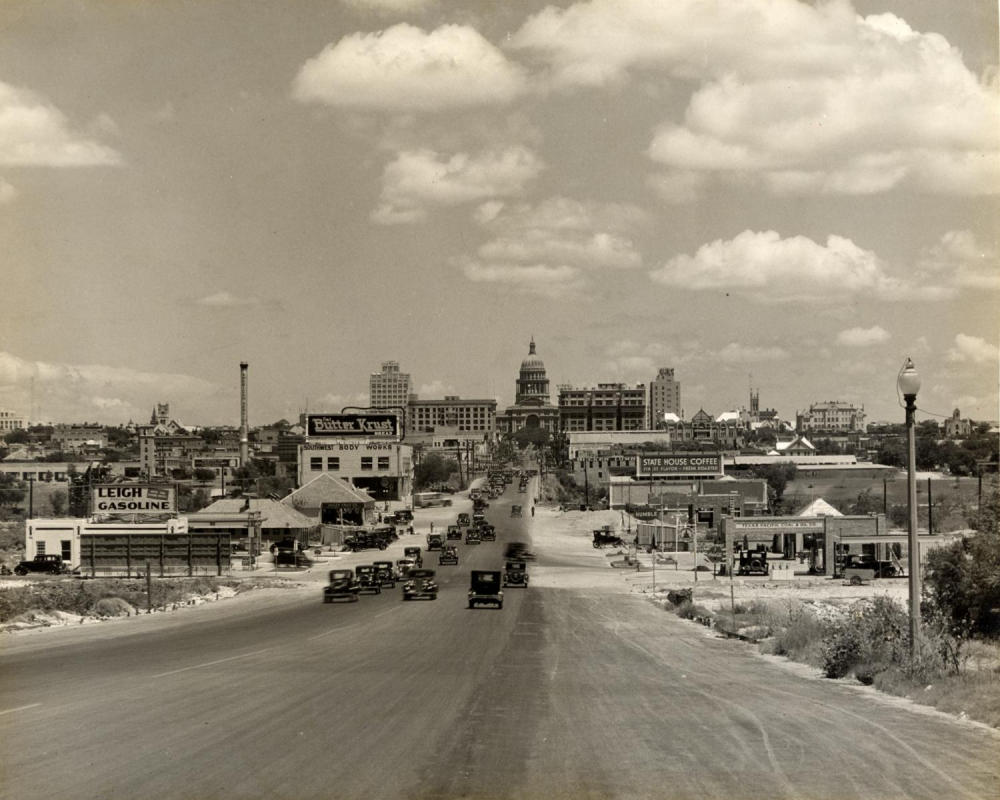 Ellison Photo Co. South Congress Avenue. C00622. Courtesy Austin History Center, Austin Public Library. 
Historic Neighborhoods
In 1886, Austin's first permanent, free bridge opened the door for development on the south side of the city. Fairview Park, begun in the 1890s, had large lots with Victorian homes commanding views of the city. Travis Heights was developed later on adjacent land in 1913. A greenbelt winds through the neighborhoods. Approximate boundary: South Congress Avenue to I.H. 35; Riverside Drive to Monroe Street. Private homes; view from the street. Big Stacy Park has a free public pool, with warm water from an artesian well.
South Congress Avenue (SOCO)
The buildings on South Congress Avenue, mostly from the 1930s, are modest, but they have been adapted in creative ways for locally-owned shops and restaurants. Notable sites include Güero's Taco Bar which is located in a converted feed-and-seed store from the 1800s and two motels from the 1930s. Farther down Congress Avenue is St. Edward's University, with an 1888 Gothic Revival main building designed by Nicholas Clayton.
Learn more about historic Austin with these historic sites or take a guided Downtown Walking Tour!