Austin touts itself as one of the most accessible cities in the United States. Many Austin businesses go above and beyond to help those with sensory and accessibility disabilities. Discover just a few of the many accessibility and sensory-friendly attractions and things to do in Austin during your visit.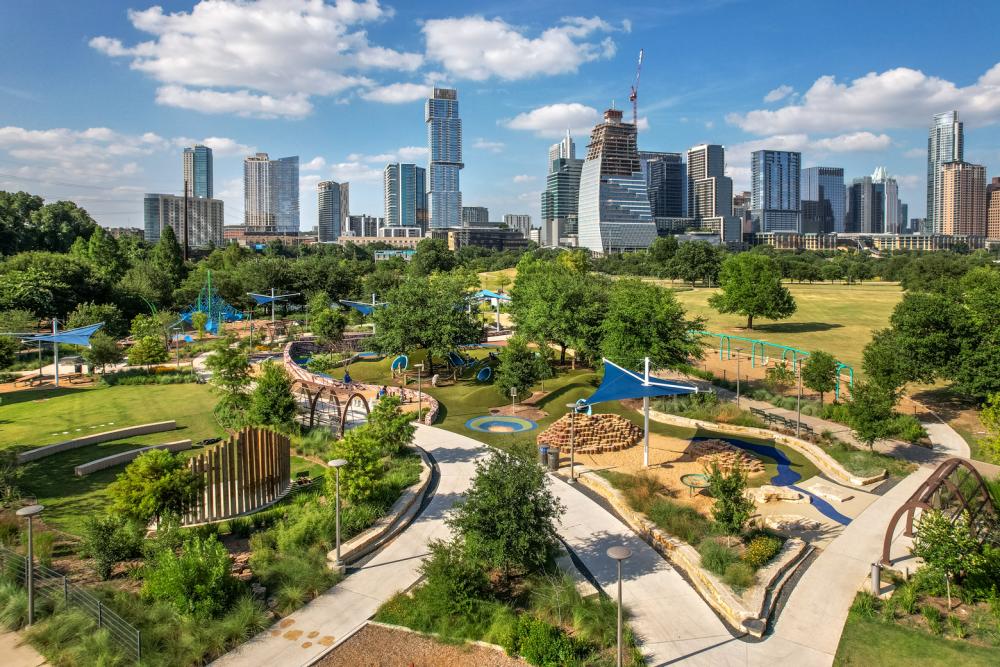 Alliance Children's Garden. Courtesy of City of Austin Parks and Recreation Department.
Sensory-Friendly
Alamo Drafthouse
Alamo Drafthouse's Alamo For All series is a more laid-back movie-going experience where lights are turned up, sound is turned down and adaptive technology is welcome. All shows starting before 2 p.m. on Tuesdays follow the Alamo for All rules, with more shows available on weekends. 
Alliance Children's Garden
Let the kids go wild at Alliance Children's Garden, a two-acre playscape with play experiences for visitors of all ages and abilities. Hang out while the kiddos jump on the backs of larger-than-life salamanders, traverse the climbing walls and net, perform on musical elements and more.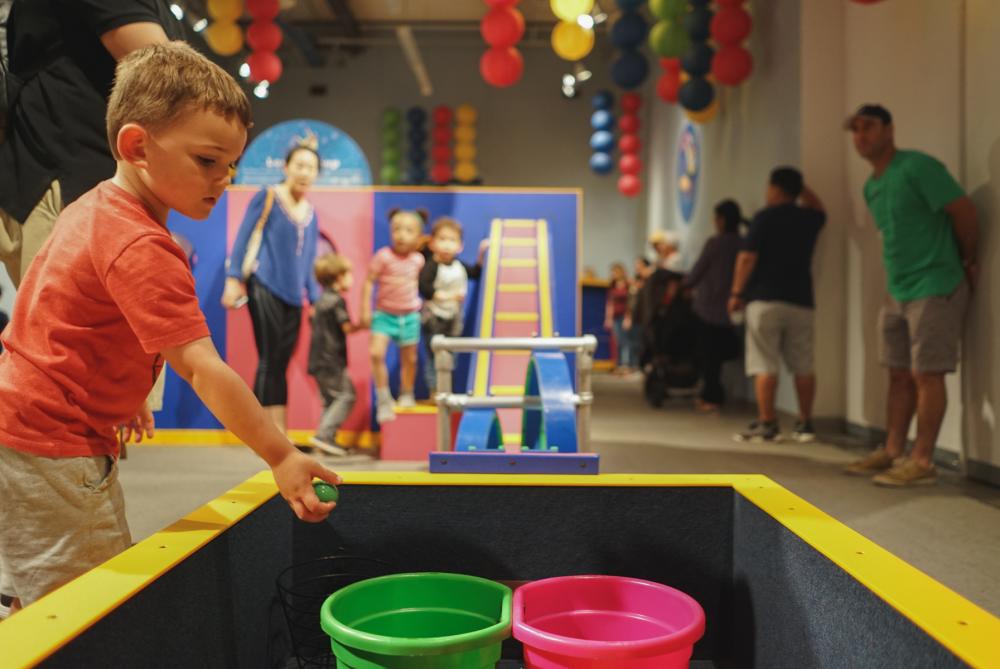 Courtesy of the Thinkery.
Thinkery
Thinkery Children's Museum provides sensory-friendly hours for learners with Autism Spectrum Disorder and other special needs four times a year: February, May, August and November on the second Saturday of the month. During these special hours, Thinkery limits the number of visitors in the museum and modifies the galleries to reduce extra stimuli.
Wyndham Garden Hotel
Austin's Wyndham Garden Hotel offers Thoughtful House accommodations. Rooms come with advanced safety features, toys and books and additional sensitivity training for all staff. The package also offers a special room service menu for children with specialized dietary needs at no additional cost. Call the hotel and ask for the package before you book.
ZACH Theatre
The ZACH show schedule includes many sensory-friendly performances. Adjustments are made to lighting and sound elements to make them less sudden or intense. Admission is reduced to give all viewers the space they need to relax and a quiet space is set up in the lobby for those wanting to take a break from performances.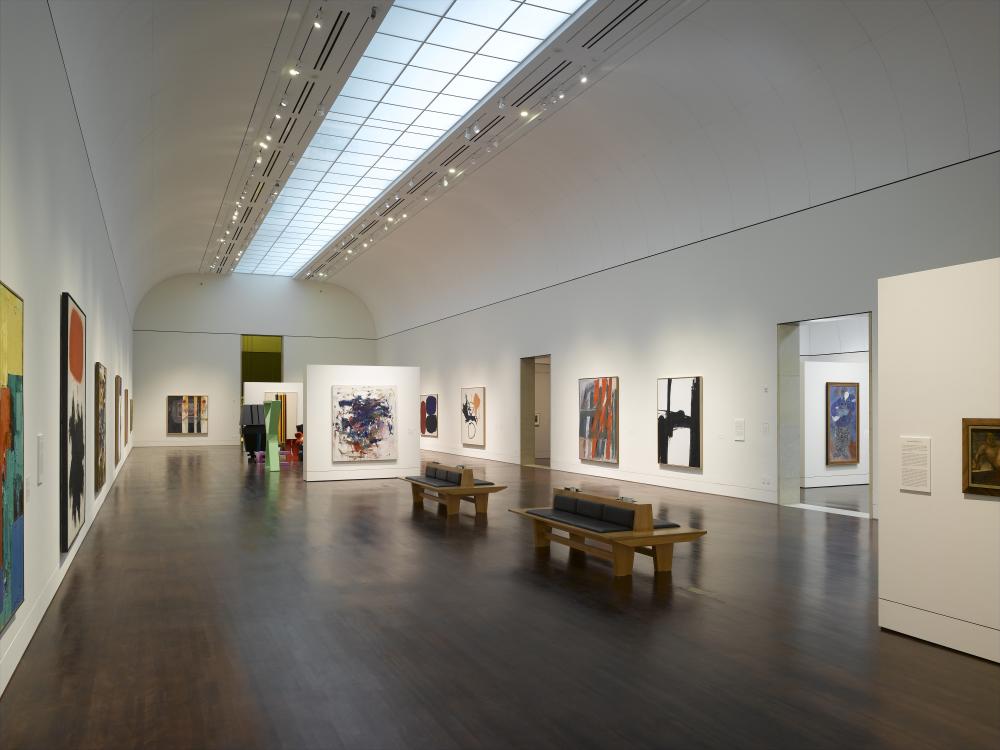 Credit Blanton Museum.
Accessibility-Friendly
ACL Live at the Moody Theater
The iconic music venue has elevator access to all levels and accessible seating for people with disabilities are available, along with companion seats. See a show or tour the venue which is home to public television's longest running music series, "Austin City Limits."
The Blanton Museum of Art
All public areas inside the museum are wheelchair accessible, including all galleries, the Museum Shop and the Blanton Cafe. Wheelchairs are available upon request on a first come, first served basis. American Sign Language interpreters can be scheduled for all tours and programs. Learn more on their website.
The Bullock Texas State History Museum
Wheelchairs are available upon request and service animals are welcome. The museum even received an award from the Texas Department of Licensing and Regulation and the Governor's Committee on People with Disabilities for its accessibility design and construction. Learn more on their website.

Courtesy of The Contemporary Austin – Betty and Edward Marcus Sculpture Park at Laguna Gloria. Credit Brian Fitzsimmons.
The Contemporary Austin - Jones Center & Laguna Gloria
The Contemporary Austin works to make art accessible to all. The Jones Center galleries are wheelchair accessible and allow service animals. They only ask that visitors take care when navigating the galleries. Laguna Gloria's outdoor grounds will be even more accessible in 2023. With the completion of a new ADA-compliant ramp, all visitors will be able to navigate safely to the wooded lower grounds and shore of Lake Austin. Learn more on their website.
Lady Bird Johnson Wildflower Center
The Wildflower Center's Central Complex, Central Gardens and Luci and Ian Family Garden are wheelchair accessible. The Texas Arboretum trail is also wheelchair accessible, and wheelchairs are available for guests to borrow at no charge. Service dogs are welcome. Learn more on their website.
The Long Center
The performing arts venue offers seats with removable armrests, assisted listening devices and audio description and American Sign Language interpretation, upon request. Catch a performance by Ballet Austin, the Austin Opera, the Austin Symphony and more. Learn more on their website.
Texas State Capitol
Free guided tours are available of the famous Texas state house, but the building is open for all visitors from 9:30 a.m.-3:30 p.m. Monday-Friday; 12:30 a.m.-3:30 p.m. on Saturdays and Sundays. The elevators are big and plentiful, and the hallways are wide. Learn more on their website.