How to View the 2024 Solar Eclipse in Austin
View the incredible stellar event from Central Texas on April 8, 2024
In April 2024, the Great American Eclipse will be viewable from Austin and the surrounding Hill Country. Learn more about the upcoming total eclipse, and plan your trip today!
Eclipse FAQs
What is a Solar Eclipse?
A solar eclipse happens when the moon passes between the sun and the earth, blocking some or all of the sun to earth's surface.
What Type of Eclipse Is It?
The 2024 eclipse will be a total eclipse. During a total eclipse, the moon completely blocks the sun. Even though the sun is about 400 times larger than the moon, the distance between each solar body creates the illusion that they're the same size in the sky when viewed from earth.
When Will the Eclipse Be Visible in Austin?
The eclipse will be visible throughout the Hill Country from 1:32 pm - 1:41 pm CST on April 8, 2024. Austin locals and visitors will experience about 1 minute and 46 seconds of the total solar eclipse at 1:36 pm CST.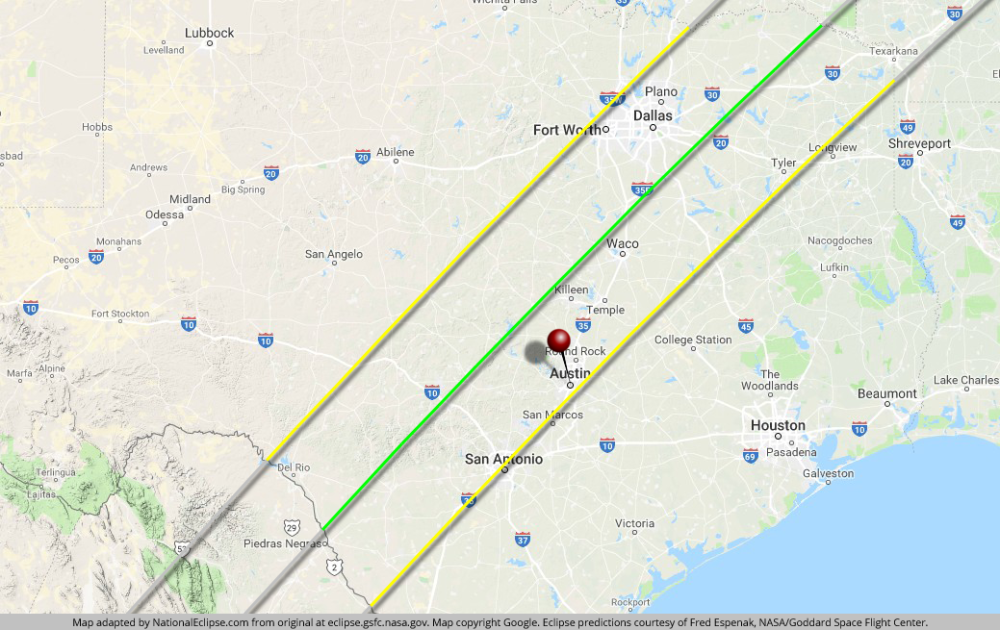 Courtesy of National Eclipse.com
Book Your Trip
Looking to plan an awesome trip around the eclipse? Find hotels and places to stay, attractions, and daily events on our website.
Eclipse Celebrations in Austin
Details will be available sooner to the event date. Check back for more information!
Recommended Resources
Eye Safety | National Eclipse, NASA, American Astronomical Society