How to View the 2024 Solar Eclipse in Austin
View the incredible stellar event from Central Texas on April 8, 2024
In April 2024, the Great American Eclipse will be viewable from Austin and the surrounding Hill Country. Learn more about the upcoming total eclipse, and plan your trip today!

Eclipse FAQs
What is a Solar Eclipse?
A solar eclipse happens when the moon passes between the sun and the earth, blocking some or all of the sun to earth's surface.
What Type of Eclipse Is It?
The 2024 eclipse will be a total eclipse. During a total eclipse, the moon completely blocks the sun. Even though the sun is about 400 times larger than the moon, the distance between each solar body creates the illusion that they're the same size in the sky when viewed from earth.
When Will the Eclipse Be Visible in Austin?
The eclipse will be visible throughout the Hill Country from 1:32 pm - 1:41 pm CST on April 8, 2024. Austin locals and visitors will experience about 1 minute and 46 seconds of the total solar eclipse at 1:36 pm CST.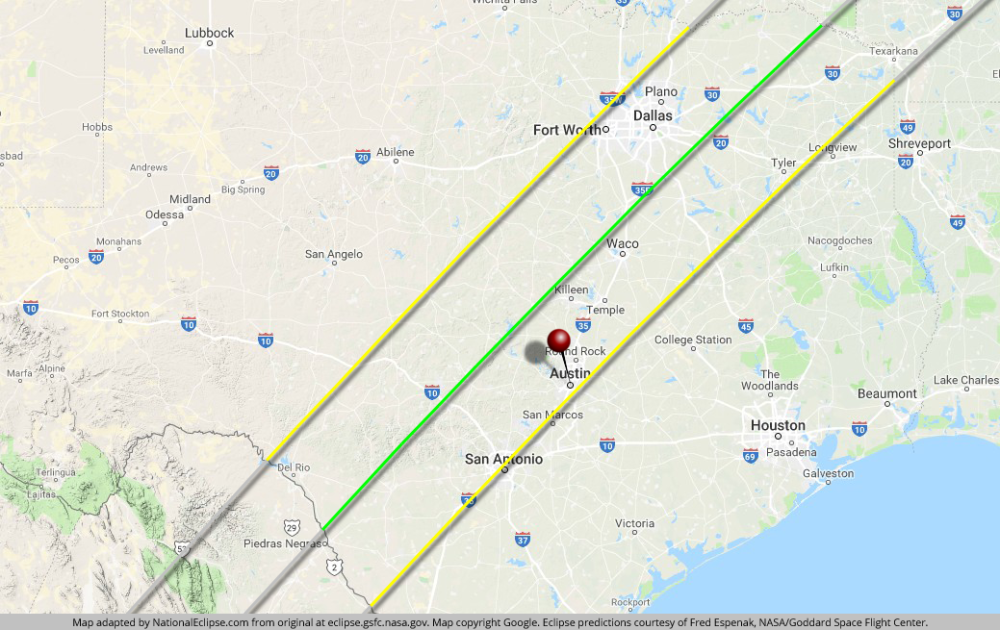 Path of Totality - 2024 Total Solar Eclipse. Courtesy of National Eclipse.com
Eclipse Celebrations
Details will be available sooner to the event date. Check back for more information! Would you like to list your visitor-friendly solar eclipse event on our calendar? Please click here to learn more about adding your event to our list of eclipse events and celebrations!
4/5/24 - 4/9/24
Texas Eclipse
Reveille Peak Ranch
Texas Eclipse festival goers will experience a lively convergence of music, art, space and technology over 4+ days, set in the beautiful Texas Hill Country, just a short drive from Austin, TX.
4/8/24
Great North American Eclipse Viewing + Lunch
Fall Creek Vineyards
An ideal open sky location for eclipse viewing, Fall Creek Vineyards has planned an exclusive viewing celebration as well as a delicious seated lunch before the astronomical event.
4/8/24
Eclipse Viewing Party
Middleton Brewing
Head to the Hill Country to view the solar eclipse on the upstairs patio at Middleton Brewing just south of Austin in San Marcos, Texas. While you're there enjoy beer specials all day. 
4/8/24
Total Solar Eclipse Celebration
Blue Lotus Winery - Hye
Celebrate this once in a lifetime experience at Blue Lotus Winery in Hye, Texas. There will be live music, food trucks and Texas wines and meads. 
4/8/24
Hill Country Solar Eclipse Fest
Lucky Arrow Retreat
View the eclipse from the gorgeous Hill Country property at Lucky Arrow Retreat. Witness the eclipse guided by an astronomer, enjoy planetarium showings, listen to live music, taste local food and wine offerings and more. Day passes are available for purchase.
Viewing Locations
McKinney Falls State Park
Located inside Austin city limits, McKinney Falls is the perfect place to get away from downtown high rises and have a great view of the open sky to view the eclipse. To enter the park you must have a pre-purchased day pass or camping permit. Make your reservations today.  
Pedernales Falls State Park
Just an hour west of Austin, Pedernales Falls has plenty of outdoor activities for the whole family to enjoy while you wait on the show in the sky. To enter the park you must have a pre-purchased day pass or camping permit. Make your reservations today.  
Lampasas, Texas
Only an hour drive northwest of Austin, take to the Hill Country town of Lampasas, Texas to view the total solar eclipse. From this viewing location viewers will witness nearly four minutes of totality. 
Safety & Recommended Resources
While preparing for the solar eclipse, it's important to keep safety in mind. From confirming you're equipped with proper eyewear to getting to your viewing destination, here are a few tips to keep you safe. 
With the exception of the brief moments during totality where the moon completely blocks the sun, it is crucial that viewers use approved eye protection when viewing the eclipse. For additional information on eye safety while viewing the eclipse check out these resources: National Eclipse, NASA, American Astronomical Society
The eclipse is expected to attract a substantial amount of visitors to Austin and the surrounding area, therefore roadway congestion and delays are probable. To ensure your trip goes as smoothly as possible, be sure to arrive at your viewing location early and consider sticking around after the eclipse to avoid traffic. Just to be safe, plan to fill up your gas tank and pack extra food and water in the car in the event you get stuck in road delays.
Book Your Trip
Looking to plan an awesome trip around the eclipse? Find hotels and places to stay, attractions, and daily events on our website. For deals and discounts related to the eclipse see below. 
Frequently Asked Questions
What time will the 2024 eclipse happen in Austin, Texas?

The partial eclipse will begin in Austin, Texas at 12:17 PM, while the start of the total eclipse begins at 1:36 PM and lasts about 1 minute 40 seconds. The partial eclipse will end at 2:58 PM.
Is Austin in the path of totality 2024?

Austin is in the path of totality for the Total Solar Eclipse on April 8, 2024. Visitors will see about 1 minute and 40seconds of totality.
What not to do during an eclipse?

Do NOT look at the Sun through a camera lens, telescope, binoculars, or any other optical device while wearing eclipse glasses or using a handheld solar viewer — the concentrated solar rays will burn through the filter and cause serious eye injury.