You may know big names like Willie Nelson and Matthew McConaughey, but Austin is home to countless talented artists who are sharing their talents with the larger community. Between our annual music festivals and art and culture conventions, there is no shortage of opportunities to see the work of Austin's finest creatives. Whether you are shopping for some new decor or looking for a new band to fall in love with — here are some rising Austin artists that you will want to keep on your radar.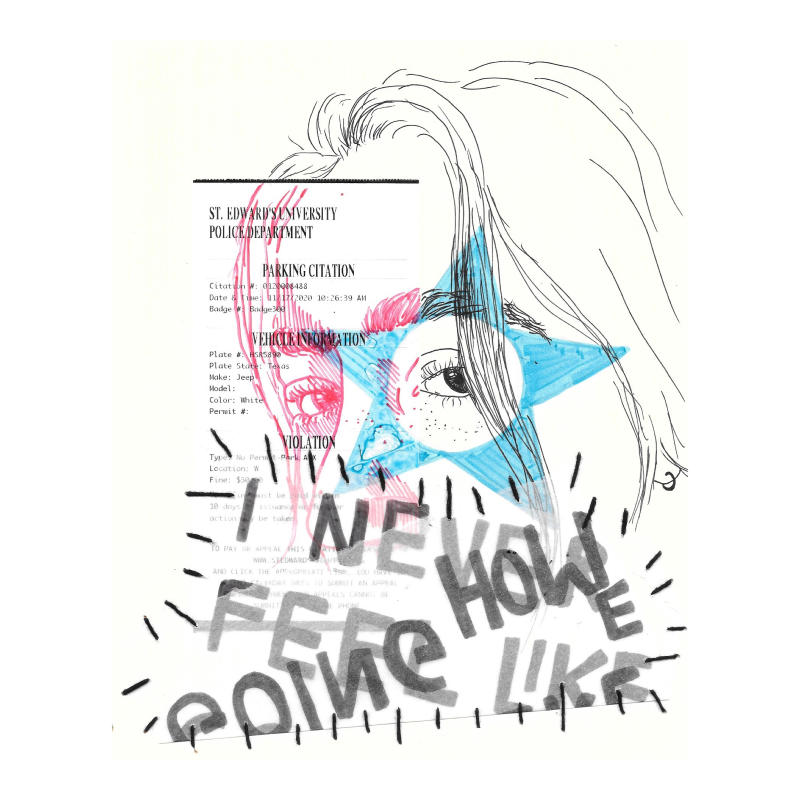 Courtesy of Emily Bryn
1. Emily Bryn (Emsbrynart)
Emily Bryn is a young illustrator who does beautiful line art, prints, and T-shirt designs. It is hard not to smile when looking at her work. Her art matches her mission (a portion of sales go to local and international charities), with colorful and lively designs full of a ton of heart. You can see a chopstick art installation she did at local Korean restaurant Oseyo. She's also very proud of the fact that popular musician Orville Peck wears her "Gay Cowboy" tee. We are too! Shop her prints here. You can also DM her about custom commissions here.
2. Pleasure Venom
Pleasure venom is an experimental garage punk band that is guaranteed to get your heart pumping. In their own words, they like to explore "the general absurdity of it all." Everything about their style radiates cool from their merch and album cover designs to their rocking live performances at local venues like the Mohawk. Alt Press labeled them as one of the 11 POC-Fronted punk bands who deserve to be heard. So give them a listen!
3. AJ Abdullah
AJ Abdullah is a University of Texas student and a rising star in the low-fi pop scene. He has nearly 60,000 monthly listeners on Spotify. And for a good reason. His lyricism and melodic style is absolutely captivating. His song "Oh, the moon!" has over 800,000 plays on Spotify. Listen as he sings that "the moon pales in comparison to you," and try your best not to swoon. Find him on Spotify here.
4. Big Wy's Brass Band
Big Wy's Brass Band likes to bill themselves as "The world's first brass boyband." Ever since they formed in 2014, they have made sure to make the most of that title. Anybody who streams their music will be taken by their incredible sense of fun and energy. And if you happen to see them live, you'll be transported to an electric world of vintage jazz with a modern twist. The band took home "Best Horns" at last year's Austin Music Awards. Listen to them on Spotify and check their website for tour dates.

Bithia Dantoumda of Creative Days Art.
5. Bithia Dantoumda (Creative Days Art)
Bithia Dantoumda styles herself as "The Local Art Dealer." She started her art company, Creative Days Art, as a high school student to fund school trips and pay for club fees, but the momentum never stopped for her. With her high-contrast, pop-art-esque style, why would it? Creative Days Art sells prints, wallets, footwear, custom jackets, grad caps, and more on the online shop. Check out her expressive line art of popular musicians like Tyler the Creator and Billie Eilish.
6. Dope Toast
Dope Toast is a machine-free tattoo artist, operating locally since 2012. She's a poker, or rather a hand poke artist. In her own words, she "believes in pokes for the people, all people." A former graphic design student at the Art Institute of Austin, her designs capture a minimalist style with effortless elegance. She is also a resident artist at Austin's own No Good Tattoo. If you are looking to add a stylish design to your body, you can book an appointment with her here.
7. Moji
Moji is a powerful vocalist, known in some circles as "the shortest giant you've ever seen" (according to her bio, she's six feet tall!). Listening to her tracks makes you feel like you are falling but, somehow, also surrounded by a warm embrace. Her recent single "Deep Down" was produced by fellow local artist Carey McGraw (find him here). Listen to her stunning voice here.
8. Comix by Chloe
Chloe is a comic book artist with an eye-catching visual style. The characters she puts to the page can only be described as incredibly cool. Their dynamic poses and their punk-meets-sci-fi outfits will have you wishing Chloe was also your personal stylist. She showcased her work last year at Austin's Staple Expo, an indie comics and art convention operating since 2005. You can purchase a digital copy of her comic book "My Life to Live" here.
9. Emme
Emme is an indie-electro duo of Sowmya Somanath and Walter Nichols. With their combination of eastern and western musical styles, the pair delivers serene tracks that simultaneously make you want to dance and reflect on life. The band has been active since 2016, and they have been known to play at local venues like the Mohawk. Listen to their pleasing tones on their Spotify. And keep up with their site for future show dates.
10. Wow Cleo
Wow Cleo is an illustrative surrealist artist who has showcased their work in physical galleries in both Texas and New York. They are a queer, non-binary, Afro-Mexican artist who uses dark-fantasy art to explore aspects of identity expression and performance. They have a striking visual style that can make you feel as though you are somehow both lost and right at home. Support them on Patreon for access to exclusive art prints and video tutorials.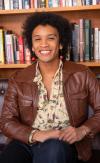 Contributed by Jade Fabello
Jade Fabello is an Austin-based writer and a recent graduate of the University of Texas, where he was a double major in the Journalism and the Communication and Leadership programs. You can find his work at JadeFabello.com. 
Instagram @Jade__Fab. Twitter: @Jade_FW