If you're planning to spend Christmas in Austin, let our award-winning chefs minimize your time in the kitchen and order in from these local restaurants. Find great places to order holiday meals to take home, plus Austin restaurants that are open on Christmas and Christmas Eve.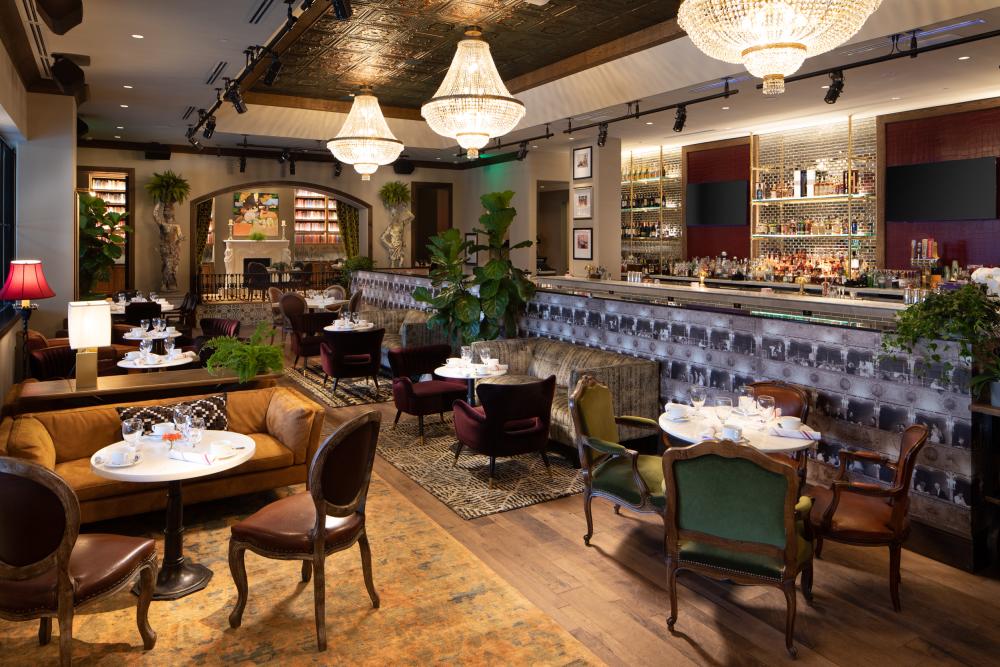 Group Therapy. Courtesy of Hotel Zaza.
Holiday Meals for Dine-In
Carpenters Hall
Dine in at the beautiful Carpenters Hall on Christmas Eve or Christmas Day. This "New Texas" restaurant will offer a  special feast, featuring slow-roasted prime rib, asparagus, and marbled potatoes, plus all the usual favorites. Finish the meal with an apple crisp with brandied ice cream.
Reserve your brunch, lunch or dinner at carpenterhotel.com
Foreign & Domestic
This North Loop farm to table restaurant will be open with a Christmas Eve Dinner special. The evenings special for two includes steak with mushroom jus and pomme puree.
Make your reservation at opentable.com
Group Therapy
This Christmas season, Group Therapy at Hotel ZaZa Austin will offer a limited menu to include steak with lobster tail and strawberries with champagne. The menu will be available on Christmas Eve and Christmas Day.
Reservations are encouraged and be place by calling (512)542-9292 or booking directly at opentable.com
Kalahari Resort
For those visiting this Round Rock resort, be sure to make reservations for the holiday feast on December 25, from 1 - 7 p.m. The menu consists of traditional holiday fare like roasted turkey and glazed ham, mac and cheese, scalloped potatoes and a ton of dessert.
Make your reservation in advance at kalahariresorts.com
L'Oca d'Oro
Celebrate the season with a traditional Italian feast at L'Oca d'Oro. Served family style, the Feast of the Seven Fishes includes seven seafood dishes from a modern crudo to the classic spaghetti con vongole.
Reserve your table in advance at locadoroaustin.com
Summer House on Music Lane
Summer House on Music Lane at Hotel Magdalena will be offering a 4-course prix-fixe menu on Christmas Day. Each person will get to choose one selection per course. Offerings include burrata with roasted grapes and olive focaccia, zucchini salad, braised beef short rib, roasted black cod, hot chocolate affogato and more.
Reserve online at summerhouseonmusiclane.com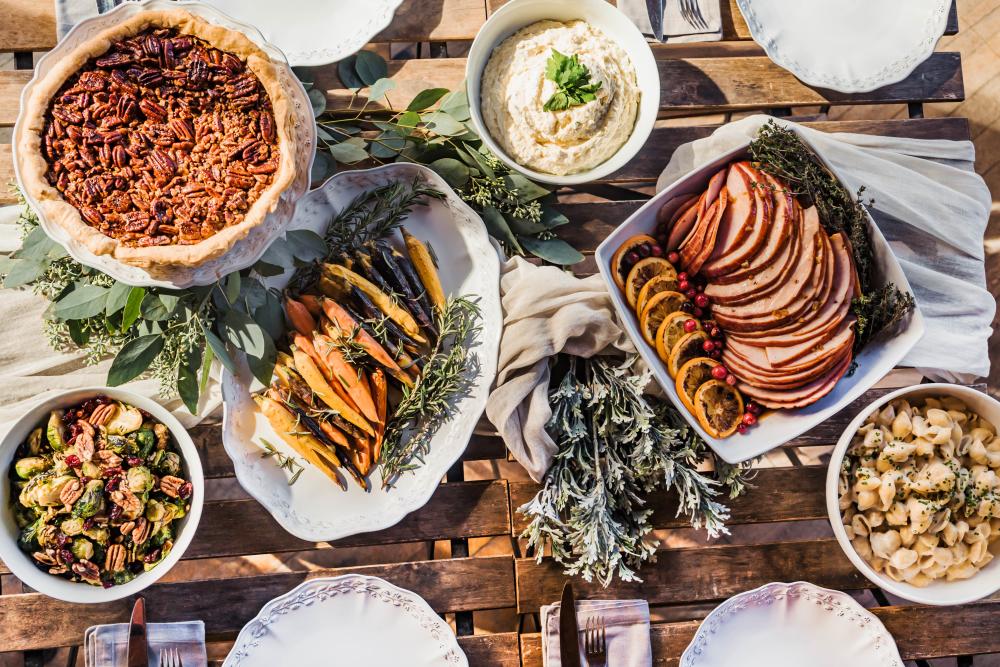 Walton's Fancy & Staple. Credit Dani Parsons.
Holiday Meals for Pick Up
Aba
The Mediterranean restaurant at Music Lane on South Congress, is offering a carry-out option for at-home Christmas dinners. For Christmas Eve and Christmas Day, enjoy specials like wild mushroom hummus, whipped feta with persimmon, braised short rib, thyme roasted carrots and labneh and more.
Orders can be placed at exploretock.com/abaaustin
Buenos Aires Cafe
Buenos Aires Café's Christmas Feast serves 2-3 and includes a prime beef wellington, mashed potatoes, organic spinach salad and pan de chapa. You can even add on a holiday mesa dulce with a variety of sweets to share with loved ones (or keep to yourself).
Order online by December 21: toasttab.com
Fresa's
Pre-order chicken tinga or black bean & cheese tamales by the dozen from Fresa's, along with queso or guacamole, charro beans, Mexican rice and salsa. Then complete your holiday meal with Mexican wedding cookies or brown butter fudge brownies. Pick up is available from December 22 - December 24.
Pre-order online at exploretock.com/fresaschicken or by phone at (512) 915-0362
Intero
Intero is offering cook-at-home Holiday Feast dinner packages available for pre-order. The meals will feature all farm-to-table seasonal vegetables and locally raised meats. Each will include easy to follow instructions to complete the final touches for a delicious, no-planning necessary meal from your own kitchen. With options for a regular or vegetarian dinner package, all dinners are gluten free, serve 4-6, and additional sides will be available a la carte.
Pre-ordering available at interorestaurant.com/holidays
JC Smokehouse
Grab your celebratory Christmas meal to-go from Carter Creek Winery Resort & Spa's JC Smokehouse. The dinner includes two smoked whole chickens, green bean casserole, cream corn, yams, Hawaiian rolls, two pies and more. Orders can be picked up on Christmas Eve and Christmas Day.
Order in advance by Friday, December 17. For more details and order instructions, visit cartercreek.com
Lou's
Have a Lou's Christmas and pre-order your dinner for pickup on Christmas Eve. Menu includes rotisserie prime rib, cheesy cauliflower gratin, chocolate bourbon pecan pie and more. Plus, add on alcoholic beverages like specialty wines or holiday spiced sangria.
Order online by December 21: exploretock.com/lousaustin
Salt & Time
Stock up on all your holiday meat needs at the east Austin butcher shop, recently named one of Food & Wine Magazine's Best Butcher's Shops in America. The butcher's shop and restaurant will also be offering a variety of gourmet, seasonal sides.
Pre-order online: saltandtime.com
Schmidt Family Barbecue
Order your holiday meal to-go from this Hill Country Galleria barbecue joint. Menu items include smoked ham, smoked whole brisket, smoked turkey breast, smoked whole turkey, and pecan, pumpkin or buttermilk pies.
Pre-order through December 20 by calling (512) 263-4060 or online at schmidtfamilybarbecue.com (nationwide shipping also now available!)
TLC Austin
TLC is feeding the whole family this holiday season with their TLC Christmas Dinner. The Christmas family meal serves 8-10 people. Preorder online and pickup on Dec. 23 at noon. The TLC Christmas Package includes Nueskes applewood smoked bone-in Ham, rosemary fingerling potatoes, country green beans, honey glazed carrots, chocolate pecan pie, white chocolate-peppermint bark, hot cocoa kit, cookies for Santa with decorating kit (they bake the cookies, you decorate), and carrots for Santa's reindeer!
Pre order online here: toasttab.com/tlc-austin
Walton's Fancy & Staple
Walton's curated a special Holiday menu is complete with a maple bourbon glazed ham, white cheddar and Gruyere mac & cheese, balsamic Brussels sprouts with crispy prosciutto, brown butter and rosemary carrots, brown gravy, handmade apple streusel, pecan and buttermilk pies, vanilla cherry cheesecake, and more! All of their holiday offerings are available as individual or family-style portions.
Order by calling (512) 391-9966 or email catering@waltonsfancyandstaple.com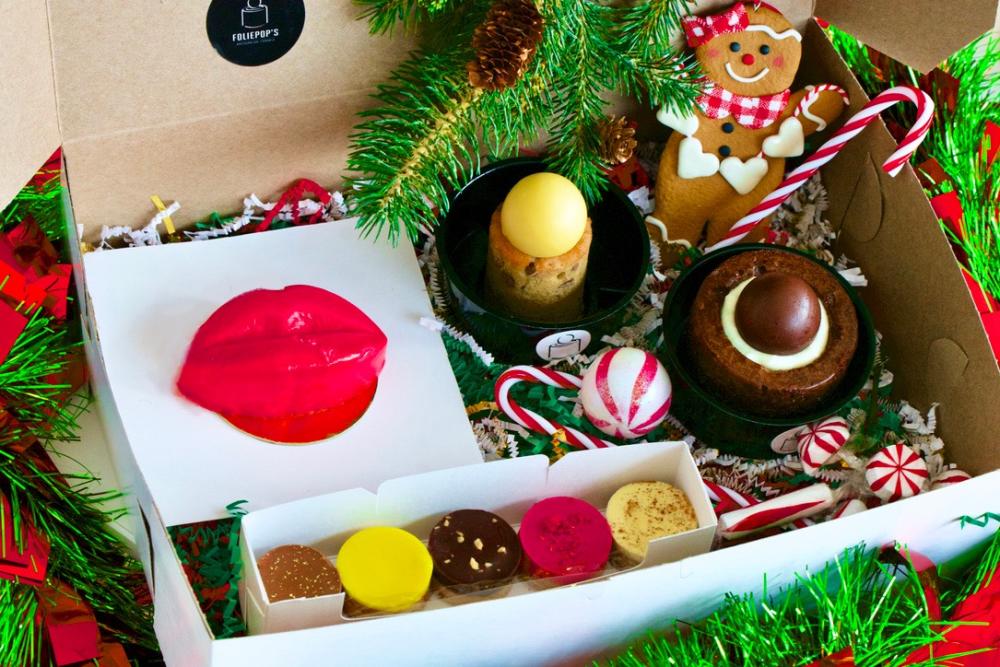 Courtesy of FoliePop's.
Holiday Desserts & Gifts
Aviary
Never show up to a party empty handed with Aviary's to-go wine offerings. Their wine six packs cost $156 and are complete with two of each of the following - Redolent Wine Co. 'Brother from Another Mother' Pinot Noir & Nebbiolo Blend, Cave des Vignerons de Mancey, Crémant de Bourgogne Brut, and Rouge-Bleu 'Méditerranée Dentelle' Blanc Magnum.
Order online here or in person at the restaurant
Bakery Lorraine at Domain NORTHSIDE
This holiday season, Bakery Lorraine will offer a selection of festive desserts perfect for sharing. Offerings include their Apple Cranberry Pie, the Dutch Apple Pie and their legendary Whiskey Pecan Pie. The once a year treat, Buche De Noel, is handcrafted with edible whimsical art that changes yearly, and features a fluffy vanilla mousse, cherries, and a dreamy chocolate sponge cake saturated in a special kirsch syrup.
Pre order in-store or online: bakerylorraine.com
Chicken Salad Shoppe
Chicken Salad Shoppe put together the perfect package for those with a sweet tooth that just won't quit! The Sixer is a clear box packed with 6 of Chicken Salad Shoppe's giant 1/2lb stuffed cookies. The box also comes filled with LED lights and wrapped up in ribbon so it makes the sweetest gift.
Order online here
FoliePop's
FoliePop's is offering two different interpretations of the traditional Yule Log cake by Chef Kevin D'Andrea. Chocolate Yule Log: A more traditional pairing of flavors, this spin on the traditional French Christmas Buche has a delicate Chocolate-Passion Fruit mousse hiding a tangy Passion Fruit interior layered with a crunchy chocolate praline. Vanilla Yule Log: An American spin on a French Christmas tradition, this Buche contains a layer of crunchy caramelized apple nestled in a Vanilla Bavaroise Mousse on top of a soft Vanilla biscuit. Christmas Box: A great gift for anyone with a sweet tooth, the box includes a Paris-Austin Original Foliepops, a Magnifique Mini Foliepops, five tartelettes, and a French Kiss cake.
Pre-order online
Intero
Artisan chocolates locally crafted from small batches using organic and fairtrade cacao. Options include 4-piece Truffle sets, barks (Peppermint & Cacao Nib; Vanilla Chai; Cinnamon Cacao), and more.
Available for pre-order at www.interorestaurant.com/holidays
Lick Honest Ice Creams
Don't miss Lick's annual array of festive ice cream flavors, including the new Roasted Plum Cheesecake and returning favorites: Peppermint Bark, Iced Sugar Cookie, Red Velvet and more. Cold weather also means the return of the Too Hot Cocoa, made with SRSLY chocolate and spices​.
Available to order in-person or online ahead of time at ilikelick.com
Old Thousand
When it comes to Christmas Eve and Christmas Day dining, Old Thousand is here to keep you cozy! Old Thousand's 11th Street location will be open for dine-in on Christmas Eve. On Christmas Day, Old Thousand's Burnet location crafted up their very own Ho-Ho Hotpot available for takeout. It includes Mala Beef Tallow Broth or Smoked Veggie Umami Broth, a variety of meats, vegetables, noodles, signature sides, and a dessert. It costs $110 with the option to purchase a hotpot kit for an additional $40.
Make reservations or preorder by calling 737-222-6637
Sourced Craft Cocktails
Sourced Craft Cocktails delivers custom cocktail kits prepared by local bartenders. The Holiday Gift Boxes are perfect for a family member, friend or colleague and include three different options: a Crowne Royal & Ketel One Kit with The 'Tis the Season and The Merry Mule; the Don Julio & Bulleit Kit with The Naughty & Spice and The New Old Fashioned Way; and the Longbranch kit with The Lion's Tail and The Spiced Fig Old Fashioned.
Order the holiday gift boxes online at sourcedcraftedcocktails.com
Swedish Hill
Still looking for that perfect gift? Swedish Hill's holiday baskets are filled with specialty items, including a set of olive wood handled cheese knives, Bianco canned tomatoes, Texas Hill Country olive oil, locally-milled flour, wine and more.
Order online or contact holiday@swedishhillaustin.com for custom orders