A thoughtfully curated section of town, find everything from antiques and albums to galleries, cult-followed grub and the flagship Whole Foods Market.

Courtesy of Mean Eyed Cat.
Mean Eyed Cat: Recently renovated, the dive bar is still outfitted with Johnny Cash decor, but now has meat-by-the-pound Stubb's BBQ grub and booze on the menu.
Drink Order: Ask for the "Mean Juice" - tequila infused with ghost pepper chilies.
Billy Reid: A mecca for the well-dressed Southern gent and lady, here you'll find everything from suits and streetwear to accessories with heirloom potential.
Waterloo Records: This is the spot for vinyl worshippers, lovers of intimate in-house performances and visitors wanting tips on the next best music to come out of Austin studios.

Hut's Hamburgers. Courtesy of Matthew Fuller.
Hut's Hamburgers and Frank & Angie's: Two Austin staples, Hut's bun fun features buffalo and longhorn, and the Sicilian pies at Frank & Angie's are served best on the outdoor patio overlooking Shoal Creek.
Vegetarian Friendly: Veg out at Hut's on Monday nights from 6-10 p.m. with two-for-one veggie burgers.
BookPeople: The locally-owned literary haunt has a large two-story selection of books, and it plays host to monthly signings from best-selling authors who pack the house.
The Brew Exchange: A unique beer-heavy bar with prices based on the rise and fall of the stock market.
Sweetish Hill Bakery: With 30 birthdays under its belt, this Euro-bakery is beloved for everything from freshly made breakfast bear claws and baguettes to bridal buttercreams.
Frame Game: Art lovers should venture just a bit further down West Sixth Street and gallery hop to the likes of the Wally Workman Gallery, the Stephen L. Clark Gallery, the Lotus Gallery, and the Russell Collection.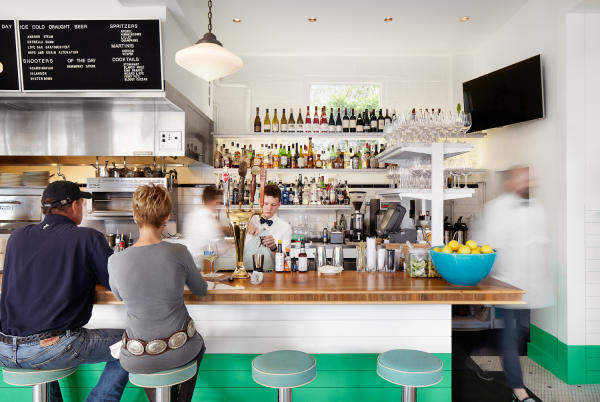 Clark's Oyster Bar. Courtesy of Casey Dunn.
Carpe Weekend: Looking for a little fun on the half shell? Pretty little upscale cafe Clark's Oyster Bar offers a weekend happy hour Saturday and Sunday, 3-6 p.m. with 50 cents off oysters and half-off bottles of wine.
For more great places to eat, drink and shop, explore the West Sixth Street Entertainment District. Find everything from craft cocktails and galleries to rustic beer gardens and cult-followed grub.