Austin is one of the most LGBTQ-friendly cities in the country, with a perfect score of 100 on the Human Rights Campaign's Municipal Equality Index. But you won't find just one "gayborhood" here. The community is integrated throughout this inclusive town, which means that LGBTQ visitors will find a warm welcome wherever they wander.
Check out our two-day itinerary that will direct you to some of the most popular shopping districts, restaurants, nightclubs and gay-owned businesses in Austin.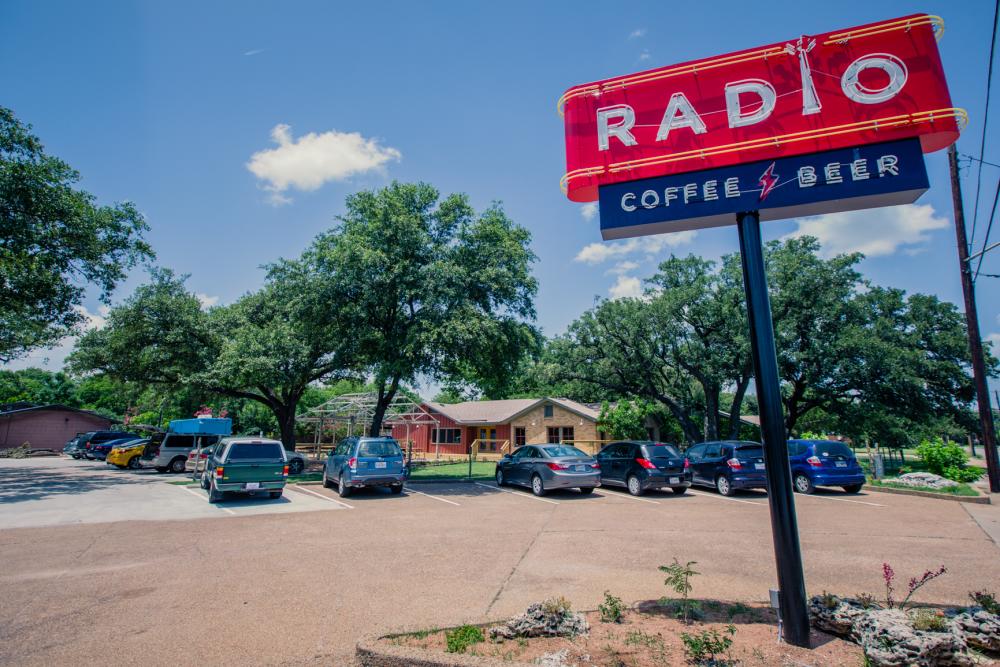 Radio Coffee & Beer. Credit Regan Hackleman.
DAY 1
Fuel up for the day with an espresso from at Radio Coffee & Beer in South Austin. Then grab a hearty breakfast from Veracuz All Natural, where authentic Mexican tacos are made with all natural and fresh ingredients. Also on site is Dee Dee, serving up authentic Northern Thai street-food for lunch and dinner.
Austin is all about the outdoors, so why not join fellow joggers on the 10-mile Ann and Roy Butler Hike-and-Bike Trail at Lady Bird Lake, which winds along shimmering waters and has picturesque views of Austin's skyline. Or, get out on the water with a stand-up paddleboard or kayak rented from Congress Avenue Kayaks or another local rental company.
Also check out Zilker Park, a 360-acre dog-friendly oasis in the heart of downtown that's the site of festivals like Austin City Limits and free performances at Zilker Hillside Theater. Plus, it's home to the Zilker Botanical Garden, Umlauf Sculpture Garden & Museum and Barton Springs Pool, a historic spring-fed swimming spot that's also great for people watching.
Grab a quick lunch in East Austin at local favorites like vegan-friendly cafe Counter Culture. Or, head down the block for quality slow-smoked meats from LGBT-owned la Barbecue, located inside neighborhood market and eatery Quickie Pickie. In a rush? Stop in to Quickie Pickie for locally roasted coffee, 24 taps and fresh, house-made meals from morning to night.
Next, make your way downtown to The Contemporary Austin at the Jones Center to view modern art in a renovated historic building. Make sure to get a snap of the "With Liberty and Justice for All (A Work in Progress)" exhibition by Jim Hodges on the rooftop. The admission fee includes same-day entry to The Contemporary Austin-Laguna Gloria, nestled on the Lake Austin waterfront. Formerly a private estate, the Mediterranean-style villa features art exhibits and an outdoor sculpture park and is the new home of a monumental work by Chinese artist and activist Ai Weiwei.
Before leaving downtown, stop by for a picture in front of the tallest piece of public artwork in Austin, the 103-foot rainbow mural "Tau Ceti" by Josef Kristofoletti.
Or, head to the shady hamlet of Hyde Park, where you'll find the Elisabet Ney Museum. Housed in what was once the German-born sculptress' home and studio, the museum displays the largest collection of Ney's work in the world, including portrait sculptures of notable 19th-century Texans.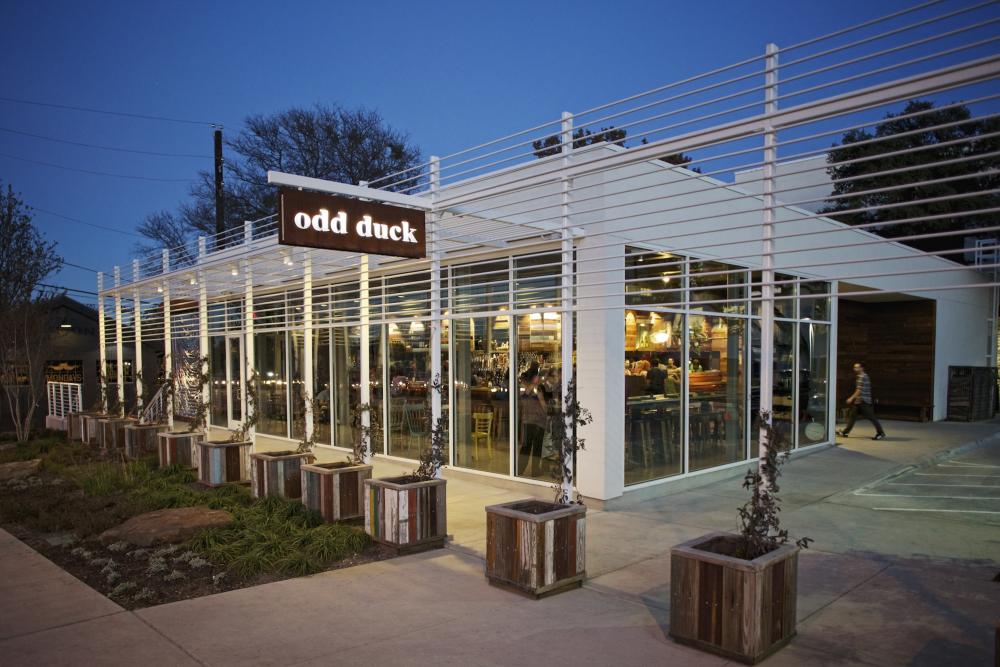 Odd Duck exterior. Credit Jody Horton.
For dinner, savor the Texas farm-to-table fare at Odd Duck. This striking modern restaurant seamlessly melds contemporary architecture with a focus on the greenery and patio living that is so prevalent in Austin. During the summer, start with a refreshing Weekend at Cucum-Bernie's cocktail then dive in to fresh, seasonal eats and be sure to order enough for everyone at the table to share!
Then, get ready to hit the clubs. There are several gay bars centered in the Downtown Warehouse District, including Highland Lounge, Oilcan Harry's (a drag queen destination for more than 25 years), the upscale Rain on 4th and The Iron Bear for a Tito's cocktail, cold beer, drag shows and dancing to live DJs.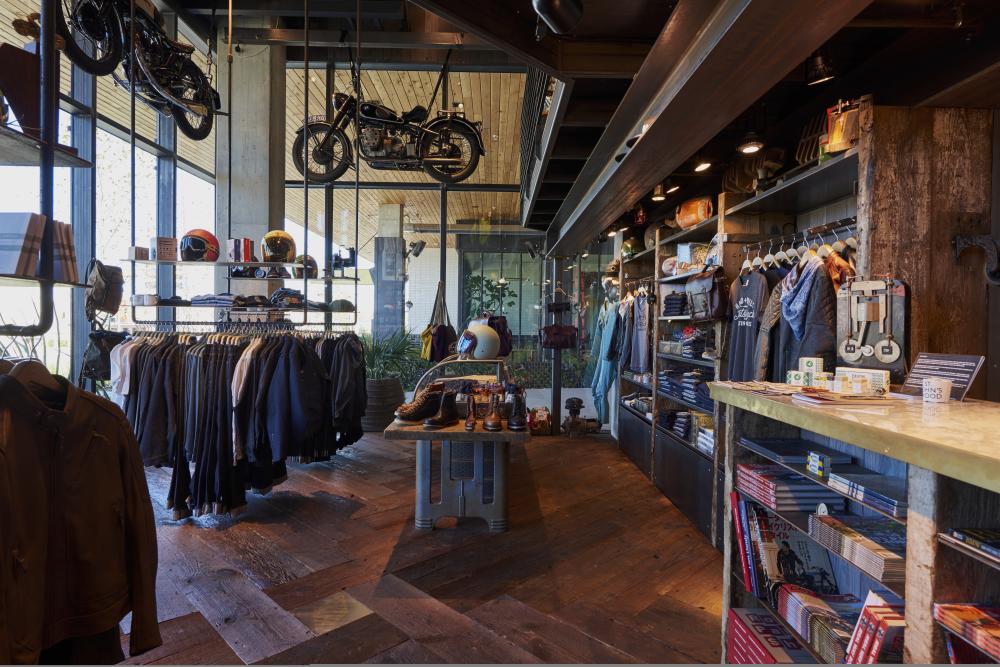 Revival Cycles. Courtesy of South Congress Hotel.
DAY 2
Start your day with breakfast (served daily till 3 p.m.!) at June's All Day Cafe. Try the breakfast chalupa: scrambled egg whites, black beans, salsa picante, avocado and ricotta salata.
Then take a shopping stroll along South Congress Avenue, known for its funky stores and chic boutiques. Check out the leather lined shelves at Allens Boots, one-of-a-kind gifts and clothing by local artisans at Parts & Labour, moto-inspired gear at Revival Cycles, unique titles and antique books at South Congress Books, modern menswear at Stag and wild costumes at Lucy in Disguise With Diamonds.
Keep caffeinated with an iced Turbo from the see-and-be-seen Jo's Coffee and snap a souvenir selfie in front of the "I love you so much" mural painted on the coffee bar's wall. For a mid-day treat, stop in to the gay-owned Hotel San José and enjoy a refreshing frosé or michelada in the leafy garden courtyard lounge. Be sure to stop into the hotel shop and get a picture of the iconic sign at the Austin Motel while in the neighborhood.
Art lovers will want to explore the colorful South Austin neighborhood galleries, with contemporary prints at ART on 5th, local artisans on display at Art for the People Gallery, Mexican and Latin American folk art at Mi Casa Gallery and vintage posters and live music ephemera at the South Austin Popular Culture Center. Then stop in to Bouldin Creek Cafe for a hearty vegetarian or vegan lunch among the south Austin peacocks (yes, you read that right). And cool off with a cone from the gay-owned Lick Honest Ice Creams, known for its seasonal confections (with flavor combos like sweet persimmon and sage) made with locally sourced ingredients.
Continue your shopping spree in the trendy West Sixth District, where you can wander the bookshelves at BookPeople, thumb through the rare vinyl at Waterloo Records, and stop in for a healthy snack or glass of wine at the Whole Foods Market flagship store.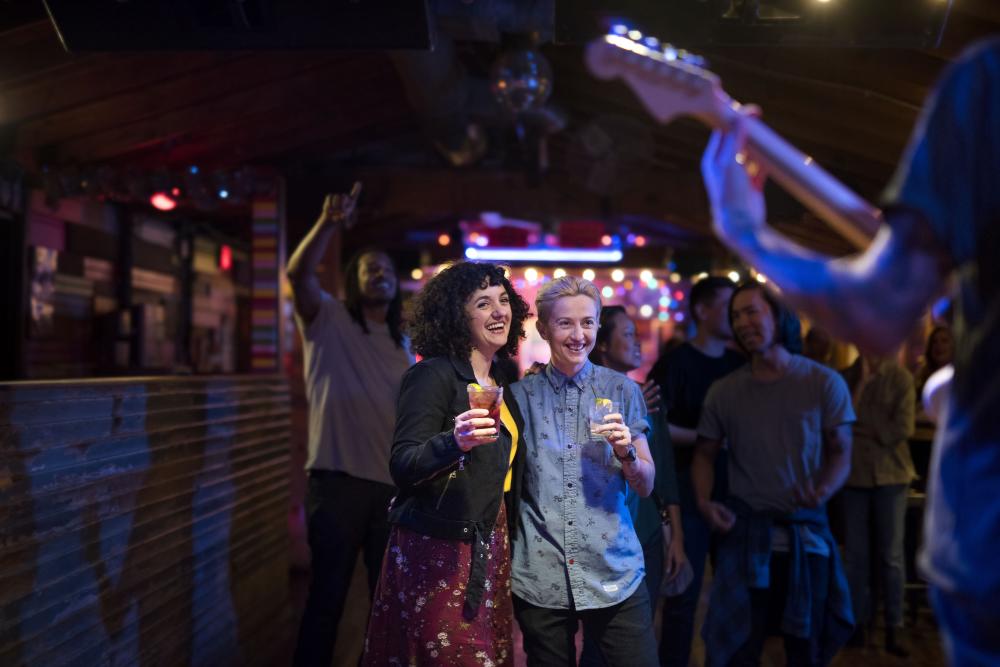 Cheer Up Charlies. Credit Nick Simonite.
In the evening, head to the Red River Cultural District for a live show or a themed dance party at Cheer Up Charlies, a lesbian-owned bar and music venue that showcases a diverse range of acts. Kick back in the charming backyard sheltered by a pink parachute canopy and sip a Kombucha served on tap. If it's Tuesday, don't miss TuezGayz at Barbarella - a local LGBTQ tradition that takes place every week with happy hour until 11 p.m. and dance videos until 2:30 a.m. 
After the show, head back to East Austin for live music, dives, mezcal bars and plenty of late night eats. Dress it up for dinner at the sultry Justine's Brasserie or enjoy upscale ranch-to-table fare at gay-owned Jacoby's. Then hop down the road for drinks at Lustre Pearl East, Violet Crown Social Club, Stay Gold and The Grackle or have a locally brewed beer on the patio at Zilker Brewing Company.