AUSTIN BRUNCHES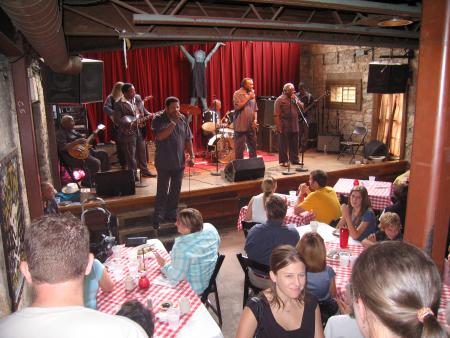 Everyone loves a good brunch, and Austin serves up some of the best in Texas. From dynamic omelettes and inventive pancakes to simple pleasures and traditional dishes, Austin has a brunch place that's sure to satisfy every palate.
Omelettry
A nod to the old Austin, The Omelettry is a traditional breakfast joint that has been family run since 1978. Over the years, this healthy, fresh breakfast restaurant garnered praise for its buttermilk and gingerbread pancakes, as well as its wide array of Tex-Mex dishes. Many Austin residents equate The Omelettry with home, as its friendly staff and warm environment invites guests to dine and socialize all morning long.
Stubb's Gospel Brunch
Stubb's BBQ is known for its mouthwatering, slow smoked Texas barbecue, but it also has a weekly Sunday brunch that should not be missed. Live gospel music plays all morning long, while you meander past the world-renowned buffet featuring everything from southern-style grits to fried catfish. You can top off the meal with a signature Bloody Mary, created by you at the "make your own" Bloody Mary bar.
Gourdough's
If you're a doughnut fan, you can't miss Gourdough's Specialty Doughnuts. This place doles out the most delectable, and crazy, concoctions, all of which will blow your mind, and your tastebuds, away. Dive into the raspberry filling of the Razzle Dazzle, topped with chocolate fudge icing; or satisfy both your salty and sweet cravings with the Flying Pig, topped with bacon and maple syrup icing. Gourdough's is housed in a vintage Airstream Trailer on South Lamar, and serves up sweet and savory breakfast items for all.
Quickie Pickie
Part convenience store, part café, part bar, the Quickie Pickie has been serving up quality food morning, noon and night, for more than 25 years. Redeveloped along with the 11th street revitalization, Quickie Pickie is a modern day hang out where people from all over the East side neighborhood gather in the morning for a fresh cup of coffee and a breakfast taco or two.
Rainey Street Spots
Rainey Street is a thriving social scene at night, and it's no different in the morning when hungry locals and travelers come to dine at some of the areas top restaurants. Head to Banger's Sausage House and Beer Garden, which features eclectic brunch items like Bang-A-Ranchero and Banger's Benny. Or try El Naranjo, dedicated to serving delicious Mexican food all day long, such as huevos rancheros, chilaquiles and guisados.