You could spend a week in Central Austin and still find new things to do, eat and buy. From country bars to culinary feats, this area is well worth exploring. The energy of collegiate culture abounds around the University of Texas and the North Campus/Hyde Park neighborhoods, while the North Loop and Airport neighborhoods are home to dive bars, decadent dinners and vintage shops galore. Spend an entire day (or more) enjoying the area's wide range of food, drink, entertainment and shopping options.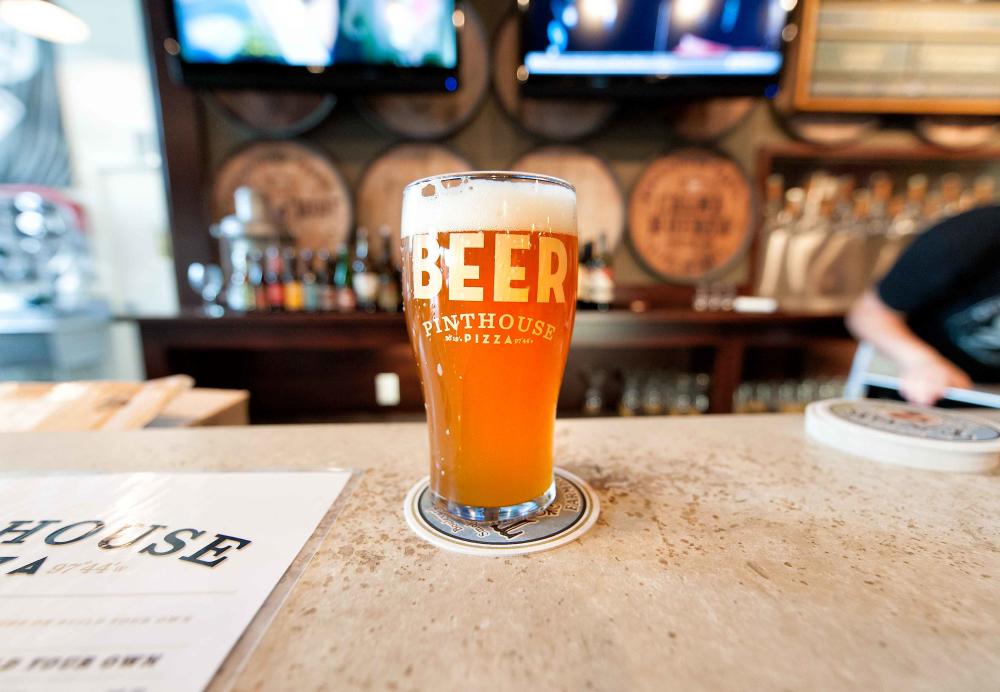 Courtesy of Pinthouse Pizza.
DINING
Look for bright umbrellas on FoodHeads' patio, a staple sandwich shop with items like prosciutto and egg salad on sprouted grain bread. Eldorado Cafe is your go-to for a colorful cantina with excellent Tex-Mex, plus margaritas. Made famous by the cult flick Dazed and Confused, Top Notch's drive-in is still a great spot for burgers and the occasional movie night. Head to Texas French Bread for New American plates, along with an extensive wine list. Little Deli and Pizzeria is a BYOB neighborhood fave, serving deli sandwiches and pizza on outdoor picnic benches.
Epicerie: A quaint, neighborhood Southern-style French cafe known for their French onion soup and salted chocolate chip cookies.
Peached Tortilla: Asian meets Southern at this hip spot on Burnet Road.
Stinson's: Enjoy Wi-Fi while you caffeinate and snack on liege waffles. Ask for the housemade buttered coffee and chocolate mocha cake.
Enchiladas Y Mas: Brothers-in-law Robert Martinez and Roumaldo Hernandez whip up family recipes at this family Tex-Mex establishment, serving specialties including fajitas, enchiladas and migas.
Pinthouse Pizza: Choose from more than 40 craft beers and order one of their classic pies - think pepperoni and basil - or build your own. Try a beer and ice cream float for dessert.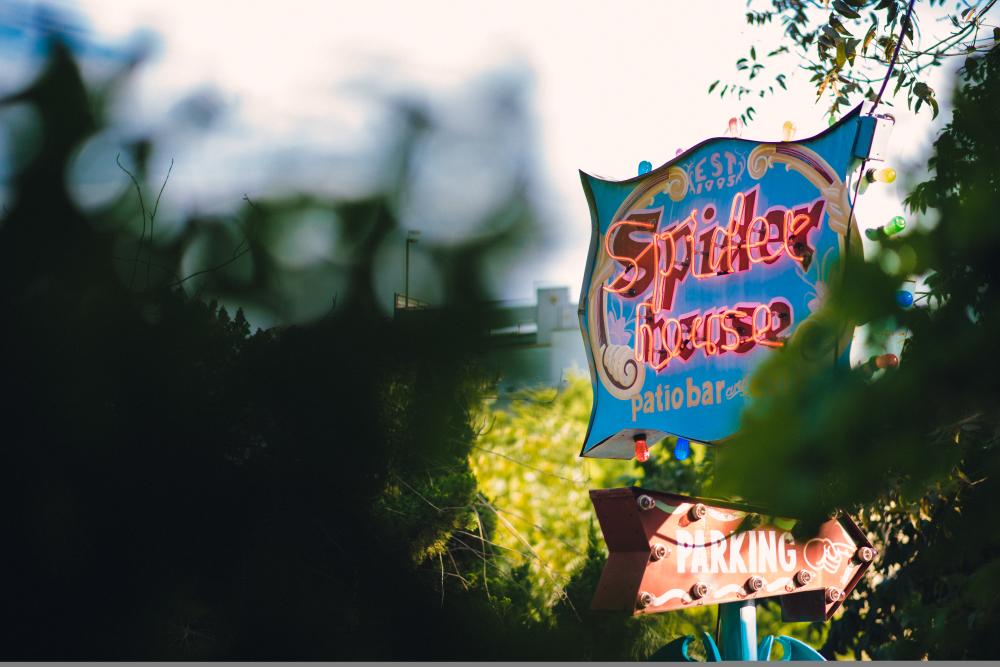 Spider House. Credit Jacob Weber Photography.
NIGHTLIFE
Hole in the Wall stays true to its name with dark paneling, graffitied bathrooms, a small stage and cheap drinks near the UT campus. Musicians like Spoon and Gary Clark Jr. have played here over the decades. Lala's Little Nugget and Little Longhorn Saloon have one big thing in common: they both embrace kitsch. Lala's boasts Christmas all year 'round, with a tree, seasonal decorations and an oldies jukebox. Little Longhorn features country-western music and its legendary Sunday Chicken S**t Bingo featuring (you guessed it!) chickens doing their thing on a bingo board.
Cactus Cafe: Situated on the University of Texas, this longstanding venue highlights the area as one of the most noteworthy chords representing the sound of Austin.
Spider House Cafe & Ballroom: A renovated house-turned-coffeshop with a yard full of quirky antiques and year-round twinkle lights. The adjacent ballroom showcases everything from comedy acts to candlelit cabaret.
Tigress Pub: The one-room hideaway pours local draft beers and boasts a specialty cocktail menu. Try the Stone Fence: Moscow mule's winter cousin comprised of bourbon, apple cider, bitters and ginger beer on ice.
Draught House Pub & Brewery: First opened in 1969, visit this craft brewing icon for a pint. Find more than 70 curated beers on tap, along with bar snacks and regular food trucks on site.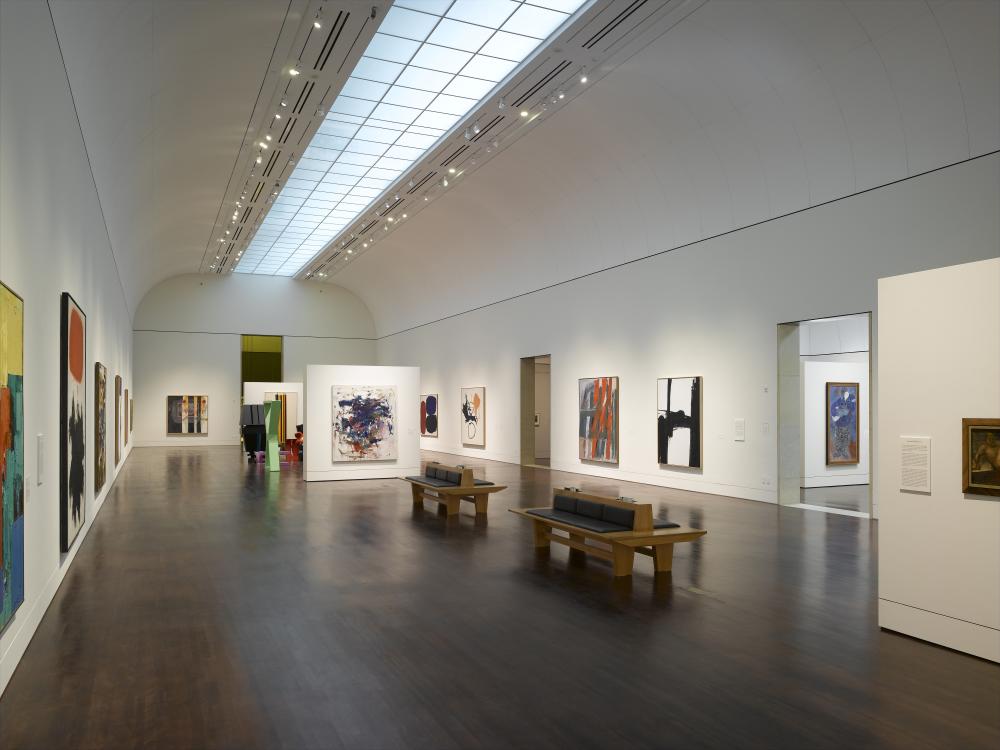 Courtesy of the Blanton Museum.
MUSEUMS & ACTIVITIES
The University of Texas at Austin's campus is a pleasant place to spend an afternoon. Stroll around the sprawling campus, with its iconic tower and verdant knolls, and check out the many museums. Stop in at the Harry Ransom Center, a humanities museum that houses artifacts such as the first photograph and a Gutenberg Bible, as well as rotating exhibitions. Take a step back in time at the LBJ Presidential Library & Museum and view exhibits that focus on the president and the major events of the 1960s, including the Vietnam War. The Blanton Museum of Art features important works by Robert Rauschenberg and Thomas Hart Benton.
Elisabet Ney Museum: This miniature castle was the former home and studio of sculptress Elisabet Ney and features many of her works.
Neill-Cochran House Museum: Experience the everyday lives of some of Austin's earliest residents at this antebellum house museum, built in 1855.
Guzu Gallery: Get edgy with artwork, vinyl toys, books and peculiar gifts.
Hancock Golf Course: This historic par 35, 9 hole course is a challenging layout with numerous carries up and down hills and over a beautiful creek in the heart of Austin.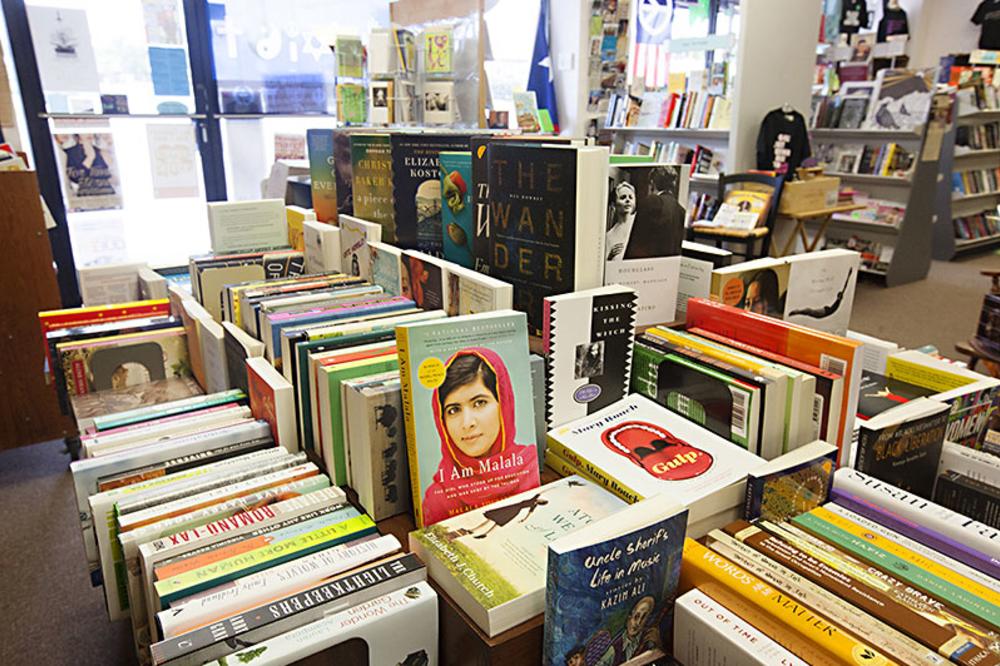 BookWoman. Credit Susan Post.
SHOPPING
Vintage shops are scattered all over Central Austin. Both Burnet Road and North Loop are home to funky shops with retro clothing, home decor and mid-century modern furniture. Room Service Vintage, Bertha's and Blue Velvet always have fantastic, affordable finds.
Breakaway Records: Browse this collectors paradise with a coffee in hand from neighboring Epoch Coffee. The shop specializes in equipment as well as new and used vinyl across all genres.
BookWoman: This one-of-a-kind feminist bookstore is packed with books, T-shirts, jewelry and gifts you won't find anywhere else. They also host poetry events, book festivals and open mic nights.
Atown: Shop local at this beloved boutique, home to goods by 100+ local creatives (think wood cake toppers, apothecary items and stitched wine totes).