Explore Austin's storied roots with a visit to some of the town's many historic sites. From honky-tonks and swanky retro clubs, to barbecue joints and museums housed in some of the oldest structures in town, there are plenty of ways to experience Austin's past today.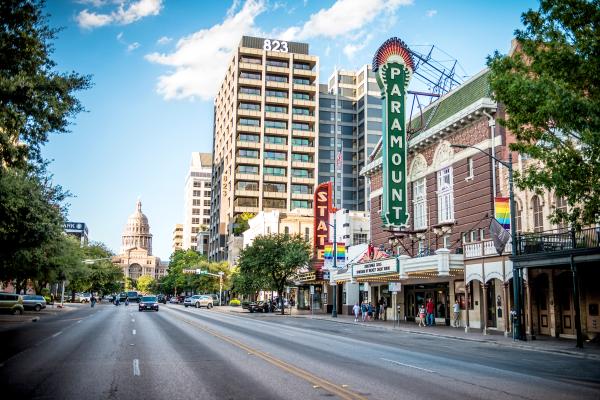 Congress Avenue. Courtesy of the Paramount Theatre.
MUSIC VENUES
Opened in 1871, the Historic Scoot Inn is the oldest bar in central Texas. Today this cozy spot feels like you're visiting someone's home, but with live music and vegan eats from Arlo's Curbside Kitchen food truck.
The Paramount Theatre is a century-old performance venue and movie theater located in the heart of downtown Austin. Originally opened as a vaudeville house in 1915, today the eclectic entertainment ranges from performers like country singer Jerry Jeff Walker and comedian Marc Maron to a summer classic film series.
In the 1940s, Victory Grill was the place to hear blues and R&B performers like B.B. King and Bobby Bland. Today the venue still presents live music, along with screenings of African American films and bowls of its famous chili.
Opened in 1955 as a swank supper club, the fantastically retro Continental Club presents nightly live rockabilly, country, rock and swing music. Look for the classic flashing neon sign (and the occasional hip celeb in the audience).
Do some two-stepping at Broken Spoke, an old-fashioned honky-tonk that's been known as one of the best dancehalls in Texas since opening in 1964. Willie Nelson has performed here, along with other country legends like Dolly Parton and George Strait. Pull on your boots and join in one of the dance lessons offered Wed.-Sat. nights.
Located across the street from the University of Texas since 1974, the storefront Hole in the Wall stage has hosted everyone from newer bands like Spoon (who shot the video for their song Jealousy in the men's room) to Don Henley of the Eagles, who dropped in to sing background vocals for Mojo Nixon's MTV-era hit Don Henley Must Die.
EATERIES
Staking its claim as Austin's oldest drinking establishment, Scholz Garten was founded in 1866 by German immigrant August Scholz as a public bar and cafe perched above an old boarding house. Enjoy a cold beer and giant pretzel in the outdoor garden and celebrate the latest University of Texas football win, a tradition here since 1893.
The Driskill Grill is located in the venerable Driskill hotel, built in 1886 by cattle baron Jesse Driskill. Designed as a frontier showplace, the Romanesque-style Driskill hotel is listed on the National Register of Historic Places. Today the Driskill Grill, opened in 1929, serves creative dishes in a historic Texas dining room setting.
Threadgill's tasty music history runs deep. Before becoming known for its food, the restaurant began in 1933 as a filling station that soon turned into a music venue. Through the years Threadgill's attracted all types of music lovers, from country fans to rock-loving hippies (Janis Joplin was a waitress and performer). Today, Threadgill's is known for its Southern comfort food and variety of live shows.
Since 1946, the roadside Sandy's Hamburgers has been a favorite spot for swimmers and sunbathers at nearby Barton Springs Pool. Naturally, burgers are the specialty (try the double cheeseburger with fries), but don't miss out on the frozen custard and frosty root beer.
Nestled among large old oaks in northwestern Hyde Park, Avenue B Grocery is Austin's oldest continuously operated grocery store. Built in 1909, this white clapboard grocery and deli serves up sandwiches of all styles along with Texas-style chili and other grocery and novelty items. The King Combo and Queen B (vegetarian option) are two of the best known options, but you won't want to miss the sotuhern-style homemade pimento cheese on white if you're feeling nostalgic.
Stubb's Bar-B-Q was founded in 1968 in Lubbock by Christopher B. Stubblefield, where it quickly became a stage for musicians like Johnny Cash and Muddy Waters. This legacy continues in Austin, where Stubb's is a music institution that continues to serve up lip-smacking barbecue along with some of the best live bands around.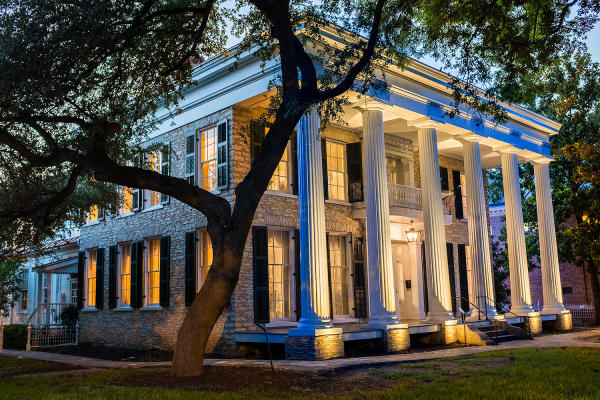 Neill-Cochran House Museum. Credit Bill McCullough.
MUSEUMS
Start your exploration of the Texas State Capitol Complex at the Texas Capitol Visitors Center. Housed in the renovated 1857 General Land Office Building that was originally used to store state land records, the Center includes a museum that features fascinating exhibits on the history of Texas and offers tours of the Texas State Capitol.
Within the East Sixth Street National Register Historic District you'll find the Brush Square Museums, a trio of free must-see museums. The Susanna Dickinson Museum is the stone home of the only Anglo adult survivor of the Battle of the Alamo; the O. Henry Museum is the quaint, Victorian-style former residence of the famed short story writer; and the Austin Fire Museum is housed in the still active Fire Station #1, built in 1939.
In Old East Austin is the French Legation Museum, downtown Austin's oldest wooden building. The Creole-style house was constructed in 1841 by request of French King Louis Phillipe. The museum offers guided tours of the historic house, and is surrounded by a lush park that's perfect for picnics.
In West Austin is the Contemporary Austin-Laguna Gloria, nestled on the Lake Austin waterfront. Formerly a private estate, the Mediterranean-style villa features rotating art exhibits and an outdoor sculpture park.
The University of Texas at Austin is home to an impressive collection of museums. The Blanton Museum of Art is one of the country's leading university art museums, with works by Mark Rothko and Thomas Hart Benton; the Harry Ransom Center houses cultural archives that include the Watergate papers; and the LBJ Presidential Library features inspiring exhibits on President Lyndon Baines Johnson and his beloved wife, Lady Bird Johnson.
In the shady hamlet of Hyde Park, you'll find the Elisabet Ney Museum. Housed in what was once the German-born sculptress' home and studio, the museum displays the largest collection of Ney's work in the world, including portrait sculptures of notable 19th century Texans.