Austin's buildings and walls may be canvases, but they're anything but blank. Explore any of the city's neighborhoods and you're bound to stumble on an ever-changing gallery of murals and street art. Grab your camera and take yourself on a sightseeing tour through a wealth of colorful, approachable art on the streets of the city. No entrance fee required.
Historic 6th Street Mural
582 N IH 35 Frontage Rd
The gateway to historic Sixth Street was brightened up with this cheerful mural painted by Sanctuary Printshop in 2012.
Mexic-Arte Museum Mural
419 Congress Ave
The Mexic-Arte Museum highlights Mexican and Latino artists with rotating murals on their 5th Street wall. The current mural (as of September 2021) is Equidad by Alonso Estrada (@thedeathhead).
The Beauty and Liberty of Equality
111 E Cesar Chavez St
At 11 stories high, this mural on The LINE Austin hotel by Sandra Chevrier and Shepard Fairey is the largest in Austin. It honors the 100th anniversary of women gaining the right to vote in the U.S.
Tau Ceti
Brazos & Second Streets
Named for a star, Tau Ceti by Josef Kristofoletti is a technicolor, multi-dimensional marvel.
Pro Tip: To capture the giant mural in full, get down low and point your camera towards the sky. Or, get a photo from across the street, before taking a break on the patio of Cedar Door.
Willie Nelson & Janis Joplin Mural
407 E Seventh St
Pay tribute to two Texas favorites. Wiley Ross painted this Willie Nelson mural in 2016, and added Janis Joplin a year later.
Spaceman with Floating Pizza
1209 Red River St
Street art by Mike "Truth" Johnston is all over Austin. Snap a photo here before walking over to explore Waterloo Park.
Be Well
Lamar Underpass, beneath Fifth Street
This piece by Uloang, NIZ, Kimie Flores, Carmen Rangel, Rex Hamilton and Samara Barks was designed to encourage us to take care of our mental and physical health.
Big Chiller Blues
601 E Fifth St
Artist Ann Adams' blue tile wall is not your traditional mural, but the gradient of rich colors is still worth a visit.
La LoterÍa
1619 E Cesar Chavez St
This Austin classic by Felipe Garza was painted over in 2015, but local artists Ramon Maldonado and Robert Kane Herrera, with other artist and student volunteers, restored it to its former glory.
Voyage to Soulsville
1161 Angelina St
John Fisher's mural depicts moments in the history of Black America and has been an East Austin landmark at the George Washington Carver Branch Library since 1986.
Til Death Do Us Part
East Seventh & Waller Streets
You can spot art pieces by Federico Archuleta in several spots around town, but this East Seventh mural is one of his most famous.
You're My Butter Half
2000 E Martin Luther King Jr Blvd
This cute piece by John Rockwell is the perfect place for photos of happy couples or best friends.
Pro Tip: Stand between the fluffy slice of bread and the melty cube of butter (right beneath the heart!) to strike a pose.
Let's Band Together
Sixth & Chicon Streets
Another piece by Federico Archuleta, this one combines the Sacred Heart with musical instruments, to share his love for his home neighborhood.
Pro Tip: Learn more about the history of this mural at visitaustin.org/murals
Rhapsody
1021 E 11th St
This mural made of mosaic tiles commemorates the blues and jazz roots of East Austin. It was designed by UT Art Professor John Yancey as part of the "Eleven East."
We Rise
12th & Chicon Streets
Chris Rogers' first mural on this site was painted over. But after working with the community and building owner, he was able to create a new piece of art full of hope and Black excellence.
I Love You So Much
1300 S Congress Ave
Local musician Amy Cook scrawled a love note on the side of Jo's Coffee shop in 2010. It has since become one of the most photographed spots in Austin.
Pro Tip: To beat the crowds, make this your first destination of the day, and be sure to grab a cuppa' joe from Jo's while you're here.
Willie for President
1423 S Congress Ave
Artists Jacqui Oakley, Erick Montes, & Joe Swec made a political statement we can all get behind on the side of STAG Provisions.
Pro Tip: Make a day of the shopping and dining on South Congress Avenue. Stop for a slice from Home Slice Pizza before snapping a pic of the mural next door.
Love from Austin
1912 S Congress Ave
Artist Charlie Copp's minimalist message keeps things simple and inviting.
Before I Die Garage Wall
206 E Elizabeth St
An interactive art piece, visitors are invited to chalk their own bucket list items onto Candy Chang's design.
Greetings from Austin
1720 S First St
Painted in the style of a vintage postcard, this mural at Roadhouse Relics by Todd Sanders and Rory Skagen is one of the most popular murals in the city.
Pro Tip: Stand between the painted capitol building and the word "Capitol" and have someone take your picture to capture the entire iconic image.
Austin Graffiti Bridge
Bridge Over Lady Bird Lake
No getting close to this one, but the railroad bridge across Lady Bird Lake is visible from the nearby pedestrian bridge. This mural was painted by Scott Kimble O'Donnell while hanging from the side of the bridge in climbing gear. Do not attempt!
Radical Transformation
1415 S Congress Ave
This piece by NIZ honors activist and writer Angela Davis, and features a quote about the individual's power to create radical change.
Hi, How Are You - Jeremiah the Innocent
408 W 21st St
Artist and musician Daniel Johnston created this charming frog for the cover art for his album, "Hi, How Are You?" It's been a welcome site in Austin since 1993.
Pro Tip: See more of Johnston's work on display at The Contemporary Austin - Jones Center, through March 20, 2022
Black Mamba
3700 Guadalupe St
This tribute to Kobe Bryant and his daughter Gianna, by artists Jay Rivera and Felix Jaimes, is a must-visit for fans of the late basketball star.
Click
401 E 53rd St
A pop art-style photographer sees a kaleidoscope of colors through her lens. Painted by local artist Andy Nelson.
Austin is Where My Heart Is
5202 Burnet Rd
Unimpressed parrots are the signature subjects of local artist Drib, who painted this colorful crew.
Hi There
12700 Hill Country Blvd
Helena Sue Martin's enormous golden-cheeked warbler gives you a friendly greeting in this 16 ft. mural.
Bijou the Bee
12700 Hill Country Blvd
This four-panel mural by Avery Orendorf features bright flowers and a busily-pollinating bee.
Las Flores de Tejas y Abejas Mexicanas
12700 Hill Country Blvd
A mosaic tile mural by J Muzacz also has a bee and flower theme. It's made of over 40,000 hand-placed glass tiles.
Love is the Question, Love is the Answer
1115 W Lynn
Daniel Johnston's most famous local art piece may be Jeremiah the Innocent, but we're also partial to this less-known, uplifting work.
Keep experiencing Austin's creative side with our new Vibrant City documentary and AR Filters. Get to know our street art and the artists behind each piece, as they come together to tell the timeless story of Austin's culture. Click below to explore.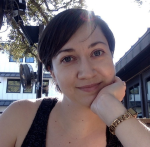 Contributed by Kate McDermott.
Kate McDermott is a local copywriter, content writer, and cocktail enthusiast. She writes about and for restaurants, hotels, event companies, and more from her home in Way South Austin.
Website: eatdrinkandwritecopy.com
Instagram: @eat.drink.writecopy