Food & Drink
While in Austin, you must pay homage to the diverse and expansive food culture. From breakfast tacos and brisket to New American and vegan cuisine, Austin has tons of incredible dining spots perfect for hanging out with friends, sipping (and snapping) mimosas and pretending you're going to do something productive that day.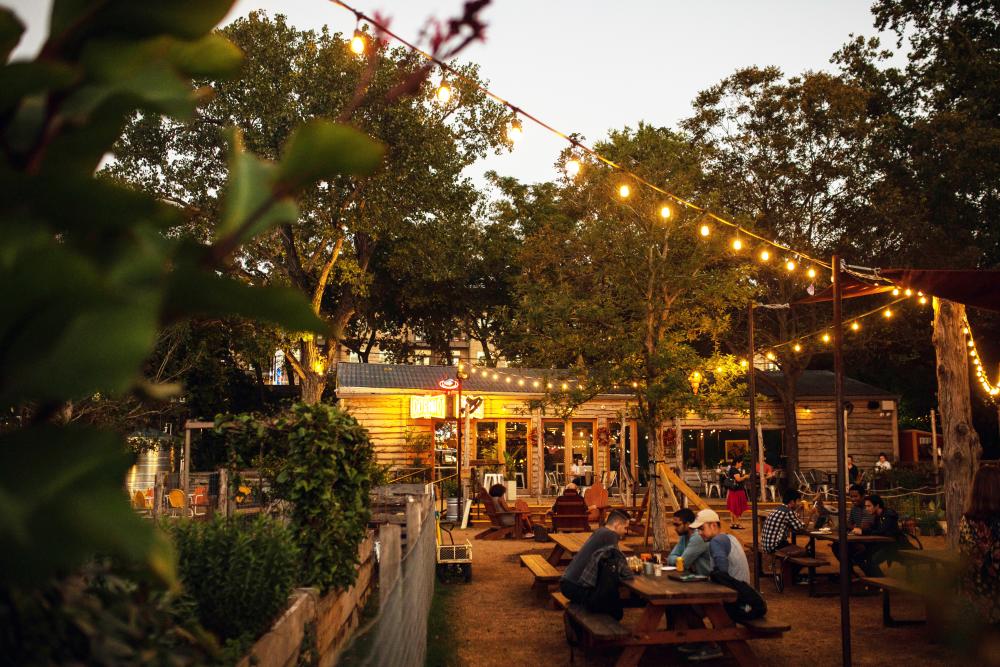 Cosmic Coffee & Beer Garden. Credit Julia Keim.
BANGER'S SAUSAGE HOUSE & BEER GARDEN
This communal beer hall and garden offers more than 100 craft beers on tap as well as an array of exotic, traditional and even vegetarian handcrafted sausages. Insider Tip: Do Sunday Funday right with their Big Band Brunch - live music, bacon steak and Manmosas - beer steins filled with an entire bottle of champagne and a splash of OJ.
COSMIC COFFEE AND BEER GARDEN
Hang out among their raised garden, biological rainwater-fed pond and chicken run while you sip coffee, cocktails or their special coffee cocktails. Onsite rotating food trucks LeRoy and Lewis Barbecue, Pueblo Viejo and Tommy Want Wingy provide the eats.
EASY TIGER
This bakery and beer garden offers artisan bread, pretzels, locally roasted coffee, house-made meats, a full bar and more than 30 local and boutique draft beers. Insider Tip: Head to the back patio for a game of ping pong.
EL ARROYO
Austinites have been coming here for over a quarter of a century for quintessential Tex-Mex from the kitchen and sassy one-liners from the marquee out front.
GELATERIA GEMELLI
After training in Italy, owner and active LGBTQ community-member, Andrew Sabola, opened this authentic gelateria that proudly advertises a zero-tolerance policy for racism, homophobia, transphobia and sexism.
JACOBY'S / GRIZZELDA'S
Adam Jacoby and husband Kris Swift started their food empire with Jacoby's, a ranch-to-table dining experience that serves up one of the tastiest burgers in town. They then followed it up with the vibrant Tex-Mex restaurant Grizzelda's.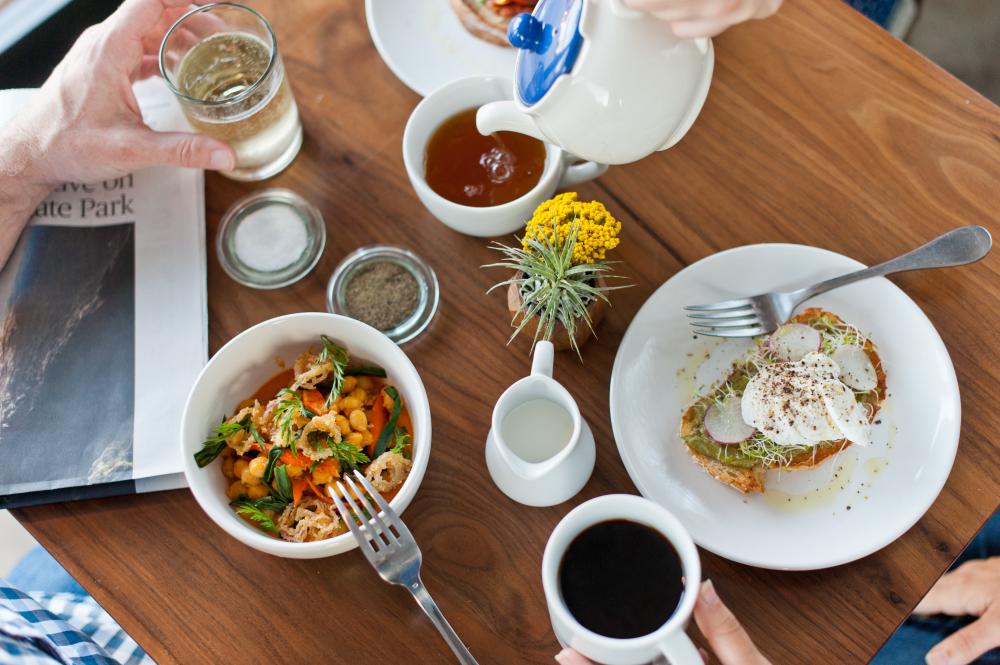 Courtesy of Patika.
JO'S COFFEE
This LGBTQ-owned coffee shop is home to the "i love you so much" mural and is an excellent place to grab a coffee and do some people watching. Insider Tip: Get Friday night started right with a live funk show here 7-9 p.m.
KORIENTE
Grab a quick bite before a night out from this family-owned eatery that serves fresh and healthy pan-Asian food cooked to order.
LA BARBECUE
Owners LeAnn Mueller and wife Alison Clem source grass-fed hormone-free beef from a local ranch and cook it 14-16 hours, so it melts in your mouth. Insider Tip: The former food trailer is now located in the same building as East Cesar Chavez grocery store Quickie Pickie, so grab some beer or wine to go with your meal.
LICK HONEST ICE CREAMS
Sourcing milk and cream from grass-fed Texas cows, this LGBTQ-owned shop on Burnet Road serves up seasonal and sustainable artisan ice cream in unique flavors like goat cheese, thyme and honey. Not headed up north? Visit their other locations in Mueller on the east side and Lamar Union Plaza in South Austin.
MARY'S CAFÉ
LGBTQ-owned, they serve locally roasted organic coffee and espresso, fresh paninis, hearty salads and delicious Liege waffles. Plus the owner donates regularly to local nonprofits like Q Austin, which is dedicated to empowering LGBTQ youth.
PATIKA
Visit this LGBTQ-owned café and wine bar on South Lamar for coffee, breakfast, lunch and brunch on weekends.
VEGETARIAN & VEGAN
As much as Austin loves their barbecue, we have many options when it comes to vegetarian and vegan fare. Counter Culture, Mr. Natural, Casa de Luz, Sweet Ritual and Bouldin Creek Café don't skimp on big flavors. Picnik is Austin's premier paleo stop. They pride themselves on allergy awareness and are known for their grass-fed butter coffee.
From grapevine to hops, Austin serves up a bevy of local, craft libations sure to please every palate. Whether you're a sommelier or a beer aficionado, there's a place to find your drink in Austin. For more local restaurants and craft beverage destinations, explore the Austin Insider Blog and the Food & Drink section of our site.