DISTRICT IN REVIEW: UNIVERSITY OF TEXAS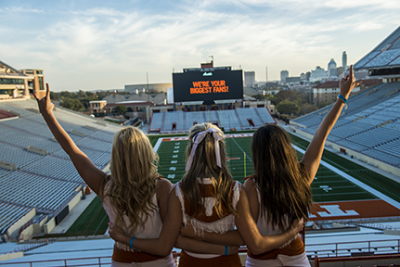 As the fall school semester begins, visitors, families and future Longhorns will be coming to Austin to explore all there is to offer. A staple of Austin city life since 1883, The University of Texas campus is located just north of the heart of the city and is home to a diverse and fluid population of more than 50,000 students. During late summer, visitors get to experience the unique and expansive campus in a slightly quieter state – before classes begin. This is the perfect time to explore the Forty Acres and surrounding areas without as much of the pedestrian traffic that occurs the rest of the year.
Here are some of the must-see places for University of Texas visitors:
Take a Tour
Campus Tours: For a realistic glimpse of student life, campus tours are a great way to see the best of the Forty Acres. Guests should stop by the UT Visitor Center (in Walter Webb Hall) for information on tours or maps and materials for self-guided tours around campus. If you choose the self-guided route, make sure to stop by the tower in the middle of campus and then check out the surrounding artwork and statues on the South Mall.
Blanton Museum of Art: The University at Austin is home to several world-class museums that display diversity through art, history, science and culture. To see the best of local and international art, stop by the Blanton and take a tour, or walk through at your own pace. The upcoming exhibition, In the Company of Cats and Dogs, will be on display through September and the museum will be holding weekly events and tours for the public.
LBJ Presidential Library: For the history buffs in the family, stop by the Lyndon B. Johnson Library on the Eastern edge of campus and explore LBJ's presidency and lifespan. Exhibits are informative and family friendly. Be sure to stop by on August 27 and celebrate LBJ's birthday with free admission and cake!
Iconic Food
Get Your Gear
Tyler's: For the best souvenir tee shirts, stop by Tyler's on the Drag. This store sells surfer-themed clothes and accessories with a focus on Austin culture and art. Be sure to pick up a Keep Austin Weird shirt in your favorite color combo – the choices are as unique as the city!
Malvern Books: Located just north of campus, this independent bookstore specializes in literature and poetry from independent publishers. Explore the shop on your own or attend an event – poetry readings, open mic nights and author events are a great way to get a feel for the independent writing community in Austin.
University Co-op: The Co-op is a one-stop-shop for all of your burnt orange needs. Visitors can find everything from clothes to dishware to pet accessories and more in this three-story store. It is located right across the street from campus, so be sure to check it out after a campus tour or before a football game.
For more information about UT lingo and hotspots, check out our blog.

Contributed by Christine Felton.