AFRICAN AMERICAN HISTORICAL LANDMARKS
Contributed by Anita C. Roberts
Austin is home to many historical landmarks reflective of the city's Black history. Learn more about these historic homes, churches, schools and community spaces and find out how to see them for yourself.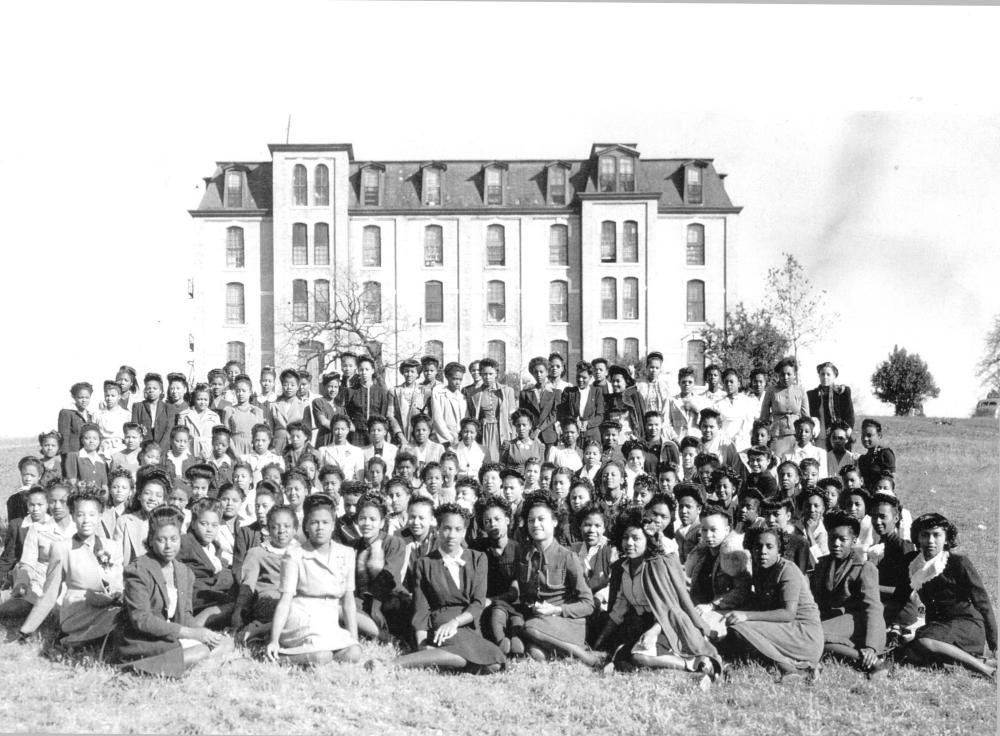 Allen Hall on Tillotson College Campus, date unknown. Courtesy of Huston-Tillotson University.
Historical landmarks
W.H. Passon Historical Society, 1501 E. 12th St., was formed in 1975 to preserve materials, artifacts and historic sites pertaining to African American culture. Wesley H. Passon (1864-1933), an educator and prominent churchman, wrote what is believed to be the first published history of African Americans in Austin: a 1907 book commemorating the 25th anniversary of the Metropolitan A.M.E. Church.
The Limerick-Frazier House, 810 E. 13th St., has a century-long connection to African American history. The house was built in 1876 by immigrant stonemason Joseph Limerick, but he did not live there. John W. Frazier, a professor at Samuel Huston College, purchased the house in 1905, when this section of East Austin was beginning to evolve into a largely African American community. After he died, Laura Allman Frazier, his widow, operated the house as lodging for African American students and travelers who were excluded from white-owned hotels in Austin during the Jim Crow era.
The Connelly-Yerwood House, 1115 E. 12th St., was built in 1904 by the Connelly family. Dr. Charles Yerwood bought the house in 1926 and opened a practice at 421 E. Sixth St. in the late 1920s. Yerwood's two daughters, Connie and Joyce, went on to become physicians. Connie Yerwood moved back to Austin in 1936 and became the first African American doctor to work for the Texas Public Health Service, which is now the Department of State Health Services. She was married for a time to Dr. Beadie Eugene Conner, a prominent local African American physician.
The Colored Teachers State Association building, 1191 Navasota St., served African American teachers from 1952 until 1966, when it merged with the Texas State Teachers Association. The group was instrumental in the struggle to desegregate public schools and win equal rights and wages for African American teachers throughout Texas. House of Elegance, a hair salon opened in 1968 by Ella Mae Pease, is still in business at the site.
Henry Green Madison log cabin, built in 1863 by the city's first African American appointed to serve on the City Council, was reconstructed at Rosewood Recreation Center, 1182 N. Pleasant Valley Road. The cabin was home to Madison, his wife and their eight children.
Bethany Cemetery was established in the 1800s on the 1300 block of Springdale Road. The oldest recorded burial is that of infant Helen Moore in 1879.
The historical roots of Wesley United Methodist Church, currently on San Bernard Street, began with the First United Methodist Church, organized in 1839 at what is now Congress Avenue and Fourth Street. In 1853, the building was sold, which sent the 90 Methodists - including 30 enslaved people and servants - to a brick building and 10th and Brazos streets. After Emancipation, the former enslaved people formed a new congregation, known as Wesley Chapel Methodist Church, and built their own clapboard church at Ninth and Neches streets. The old church's bell hangs in the belfry of the current church.
Robertson Hill School, built in 1884 at San Marcos and 11th streets, was one of the city's first schools for African American children. A high school was added in 1889, and relocated to Olive and Curve Streets in 1907, where it became E.H. Anderson High School. In 1913, it moved again, to Pennsylvania Street (now Kealing Middle School). In 1938, it was renamed in memory of L.C. Anderson, E.H.'s brother and a longtime principal. In 1953, a new Anderson High School opened at 900 Thompson St. but closed in 1971 as part of a court-ordered desegregation plan. The present L.C. Anderson High School on Mesa Drive opened in 1974.
Victory Grill at 1104 E. 11th St. is Austin's first house of the blues. Listed on the National Register of Historic Places, it opened in 1945. The nightclub was on the "chitlin circuit," music venues open to African American musicians during segregation.
George Washington Carver Museum & Cultural Center, a repository for local African American history and artifacts, opened in 1980 at 1165 Angelina St. It was expanded in 1998 to a 36,000-square-foot facility that includes galleries, a theater and dance studio.
Tillotson Collegiate and Normal Institute opened for classes Jan. 17, 1881, at 900 Chicon St. In 1952, it merged with Samuel Huston College, which is actually older. Huston College moved to Austin in 1878 after its building in Dallas was torched by the Ku Klux Klan. In Austin, the college was originally housed in what is now Wesley United Methodist Church. Huston-Tillotson College officially changed its name to Huston-Tillotson University on February 28, 2005.
Downs Mabson Field has been synonymous with baseball and the East Austin African American community since the 1940s. The Austin Black Senators, whose team included National Baseball Hall of Fame inductee Willie Wells, played on the original stadium site. Today, Downs Field is home to the Huston-Tillotson University Rams and the Austin Metro Baseball League. Check out Downs Field's amazing murals and catch a game.