FESTIVALS IN AUSTIN
For the latest updates about the status of each event, please check each event's website.
Austin is a 24-hour town populated by an upstart mix of musicians, techies, film pros, athletes and foodies - and our yearly events calendar shows it. The Austin Marathon draws 20,000 runners from around the world. The Austin Food + Wine Festival welcomes visitors from across the nation and showcase the best innovative cuisine. Old Settler's Music Festival has been celebrating the best of Americana, bluegrass and roots music for more than 30 years; and Fantastic Fest, which features sci-fi, horror, fantasy and other genre films, has become a favorite of film buffs and celebrities alike. SXSW Music, Film and Interactive Conferences and Festivals expand every year and the Austin City Limits Music Festival will once again welcome 70,000 fans per day to Zilker Park for performances by more than 100 bands.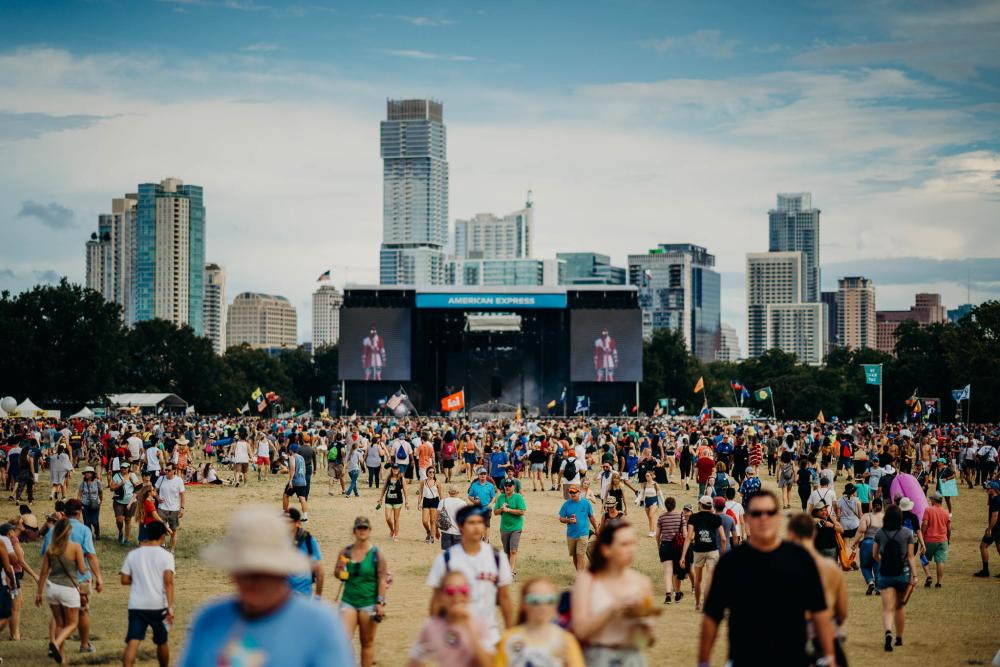 ACL Festival. Credit Sara Margorie Strick.
Here are our top picks for must-attend Austin events in the new year.
January
Free Week
Red River Cultural District
Hundreds of local bands participate in this week of free live music that encompasses venues all over downtown Austin.
Martin Luther King Jr. March and Festival
Huston-Tillotson University
March from the University of Texas to Huston-Tillotson University to celebrate Dr. Martin Luther King, Jr.'s legacy.
February
Austin Marathon & Half Marathon
Downtown Austin
Nearly 20,000 participants, 40 bands and a course through Austin's scenic neighborhoods make this race a must-hit for everyone.
Austin Oyster Festival
Republic Square
Try every style of oyster at this annual food fest, while enjoying live Cajun and "newgrass" music.
Carnaval Brasileiro
Speakeasy Austin
Experience authentic Brasileiro-style samba, costumes and wild abandon at one of the biggest Brazilian Carnaval celebrations outside Brazil.
OUTsider Festival
Various Locations
As one of Austin's most progressive festivals, OUTsider brings together Austin's LGBTQI community for five days of creation and inspiration. This multidisciplinary art festival showcases film, performance art, music, visual art and more.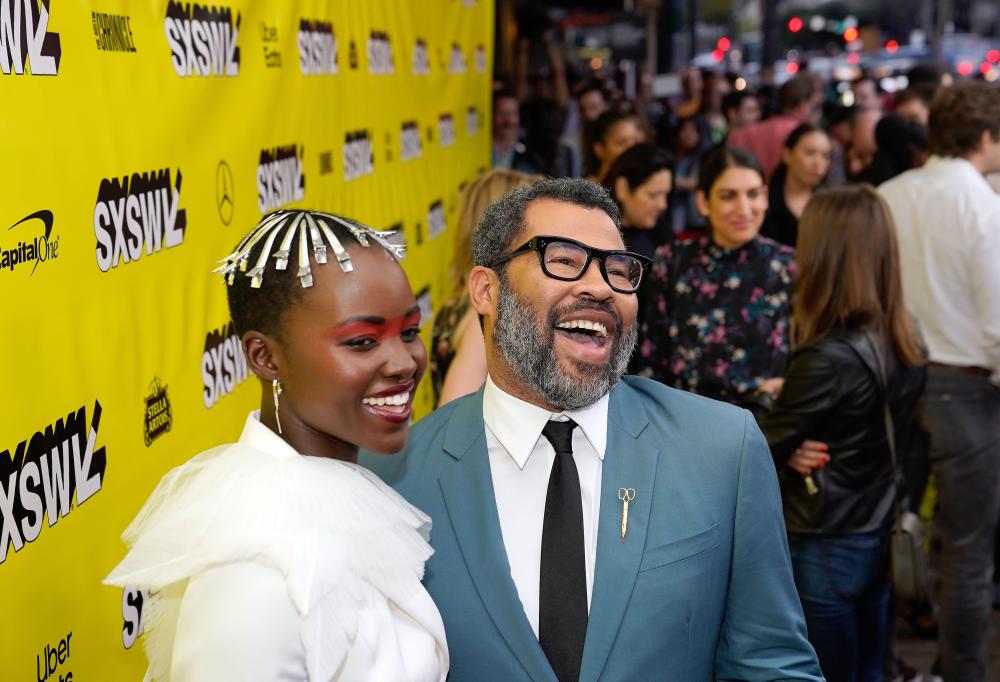 Lupita Nyong'o and Jordan Peele at SXSW Film Festival. Credit Ismael Quintanilla, Getty Images for SXSW.
March
NASCAR at COTA
Circuit of The Americas
Circuit of The Americas (COTA) will welcome race fans this March when NASCAR returns Austin for the second time, courtesy of Speedway Motorsports. Experience another unforgettable race weekend with the running of the NASCAR Cup Series, Xfinity Series and Camping World Truck Series at COTA.
Rodeo Austin 
Travis County Expo Center
Over the years, Rodeo Austin has grown from a show featuring 16 animals into one of Austin's premier events, featuring ProRodeo events, daily concerts, livestock show and more.
St. Patrick's Day Festival
TBD
This family-friendly St. Patrick's Day fest celebrates all things Irish. Come enjoy authentic Celtic music and dancers, Irish language workshops, the finest Irish imports and plenty of good craic!
SXSW® Music, Film and Interactive Conference and Festival
Downtown Austin & Various Locations
Noted filmmakers, musicians and thought leaders showcase music, film and interactive media at this international event.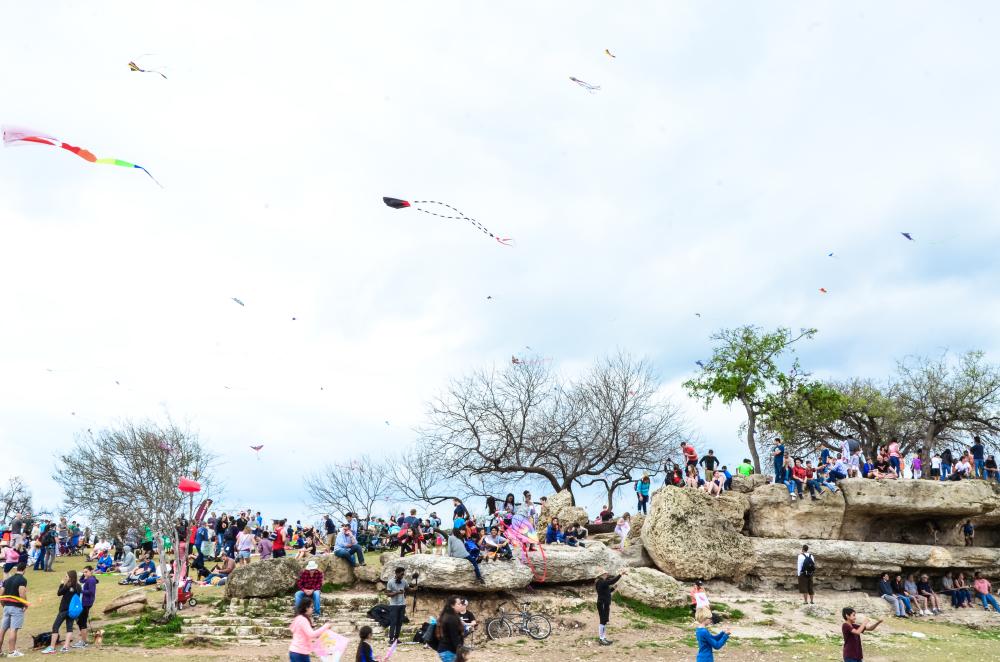 ABC Kite Fest. Credit Wonder Twin Productions.
April
ABC Kite Fest
Zilker Park
The nation's oldest kite festival features hundreds of kites in the air, kite flying contests, food, games and more all for free.
Austin International Poetry Festival
Various Locations
Poets from around the world, country, and all of Texas gather for four days of live performances, readings and workshops during the Austin International Poetry Festival in April.
Austin Reggae Fest
Auditorium Shores
A fundraiser for the Central Texas Food Bank, Reggae Fest features three days of reggae, world and dub talent, along with more than 50 vendors selling food and arts & crafts.
Fusebox Festival
Various Locations
This hybrid arts festival champions adventurous works of art in theater, dance, film, music, literature, visual and culinary arts.
Indie Meme Film Festival
AFS Cinema
This hybrid festival features socially relevant independent cinema from South Asia. An interactive film like no other, IMFF showcases curated features, documentaries, short films, etc. from countries like India, Pakistan, Bangladesh, Sri Lanka, Afghanistan, Nepal, Bhutan and Iran.
Moontower Just For Laughs Comedy Festival
The Paramount Theatre & Other Locations
Moontower Comedy has combined forces with world-renowned Just For Laughs to become the Moontower Just For Laughs Austin comedy festival, growing from 4 days to 12 days of nonstop comedy.
May
Hot Luck Festival
Various Locations
Come hungry and thirsty, and bring your dancin' boots, to this eat-with-your-fingers food festival highlighting culinary know-how and live music.
Pecan Street Spring Arts Festival
East Sixth Street
Musicians, food vendors, artists and crafters turn Sixth Street–historically called Pecan Street–into a lively street fair.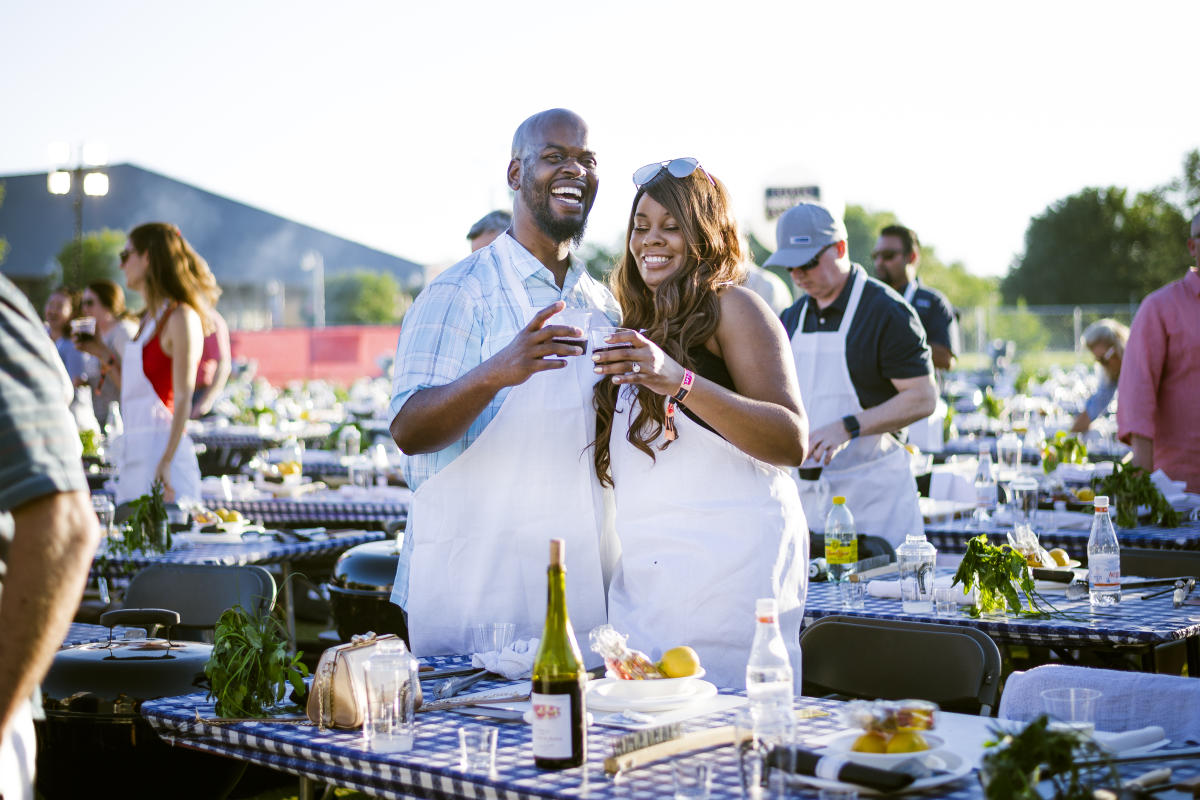 Austin Food + Wine Festival. Credit Katrina Barber.
June
19th Fest
Huston-Tillotson University
Formerly the Austin Soul Food Truck Fest, 19th Fest returns to celebrate Juneteenth in Austin. From savory barbecue to Cajun-seasoned seafood and traditional soul food, get a taste of Austin's soul food gems at this annual festival, along with live music and 50+ artisan craft and retail vendors. The festival will also feature kid-friendly activities and more.
African American Book Festival
George Washington Carver Museum
This free, annual literary event showcases new works by and about African-Americans.
ATX Television Festival
Downtown Austin
The first festival devoted to television, ATX Television Festival features premieres of new series, current hits and cult favorites.
Austin Asian American Film Festival
Around Austin
Asian and Asian-American cultures and experiences are promoted at this fest showcasing cinema and the creativity of Asian-American artists.
Cine Las Americas International Film Festival
Various Locations
Catch screenings of contemporary films and videos from Latin America (North, Central, South America and the Caribbean) and the Iberian Peninsula.
Stay Black and Live: A Virtual Juneteenth Festival
Virtual Event
The George Washington Carver Museum, Cultural and Genealogy Center hosts this virtual Juneteenth celebration, featuring film screenings, art auctions, free food, a dance party, poetry, music and more.
July
Blues on the Green
Zilker Park
Pack a blanket and the family and make your way to Zilker Park for this summertime tradition. Held monthly each summer, Austin's largest free concert series will welcome performances by local artists.
Fourth of July Fireworks and Symphony
Auditorium Shores
The Austin Symphony hosts an annual concert of patriotic music culminating in a spectacular firework display over Lady Bird Lake.

Credit Pierce Ingram.
August
All Genders, Lifestyles and Identities Film Festival (aGLIFF)
Various Locations
The oldest and largest LGBTQI film fest in the Southwest is also the largest LGBTQI cultural event in Austin.
Austin Chronicle Hot Sauce Festival
Fiesta Gardens
Join in one of the world's largest hot sauce festivals, which attracts as many as 10,000 spectators each year.
Austin Pride Parade
Downtown Austin
Celebrated during Austin Pride Month each August, don't miss this giant parade down Congress Avenue during the largest annual LGBTQI advocacy and fundraising event in Central Texas.
Bat Fest
Congress Avenue Bridge
Celebrate the world's largest urban bat colony, which takes up seasonal residence beneath the Congress Avenue Bridge, with live music, children's activities and a costume contest. 
Capital City Black Film Festival
Austin Convention Center
Recognizing black filmmakers, the Capital City Black Film Festival provides a stage for burgeoning talent in the heart of Austin.
Hot Summer Nights
Red River Cultural District
Venues throughout the Red River Cultural District host four days of free live music, alongside local food and vendors.
September
Austin Chronicle Hot Sauce Festival 
Far Out Lounge & Stage 
If you wanna beat the heat this summer then you gotta eat the heat! Join the Austin Chronicle for one of the world's largest hot sauce festivals, with categories ranging from local restaurants to commercial bottlers.
Austin Urban Music Festival
Auditorium Shores
Some 15,000+ fans converge on Auditorium Shores for this festival celebrating R&B, neo-soul and hip-hop music.
Fantastic Fest
Various Venues
The largest genre film festival in the U.S. specializes in horror, fantasy, sci-fi, action and more from around the world.
Lonestar Round Up
Travis County Expo Center
A huge outdoor car show and live music festival with tons of vintage hot rods and custom cars driven here from all over the country, and bringing visitors from all over the world.
Out of Bounds Comedy Festival
Various Locations
Comedians from around the country head to Austin for this festival showcasing the best in improv, sketch and stand-up.
Pecan Street Fall Arts Festival
East Sixth Street
Musicians, food vendors, artists and crafters turn Sixth Street–historically called Pecan Street–into a lively street fair.
Texas Tribune Festival
Downtown Austin
This annual event brings students, educators, journalists, politicians, policy makers and other political junkies to the Capital of Texas for three days of informative and engaging sessions.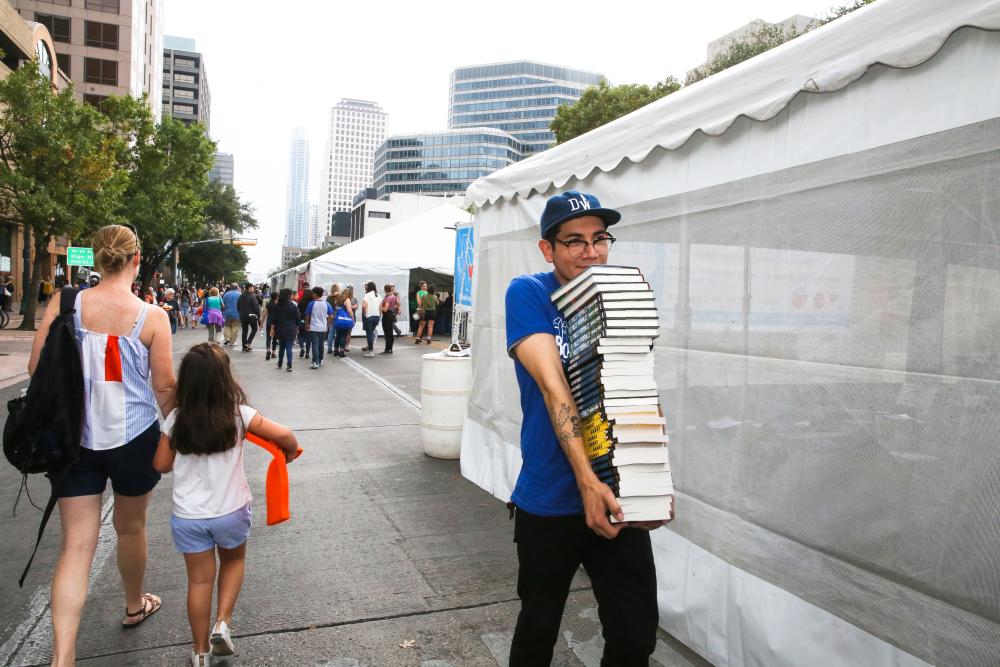 Texas Book Festival. Credit Bob Daemmrich Photography
October
Austin City Limits Music Festival
Zilker Park
One of the country's largest celebrations of music, this six-day festival includes 140+ musical acts over two weekends.
Austin Film Festival
Paramount Theatre & Various Locations
Recognized as one of the top film festivals in the country, this cinematic event shines the spotlight on both top-billed films and indies alike.
Austin Oktoberfest
Scholz Garten
The Austin Saengerrunde celebrates the annual Austin Oktoberfest at Scholz Garten, the oldest continuously operating tavern in the state. This festival celebrates German heritage in Texas with beer, sausage, live music and bowling!
Field Guide Festival
Fiesta Gardens
Field Guide Festival is a food systems festival that brings the farmers to you! You'll find fresh ingredients, grown and harvested by local farmers, prepared by chefs from around the city. Communities are built around tables, and this festival is an expansion of the farm to table movement. Experience a weekend of innovative conversation, connection and cookouts with those who make our Austin food economy special.
Formula 1 United States Grand Prix
Circuit of The Americas
Experience three days of F1 racing, camping, live music events, headline performances by international acts and more.
LEVITATION
Downtown Austin
This independent festival has grown from a small word-of-mouth event to an internationally acclaimed, full weekend event that attracts attendees from all over the world.
Old Settler's Music Festival
Tilmon, TX
Central Texas' signature music event features three days of Americana and roots rock live music from around the world, camping, family events, food and libations.
Quesoff
Mohawk
Quesoff is the annual festival and competition celebrating all things melted cheese! Watch champions and special guests compete in a special Champions League, and get a taste of award-winning queso recipes from local chefs and restaurants. 
Texas Book Festival
Texas State Capitol Grounds
Enjoy readings, panel discussions, signings, cooking demonstrations, live music, local food, YA authors, children's activities and exhibiting vendors.
Texas Craft Brewers Festival
Fiesta Gardens 
The Texas Craft Brewers Fest is the largest beer festival for and by Texas Brewers, featuring the best of Texas craft beer and the thriving beer community across the Lone Star State.
Viva La Vida Festival & Parade
Downtown Austin
Viva La Vida is Austin's largest and longest-running Día de los Muertos (Day of the Dead) festival, featuring a Grand Procession, art activities and demos, traditional foods, live music and performances throughout the day.
November
Austin Celtic Festival
Jourdan-Bachman Pioneer Farms
This annual festival is also the largest gathering of Celts in Central Texas. The event is home to four stages of Irish, Scottish and Breton music, dance, sports, storytelling, workshops and more.
Austin Food + Wine Festival
Auditorium Shores
Join top chefs, sommeliers and winemakers from across Austin and the nation for a three-day epicurean adventure unlike any other.
Austin Powwow
Travis County Expo Center
For more than 25 years the Austin Powwow is the largest of its kind in Texas, featuring American Indian dancing, singing, arts & crafts and food.
Austin Studio Tour
Studios Across Austin
The Austin Studio Tour is a free, self-guided art event that combines the West Austin Studio Tour and East Austin Studio Tour to provide opportunities for artists all over Austin to connect with each other and for the public to experience art safely both in person and virtually​.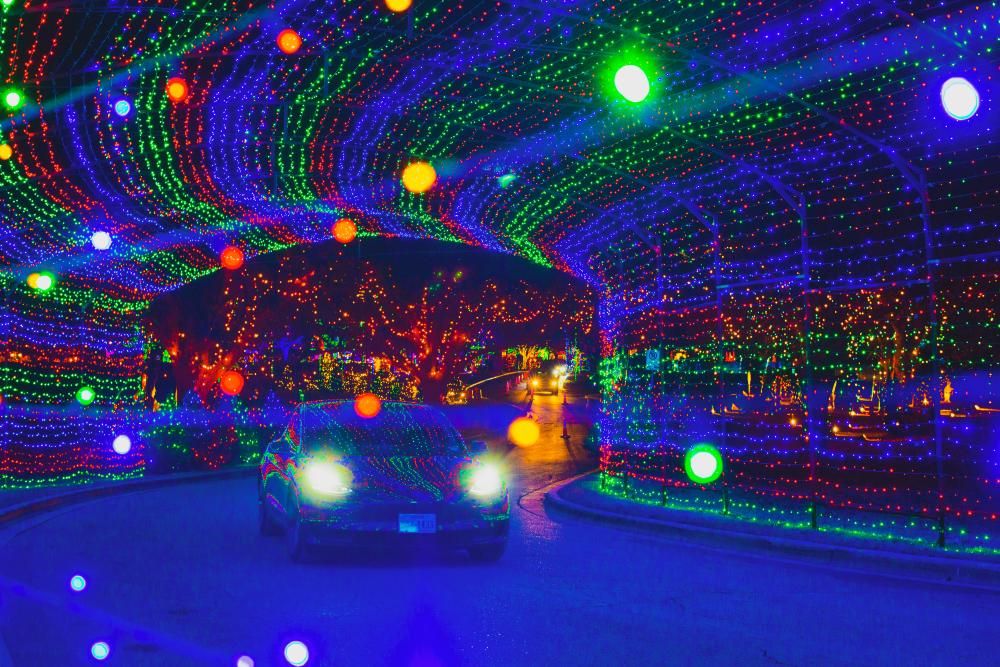 Courtesy of Austin Trail of Lights.
December
Armadillo Christmas Bazaar
Palmer Events Center
The Armadillo Christmas Bazaar makes holiday shopping fun with nearly 200 artists and makers, live music daily, interactive activities, local food and two full bars.
Austin's New Year
Auditorium Shores
This alcohol-free, family-friendly event celebrates the diversity and creativity of the city with 4 stages, 22 bands, visual art installations, jugglers, storytellers, fire dancers and a grand fireworks finale.
Trail of Lights
Zilker Park
The Trail of Lights is part of the essential Austin experience, lighting up the season with a celebration of community, memories and fun. Plan your visit early and don't forget to take a spin under the Zilker Tree!