DISTRICT IN REVIEW: MANOR ROAD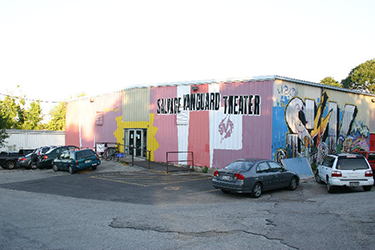 What was once a quiet district near the University of Texas campus, East Austin's Manor Road has really come into its own with the arrival of several new restaurants and entertainment hot spots.
Eat and Drink
Tex-Mex: El Chile Café y Cantina is the place for fresh Tex-Mex flavors with an Austin twist. And if you like the salsa, you can also take some home. For a different take on Tex-Mex, try their sister restaurant, El Sapo, with a large selection of burgers with names like Frijolito and Chori-Pica.
Fresh and Local: True to Austin's locavore reputation, Eastside Café gives new meaning to comfort food with seasonal vegetables and herbs harvested from the garden on its property. Hoover's Cooking, another Manor Road staple, practices farm-to-table cooking with many of the ingredients in the Soul Food specialties provided by local farmers.
Laid-Back and Neighborly: Imagine regional comfort food (like the horseshoe double cheeseburger on Texas toast) paired with a great selection of craft beers, and you have Haymaker, a pub that emulates the neighborhood bars of the Midwest and Northeast. Looking for a low-key place to kick back? Visit Butterfly Bar's outdoor patio area for a cocktail, a snack and a visit from the bar's friendly cat, Radius.
Things to Do
Explore: Burn off the calories from your culinary choices and explore the area on two wheels. Windmill Bicycles rents "beaters," simple, single-speed bikes with coaster brakes, perfect for cruising around town.
Volunteer: The University of Texas has also joined the farm movement with the student-run UT Micro Farm on campus. If you have a green thumb, the farm has workdays for volunteers to compost, plant, harvest, rake, water and otherwise help out around the farm.
Take in a Show: East Austin is home to some innovative theater venues, such as the Vortex Repertory Company, known for alternative performances, the Salvage Vanguard Theater (SVT), performing new works from playwrights and composers, and Teatro Vivo, which produces bilingual performances that reflect the culture of the Latino community.
Photo courtesy of Salvage Vanguard Theater.