There's an abundance of places to camp near Austin, whether your idea of camping is roughing it in the back-country, finding a cozy place alongside one of the Texas Hill Country's many waterways, or not roughing it at all (or "glamping," as some call it). With countless county and state parks, along with private outfits, here's an introductory guide to some of our favorite camping and glamping spots throughout the Texas Hill Country. First up is our guide to camping at nearby parks.
MCKINNEY FALLS STATE PARK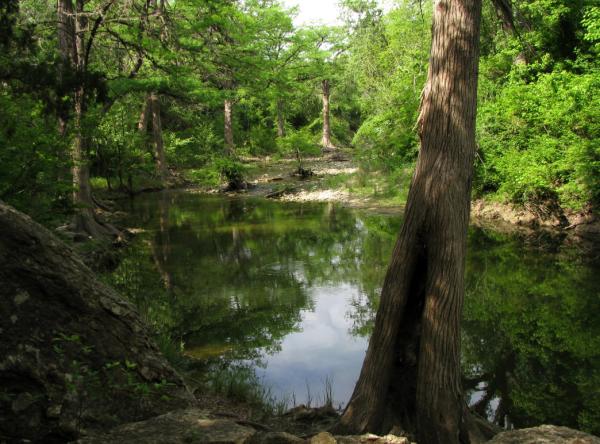 Onion Creek at McKinney Falls State Park. Credit Andy Thrasher, courtesy of RootsRated.
McKinney Falls State Park offers nine miles of trails for visitors to hike, bike, and even geocache along, including the 2.8-mile Onion Creek Hike and Bike Trail, which has a hard surface, making it great for leisurely walks along Onion Creek. With Onion and Williamson creeks in the state park, visitors can also fish—*without *a license if fishing from the shores.
The park offers 81 total campsites, which includes 69 sites with water, electricity, and other amenities like fire rings and picnic tables ($20/night per site, which suits up to 8 people) and 12 premium sites that offer 50 amps of electricity ($24/night per site, which also suits 8 people).
BASTROP STATE PARK
Bastrop State Park offers guests seven miles of trails, a scenic drive along Park Road 1C, and fishing at Lake Mina. While the park was devastated by forest fires a few years ago, some of the Lost Pines remain and offer a unique landscape to the cypress-laden Texas Hill Country. Thus, new vegetation has begun to grow giving a sense of rebirth to the land, still shaded by the area's surviving pines.
There are 16 basic, tent-only campsites ($12/night), 7 walk-in campsites close to the parking area ($12/night), 19 standard campsites available ($20/night), and 50 backcountry camping sites ($10/night, suitable for 4 people). All campsites, aside from the backcountry site, are suitable for 8 campers per site.
MULESHOE BEND
Muleshoe Bend Recreation Area sits alongside a remote section of Lake Travis. Particularly beautiful in the springtime when the bluebonnets are in proud display, the 540-acre park is open year-round for camping, too. The park is frequented by mountain bikers who love taking on its 9.8-mile mountain bike trail and, with a boat ramp, lake lovers frequent the park too.
At Muleshoe Bend, campers can enjoy primitive, lakeside camping. There are between 27 and 35 campsites at Muleshoe Bend, ranging from tent-only to group campsites, each site costing $12/night plus the $5 park admission fee. Reservations are suggested.
WINDY POINT PARK
Windy Point Park is another park alongside Lake Travis, particularly well known for being a SCUBA destination in Central Texas (there are designated swim and dive areas, which do not allow boats). Visitors can also launch their own boats, rent a sailboat, and even take advantage of the park's free wifi (if you must stay connected). There are rinse-off showers, grills, and picnic tables among the park's amenities.
The park offers primitive campsites only, at either $10/night or $45 for weekend camping, which includes 2 nights and 3 days of access to Windy Point.
PEDERNALES FALLS STATE PARK
Pedernales Falls State Park is a local favorite for camping, providing an opportunity for short hikes, backcountry hikes, and countless swimming areas with the Pedernales River flowing through the park. With an interesting landscape featuring limestone cliffs, waterfalls, and cedar forest, the park has no shortage of activity or scenery. As for campers, there are 69 campsites with water and electricity ($20/night, suitable for up to 8 people), primitive, hike-in camping opportunities ($10/night, suitable for up to 4 people), and group equestrian campsites ($40/night, suitable for up to 12 people and 6 horses).
If glamping is more your style, here are a few local places that make a night in the (almost) great outdoors a little more rich with amenity and much less effort for visitors.
CYPRESS VALLEY CANOPY TOURS | SPICEWOOD, TEXAS
In nearby Spicewood, Texas, adventurous guests can visit the acclaimed Cypress Valley Canopy Tours for ziplining tours through the tops of old cypress trees and overnight stays in one of the outfit's treehouses, ranging from its luxurious Lofthaven and Nest treehouses ($400-500/night) to its Juniper and Willow treehouses ($200-250/night). Guests can enjoy a ziplining tour, day or night, which includes its famous sky bridges and even rappelling.
GREEN ACRES | ELGIN, TEXAS
For those who prefer to relax, Green Acres in Elgin, Texas (a town also famous for its locally made sausage) offers guests the opportunity to spend time in their yurts and vintage Spartan trailer. Green Acres is a Texas Hill Country retreat that offers visitors the chance to truly unwind on 25 beautiful acres of land. Ranging from $179-249/night, guests can enjoy luxurious yurts and breakfasts consisting of farm-fresh eggs, along with the quiet that can be enjoyed just 24 miles from downtown Austin.
GERONIMO CREEK | NEW BRAUNFELS, TEXAS
Geronimo Creek Retreat is a property along Geronimo Creek just outside of Seguin, Texas, giving visitors easy access to nearby New Braunfels (along the Guadalupe River), San Marcos (along the San Marcos River), and Seguin. With tipis and cabins, the property is a cozy retreat that also includes access to kayaks, paddleboards, custom-built swingsets, a hot tub, grills, a recreation room full of games, and a dock overlooking Geronimo Creek. Tipis range from $79-$99/night, and the cabin prices vary per season.
Whether you prefer to rough it in a sleeping bag by the campfire or cozy up in an upscale Airstream Land Yacht, make time for a night in the Hill Country during your next visit to Austin.
Contributed by RootsRated.