Bursting out of our California shell on a quest to find the best campgrounds around, we at Hipcamp have set our sights (and compass needle) southeast to the beautiful back countries of Texas.
With clear skies, fresh air and untamed nature stretching far off into the horizon, what better place to set down our packs than the scenic landscape surrounding the state capital, Austin. Just a stone's throw away from the city, with an endless array of outdoor adventures beckoning, we hope you'll take some time to wander and to wonder at the marvels that make up this unbounded wilderness. Though it can be hard to know where to even begin, we've tried to lighten your load a bit by suggesting some of our favorite spots. So grab your sleeping bag, pack your tent and let the moonlight guide your way as you spend your nights beneath the stars with Hipcamp's "Ten Best Parks to Visit & Camp near Austin."
Pedernales Falls State Park Featured in Richard Linklater's 2015 Oscar-nominated film Boyhood, you can do your best Ethan Hawke impression as you plunge into the depths of the refreshing swimming hole. Waterfalls and tubing down the Pedernales River are other big draws at this 5,200-acre Austin getaway. The best part? It's only about an hour's drive away from downtown Austin. Where to Camp: Pedernales Falls Campground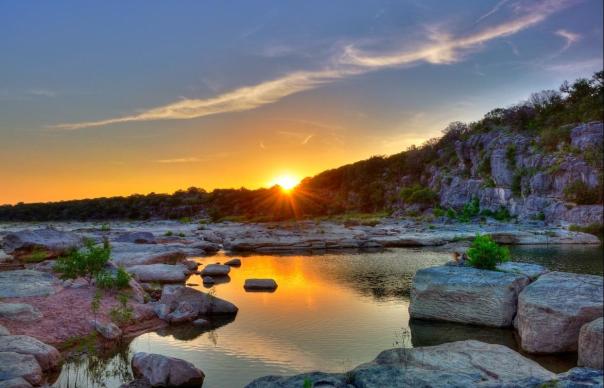 Pedernales Falls State Park.
McKinney Falls State Park With rushing waterfalls and blooming wildflowers, this 745-acre gem is at its best after a spring rainfall. Only 15 miles away from the Austin city center by car, this is a great spot to steal away to for a quick dip in the falls or a stroll amongst the bald cypress, sycamore and pecan trees. Where to Camp: Moss Loop Campground
Pace Bend Park You'll get a much needed breath of fresh air while you kick back and relax at this 1,400-acre oasis just an hour's drive outside of Austin. Spend an afternoon on the lake for some fun in the sun and then enjoy a calm evening atop the limestone cliffs as the setting sun paints its pastel colors over Lake Travis. Where to Camp: Pace Bend Campground
Inks Lake State Park At this 1200-acre open-aired escape just an hour and fifteen minute drive from Austin, you'll find whatever it is you might be looking for. Waterfall, swimming hole, meadow, lake, forest, desert and beach - what more could you ask for? With a plethora of activities that include hiking, geocaching, swimming, cliff jumping, kayaking or even scuba diving, there's never a dull moment at this natural playground. Where to Camp: Inks Lake Campground
Palmetto State Park Make the hour drive due south from Austin (or an hour east of San Antonio) and you'll find this 270-acre balmy rainforest nestled on the San Marcos River. Glide down the river's steady current on kayak, canoe or tube while scouring the jungle landscape for the 240 species of birds recorded in the park. Take advantage of the group pavilion with a kitchen and have yourself a barbeque in the jungle. Where to Camp: Palmetto Campground
Colorado Bend State Park An adventure of non-stop activity awaits at this 5,300-acre slice of paradise north of Austin. Though nearly a two hour drive from the city, Colorado Bend will be well worth the trip as you tour the spectacular Gorman Falls, whitewater raft the Class I-II rapids of the Colorado River, hurtle through 26 miles of untamed mountain biking terrain or explore an elaborate labyrinth of caves. Where to Camp: Colorado Bend State Park Campground
Buescher State Park This 1000-acre ray of sunlit glory is just what you need to get away from the hustle and bustle of the city. Less than an hour drive from Austin, you'll hike and bike your way past birds, armadillos, raccoons, rabbits, deer and opossums, hidden among the pines and cedars. The quiet cove of a lake will be perfect for a day of peaceful tranquility as you fish and canoe its serene waters. Where to Camp: Lakeview Campground
Lockhart State Park Stressed from a long week on the grind? Just a 45-minute car ride south of Austin, this 260-acre park is the perfect remedy for those workin' blues. Dip your toes in Clear Fork Creek, cast a fishing line from the dock or play a laid-back nine hole round at the park's golf course. You'll be sure to leave refreshed and renewed after a weekend of pure, unencumbered relaxation. Where to Camp: Clear Fork Creek Campground
Guadalupe River State Park Find your happy place as you steal away to this 2000-acre blissful retreat just an hour and a half south of Austin. River activities such as rafting, canoeing, fishing and swimming are all the rage, while horseback riders and mountain bikers will also find a warm welcome. With park playgrounds and the Children's Discovery Center, Guadalupe is a great family destination. Where to Camp: Wagon Ford Campground
Stephen F. Austin State Park What would an Austin parks recommendation list be without the city's namesake, yet another tribute to Stephen F. Austin's legacy. With a modest 500-acres, this underrated and under-visited park is just a two hour drive from Austin. Uncover its hidden beauty as you hike, bike, fish and golf the days away along the Brazos River. Enjoy a cozy evening around the campfire as fireflies light up the early-summer nights. Where to Camp: Stephen F. Austin Campground