Austin has been named one of the fittest cities in America (heck, we even have a magazine dedicated to the subject). And with miles of hike and bike trails, spring-fed pools and plenty of sun-filled days to soak up the outdoors, staying active in Austin comes naturally.
Which may be one reason a number of world-class athletes call Austin home, including tennis ace Andy Roddick, Olympic medalists Leo Manzano, Trey Hardee and Brendan Hansen, and professional triathletes Desiree Ficker and Kelly Williamson.
But the depth of Austin's fitness lifestyle extends further from up and coming athletic phenoms to behind-the-scenes veteran race directors, inspirational coaches, and survivors. And while they may not be household names (yet), these not-so-famous Austinites keep Austins pulse racing:
Patricia Walsh
Diagnosed with a pediatric brain tumor, Patricia Walsh became blind at the age of five. But that didn't stop her from pursuing her dreams and big ones at that. To date, she's raced more than a dozen marathons and ultra-marathons and competed in two Ironman triathlons (140.6 miles of swimming, cycling and running fun), setting the world record for blind triathletes in 2011 by over 50 minutes. She's been named Paratriathlete of the Year and earned multiple championship titles.
Walsh is the author of "Blind Ambition," an inspirational story about achieving success and up next, Patricia is training to qualify, and podium, at the 2016 Summer Olympic Games in Rio.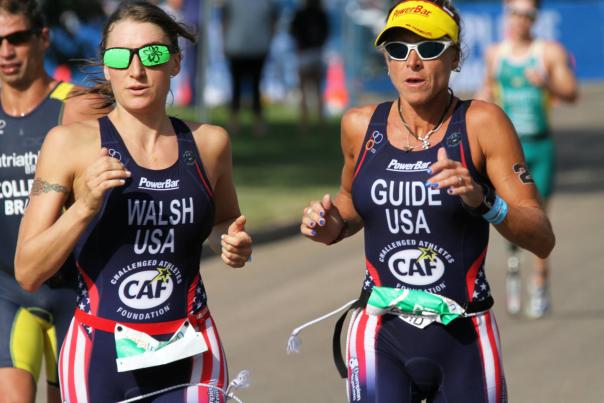 Patricia Walsh and guide at the Paratriathlon World Championships in Edmonton, Canada 2014.
John Conley
If you've participated in a running event in Austin, chances are John Conley had something to do with it. Life-long runner and Race Director for the Austin Marathon, Half Marathon and 3M Half Marathon, Conley is a steady fixture in Austins running scene. As the CEO of Conley Sports, John & his team (including wife Stacey) have a proven track record of producing some of the areas top bib-worthy events. Conley and his team do more than talk the talk however their staff is comprised of collegiate runners, Boston-qualifiers, marathon pacers and CrossFit enthusiasts who have collectively completed countless marathons, road races, track events and cross country races around the globe.
Gilbert Tuhabonye
Gilbert Tuhabonye, former NCAA All-American, heads up Gilbert's Gazelles, arguably one of the most popular running groups in town. His infectious smile and spirit has helped Austin runners realize their dreams, whether first-time 5Ks or Boston-qualifying marathons. But behind the smile is also a survivor. In 1993, Gilbert escaped a horrific genocide in his native home of Burundi, Africa and has since written "The Voice in My Heart" an incredible memoir about the event, faith and forgiveness.
Gilbert is also co-founder of the Gazelle Foundation, which provides clean water to Burundi. Fittingly, the Foundation's largest annual fundraiser is the Run for the Water 10-Miler, 5K & Kids K event held each fall in downtown Austin.
Jack Murray
Austin cyclists have most likely set (a cleated) foot inside Jack & Adams Bicycles, now known as Bicycle World a favorite shop among locals with some of the best customer service around. Since opening their doors in 2004, they've been awarded City Sports Magazines Best of Texas distinction every. single. year. Owner Jack Murray is one of the most familiar faces in the Austin cycling and tri scene thanks in part to his fun-loving personality and the fact he's also the humble owner of High Five Events a top-notch event production company that puts on the best local sporting events including the Livestrong Challenge Austin, the Statesman Cap 10K and the Kerrville Triathlon Festival.
Amy Marsh
A four-time Ironman and two-time iron-distance champion, professional local triathlete Amy Marsh was diagnosed this past December with Acute Myeloid Leukemia, a cancer of the blood and bone marrow cells. I had the personal honor of participating as an amateur athlete at Ironman Raleigh 70.3 last June where Amy raced and won. Following her diagnosis the local and triathlon community has rallied to support her treatment with organized rides and bone marrow swab parties and drives. Marsh's husband and fellow pro triathlete Brandon started a blog to document and update Amy's fight against cancer, entitling the first heartfelt post, Life Gave Us a Lemon. You can follow their journey, and learn how to help at team-marsh.com.
Who's your favorite fit Austinite? Let us know at @VisitAustinTX.