Juneteenth, also known as "Freedom Day," is a holiday that celebrates the abolition of slavery in Texas. Although the Emancipation Proclamation was made effective in 1863, some states under Confederate jurisdiction did not implement it until years later. It wasn't until June 19, 1965 that Union troops arrived in Galveston Bay, Texas, and Union General Gordon Granger announced that the more than 250,000 enslaved Black people in the state were free by executive decree.
This holiday marks our second independence day and is the oldest nationally celebrated remembrance of the ending of slavery in the United States. Juneteenth brought a new era for people to shape identities independent of racial character, promote ethnic pride, and create economic prosperity for generations to come.
Check out the events below for places to celebrate Juneteenth in Austin with your friends and family this year.
Juneteenth Events in Austin
June 12, 2022
Black History Social Ride
French Legation State Historic Site
Join Black History Bike Ride for a special new route along Austin's downtown and east side for a fun morning learning about Austin's Black history.  Hang around for a post-ride after party.
eventbrite.com
June 12-19, 2022
Black West Austin Driving Tour
Neill-Cochran House Museum
Experience Black West Austin from the comfort of your own car. This driving tour begins at the Neill-Cochran House Museum and winds through historic sites of Pease Park, Wheatsville and Clarksville, two of the original fifteen freedman counties established in Austin after the Civil War.
nchmuseum.org
June 18, 2022
Central Texas Juneteenth Parade & Celebration
Chicon St, Between E Martin Luther King Jr. Blvd. and Rosewood Ave & Rosewood Park
This annual event is always a grand celebration. Starting at the corner of E Martin Luther King Jr. Blvd. & Salina St., traveling down Chicon St., and ending at the corner of Chestnut Ave. and Pleasant Valley Rd. this parade is altogether a great time for friends and families to join in the celebration outside. Continue the party after the parade with a Juneteenth festival at Rosewood Park.
juneteenthcentraltexas.com
June 18, 2022
Juneteenth Freedom Fest
Colony District Park
Celebrate the rich culture and history of Juneteenth at the Austin Area Urban League Freedom Fest. Stop by for activities for the whole family, music and barbecue.
eventbrite.com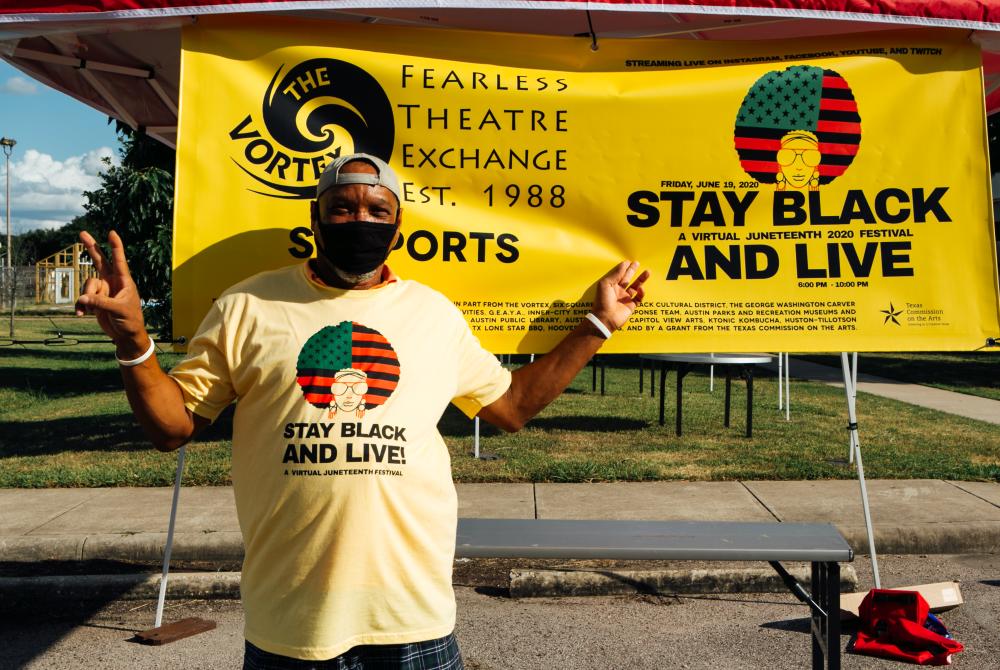 Juneteenth Stay Black and Live Festival. Credit Mackenzie Smith Kelley.
June 18, 2022
Juneteenth: R&B, Hip-Hop, Reggae
Victory Grill
Encore ATX is celebrating Juneteenth in style with live R&B, reggae, Afrobeat and hip-hop music by DJ Hella Yella at The Historic Victory Grill.
encoreATX.eventbrite.com
June 18, 2022
Soul Food Truck Festival
Huston-Tillotson University
Austin's Soul Food Truck Fest (#SFTF) will give attendees a taste of the hidden soul food mobile truck gems that are tucked all over the state of Texas. From savory BBQ, to Cajun-seasoned seafood to traditional soul food, 10+ food trucks will be serving up piping hot, mouthwatering dishes. In addition to the food, retail vendors will have original arts & crafts items for sale, and beer and wine will be available for purchase. Entertainment will include music, kid-friendly activities, and more.
soulfoodtruckfest.com
June 18-19, 2022
Stay Black and Live: Juneteenth Festival
George Washington Carver Museum, Library & Genealogy Center
Celebrate Juneteenth with a day-long mini music festival featuring a stunning lineup of local Black artists like Mama Duke, WC Clark, Ivy Roots and more.
juneteenthatx.com
Juneteenth Celebrations Near Austin
June 18, 2022
Juneteenth Rhythm and Ribs Festival
Lakeview Pavilion at Old Settlers Park (Round Rock)
This free, family friendly event features specialty food and retail vendors, a great music line up including Grammy award winners Eric Bellinger and Montell Jordan, and more. 
roundrocktexas.gov
June 18, 2022
Juneteenth Celebration
Buda Amphitheater & City Park (Buda)
The Buda community's second annual Juneteenth Celebration will take place at the Buda Amphitheater & City Park pavilion. Expect music, barbecue and activities to commemorate Freedom Day for Black Americans across our country.
budaamphitheater.com
June 18, 2022
A Taste of History Juneteenth Celebration
Hopewell Rosenwald School (Cedar Creek)
Tour the recently restored historic schoolhouse, an oral history of the school from former students and families, and enjoy refreshments and family-friendly activities at the Hopewell Community Club's Juneteenth Celebration. The Hopewell Rosenwald School was built in 1922 to educate young African American children around the turn of the century. It was closed in the late 1950s and was places on the National Register of Historic Places in 2015.
hopewellrosenwaldcc.org
June 19, 2022
Pflugerville Juneteenth
Wells Point Sports Park (Pflugerville)
The Juneteenth Open Market is celebrating Black creators from Austin and surrounding areas. Noir Creators Space will host a total of 40 local Black owned businesses offering but not limited to food and beverage, hair care and beauty, wellness products, educational tools, and more. 
eventbrite.com
To learn more about Black-owned businesses to support and Austin's Black cultural history check out our Guide to Black-Owned Austin.