While we don't recommend working during your vacation, we know that it's sometimes necessary. Whether you're a freelancer, entrepreneur, side hustler, or just looking to escape the office for a few hours, join the rest of the laptop set at one of these work-ready spots. The coffee is better and the vibes are top-notch.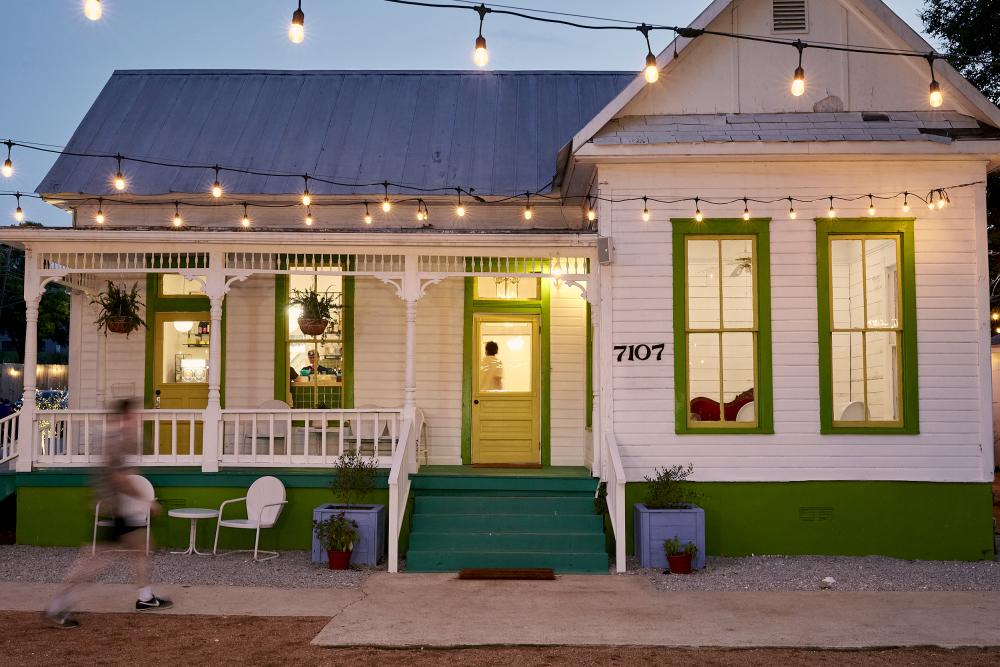 Ani's Day & Night. Credit Whitney Arostegui.
The relaxed vibes at Ani's Day & Night on East Riverside will help keep you focused. Inside the charming historic house, you can order coffee and pastries, and find seating with outlets. Head outside if it's a nice day—the Wi-Fi reaches all the way across their pleasant patio area (with some tables under cloth shades to keep it comfy).
Put your creativity hat on at Spokesman, one of Austin's best places to work remotely. This eclectic coffee shop has locations in South and North Austin, serving house-roasted coffee, beer, and snacks  Both shops are decked out in custom cartoons by artist Briks to feed your muse, and there are plenty of outlets to keep you powered on.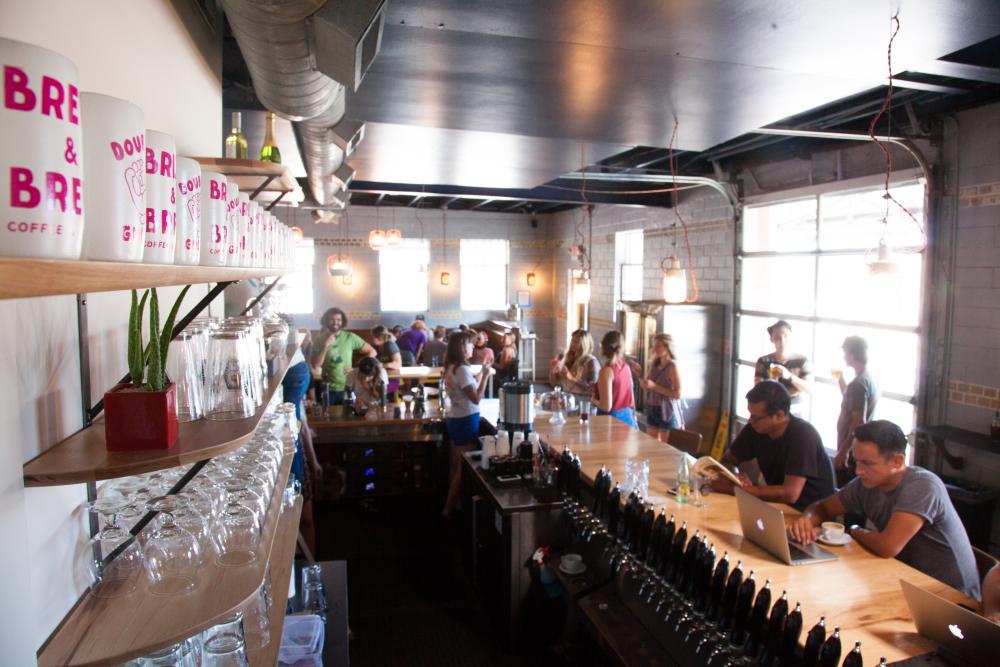 The Brew & Brew. Credit Chris Mumford.
The industrial-sleek vibes at Wright Bros. Brew & Brew are popular with the remote working tech crowd. Get a jolt from their full espresso bar, or sample one of the 38 beers on draft. There are plenty of outlets here and good Wi-Fi speeds, so you'll be able to work as long as you like. Enjoy breakfast with bagels from Rosen's Bagels, or a hefty sub from Destroyer Sandwiches.
Popular lakefront spot Mozart's Coffee Roasters has multiple Wi-Fi access points to keep you connected on their large deck. Take in the views of Lake Austin over your coffee and a turkey and brie croissant while you ponder your next business move. Avoid the heat by staying indoors in summer, but take advantage of the patio when the weather's nice!
While you're out bringing home the bacon, your best friend is at home missing you. Bring your pup along for a work sesh at Neighbors Dog Park, a combination dog play area and coffee shop. Set him loose in the off-leash area to play while you get some work done. A monthly membership or day pass is required for dog park access!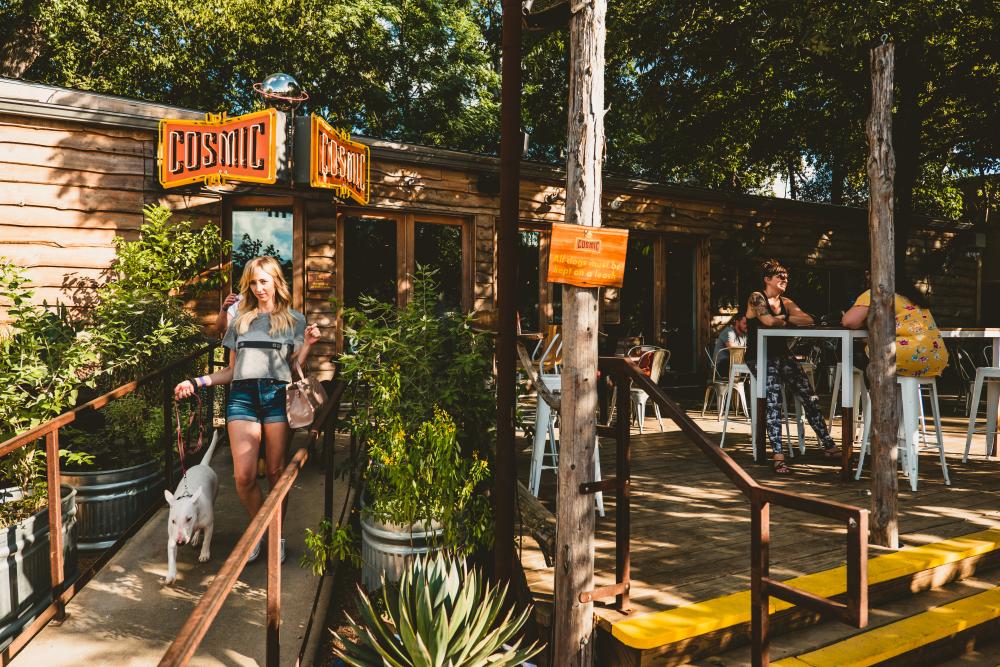 Cosmic Coffee. Courtesy Visit Austin.
South Austin's Cosmic Coffee + Beer Garden has room for your whole office crew. Much more than a coffee shop, Cosmic has a chicken coop, water features, gardens, and more. Sit indoors or outdoors on the sprawling patio, and invite friends for a coworking session. With a large selection of beers on draft and craft cocktails, you can easily transition from work to play.
The modern, minimalist space at Sa-Tén is a popular destination for remote workers, with a relaxing atmosphere to keep you calm even on your busiest days. There are plenty of outlets at their two locations, and a tasty menu of Japanese-inspired eats to keep you fueled up. Get a matcha latte to stay energized without the coffee jitters.
Burning the midnight oil? Head to Epoch Coffee's North Loop location for 24/7 access to fast Wi-Fi and plenty of coffee. Retractable extension cables from the ceiling keep you powered up wherever you sit. Each location has a unique vibe, but at North Loop it's cozy and eclectic, with mismatched furniture and warm lighting.

Better Half Coffee & Cocktails. Credit Alison Narro.
Try something new at Better Half Coffee & Cocktails, like the Chagaccino made with Chaga mushrooms, said to have a host of health benefits. This modern diner space is effortlessly cool, with a sleek modern look inside and cheerful pink picnic tables outside. If you're working remotely on your side-hustle in the evenings, no sweat. Better Half is open until 10:00pm or later most days.
For comfortable seating and plenty of power outlets, head to one of the three locations of Bennu Coffee. This 24/7 coffee shop welcomes remote workers morning, noon, and late night for brainstorming sessions and offsite meetings. Get grab-and-go snacks from local vendors like Hoboken Pie and Taco Max to stave off the hunger pangs.
Just looking for some great coffee? Check out these coffee shops & cafes and find one close to your hotel!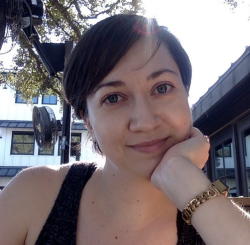 Contributed by Kate McDermott.
Kate McDermott is a local copywriter, content writer, and cocktail enthusiast. She writes about and for restaurants, hotels, event companies, and more from her home in Way South Austin.
Website: eatdrinkandwritecopy.com
Instagram: @eat.drink.writecopy