The annual Texas Book Festival (TBF) takes place October 31-November 15, 2020, in an all new virtual format. Free and open to the public, the 25th annual festival will feature more than 125 authors participating in virtual sessions, including programming for adults, young adults, middle-grade readers and children. The festival has fun and engaging events for readers of all ages and interests!
Founded in 1995 by Laura W. Bush, a former librarian and then First Lady of Texas, along with Mary Margaret Farabee and a dedicated group of volunteers, the TBF set out to honor Texas authors, promote the joys of reading, and benefit the state's public libraries. The first Festival took place in November 1996 and has grown into one of the nation's premier literary events.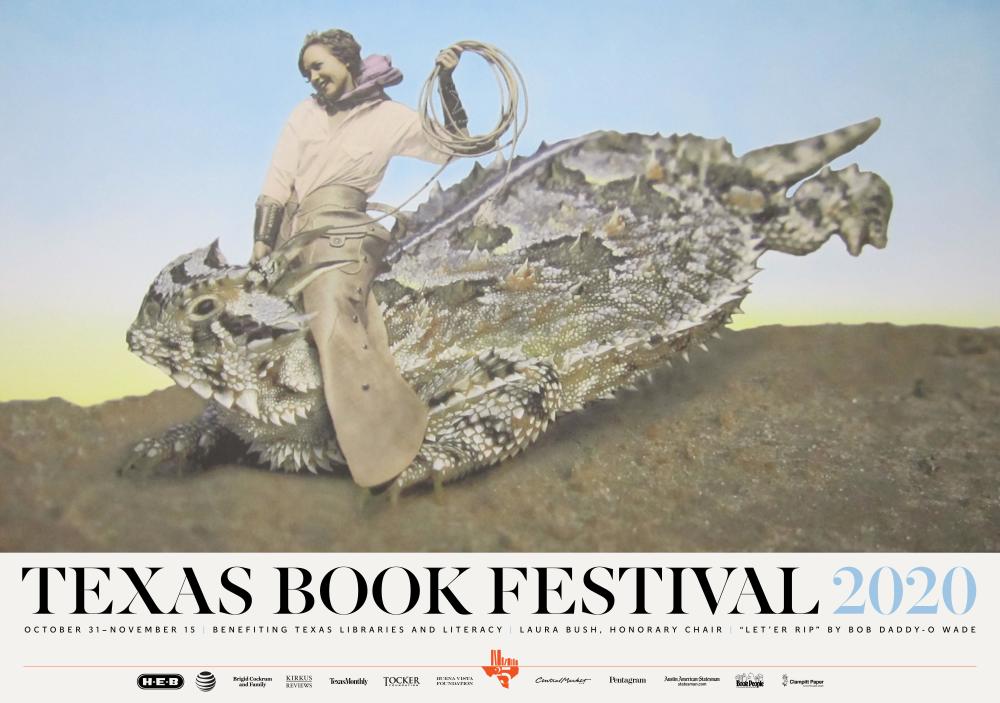 Texas Teen Book Festival will take place during the Texas Book Festival and will feature conversations with acclaimed Young Adult authors aimed at teenage readers. From October 31-November 1, more than 25 authors will appear in virtual chats and Q&As. Featured authors include National Book Award winner Elizabeth Acevedo, discussing her newest novel Clap When You Land, and New York Times bestselling author Nic Stone in conversation about Dear Justyce. Explore the full schedule and buy each of the books online thanks to BookPeople, Texas Book Festival's partner bookseller. 
This year's lineup of children's authors runs from November 2-6 and 11th, featuring acclaimed authors and illustrators plus the 2020 Texas Blue Bonnet awards and more. Mix up all the ingredients for a story with Sam Wedelich, author of Chicken Little: The Real and Totally True Tale, experience a dash of magical storytelling from Anna Meriano, author of Love, Sugar Magic: A Mixture of Mischief, or join Don Tate to learn more about the Harlem Globetrotters, inspiration for his book Swish!: The Slam-Dunking, Alley-Ooping, High-Flying Harlem Globetrotters. Plus, hear Meena Harris read from her book, Kamala and Maya's Big Idea,  which stars younger versions of her own mom and aunt (Senator and Vice Presidential nominee Kamala Harris), and talk about why it's so important to see powerful girls of color in the stories we read and write. For an engaging afternoon for fun, don't miss the Random House Children's Books Art School LIVE on November 11. Join Random House Children's Books and bestselling illustrators and graphic novelists for an hour of drawing lessons and games with illustrators.
Adult Program
From November 6-15, hear from authors across genres in free virtual Q&As, conversations and readings. Enjoy cooking demonstrations from authors like Melissa H Martin of Mosquito Supper Club: Cajun Recipes from a Disappearing Bayou or local chef Jam Sanitchat of Thai Fresh, sharing recipes from her new book "Thai Fresh: Beloved Recipes from a South Austin Icon." Film fans won't want to miss the conversation with icons of Austin film Ethan Hawke and Matthew McConaughey, as the later shares his signature wisdom and inspiration from his new book Greenlights. You'll also have a chance to hear from 2020 Whiting Award Winners in Poetry, and others on topics ranging from "The ACLU and 19th Amendment at 100" and "Border Stories: Immigration, Refuge, and Justice" to "Food, Farming, and the Future: Agriculture's Unseen Present and Uncertain Path Forward," "The Author Experience in the Year of COVID" and much more.
Nerdy night owls won't want to miss the virtual Lit Crawl, with evening events on November 7, 13-14 and two Sunday brunches on November 8 and 15. The events include storytelling sessions, spoken-word performances and themed discussions, ranging from topics including moments of pivoting, celebrating Black creativity, and more. Featured authors include Kathy Valentine, Natalie Diaz, Kelly J. Baptist and more.
Get to know your favorite authors, discover new authors and check out the exciting Texas literary scene!
For more information on the Texas Book Festival, please visit www.texasbookfestival.org and follow along on Facebook, Twitter and Instagram @texasbookfest.